14 January 2022,
Last update : January 11th 2023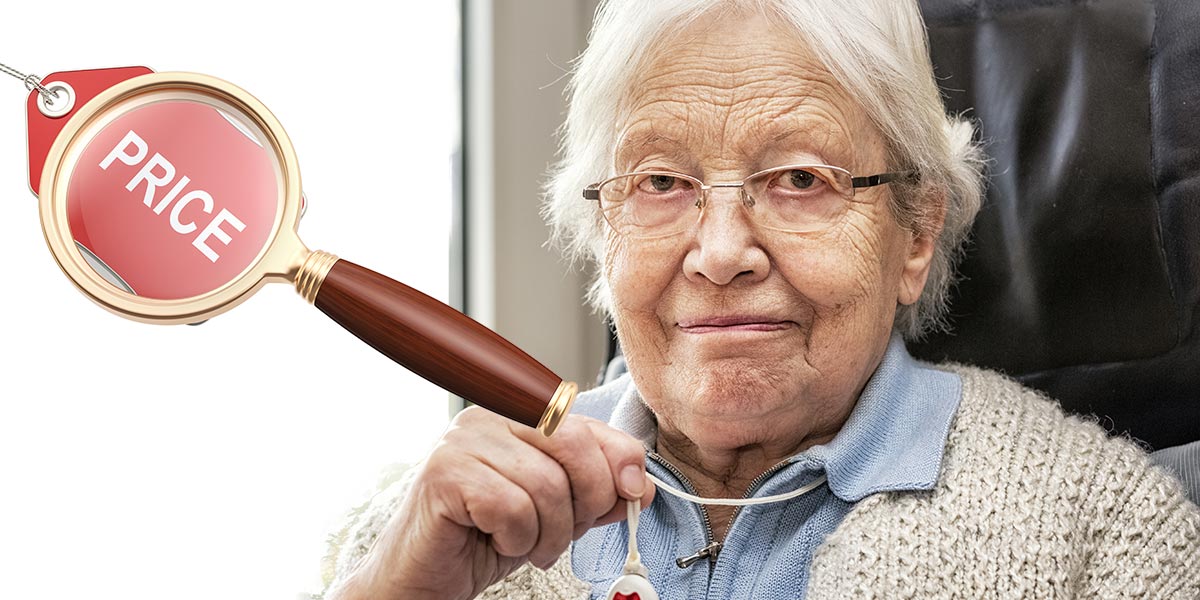 If you are considering a medical alert or panic button for yourself or an elderly relative, you need to know your options and the cost of panic buttons to find the best deal.
A medical alert or panic button is essential for the elderly in Japan with balance or gait problems, medical conditions, or a history of falls, especially if living alone.
With an emergency panic button, a senior in his 60s and above can continue living independently without fear. With fall detection, the user can be given immediate medical attention after a fall.
Fill out the form on this page to receive FREE and NO OBLIGATION quotes for emergency panic buttons for seniors!
Why Seniors Need Emergency Panic Buttons
Many elderly Canadians prefer to age at home and maintaining a level of independence. But like it or not, age has a way of catching up with us, making it necessary to adapt to these changes.
Chronic health conditions or decreased mobility are normal challenges among seniors but thanks to emergency panic buttons, they do not mean the end of a familiar lifestyle.
Are you forgetting your medications? Afraid of falling when there is nobody to get help?
Find out how emergency panic buttons can give you back your independence and confidence. Now you can avoid moving to a retirement home.
Many health emergencies that happen in the home involving elderly people demand immediate medical assistance. The longer the response time, the more dangerous the outcome can be.
The 4 key facts below will illustrate further how the speed of response can dramatically impact a health-related emergency.
 When someone has a heart attack, a 911 call must be placed within 5 minutes at the most.
Treatment for a heart attack should begin within 1 hour from the time symptoms show.
For stroke patients, every 15 minutes of delayed treatment reduces survival by 4% to 5%.
1 out of 3 elderly Canadians experiences a fall every year.
Individuals living alone needing immediate help can finally have complete peace of mind with a high-quality panic button or personal emergency response system.
If you or an elderly relative lives alone and is at risk for stroke, heart attack, or a fall, an emergency panic button is a convenient and affordable lifeline.
Safety and Peace of Mind at a very Low Price
Health and safety are critical especially during the senior years when elderly people face health risks and physical limitations.
By having an emergency panic button bracelet, watch, or pendant, someone dedicated to your needs will always be there when something goes wrong. If you press the panic button or a fall detector sends an alert, you get a guaranteed medical response team to help you.
Feel security and relief in knowing that you can choose aging at home with such a reliable and convenient security device.  Your loved ones will worry no more about your safety.
Below you will find the cost of emergency panic buttons and fall detectors in Canada that would suit your lifestyle and budget.
Top Panic Buttons to Consider: Compare prices and Features
Below you will find very useful information about the features and prices of top emergency panic buttons in Canada to help you pick the right one for you.
SecurMEDIC

SecurMEDIC is a medical alert system with 2-way voice communication with a 24/7 monitoring center.  It comes with a wireless emergency button and console.  Highly-trained professionals answer distress alerts from response centers located in Canada.
No contract
Easy installation
Available as wristband or pendant button
Has a range of 1000 feet from the console
100% waterproof
Can be used to answer phone calls
The user needs to push the button in the event of a fall or other medical emergency.
The equipment cost is $198.95 and monthly monitoring fees at $28.95.
Philips Lifeline
The Philips Lifeline is a medical alert with fall detection.
Their Homesafe system comes with a base unit and a pendant panic button and a landline device that connects you to a 2-way speakerphone.
You can also upgrade to a cell phone connection that you can take outdoors and add fall detection. Both features are additional costs which allow you to customize your protection.
Proprietary call centers with in-house agents
Well-designed equipment
No equipment dee
Mobile device with location tracking
2-way communication works throughout the home
Offers automated medication dispenser at an extra charge
Waterproof
No cancellation fee
The system has an activation fee of $50.00 and monthly plans that start at $29.95 for HomeSafe, $41.95 for HomeSafe Cell, $44.95 for GoSafe, and $56.95 for AutoAlert.  
While a bit more expensive than other medical alerts or panic buttons, it provides reliable and high-quality equipment and service.
Global Security
Global Security offers a wellness solution for seniors who want independent living with security and comfort. The emergency panic button can be connected to your home security system and a central monitoring center for maximum safety.
It is more than just an emergency button as it offers the following features:
Awareness of user's activities through a notification sent to loved ones
Sends an alert even when the button cannot be pushed
Increased safety with bed sensor
Alert for unusual activity
Fall detection
24/7 Monitoring services
Water-resistant pendants or bracelets
Their basic package starts at $34.99 (36-month contract while the GSM Fall Detector Package is $379.99 + $99.00 activation + $79.00 for the button.
Direct Alert
This company offers 3 types of emergency panic buttons for seniors – At Home, Fall Detection, and On the Go. It has nationwide coverage and works with landline, cable, and VOIP.  The panic button can be worn as a necklace, bracelet, or clipped on to a belt.
The following features are available:
24/7 central monitoring services
Automatic fall detection
GPS tracking
No contract
No activation fee
No cancellation fee
No installation fee
The Classic package costs $ 19.95 + equipment fees or $ 39.95 per month. The Speak through package costs $ 29.95 + equipment fees or $ 49.95 a month.  The On the Go package costs $39.95 + equipment fees or $ 59.95 per month.
LifeCall
This company's medical alert system comes in various options including the basic medical alert and Lifecall with Fall Alert.
The basic package comes with a waterproof transmitter that can be worn around the neck or wrist. When the call button is pressed, you can communicate with a pre-programmed, medical alert base station for 24/7 emergency response.
The Lifecall with Fall Alert provides the fall detection option.  Other options are Lifecall Cellular System for those without a hard-wired phone at home and Advanced Mobile Plus which features a combination of home monitoring with mobile GPS-locating mobile monitoring.
The basic package is $39.95 with increasing prices as you add more options to your package.
Compare when shopping for panic buttons to save time and money
As you can see, the prices for equipment, monthly monitoring fees, equipment fees, and contract requirements differ from one provider to the next. Thus, it is important to compare and determine your level of needs when choosing the right panic button.
The above panic buttons come with monitoring services which guarantee a quick emergency response 24/7 from trained professionals.
You can compare FREE and NO OBLIGATION quotes by filling out the form on this page. Save time and money when shopping for your panic button today!
If you live in Ontario, check out the 7 best panic buttons with monitoring services in Ontario in 2023 so you can find the right one for your needs.
How to choose the best emergency panic button for you
There is a Personal Emergency Response System (PERS) or emergency panic button that suits your lifestyle. The trick is to know your options and choose the package that is perfect for your needs, lifestyle, and budget.
Basic Packages (In-Home)
Basic packages are the most affordable and provide monitoring of your safety when you are at home.  Panic buttons provide you with access to a monitoring center that dispatches medical or police assistance when needed.
Most systems also provide notification to your caregiver in case of an emergency.
It is important to note that these basic packages require the panic button to be pushed to send an alert. For individuals who are at risk for falls, experience disorientation, memory issues, etc., a more comprehensive plan may be more ideal.
Automatic Fall Detection
Most plans also offer automatic fall detection.  Even if the user fails to push the button, fall sensors send an alert and automatically connects to a monitoring center in the event of a fall.
This added layer of protection is very helpful as it guarantees assistance even when the user falls unconscious, cannot move, or speak, due to an accident or injury.
 Mobile Monitoring with GPS
Mobile medical alert systems work even when you are outside the home such as running errands or enjoying the outdoors.  It is ideal for seniors who live a more active lifestyle and spend time away from home without a caregiver.
GPS tracking identifies the location of the user in case of an emergency. This feature is very useful because assistance can be dispatched quickly in the event of an emergency even when the user is unable to provide the details of his location.
Questions to ask when yourself when shopping for a panic button
It can be overwhelming to choose the right panic button for your needs. You want to find an affordable option without compromising your safety.
Do I really need a monitored panic button?
A panic button will only work efficiently if someone is on the other end to respond quickly and react appropriately. With a monitored panic button, you are guaranteed, non-stop monitoring and fast (in seconds) response which can save your life.  This is critical if you live alone and have a medical condition or at risk for falls.
Even if your contacts (family or friends) are unavailable or busy at the time of the emergency, your safety won't be at risk. The monitoring agent who receives your emergency alert will act with haste and dispatch medical responders to your home.  This type of system also provides peace of mind to your family about your well-being.
Monitored panic buttons have monthly fees and may or may not require a contract (varies between companies).  There could also be installation fees.
Do I need a fall detection feature?
A medical alert or panic button with fall detection is more expensive than standard packages. However, it provides an added level of protection which is important for persons 60 and above who have experienced a fall, have difficulty walking, have balance issues, or medical conditions that cause seizures, stroke, heart attack, etc.
Fall detection is especially important for seniors living independently.
Do I want a home-based or mobile system?
Home-based medical alerts or panic buttons work in the home (sometimes up to the yard, depending on the range of the system.)  This can be sufficient for seniors who stay home most of the time.
If you leave the house, you can still call for help with a mobile system.
Frail individuals who rarely leave the house may not need a mobile system but active seniors will benefit from the added protection of a mobile system.
If you have determined the answers to these key questions, you are ready to shop for your panic button.  It will only take 2 minutes of your time!
Fill out the form on this page and receive FREE and NO OBLIGATION quotes from our reputable partners and compare to save time and money.
Are Fall Detectors Reliable and How Do they Work?
Falls and injuries related to falls are, unfortunately, common among elderly people and could mark the beginning of health deterioration. Reliable fall detection is a life-saving option for elderly persons living alone or left alone for a prolonged period of time.
Many persons who have experienced a fall develop a fear of falling which results in psychological consequences, including decreased mobility and independence. Wearing a security device such as a panic button or medical alert with fall detection can significantly boost an individual's confidence and allow independent living without fear.
Fall detection technology used by panic buttons
Wearable panic buttons with fall detectors are usually worn around the neck or waist.  When worn as a bracelet or watch, the reliability is decreased because wrist movement (up and down) can lead to false alerts.
These accessories have sensors including tilt switches, pressure sensors, microphones, accelerometers, and gyroscopes. Accelerometers are considered very effective as they measure the speed of movement and recognizes a fall compared to normal activity.
Advanced fall detection technology uses sophisticated algorithms that distinguish everyday activities from actual falls and measures movement in real time – height, speed, and orientation.
In the event of a fall, an alert is triggered and sent to a monitoring station where a trained agent verifies the accuracy of the alert by contacting the user with a 2-way communication system. After evaluating the situation quickly, the monitoring agent will dispatch medical responders or notify a contact person, if more appropriate.
This response happens in seconds and is critical to ensuring faster recovery and prevent further health complications or even save a life.
Fall-detection technology is not 100% accurate but has almost perfect reliability. With the added protocol of a qualified monitoring center, the chances of false alerts is greatly minimized and the assurance of HELP during a fall is 100% guaranteed.
30% of seniors fall every year and 3 out of 10 persons who fall don't push an emergency button.  Hospitalization expenses due to fall-related injuries are costly, and sometimes fatal.
A fall detection pendant can save your life. For just a low price, you can have complete peace of mind and confidence for secure aging at home.
Are you not sure of the best solution for your needs? Compare panic buttons in Canada with the short online form below.
Get FREE and NO COMMITMENT quotes to help you choose the right one.
Why is GPS tracking useful for mobile panic buttons?
Active seniors can use mobile panic buttons which allow a monitoring station to continue looking out for your safety when you are outside the home.
What if you fall when you are taking a walk in the park? You press the panic button but you can't accurately describe your current location.
A mobile panic button with GPS tracking will help to pinpoint your location as accurately as possible so that the monitoring agent can dispatch medical responders as fast as possible with no time wasted.
In an emergency situation, every second counts. GPS tracking will get you the help you need quickly no matter where you are.
Questions you wanted to ask before buying a panic button
You are considering a panic button for your safety but you still have questions you need answers to. You are at the right place because we have gathered the most frequently asked questions so you can make a well-informed decision.
Who should wear a panic button?
Seniors aged 60 and above who live alone should wear a panic button. This is especially true if the person has a medical condition such as stroke, hypertension, diabetes, heart conditions, and other serious conditions. Disabilities such as speech impairment or mobility issues are also good reasons to wear a panic button for emergencies.
What is the best panic button?
A good panic button is equipped with 2-way communication technology, waterproof (can be worn even in the bath), with professional monitoring, with automatic fall detection, and GPS tracking.  When choosing a panic button, consider these features plus the price and track record of the company provider. Consider your needs and find the right fit to your lifestyle.
Can I cancel a panic button alert?
Yes, a panic button alert can be canceled such as if it was pressed accidentally. Some systems provide the user a few seconds to cancel the alert. A monitoring agent will also verify through 2-way communication before dispatching responders to your home. They can disregard an alert if no assistance is required.
Do panic buttons work outdoors?
Home-based panic buttons have a functional range (350 ft., 600 ft., or 1000 ft.) which varies from system to system. Some home-based systems can function up to the yard area. If you leave the house, your panic button will work if it is a mobile system.
Can my contacts be informed of an emergency?
Many of these medical alerts or panic buttons have the option of contacting family or friends through text notification. Thus, family members are aware of any emergency situation. This helps them worry less and reduces the need to constantly check up on the status of an elderly relative.
What is the difference between a medical alert system and a panic button?
These security devices are often called interchangeably – panic button, personal emergency response system, or medical alert system. They all function to alert somebody if the user is in an emergency situation. Some medical alert systems, though, have additional features such as medication reminders or medication dispensers that standard panic buttons don't have. Many of these devices also share features such as fall detection and GPS tracking
Can I cancel a monitoring plan for a panic button?
In the case of panic buttons, some companies offer no cancelation fee and no contract. Thus, you can cancel the plan at any time. Other companies have a contract of 6 months to 36 months.
Keep in mind that the price is also influenced by cancelation clauses. For instance, no-contract monitoring services usually require you to purchase the equipment. The monthly monitoring fees may also be higher.
Do I need a landline for a panic button?
While most panic buttons for the home are connected to a landline, some providers provide cellular options.
Can I buy a panic button as a gift?
Friends and relatives can always buy a panic button as a gift but it is better to discuss it with the intended user.  It is imperative that the user is agreeable to wearing the panic button and understands its purpose.
Are panic buttons covered by private health insurance?
It is best to ask your insurance company if a panic button is covered by your policy. In some cases, it can be tax-deductible but ask a professional for more details.
What happens if I press the panic button but cannot answer the responding agent?
If you trigger an alert and the responding agent does not receive a response from you, it will be considered an emergency and help will be dispatched to your home.
Why do I need a panic button if there is 911?
A panic button is very useful in cases when the user cannot get to the phone to call 911. If you are in the bath when you fall, or fall out of bed with no access to a smartphone or landline, your panic button can summon help.
Are panic buttons only for medical emergencies?
No, panic buttons can summon assistance for you in case of a fire, burglary, accident, and other types of emergencies. For this reason, a panic button works to increase your safety and well-being under any type of emergency situation.
Choose your Panic Button using our Free and No Obligation Quotes
Now that you know how important a panic button is for your well-being and safety, don't delay another minute.
Make sure that HELP will come when an emergency happens to you at home or when you are outside. Find the best panic button with features that are adapted to your situation or lifestyle.
Choose from basic or in-home packages, mobile, cellular, or fall detection and GPS tracking. Your panic button can be tailored to your needs to make sure you feel safe and secure at all times!
Because a panic button is designed for your safety and peace of mind, it is important to understand your options and get the right product that meets your needs for the best price.
Fill out the form below – It is Free and No Obligation– and receive quotes from our reputable partners so you can compare and choose the right price.