18 February 2020,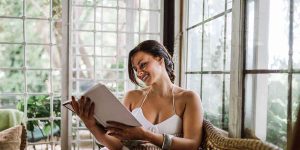 Imagine yourself sitting in a cozy sofa while enjoying the tranquil and beautiful view of your outdoor space.  Enjoy coffee with the beauty of nature unfolding while you read your favorite magazine or newspaper. Yes, this is, indeed, a very relaxing and peaceful start of every morning.
Many homeowners in Toronto have this very same dream and want to have a solarium they can use throughout the year. With proper planning and design, a sunroom can be comfortable, whatever the season.
Building a solarium or a sunroom is considered as a home addition and can extend the livable space in your home.
This home addition can greatly enhance the functionality of your home and increase its aesthetic value. It can also help to sell your house faster in the future.
You will be spending money for this home renovation, hence, it is important to ensure that the project will be successful and cost-effective.
Our network has hundreds of reputable and experienced contractors for all types of home additions. You can receive FREE and NO COMMITMENT quotes to compare so you can save time and money!
Plan a home addition with experienced and reliable contractors in Toronto from our vast network!
Just fill out the form on this page to connect with top contractors in Toronto for your project.
What is a solarium: Unique benefits to homeowners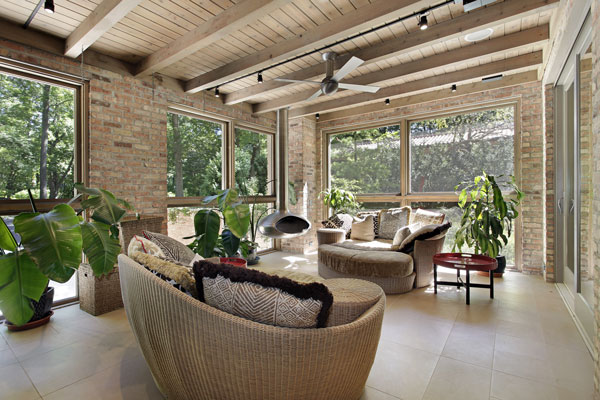 If you desire to enjoy the outdoors without having to step outside your home, adding a solarium can be the ideal solution.
A solarium, also called a sunroom, is a patio enclosure or greenhouse that is usually made completely of glass.  Originally, a solarium is meant to allow the feeling of being outdoors inside the comfort of your home. It can give you a wonderful view of your surroundings by virtue of glass walls and roof.
Significant Benefits of a solarium addition to homeowners
As mentioned earlier, one of the most important benefits of a solarium is the view of your surroundings that you get because of the glass roof and walls.
If your solarium is climate-controlled, you can grow and store plants throughout the year.
It also provides natural light to your home
Additional living space
A solarium also provides around 49% return on investment (ROI) (almost half of the cost of your addition)
Increases the value of your property
Because you are investing time and money into your home addition, it is important to understand your options. Aside from a solarium, there are other types of sunrooms to suit your needs and budget. For instance, a 4-season sunroom offers adequate heating and insulation for use during winter.  You can also choose a 3-season sunroom or a glass solarium for enjoyment for most of the year.
Whatever you choose, you will enjoy the feeling of the outdoors without really leaving the comfort of your home.  You can furnish it so you can entertain guests and have more space to enjoy life.
What are sunrooms for?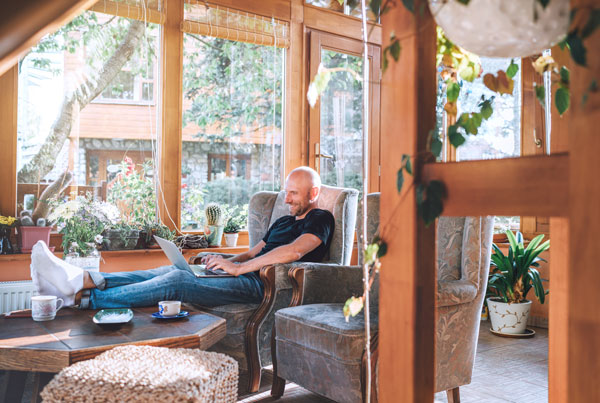 A sunroom can be a very valuable addition to your home. Here are the many ways you can enjoy a sunroom:
Enjoying the view in comfort and privacy
A space for relaxation or reflection
Enjoying an afternoon nap
Exercise
Entertainment area
Dining
Green space (cultivating and storing plants)
A sunroom's function can be as versatile as its occupants. While the principal purpose is to let in natural light and the beauty of the outdoors, it can be a place for many activities.
Whatever you choose, you will enjoy the feeling of the outdoors without really leaving the comfort of your home.  You can furnish it so you can entertain guests and have more space to enjoy life.
Custom-built sunroom vs. Prefabricated sunrooms
Sunrooms or solariums have become popular in Toronto where space comes with a very high price tag.
It is difficult to have any type of custom-built home addition below $50,000. For this reason, many homeowners turn to prefabricated sunrooms as a more affordable solution.
Prefabricated sunrooms are modular construction with simple designs that are shipped and then assembled, either by the homeowner or contractor accredited with the manufacturer.  They are usually vinyl or aluminum and come in kits with panels for the roof and walls.
Designs are limited and the quality and durability will not be at par with custom-built sunrooms.  The styles and colors available may also not complement the overall design of your home. Compromises will have to be made but of course, prefabricated sunrooms are less expensive.
Some prefabricated sunrooms or solarium kits cost as little as $8,000 but you will need to check what components are not included.
Custom-built sunrooms add more value to your home
A custom-built sunroom by a reputable contractor can bring to life your vision and deliver more flexibility and value.
To start with, you can choose the materials and the design you want and ensure that it complements your home so that the sunroom blends in with the overall design. Depending on your budget, good quality materials will ensure the sunroom lasts for a long time and increases the resale value of your home.
Before you make any decision regarding your sunroom, we invite you to get FREE and NO-OBLIGATION quotes from our partner contractors! Just fill out the form on this page.
Types of Sunrooms and how much they cost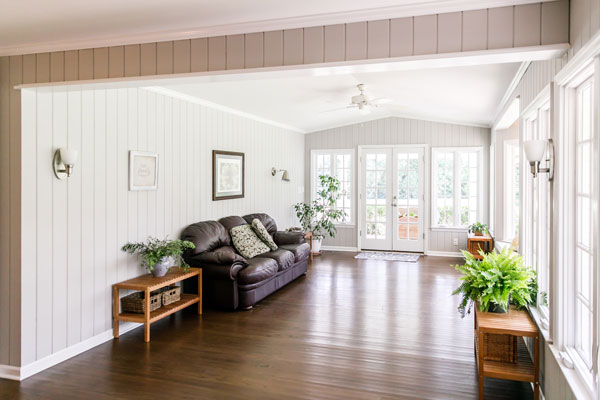 Are you planning to add a sunroom to your home but you are not sure what the right type suits your home best? Because your home is, perhaps, your most important asset, it certainly pays to increase its value with a home addition.
A sunroom or solarium increases the square footage of your house and can be installed in less time than other types of home additions.
Adding a sunroom to your beloved home can be worth your time and money but you must research your options and make an informed decision.
Below you will find the different types of sunrooms you can choose from.
Screen Room
If you want to have a patio enclosure or enclose your porch space, a professional contractor specializing in sunrooms can handle the project.
A screen room is an affordable choice that lets you keep away the bugs while letting in fresh breeze and sunlight.  If you have a tight budget, a screen room can be the best solution for your dream of having an enclosed patio space.
Four-Season Room
As the name implies, a four-season room can be used in spring, summer, fall, or winter.  It is comfortable at any time of the day or evening with complete climate control.
This type of renovation is quick in terms of construction time and expands your usable space immensely.  It uses tempered glass for strength and aesthetics. It also comes in different styles, including cathedral style, curved eave, conservatory, etc.
Four-season rooms are generally made with aluminum or vinyl framing and a 6-inch roof for extra insulation and protection against snow and wind. You can find different options that cater to all kinds of budgets.
Three-Season Room
A three-season room is ideal for homeowners who want patio enclosures but not all year round.  It is more affordable than a four-season room and can be comfortable to use in the spring, summer, and autumn.
It is more economical as they are not insulated or provided with auxiliary heating. Ceiling fans can provide extra relief from hot temperatures in the summer while space heaters can reduce the chill in the fall.
Solarium
A solarium is a glass-enclosed patio with an unobstructed view of your outdoor space.  It uses thick insulated glass for heating and cooling efficiency.  It is suitable for use in all types of weather.
Before picking the best type of sunroom for your home, it is important to determine your unique needs.  You can choose one that fits your lifestyle and budget.
A sunroom can cost from $130 to $220 per square foot based on the size, quality, and type.  Many different factors can affect the final price of your home addition.  In the Greater Toronto Area, a quality sunroom can cost around $30,000 or more.
| | | | |
| --- | --- | --- | --- |
| Type of Solarium | Cost of Materials | Cost of Labor | Total Price |
| 4-Season Sunroom | $16,000-$53,000 | $8,000-22,000 | $24,000-$75,000 |
| 3-Season Sunroom | $7,000-$30,000 | $5,000-12,000 | $12,000-$42,000 |
| Solarium | $22,000-$55,000 | $12,000-$24,000 | $34,000-$79,000 |
The cost of a four-season sunroom will mostly be for insulation and materials.  The windows, doors, roofing, and exterior walls will require high-level insulation to retain cool air and heat for the warm and cold seasons. Despite the high cost, you will benefit from extra livable space throughout the year, regardless of the weather.
The cost of a three-season sunroom is less because it is a less-insulated type that will function well in moderate temperatures. It could become quite hot in the summer and cold in winter.
A glass solarium is considered as an outdoor space extension. Because it is made of glass, including the roof, you can enjoy nature at any time. It won't come cheap and the structure must be strong enough to support the glass walls and roof.
The final price of your sunroom will depend highly on the size, quality of materials, and the workmanship you select for your project.
Cost of Insulation for a sunroom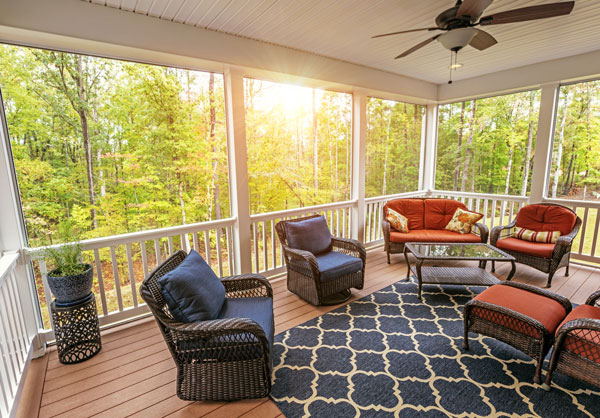 The cost of insulation for a sunroom depends on the type of insulation product used. The prices vary per square foot. For a 4-season room, you need effective insulation to keep heating and cooling bills reasonable.
On average, the cost of insulation could range from $550 to $2,000.
Other costs associated with a sunroom addition
Other common expenses for adding a sunroom, aside from insulation, include:
Building permits
Heating or air-conditioning system (HVAC)
Electrical work
Window and door installation
Roofing
Interior finishing
In Toronto, a building permit is required for an addition such as a sunroom, solarium, porch, or deck.  You can refer to the Homeowner's Guide to Building Permits from the City of Toronto.
Which type of sunroom is best for you?
The big difference between a 4-season and a 3-season sunroom is the insulation level.  For 4-season sunrooms, the roof, walls, and doors have adequate insulation and protection against cold climates.  They are considered as a home's extension and use the same siding products.
Four-season sunrooms can also use solid roofs rather than glass panels but can incorporate skylights to let in natural light.  They are also provided with air-conditioning for the hot months and artificial heat for the cold seasons. An HVAC system will be installed.
Plan your sunroom's budget and design
What is the best location for your solarium? It is critical to consider this from the start.  Southern exposure is ideal because your solarium will receive maximum natural light.  With an eastern direction of the sun, you will get shade for most of the day and sun in the morning.  When you have northern exposure, you will get partial shade in the day and less light.  This, however, can mean savings in the summer in terms of cooling costs.
Make sure that your design is feasible by working with an experienced and reputable contractor.  You will need to apply for a permit which should be ready before you start construction.  A good contractor can usually help you with getting the necessary permits.
Plan the budget for your sunroom well in advance. It is best to obtain multiple quotes and compare them based on quality and overall value.  You will find many reputable contractors in Toronto that specialize in sunrooms.
To save time and money, you can use our short online form on this page to get FREE and NO OBLIGATION quotes from the best sunroom contractors in your area.
Choosing the best materials for your sunroom addition
It is good to know the elements of a sunroom to help you choose the type and design that suits your lifestyle and budget.
If you want an affordable material that is durable and requires little maintenance, vinyl is a good choice. It offers good insulation and supports galvanized steel or aluminum reinforcements. It is usually available only in white.
Wood is expensive but is also suitable for a screen room as it enables you to use a screen mesh.  You will need to extend the current roof. Wood also needs regular maintenance.
Aluminum does not provide insulation as well as vinyl and it costs more.
Avoid 5 common mistakes when installing a three or four-season solarium
Do you want to prolong the feeling of "summer" even on cooler days? Adding a solarium to your home will let you do just that. Aside from making the most of the sun, this type of home addition offers other advantages, including increasing the resale value of your house, additional living space, and other gains.
However, installing a 3 or 4-season solarium is not something to be taken lightly! You must avoid making big mistakes that would be a waste of your time and money.
Below are some of the common mistakes that homeowners should avoid:
#1: Selecting the wrong type of solarium or sunroom
You will find choices for solariums in the market, the most common of which are 4-season or 3-season solariums.  The key difference, besides the price, is that a 3-season solarium cannot be used comfortably in the winter whereas a 4-season solarium is suitable all year long.  A 4-season solarium is heated adequately while a 3-season room is not.
A 3-season room is less expensive and can be enjoyed in spring, summer, and autumn. It takes less work to install and is made of a lighter structure.  Further, don't get a 3-season solarium to save money by thinking you can just heat it to use in winter.  This is not advisable because you will encounter problems since the materials and structure is not meant for year-round use.
#2: Choosing a low-quality foundation.
To make sure that a solarium is durable for many years, a solid foundation is critical. It should not be affected by ground movement.  Otherwise, your structure could shift over time.
Expert installers or contractors are knowledgeable about installing the proper foundation for your solarium. Work with an experienced contractor to guarantee a durable and stable foundation.
Consider how you want to use your solarium and choose the right type to avoid regrets.
#3: Using inferior glass.
High-energy efficiency glass will make your solarium very comfortable all year long. Consider the isolation factor in determining glass quality. The higher the R-factor, the better insulation it can provide.
Of course, as the R-factor increases, so does the cost.
#4: Neglecting to check with your municipality.
Regardless if you are building a solarium or screen room, it is important to comply with the regulations of your municipality regarding fire codes, zoning by-laws, materials, and safety standards.
Obtain a permit or get help from your contractor in obtaining one to avoid unpleasant surprises.
#5: Inadequate sealing between the structure and the home.
A common mistake with solariums is water infiltration. The reason behind this is improper sealing between the home and the structure.
A licensed contractor who specializes in sunroom additions will deliver a properly sealed sunroom for your total comfort and enjoyment.
Would you like professional advice in planning a sunroom addition? Fill out the form on this page and receive FREE and NO COMMITMENT QUOTES from reputable partners in our network.
How to choose a quality sunroom contractor
When planning a home addition, your choice of solarium or sunroom contractor is critical.  Firstly, the quality of the product must be guaranteed as well as a fair price.
Not all sunroom contractors are the same. Thus, you need to check the design, materials, and the reputation of the company before making your selection.
Consider the following when looking for a sunroom contractor:
The length of time in business
Customer service
License and insurance
Portfolio of previous work
Customer references
Further, a good sunroom contractor will take care of obtaining the required permits and inspections.  This means you don't worry about anything from start to finish.
Don't be tempted to cut corners to save a couple of thousand dollars on your project. Ensure quality workmanship and results with professional contractors to get results that will exceed your expectations.
You can get started by filling out the form on this page to connect with the best sunroom contractors in the city.
Receive FREE and NO OBLIGATION quotes to compare prices and other criteria for the best value for your money.
Frequently asked questions about sunrooms in Toronto
If you are considering adding a sunroom to your home, you surely have questions in your mind. We have gathered here the most important and common questions about sunrooms to help you in your decision-making.
Is it better to custom-build or buy a prefabricated sunroom?
Pre-fabricated sunrooms or sunroom kits are cheaper and takes less time to assemble. But they are limited in design and not as durable. Custom-built sunrooms can make use of high-quality materials that last a long time and can incorporate all of the design elements you need for your utmost satisfaction. Custom-built sunrooms by reputable contractors will also add more value to your home.
Do I need a permit to add a solarium to my home?
Whether you choose a custom-build or premanufactured sunroom, you will need to get a building permit in Toronto. A permit is also required for removing or adding walls and for enlarging windows and doors.
Should I add a sunroom to my house?
Adding a sunroom is a major undertaking. Thus, it is normal to have many questions which must be asked so you can weigh the pros and cons. A sunroom can really enhance your lifestyle and improve the functionality of your home. It will potentially increase the home's market value because of a bigger space. However, it does come at a hefty price In the end, only you can decide whether a sunroom addition is something worth investing in based on your goals. Look for a reliable contractor to make your sunroom addition an enjoyable part of your home for many years to come.
Won't it cost too much to use a sunroom all-year-round?
A four-season sunroom is designed to be used 365 days a year in Toronto and the rest of Canada. Experienced contractors use patented technology to keep your sunroom energy-efficient. Thus, the heating or cooling bill will be similar to what it would cost if you have another room in the home.
What is the size of the area needed for a solarium?
Your home addition can be any size, depending on your needs and budget. Typical sizes of sunrooms are:
8 x 10
10 x 10
12 X 10
12 X 20
Of course, the size of your sunroom is one of the biggest price factors for your project.  The bigger the area, the higher the cost.
What is the typical construction time for a sunroom?
The size and complexity of your sunroom will dictate the length of time for completion.  Usually, it can be completed in 2-3 weeks especially if handled by reliable and experienced sunroom contractors.
Are there any disadvantages to adding a sunroom to my home?
The primary drawback of adding a sunroom is the cost. Many people ask, is the cost to add a sunroom worth it? The answer depends on the homeowner – his purpose and budget.  If you are adding a sunroom for your personal enjoyment, a sunroom addition can be truly worth it. You cannot place a dollar figure to the peace, comfort, and pleasure you can derive from a sunroom.
Adding a sunroom can also increase your home insurance premium and your property tax.  But on the other hand, a sunroom addition will increase your home's market value.
Is the location of the sunroom important?
The location of the sunroom is important. Consider the direction of the sun when planning the location of the sunroom for the ideal balance of natural light and shade you can receive and reduce your energy costs.  If your chosen location presents site preparation challenges, it can drive up the cost of the project.
How will a sunroom addition affect the market value of my house?
A sunroom addition can increase the selling price of your home in Toronto. If your home addition is well-constructed, pleasantly located, and well-designed, it can make your house more appealing to buyers.
The important thing to remember if you are adding a solarium before a home sale, consult an experienced real estate broker. Don't overspend on a sunroom and expect a similar increase in the selling price.
Can a sunroom be a DIY project?
You must keep in mind that adding a sunroom to your house affects not only its aesthetic and function but also its market value.  If you construct the structure, you could save by buying a DIY kit that can be easily found.  But like any DIY home improvement project, it presents significant risks such as:
Risks to the structural integrity of your house
Safety issues to occupants
Frequent repairs
Leakage
Poor insulation leading to higher energy bills
Unsatisfactory results
Decrease the value of your property when you decide to sell
It is advisable to work with a professional sunroom contractor to get the most value out of your investment.
Can I turn an existing patio to a solarium?
Yes, an existing patio can be turned into a solarium or screen room. Professional contractors will make the necessary modifications based on your existing space. If you have a deck, a solid layer may be placed over the top.
Is it advisable to get a pre-fabricated sunroom?
Sunrooms that are custom- built to match your space and your needs are best. Contractors will use individual components that are specific to your criteria rather than a generic solution. Compare sunroom contractors to find the best deal for your home addition using our short form on this page.
Find the best sunroom contractor for your home addition today!
A reliable and reputable sunroom contractor will provide you with the information you need about a sunroom addition so you can make a well-informed decision.  You will receive a wide array of options to choose from to suit your needs and budget.
Toronto sunroom contractors are experienced in delivering high-quality products so you can sit and enjoy your sunroom without worries for years to come.  Further, they provide excellent warranties to give you peace of mind and a fair price.
In other words, you will be in good hands with any of the sunroom contractors in our network! Our partners were carefully selected based on their reputation, experience, service, and competitive prices.
Fill out the form below to look for the right contractor for your home addition today. We will be happy to connect you with the best sunroom contractors in Toronto, free of charge!
Compare free and no-obligation quotes to ensure a high return on your investment!