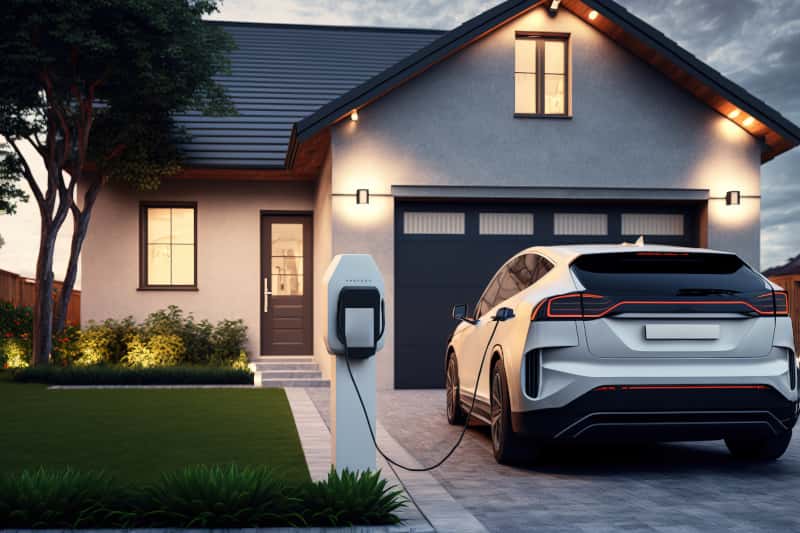 The vehicle of the future is at the doorstep of more and more Quebecers! 
Slowly but surely, Quebecers are transitioning to electric vehicles, with more models seen in residential driveways throughout the province.
Electric vehicles (EVs) promise savings, reduced environmental footprint, and many innovative features. With the purchase of such a vehicle, however, comes an essential investment – an electric vehicle charging station in the home!
Manufacturers promise that an electric vehicle charging station will give you more savings and convenience. Is this really true? How do you choose the right charging station that will give maximum benefits at the right price?
The answer may not be simple but our price and installation guide for electric charging stations in Quebec will help you understand better so you can make the right decisions.
Fill out our form to get a quote for the purchase and installation of an electric vehicle charging station!
The cost to install an electric car charging station
One of the reasons motivating many consumers buying new vehicles to switch to electric cars is the promise of long-term savings because of the "gasless" option. Although the statistics seem to support this claim, the fact remains that significant costs are added to the bill when you buy a car. 
The average price of a level 2 charging station varies depending on performance. Since it is a technological product, various ranges are available on the market, thus causing the price to fluctuate between $600 and $1,500 for a type 2 charging station. This is why it is so important to shop around and compare prices before buying a charging station. You don\t want to end up paying too much!
The cost of the installation by a professional in Quebec varies from $600 to $1100. This includes hooking up your electrical system, making any necessary modifications, and fitting to the selected exterior wall. However, complex situations can increase the cost of the installation bill.

In particular, if your current electrical system is obsolete and the electrician is forced to make substantial changes to it, the total bill will be higher.
Please note, however, that provincial subsidies can be used for the purchase of an electric charging station. The subsidy can be $600 on the provincial level and additional municipal grants of a few hundred dollars may also apply if you are located in an eligible city.
Who should you contact for the installation of an electrical charging station? In Quebec, all electrical work must be done by an electrician. Due to the risk of fire that accompanies such work, the law requires qualified electricians to perform this work to avoid significant fines of up to $25,000.
In any case, there is no point in complicating your life by connecting a charging station yourself if you are not a licensed electrician. Entrust this job to a master electrician for your safety!
Compare Home Quotes has a large network of electricians across Quebec who will be happy to install your new charging station at the best price!
The pros and cons of Type 1 electric car charging stations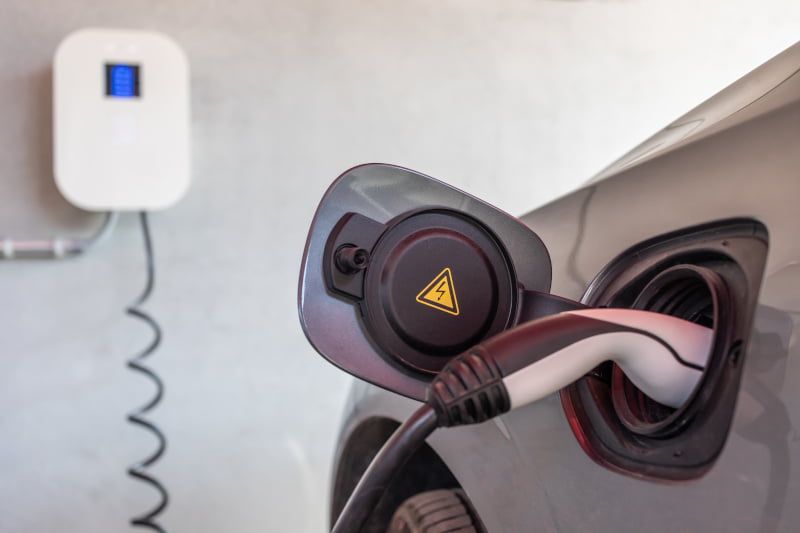 In Quebec as well as most countries using a high-performance electric car system, two types of charging stations are available to users. This includes the type 1 charging station and the type 2 charging station. 
Even if their goal is the same in terms of the complete recharging of your vehicle, significant differences arise in terms of the charging time and the battery life. 
What is the type 1 terminal? The type 1 terminal is generally included with the purchase of an electric vehicle to be used for recharging. This is plugged into a standard 120V outlet. Thus, it is possible to have a type or "level" 1 charging station installed quickly and without substantial modifications.
Check out our comparison of the advantages and disadvantages of the type 1 charging station!
Advantages:
Savings: A level 1 charging station helps you to avoid making substantial modifications to the electrical network of your home. Most car manufacturers include a 120V connector in the purchase price of the vehicle. This minimizes the purchase and installation costs.
Protects battery life: Some claim that charging the battery at a lower voltage increases battery life. Due to the slower and gradual charging, the rate of wear and tear decreases, allowing you to operate your level 1 charging station for longer.
Disadvantages:

Slow charging speed: As the voltage of the level 1 station is limited to 120V, the time it takes to fully recharge the vehicle battery is up to 4x longer than a level 2 and fast charging stations.
It can take more than 16 hours to recharge an electric vehicle with a capacity of 200 km and more than 40 hours for a range of 400 km or more. This presents a huge inconvenience for everyday drivers who depend on their vehicles for work.
Limited compatibility:  120V is sufficient to charge most current electric vehicles. However, these cars are more and more efficient, improved, and always try to seek superior energy performance.
This mission does not align well with the weakness of the level 1 station, causing some compatibility issues with high-end vehicles. If the problem is not critical at the moment, it will become so sooner or later with the release of new electric models every year.
What is the verdict for level 1 charging stations? If you are looking for high performance from your charging station and universal compatibility, the level 1 station is certainly not the option for you. It will leave you frustrated with your choice of an electric vehicle, which is certainly not the purpose of your purchase!
On the other hand, the level 1 charging station is a starting option that may be suitable for a first electric vehicle, especially if you are not dependent on it for all your long-distance trips. Everyone has their own charging needs!
Reasons to choose the 240V Type 2 charging station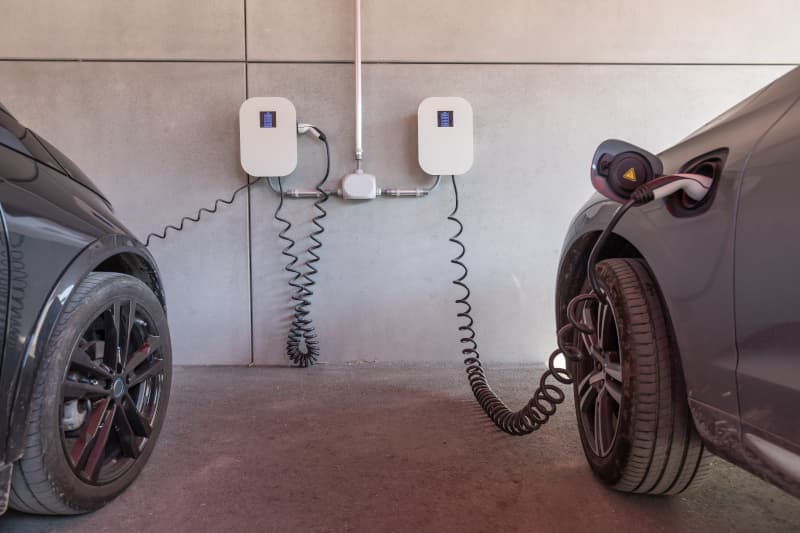 Would you like to charge your electric vehicle quickly so you can use it every day? The level 2 station is most likely the option that suits you best. In fact, unlike the level 1 charging station which plugs into a 120V circuit, the type 2 charging station is connected to a 240V circuit, making it possible to reach a charging speed of up to five times faster.
See our short comparison of the advantages and disadvantages of installing a type 2 charging station!
Advantages:
Fast charging speed: Plugged into a 240V circuit, the level 2 charging station can recharge the empty battery of an electric vehicle in as little as 5 hours for a range of 200km and around 11 hours for a range of 400km and more.
Great compatibility:   Level 2 charging stations are quite popular because of their speed compared to level 1 charging stations. They also cost less than fast-charging stations. Moreover, the electric vehicles on the market are all designed to accommodate the SARJ1772 connectors attached to this type of station. 
The only exception to this universal compatibility is with TESLA brand cars. This manufacturer has created its own terminal with a unique connector that only connects to its own vehicles. Fortunately, adapters are available to connect to any level 2 terminal, even with a TESLA car.
 Disadvantages:
Expensive to install: Costing up to $1,500 for an average price of $900, the type 2 charging station represents a greater expense than the type 1 charging station. However, when we consider the savings on gas and maintenance, this added cost can be worth the higher price.
Higher energy costs: Following simple logic, the fact that the level 2 charging station is connected to a 240V circuit means that the energy demand will be higher, which is why your vehicle charges faster. However, the design of the terminals being at the cutting edge of technology, they are not as energy-intensive as one might think.
What is the verdict for the level 2 charging station? Regardless of the car model chosen, the level 2 charging station seems to be the most advantageous option on the market despite the higher price compared to level 1 charging terminals. 
Being universally compatible with all types of vehicles and offering fast charging are good enough reasons to choose a Level 2 charging station for your home. 
Is a BRCC Level 3 fast-charging station an affordable option?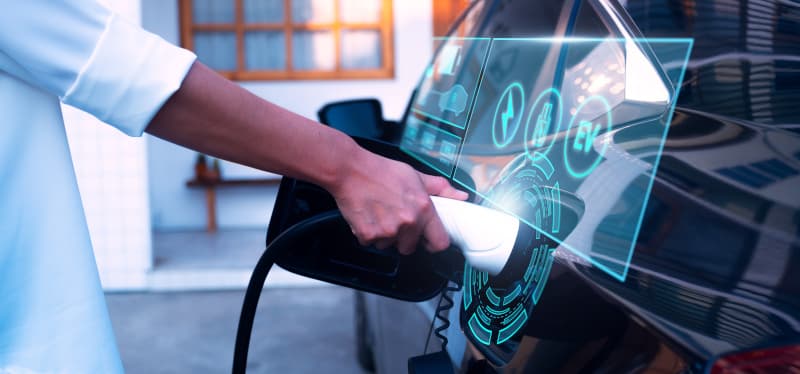 The fast charging station is another type of terminal often referred to by its acronym BRCC, or "level 3". As the name implies, this is the fastest charging station on the market. This is mainly due to the fact that it is connected to a 400V circuit, unlike its counterparts connected to 240V or even 120V circuits.
Don't get too excited with the thought of charging an EV quickly with a fast charging station! 
Few electric vehicle owners opt for a fast-charging station because it's so expensive. In fact, in Quebec, fast-charging stations are mainly found on the public charging circuit.
A second problem with fast-charging stations is compatibility. At present, the "Circuit-Électrique" network set up by Hydro-Québec still offers the option of standard 240V charging (level 2) alongside the fast-charging station, for one simple reason: the majority of electric vehicle models are not compatible with fast-charging station connections.
Some manufacturers have managed to ensure a certain degree of compatibility through the use of adapters (TESLA is a case in point), but at the time of writing, only the most expensive, top-of-the-line models are compatible with these DC charging points.
While these terminals are not available as an option for residential users, are they effective on the public grid? Absolutely. General statistics revealed by the Quebec government show that it takes around 10 minutes to give a vehicle an additional 50 km of range, while it takes between 30 and 45 minutes, depending on the season, to recharge the battery to 50% of its capacity.
When you compare these figures with the performance of the Level 1 charging station, it's easy to see why electric vehicle owners can't wait for the fast-charging station to become available for residential use. 
Compare charging stations for Charging speed and Mileage
Speaking of statistics and performance, what better way to take stock of each charging station option than with a comparison table? While there are no surprises here, this visual tool will certainly help you understand the superior speed of Level 2 and 3 charging stations!
| | | |
| --- | --- | --- |
| Type of Charging Station | Power | Recharging Time |
| Level 1 Charging Station | 1 kWh | 6km / hour |
| Level 2 Charging Station | 7.2 kWh | 40 km / hour |
| Level 3 Charging Station | 11.5 kWh | 65 km / hour |
| BRCC | 50 kWh | 300 km/ hour |
| TESLA SUPERCHARGER | 125 kWh | 750 km / hour |
In the light of these calculations, is it really economical to drive electric vehicles? Since the number of kilowatt-hours has an impact on your monthly electricity bill, it's a perfectly legitimate question. 
However, according to Hydro-Québec projections based on a driver covering a distance of 20,000km annually, savings of over $1600 can be made annually.
For an annual consumption of around 4,000 kWh, we calculate an additional electricity cost of $450 on average to charge an electric vehicle. For the average person, this represents substantial savings compared to their gasoline consumption.
Do you find the idea of an electric vehicle appealing? We've put together a list of the best electric vehicle charging stations in Quebec in 2023.
Top 6 electric vehicle charging stations in Quebec
Before you sign your contract to purchase an electric charging station, we recommend you do your homework properly. Here's your chance to get up to speed with our top 6 models of electric vehicle charging stations in Quebec in 2023!
Flo Maison G5 (Approx. $1000 + tax)
Designed specifically for residential use, the Flo Maison G5 offers broad compatibility with all models of electric and even hybrid vehicles. Positioned at the top of buyers' preferred models, you can benefit in terms of durability and efficiency in a single charging device.
ChargePoint Home 50 (Approx. $1000+ Taxes)
The ChargePoint Home charging station is the ideal device for anyone owning a vehicle with a SAEJ1772-certified charging port. Pushing innovation to the limit, this charging station features a WIFI connection that allows you to obtain a report of your energy consumption on a separate application.
EVduty (From $800 to $920 + Taxes)
Living up to its name, the EVduty charging station is at the top of its class in terms of resistance to cold and ice and unavoidable outdoor elements in Quebec. With a wire length of 25 feet, it's a great option for those whose residential layout leaves very few options for the location of the terminal. 
TechnoVE (From $700 to $1100 + Taxes)

This product from right here in Quebec province is one of the most versatile in terms of technology. In particular, it features a chip to control access to charging, as well as a display showing the connected vehicle's recharge level.
GRzzl-E (From $600 to $650 + Taxes)
If you're looking for an affordable and simple option that's adapted to the realities of Quebec's climate, you'll certainly do well with the GRzzl-E terminal. With no superfluous technological gimmicks, it's a charging station that gets the job done and looks great in any setting.
Sun Country Highway EV40P (Approx. $1170 + tax)
At the upper end of the charging station market, the Sun Country Highway EV40P is easy to use, with compatibility, a 3-year warranty, and waterproofing to protect it from the vagaries of Mother Nature.
It has been reported, however, that the installation can be difficult due to the overly rigid power cord. Nevertheless, this is a sound investment in quality!
With this detailed presentation of the different options for home charging stations for electric vehicles, you now have a good idea of your choices.
Contact Compare Home Quotes to get the best price for the purchase and installation of your EV charging station. Fill out the short online form on this page, free of charge!
Tips for the best charging station installation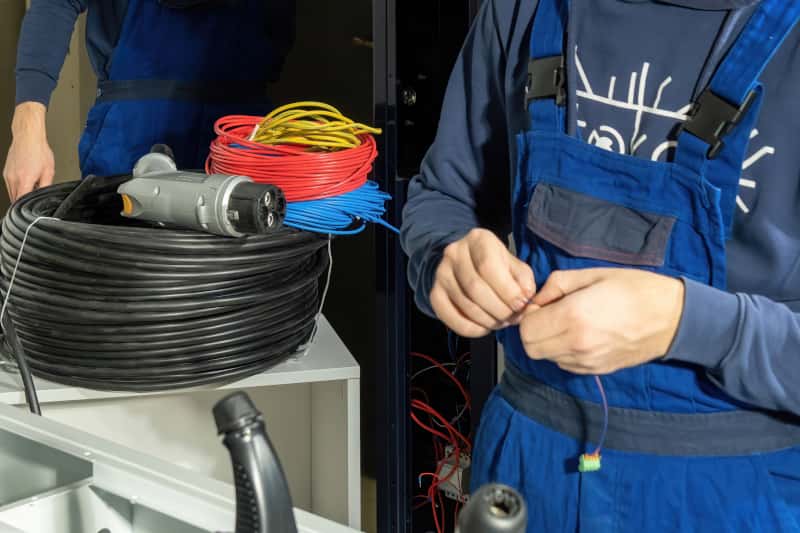 Think you've found the right brand and model of charging station for your needs? That's great news. But have you bothered to do the calculations to check whether switching to a vehicle really represents a tangible benefit for you? To make the most of your major investment, consider the following points!
Calculate the costs and benefits before installation. Take out your calculator and work out how many kilometers you drive each year. This includes the number of kilometers you drive to work, to the grocery store, and to pick up the kids from school, too.

Once you've done that, pull out the previous year's gas bills and start calculating the difference between your current car travel costs and those of a potential electric vehicle. That way, you'll know right away whether going green is as good for your wallet as it is for the environment.


Check the condition of your electrical panel before ordering your charging station. This simple check could save you considerable expense. If your panel is obsolete and unable to accommodate an electrical installation such as a charging station, you may have to replace it, sometimes at considerable cost. Since this could delay or cancel your project, check the condition of your panel now!


Assess your needs and make the right choice between Type 1 and type 2 terminals. With the information provided above, you are the only one who can make this choice but it's crucial that you do so in an informed way, taking your needs into consideration. If your financial means only allows you to buy an electric car, the Level 1 terminal could be an economical compromise while the Level 2 terminal will be a more efficient option. 


Plan the location of your charging station (and make sure it's suitable). Since your charging station is installed outdoors, it's natural to want to place it in a strategic location. However, it's important to consider the location of existing electrical installations in your home.

If you place your charging station too far from the panel and the necessary electrical connections, you may be obliged to pay for additional wiring and even for burying these wires.



Make sure you qualify for maximum subsidies! Various levels of government offer subsidies for work designed to make your home more environmentally friendly. This applies to the installation of charging stations and the purchase of an electric vehicle, too!
Tips for a long-lasting electrical charging station
An electrical terminal is a system that should last you many years. Of course, this depends on proper and rigorous maintenance on your part. But beware! After all, it's a system with many electrical components, so caution is the key.
Regular inspection is the key to your charging station's durability! We recommend checking the appearance and physical signs of deterioration at every change of the season. Above all, as winter draws to a close, check to see if external components are still in one piece, and if the thaw reveals any faults.
Check the integrity of your terminal's contacts, cables, and connectors. Don't become a weekend electrician! Just check if any of these components look damaged, dirty, or dysfunctional.
Wash components with a damp cloth. To prevent dust, dirt, and other undesirables from the outside elements from compromising your charging system, use a damp cloth for cleaning but avoid water jets at all costs. Although these terminals are designed to resist water, sending a continuous stream would push this resistance to the limit.
Leave the maintenance and inspection to the professionals! Simply check the integrity of your charging station's external components, and at the slightest sign of a problem, call in a master electrician. He will make sure that every component of the system is functional.
Tips for charging your electric vehicle
Are you new to the world of electric vehicle charging? Chances are, you've heard all kinds of things about the "right way" to charge an electric vehicle, haven't you?
Don't wait to drain the battery before recharging. You may have heard the myth that it's better to wait until the battery is flat before recharging. While this may be true for a small remote-controlled car, it's completely false for an electric car. In fact, it's better to plug it in while there's still battery power left.
Keep the vehicle connected even with a full battery. You may have been told otherwise, but there's absolutely nothing wrong with leaving an electric vehicle plugged in with a full battery charge. On the contrary, it ensures optimum range and mileage.
Public vs. private charging station: Which one is better?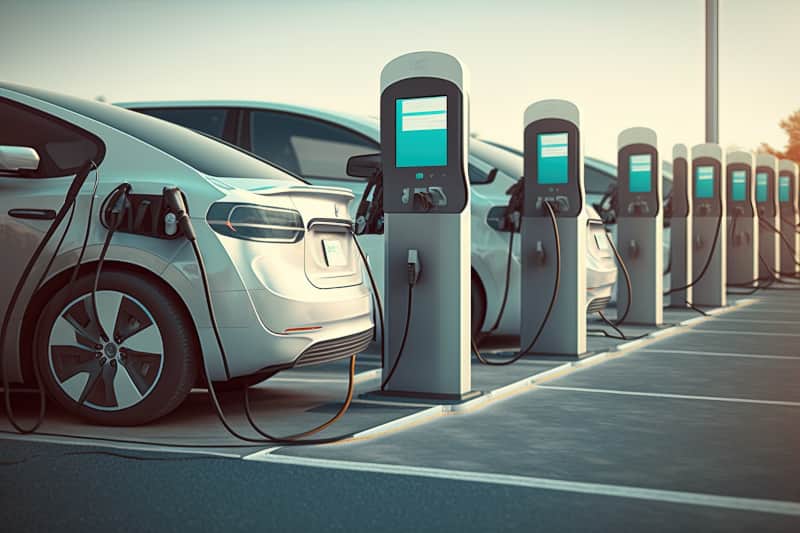 Quebec is in the midst of an electric shift in the automotive industry, as evidenced by the 2,000 Level 2 charging stations and 225 fast-charging stations found around the province's road network. But you need to understand how the system works before you hit the road.
Running out of battery power halfway between Montreal and Quebec City is likely to make you regret your choice of electric car so here's how public charging stations work.
The Circuit Électrique du Québec is Hydro-Québec's network of public charging stations. The rate for using a standard charging station is $1 per hour, or a flat rate of $2.50 for unlimited charging. This network is highly compatible with all types of vehicles and even offers fast-charging stations at a price of $11.78 per hour.
In addition to the electric charging network set up by the government, other options are offered by private manufacturers. In particular, the "SuperCharger Tesla Motors" network of charging stations has been on Quebec roads for several years now, offering very rapid vehicle recharging.
Networks from companies such as FLO, AZRA, Sun Country Highway and others are appearing in increasing numbers on the Quebec automotive landscape. This demonstrates the growing demand for electric vehicles in Quebec.
Government subsidies for the installation of your charging station at home
As a consumer installing an electric charging station, your investment becomes even more attractive knowing that government subsidies are available to homeowners. 
When you buy an electric vehicle, the government offers a rebate of up to $8,000. This amount is granted under the provincial government's Roulez Vert Program and applies to new electric vehicles. However, the program also extends benefits to used vehicles since buyers of a used electric car can obtain a rebate of $4,000 upon purchase.
When you install a Level 2 charging station, the government offers financial assistance of $600. A few conditions apply to this subsidy. In particular, only new 240V Level 2 charging stations are eligible. In addition, the charging station must appear on the government's list of eligible charging stations.
Many cities offer municipal subsidies for the installation of electric charging stations! Some municipalities have decided to take government initiatives to a new level by offering additional rebates for the installation of electric car charging stations.
The cities of Sherbrooke, Granby, Joliet, Dorval and many others offer subsidies of $100 to $500 per charging station installed. By accumulating such subsidies, we realize that going electric makes sense both ecologically and economically!
Take advantage of the Roulez Vert program for business owners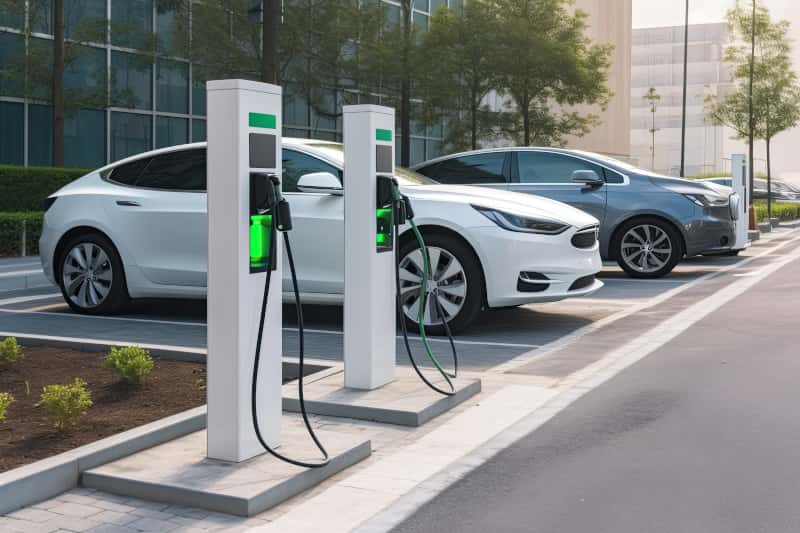 Individuals aren't the only ones to benefit from generous government subsidies under the "Roulez Vert" program. To encourage employees to use their electric vehicles to get to work, subsidies are available to employers and business leaders for the installation of charging stations in the workplace. 
What do the subsidies look like?
The government offers grants of up to $5,000 per connector for multi-connector charging stations and $5,000 per wireless charging station. Under these amounts, 50% of the money can be reimbursed when a company installs electric car charging stations.
Is your company eligible for charging station subsidies? To be eligible, a company must first install 240V or 120V charging stations. Companies can also lease charging stations and benefit from $500 rebates on connectors and wireless charging stations.
For a company to be eligible for the Roulez Vert program, the conditions are simple: it must either be registered with the Registre des entreprises du Québec or be a municipal or public organization.
If you want your company to benefit from the Roulez Vert program when installing charging stations, you'd better hurry because there's a budget limit for this ecological initiative and the deadline is fast approaching!
Government subsidies for condos and apartment buildings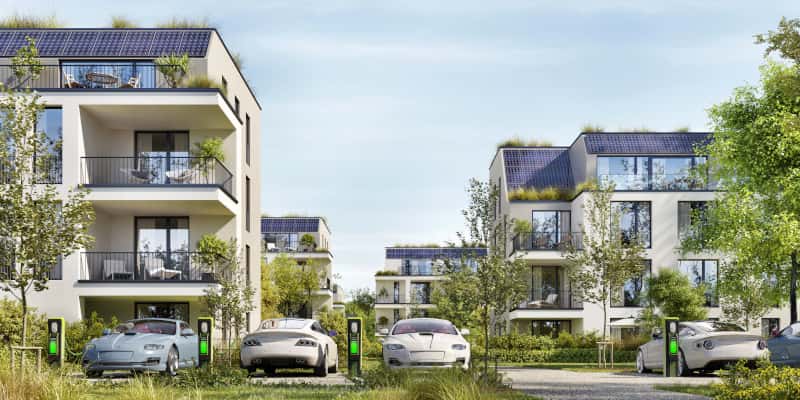 Condo units and apartment buildings are not left out either. The government also provides them with interesting subsidies that are very similar to those available for businesses.
In addition to reimbursing 50% of eligible expenses, the program offers $5,000 per terminal and $5,000 per connector. This rebate is available to owners of apartment buildings who want to install charging stations for their own needs, or even for those of their tenants.
Rental options with reimbursement are also available! As with businesses, it's possible to install a rental terminal and still benefit from a $500 rebate per connector or per wireless terminal.
For rental property owners, this is your chance to add value to your property income while making a smart and environmentally-friendly investment.
Myths vs. Truth about electric car charging stations in Quebec!
You may have heard information about electric car charging stations that are not reliable or accurate. We would like to dispel those myths so you can depend on facts to make your decisions.
All electric charging stations are compatible with all vehicles.
This is not true. For example, Level 3 fast-charging stations are only compatible with a certain percentage of electric vehicles. What's more, manufacturers like TESLA create connectors that work exclusively with their own brand of vehicle, thus limiting compatibility, even though adapters do exist. Fortunately, the most popular option, the Level 2 charging station, offers the greatest level of compatibility.
You can install my own electric charging station
False. Installing a charging station is one of the types of electrical work that the Building Code requires to be carried out by qualified, certified electricians. As we've already explained, failure to do so can result in hefty fines.
All charging stations can withstand Quebec winters.
Myth, but… you still need to be consistent with your choice! While most charging stations sold in Quebec can withstand winter conditions, some still see their performance diminish below a certain temperature. Be sure to make your choice on an informed basis.
You need an enclosed garage to install a charging station.
Completely false. Electric vehicle charging stations are designed to be installed outdoors, and even to withstand the toughest weather Quebec winters have to offer.
We hope these facts have made it more appealing to install an electric charging station in your home. If you are ready to hire an electrician to install your next electric charging station, just fill out the short online form on this page and we will do the rest.
Services of a Master Electrician for installing a charging station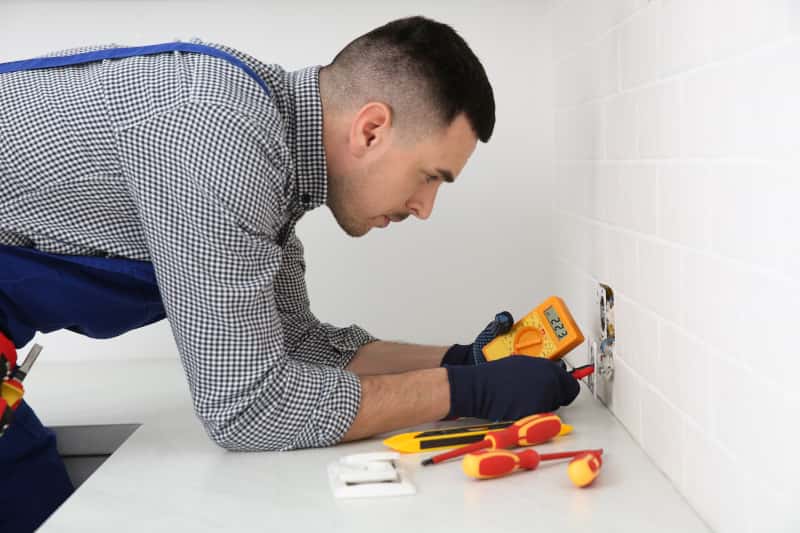 If you are seriously considering the installation of a charging station, you also realize the importance of finding a master electrician to do the work. 
A master electrician doesn't just connect a few wires, he also advises you on all the following aspects!
Analyze the condition of your electrical network. Wires, panels, connections, 120V and 240V circuits and other components essential to the connection of your charging station will all be examined with a fine-tooth comb before proceeding with installation.
Suggest a location for the charging station. By analyzing the location of the current components of your electrical network as a whole, your electrician will be able to identify the best place(s) to install your charging station.
Provide an estimate. Like any good construction professional, your electrician will need to provide you with an estimate to assess the value of the work involved in installing your electric charging station.
Execute the work. Once the estimate has been provided and accepted, it's time to sign the contract and give your contractor the go-ahead to proceed with the installation of your chosen electric vehicle charging station.
The best way to get a reasonable and cost-effective quote from an electrician is to request multiple bids from contractors near you. That's what Compare Home Quotes can do for you; simply fill out the short online form below.
Compare Free Quotes for installing an Electric Vehicle charging station
Has the time to switch to an electric vehicle? Start this new chapter off on the right foot by choosing the right charging station for your electric vehicle!
 By talking to the experts referred by Compare Home Quotes, you'll make the right choice and optimize your investment.
Are your options for Level 1 and Level 2 charging stations still unclear? Do you think you qualify for provincial and municipal subsidies? Does your home have an outdated electrical system and you're not sure you can install a high-performance charging station?
If the answer to any of these questions is yes, then it's time for you to contact a charging station installation expert from our network to discuss your needs!
By filling out our online request form, you will be connected to experts in electrical charging station installation and receive 3 free quotes from reliable electricians.
Take advantage of our free and no-obligation service to save time and money!