Use a certified electrician for professional services for your renovation, electrical installations, connections, heated floors, power outlets, and more. See prices of some electrical works and what factors affect them. 
Why is it better to choose your electrician?
When it comes to electricity in a home as in any other building, it is always best to have a certified electrician in good standing.

Indeed, a certified electrician must provide proof that he has acquired the knowledge and professional skills that will assure you that he can do the job without any risks.

By using the services of a certified electrical contractor, you will get:
Save time and money for your electrical work
An expert electrician will know if your project requires a permit and where to get it.

Compliance with standards and the law is essential. However, who has time to run to the municipal office or the various government agencies to obtain the required permits? 

For a quick and efficient electrical work, turn to an experienced and certified electrician.

Most of the time, video tutorials for electrical work take only a few minutes and cannot be easily followed by everybody.

Save money by doing the job only once. By relying on a friend to help you and save a few dollars, you will risk spending more for corrections and increase your bill unnecessarily.
Examples of prices for electrical work by an electrician

A lack of power outlets and electrical overloads are some of the most common electrical problems. If this is the case, or if you have other electrical problems, do not hesitate to call a certified electrical contractor.

Below are examples of prices for electrical work performed by an electrician. 
| | |
| --- | --- |
| Rates for an electrician for other electrical work | Minimum rates |
| Add a power outlet | 200$ and up |
| Add an electrical circuit | 300$ and up |
| Rewire your entire property | 5000$ and up |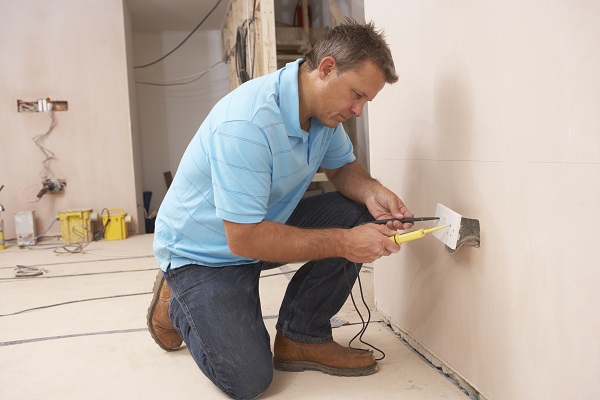 What makes the price of an electrical contractor vary?

The CMEQ (Corporation of Master Electricians of Quebec) established the basic hourly rates for electricians, based on the various levels of expertise. These hourly rates take into consideration:
Hourly rate in accordance with collective agreements

Social benefits

Cost of equipment 

GST and QST

Fixed hourly fees: CCQ levy, ACRGTQ and AECQ fees, RBQ inspection

Annual fixed fees: CMEQ and AECQ contributions, CMEQ license, RBQ fixed fees 

Miscellaneous costs

Profit
While these fees represent what it costs to provide a service, the fees of an electrical contractor are entirely at their discretion.
Get up to 3 free quotes for your electrical contractor
Compare Home Quotes – Electricians can quickly refer you to our partners in your area and whose experience, expertise in their field, and service area will be suitable to your needs, expectations, and your budget.

Tell us what you need through our online request form, FREE OF CHARGE. You will receive, without obligation, up to three (3) quotes. You will only have to compare and choose the electrical contractor who will offer you the best service and the highest quality of materials for the best price.