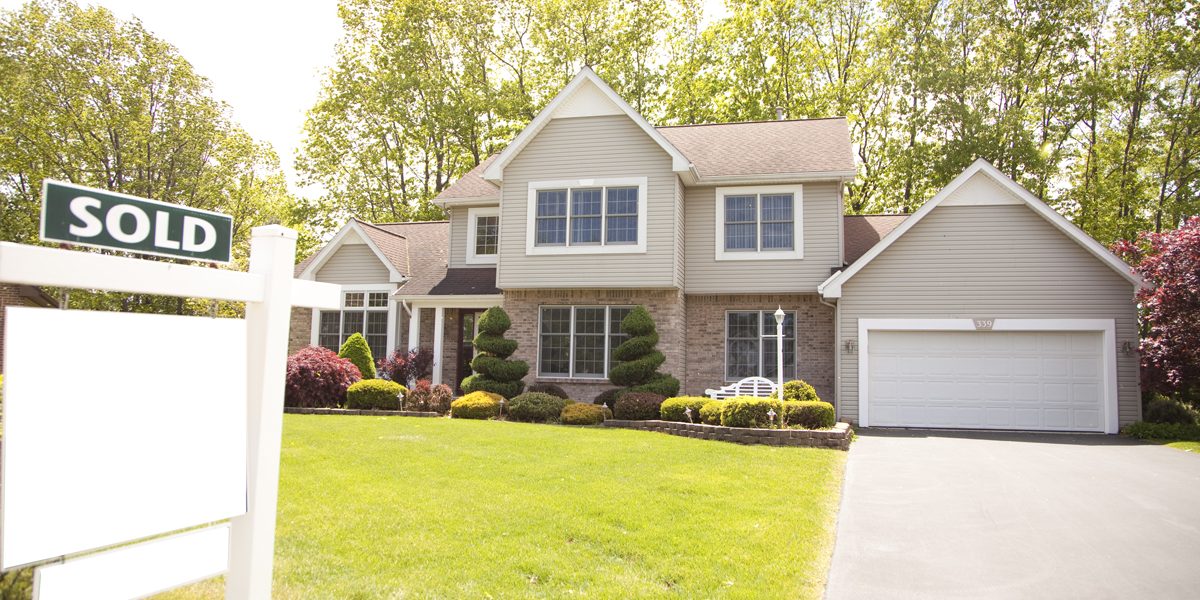 If you are looking for the best paving material for your driveway, know that most Canadians choose from 3 popular options – asphalt, concrete, and paving stones.
We have gathered all the relevant details for you to know to help you plan your renovation.
Our network has many reputable and experienced paving contractors serving all of Ontario:
· Ottawa
· Toronto
· Hamilton
· Greater Sudbury
· London
· Kitchener
· Guelph
· Mississauga
· & many more!
Whether you need an asphalt, concrete, or interlocking stones driveway, we can help you find the right contractor offering the best value for your project.
Just fill out the form on this page and receive FREE and NO COMMITMENT quotes!
A solid foundation and the right paving material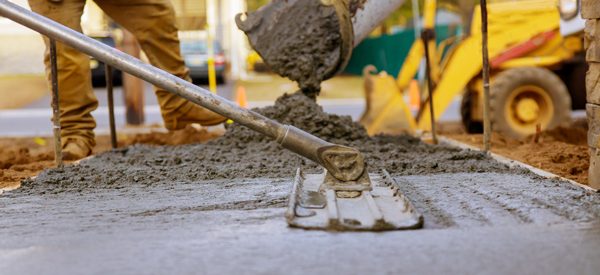 To get the best driveway with your money, it is important to plan and prepare a good foundation.
When water freezes, it causes the ground to heave and result in cracks on the surface. When you have a deep foundation with the proper compaction, water will drain efficiently and allow your driveway to last long.
Reputable paving contractors understand what is required to build a solid foundation for asphalt, concrete, or paving stone driveways.
Check out your options below to know more and choose the best paving for your driveway.
Asphalt driveways
Asphalt is the most popular option for driveway surfaces because it is durable and affordable. The foundation should be 12 to 15 inches deep the gravel is poured below grade. Hot asphalt is then applied and rolled for proper compaction.
With that in mind, you need to hire a paving company that will provide the proper foundation and thickness for your asphalt driveway.
It is also possible to use interlocking stones on the edges of your asphalt driveway for aesthetic purposes.
Asphalt driveways can last as long 20 to 35 years with proper maintenance every 3 to 5 years.  Paving should be done by an experienced and reputable contractor.
Pros and Cons of Asphalt Driveways
1.    100% Recyclable
For homeowners who want an eco-friendly option, asphalt is the ideal choice because it is 100% recyclable.
2.    Easy to remove and repair.
Damaged asphalt is easy to remove and repair. For maintaining an asphalt driveway, you can reseal and resurface to fix cracks.
3.    Faster curing time.
There is also minimum disruption to your routine after installation. You can walk on the new pavement without worry after 6 hours but wait at least 24 hours before driving on the new pavement.
4.    Affordable
An asphalt driveway is cheaper to install, with average cost of $2.00 to $4.00 per square foot.
Asphalt driveways, while popular among homeowners, also have a few disadvantages. Because the material is softer than concrete, asphalt requires a higher level of maintenance. 6 months to a year after installation, your asphalt driveway will need resealing and then again every 3 to 5 years.
When it comes to aesthetics, asphalt has very few finishing choices. It does not do well with stamping or etching and color is limited to black.
Even though asphalt driveways need more maintenance than concrete, they are still cost-effective because asphalt adapts better to changing weather conditions. Minor repairs are easily done and are affordable. 
Concrete Driveways
Homeowners looking for more appealing driveways turn to concrete driveways because they have more design options. Concrete pavements can be stained in different colors, patterned, or stamped. To avoid a slippery driveway, you can also choose a broom finishing for more traction.
Pros and Cons of Concrete Driveways
A concrete driveway costs more than asphalt but it will last longer.  Homeowners can enjoy a concrete driveway for 40 to 50 years with occasional degreasing. This means lower maintenance costs.
It also offers more options to customize its design with the overall appearance of your home.
The cost of a concrete driveway is from $4 to $6 per square foot but with finishes, the price could go to as high as $15 per square foot.
Concrete pavements can last up to 40 years but over time, it can develop cracks. When this happens, it is difficult to repair. The solution to repairing a concrete driveway is to install a new one.
It is a very good option for homeowners who plan to live in the same home for many, many years.
Interlocking Stones
Interlocking stones, also called paver stones, come in a wide variety of colors, shapes, and designs. The cheapest ones are concrete pavers and the most expensive are cobblestone pavers.
They can be shaped to interlock with other pavers or laid out in unique patterns. They can be easily installed without mortar.
Pros and Cons of Interlocking stones
The biggest benefit in using pavers is its high aesthetic value. It will surely increase curb appeal and make the exterior of your property very attractive. While it is an expensive investment, it can last a lifetime.
Pavers cost, on average, $20 to $25 per square foot, which is almost 4x the cost of asphalt or concrete driveways.
Pavers are also more durable than concrete or asphalt. You may need to replace one or two pavers over time but very little maintenance will be required on your part. You may need to pressure-wash occasionally to remove dirt or other contaminants.
Interlocking pavers must be constructed over a stable foundation to prevent shifting, gaps, or cracks. Weeds can also grow in between the stones so you will need to spray some herbicide periodically. Shoveling snow will also be more difficult because of the uneven surface.
If you are tight on time or in a hurry to renovate your driveway, interlocking pavers are quick to install and can be done in almost all weather conditions.
Asphalt or Concrete – which is better for your driveway?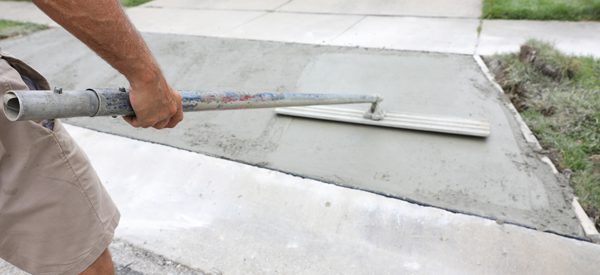 There are many things to consider when deciding between as asphalt or concrete driveway. Cost, appearance, maintenance, durability, and value are primary factors to be taken into account.
To help you decide, check the comparison table below.
Breakdown of Asphalt vs. Concrete Driveway
 

Asphalt

Concrete


Longevity


15-20 years


40-50 years


Maintenance


Easier to fix issues but periodic resealing and resurfacing needed


Harder to repair issues but less periodic maintenance needed


Cost


$2 to $5 per square foot


$4 to $10 per square foot or
up to $15 per square foot for custom concrete designs


Aesthetics


Very limited choices


A variety of aesthetic options including stamping or staining


Installation


Easier to install and faster curing time


Harder to install, takes at least 7 days before you can park on your driveway
 Whatever material you decide to use for your driveway paving project, it is advisable to hire a professional.
Paving contractors in our network will ensure that your foundation is strong and stable and that your pavement will last as long as possible.
You can connect with top paving contractors in your area by filling out the form on this page. Receive free quotes, with no obligation on your part, to save time and money!
How to repair a damaged driveway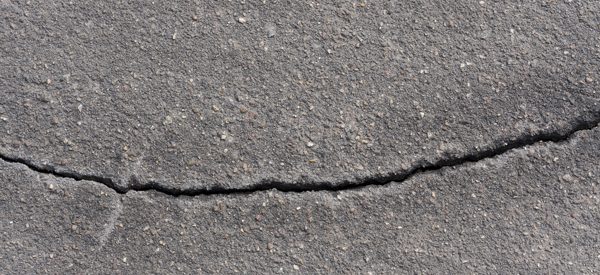 Would you like to restore your driveway to its original condition? Over time, the pavement in your driveway can get cracked, fade or lose color, look dirty, or deteriorates.
Depending on your type of pavement, you can consult experienced paving contractors for the best solution.
Asphalt Driveway Resealing
If your driveway has suddenly changed from a dark black color to grey, the liquid component that binds the aggregates may have been lost.
At this time, the pavement will also be prone to cracks and continued deterioration.
Paving contractors can seal the driveway with asphalt sealer to prevent more cracks from forming and restore it to its former glory.
Your driveway will improve in appearance after sealing. It will get back that matt black finish you liked when it was first installed.
The process of sealing is usually done 6 months after installation and every 3 to 5 years thereafter.
Asphalt Driveway Patching
Paving contractors offer asphalt patching to fix your asphalt driveway.
·         Saw-cut patching is a long-lasting solution. The damaged area is removed and the contractor inspects the stone base. The area is re-paved.
·         Skin-patching requires filling in low areas with asphalt. Glue is applied followed by asphalt to fill depressions. While less durable than saw-cut patching, it is a remedy for potholes and low areas near the garage or loading doors.

Asphalt Driveway Resurfacing
This method is between minor repair works and replacing your asphalt driveway. Hence, the cost of resurfacing your driveway is also in the middle of both options. Many homeowners find resurfacing as a good option that is affordable and allows the driveway to last a while longer.
Driveway resurfacing will include fixing damages to the surface and then laying a new asphalt layer on top.
Contractors will provide a reasonable quote for resurfacing a driveway, with average prices from $3 to $7 per square foot. The price depends on the condition of your existing driveway.  If patching or crack-filling is needed, it will increase the cost.
Concrete driveway repair
With the advent of the summer season, homeowners get busy with home repairs. One of the most noticeable when warmer weather comes around is the damage to the driveway because of salt, ice, and freeze-thaw cycles.
Hairline cracks in concrete driveways eventually happen and the key is to fix them before they get bigger.  If they are small, you can try to use a concrete resurfacer to fill in cracks. However, the better solution is to call in professional concrete pavers.
If your concrete driveway is sinking, a contractor can recommend solutions such as mudjacking, polyurethane injections, or a complete replacement.
Concrete paving contractors can take a look at your driveway and recommend the most cost-effective solutions, including sealing and resurfacing.
If the damage is too great, it may be better to replace your driveway and reduce maintenance costs.
Frequently Asked Questions about Driveway Paving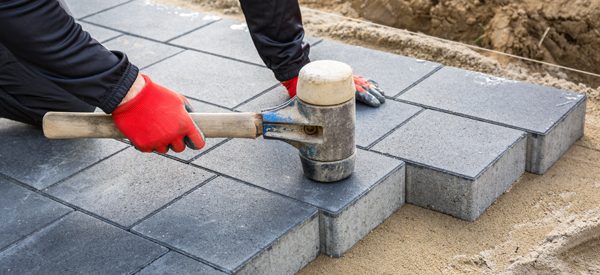 Paving a driveway is a good investment but it also costs a lot of money. Hence, it is important for every homeowner to be well-informed to make the right decisions.
How can I get a good asphalt driveway?
You need to make sure that the foundation is solid, have proper drainage, choose a good asphalt mix, and work with a reputable contractor.
Is asphalt better than concrete for driveway pavements?
Asphalt driveways offer a number of pros and cons but so do concrete driveways. To choose the right one for you, it is important to know the features and cost of each and compare them.
Asphalt and concrete driveways cost more or less the same but the latter offers more aesthetic options like stamping or staining. And while asphalt may look plain, it is easier to install and maintain. Concrete pavements, on the other hand, last longer but they are more difficult to repair.
In terms of maintenance requirements, asphalt driveways require periodic sealing and resurfacing. Concrete, on the other hand, only needs periodic washing and degreasing.
Asphalt is also 100% recyclable, making it an environment-friendly option.
How do I maintain a paved driveway?
You will need to regularly inspect and maintain a paved driveway to increase its lifespan. Asphalt driveways get damaged by wear and tear, overload, and weather conditions. Paving contractors provide maintenance services to homeowners for the upkeep of asphalt driveways.
What are the common varieties of asphalt?
The cost of your asphalt driveway will depend on the materials you select. The most common options for asphalt are recycled, hot mix, warm mix, and porous asphalt.
How does paving my driveway increase home value? 
A well-installed asphalt or concrete driveway significantly enhances curb appeal to make your home more attractive. Of course, a paved driveway also improves your comfort and convenience. Homebuyers are particularly pleased by paved driveways. You will find it easier to sell your home in the future with a paved driveway in good condition.
Can an asphalt driveway be installed in winter?
The ideal time to install an asphalt driveway is in spring or summer. This is because asphalt needs an internal temperature to set properly. However, it is not impossible to construct an asphalt pavement in winter. You will just have to hire an experienced paving contractor who is skilled, experienced, and has the proper equipment to work fast.
Do I need to replace the whole asphalt to repair damaged areas?
Reliable contractors can determine if a quick fix can still work. As long as the base or sub-base is still solid, you may be able to fix cracks or other problems with sealing or resurfacing.
Can paving be done when it is raining?
Rain can cause delays in installation of asphalt. Asphalt overlays will not properly set when it is raining.
What is the most common cause of asphalt damage?
If the asphalt driveway was paved properly, the main reason for failure is water penetration. Normal wear and tear will result in deterioration over time due to weathering, chemicals, and sunlight.
How thick should the asphalt be?
For residential driveways, the typical mat laid is 2.5" and compacted to 2". When comparing quotes from paving contractors, you should also check the thickness of the asphalt to be laid.
What factors should I consider when choosing a paving contractor?
The credentials and reputation of a paving contractor are important factors to look into. You want to hire a contractor who has a long history in your community, and a solid track record that demonstrates skills and reliability.
Of course, you should also look for a company that offers reasonable prices for the material you want to use for your driveway. Just be careful when looking at prices and make sure a contractor is not cutting corners to be able to offer a lower quote.
Compare Paving Contractors to get the best prices
Are you interested in a new installation of an asphalt or concrete driveway?
You can get free and no-obligation quotes from reliable paving contractors in your area! This is the first step to planning a driveway paving project.
You can compare materials and prices that suit your needs and budget and the right contractor for the job!
We have partner paving contractors all across Ontario that offer competitive prices for high-quality paving services for asphalt, concrete, or interlocking pavers.
Just fill out the form below to connect with reputable contractors serving your area and
save time and money!