Last upate: January 10th 2023

Every homeowner becomes concerned when the driveway is worn out or has cracks. This is because the driveway also has a big impact on the overall appearance of the property.
Is paving the driveway worth the huge expense? The answer is yes. Investing in driveway paving is worth it because it will enhance the value of your property for many years. It also increases your convenience, safety, and comfort.
However, it is important to get a reliable paving contractor to ensure that your driveway remains in good condition for as long as possible.
When planning a driveway paving project, you will need to decide on a few things. Do you want to simply repair the existing driveway or install a new one? What material is best for your driveway?
You will know more after reading the article as we will be explaining what you need to know so you can make a well-informed decision.
You will also be able to compare FREE and NO-OBLIGATION quotes to save time and money. Just fill out the form on this page to connect with our partner paving contractors!
How much does driveway paving cost?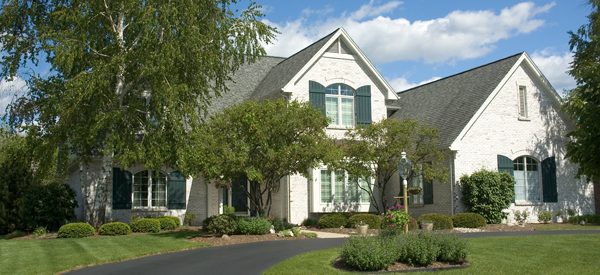 A property's value is significantly affected by the appearance of the driveway. No wonder many homeowners want a driveway paving renovation.
As with other renovation projects, one of the primary concerns of homeowners is the cost. With a variety of pavement installations to choose from, the budget you need will vary. When selecting concrete, asphalt, stone, or other materials, your choice will have a great effect on the cost.
Fortunately, you will get a lot of information to help you plan your project as you read on.
Factors that affect driveway paving cost
Materials and labor costs are the 2 major factors in determining the cost of paving your driveway.  However, there are other underlying factors that you must also consider.
Filling materials
For asphalt paving, filling materials are a big priority.  These can be sand, gravel, or mortar. The cost of filling materials can contribute significantly to your budget, depending on the size of your driveway.
Installation of asphalt pavement
Installing an asphalt pavement is challenging, especially when the land is sloping. Because it requires more work, the cost to install on sloping land is higher.
Pavement Design
Driveways tend to be straight and simple but some have circular or curved designs. More complex driveway designs need more attention and care, thus increasing the overall cost.
For enhancement of physical features using angles, slopes, or curves, it may become necessary to get an engineer involved to ensure proper draining. This can increase your project's cost.
Preparatory work
Some paving projects are simple and need little preparation. Others, however, are more complex such as when resurfacing or replacing an existing driveway. The preparatory work required will have an impact on the overall cost.
Labor cost
Depending on the size of your project and other requirements, a contractor will determine how many workers are needed.  The labor cost will be a big consideration in a contractor's quote.
Materials and Equipment
For the asphalt paving process, some materials will be required, such as:
·         Fillers
·         Cutting tools
·         Grinders
·         Compactors
·         Specialty equipment
They won't make a big dent in your budget but make sure to ask the contractor about these expenses to avoid nasty surprises.
Types of driveway paving in Longueuil and their cost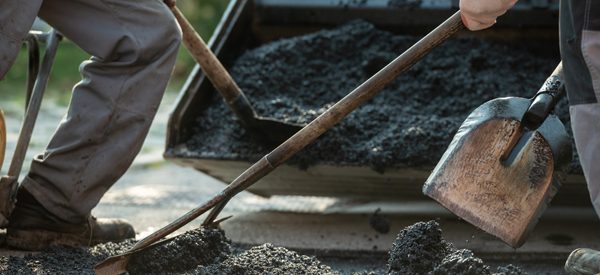 The cost of paving a driveway will depend on the material you choose. Below you will find the types of paving materials available and their typical costs.
Asphalt, pavers, and concrete are the most popular materials for a driveway. Their prices differ significantly so your choice is important in determining your budget.
Asphalt
Asphalt is the cheapest among the three and it can last as long as 15 to 20 years. It also offers several benefits – durability, noise reduction, and aesthetics. It is simple to install and repair.
While it needs a shorter curing time than concrete, you must still protect new asphalt. Heavy objects, pets, and people should be kept away for at least 48 hours.
Asphalt is almost maintenance-free and giving it good care will ensure that your pavement lasts a long time. Sealcoating every 2 to 4 years will minimize water damage, fading, and replenish the binder which could wear out due to the weather conditions or aging. It is also quite easy to repair cracks.
You have the option of mixing asphalt with paving stones to achieve a more sophisticated design but it cannot be reused and is not environment-friendly.
The average price of asphalt paving starts at $3 or as high as $10 per square foot.
Concrete
You can find concrete in various shapes, patterns, and colors. It can be poured directly on the ground. Prices can vary widely depending on the materials, grade, shape, and your choice of contractor.
While concrete is more expensive than asphalt to install, if it is sealed properly, it will last longer and require less maintenance.
Concrete can be stained or stamped to provide a more unique appearance to your driveway. There are various stamps available to mimic stone, slate, wood, brick, or flagstone.
A concrete driveway can last as long as 40 years but it does get cracks over time. Unlike asphalt, it is more difficult to repair. The easiest solution is to pour new concrete.
The average cost of installing a concrete driveway is from $7 to $16 per square foot.
Paver stones
Paver stones last longer than asphalt. Made of hard blocks of glass, clay, brick, stone, concrete, or plastic, paver stones last as long as 30 years and give a unique appearance to your entrance.
They cost more to install compared to asphalt but they can be a good investment in the long term. They can be easily removed, too, and reused as needed.
The cost of paver stones depend on the type of material but the average cost is $12 to $20 per square foot.
Sealing, Resurfacing, or Replacing asphalt driveways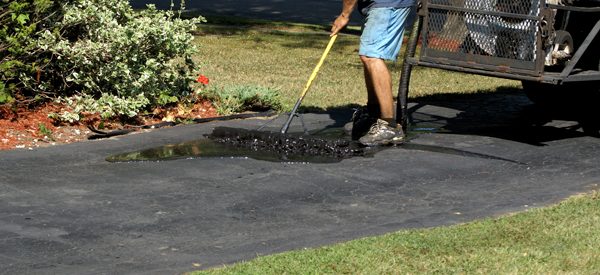 Asphalt driveways increase curb appeal but require regular maintenance. As a homeowner, you may have noticed that your driveway does not look as new or as fresh as it did before. Does it need seal coating or resurfacing?
Sealcoating an asphalt driveway
Sealcoating uses a liquid sealant on the existing pavement to fill cracks and seal the surface. This will protect the sublayers and the foundation from damage, thus delaying the need to replace a driveway.
Sealant can be applied every 3 or 5 years to a driveway. For a newly installed driveway, sealant is applied after a year and then every 3 years thereafter.
Sealcoating an asphalt driveway should be done when the temperature is 50–90°F and under dry conditions to ensure adhesion.
A contractor can charge from $0.20 to $0.30 per square foot to reseal an asphalt driveway. The prices may vary per contractor. For a large driveway, it can cost from $180 to $250 to sealcoat.
Resurfacing an asphalt driveway
There are times when seal coating cannot fix the issue. If there are cracks and you had to do constant patching, it may be time to resurface the driveway.
Resurfacing means replacing the top asphalt layer to extend the life of your driveway for another 8 years or longer.
Determining if resurfacing is the answer to fixing your driveway can be based on several things such as:
·         Is the foundation still good?
·         Is the asphalt 20 years old or less?
·         Are the cracks small or less than a quarter-inch wide?
·         Do you see damage to less than 30% of the driveway?
Repairs are temporary in nature. Water can seep in between the new and old layers, prodding new cracks to form. If you patch and repair often and the foundation is still in good condition, resurfacing can be a good solution.
Resurfacing an asphalt driveway is less expensive than installing a new one. Resurfacing costs about $2.50 to $4 per square foot.
Replacing an asphalt driveway
You have done your best to maintain your driveway but after years of good use, it has begun to show signs of wear and tear or damage.
Materials will break down over time and it may not be possible to reseal or resurface anymore. Sometimes, constant repairs can add up and become too expensive to continue.
An asphalt driveway that is about 25 years or older would need replacement. If more than 30% of the existing driveway needs repairs or if large cracks are visible, consider replacing your asphalt driveway.
Installing a new asphalt driveway can cost from $3 to $5 per square foot to install. It is less expensive than concrete which makes it very popular among homeowners.
It is important to find a reliable paving contractor for a driveway paving project. You can use our short online form to connect with the best paving contractors in your area, free of charge!
Essential things to consider before paving a driveway
Paving a driveway should be done on warm days. Hence, the months of June to September are considered ideal for pavement work.
You should also ensure that your selected contractor has fulfilled the legal standards regarding a paving contract. The agreement must indicate the contractor's name, business address, contact details.
Other important details should also be indicated, including:
·         Proof of liability insurance (insurer and policy number);
·         The start and end date of the work;
·         The accurate dimensions of the surface for paving;
·         The depth of the area to be excavated and the type of fill and asphalt and the compaction thickness;
·         The details of the warranty provided (duration and terms);
·         Total cost and schedule of payment;
·         Disposal of debris and clean-up of the site.
Know the cost of your paving project and find a good contractor by getting 3 free and no-obligation quotes from our partner contractors.  Just fill out the form on this page to receive your FREE ESTIMATES!
FAQS about Asphalt Paving in Longueuil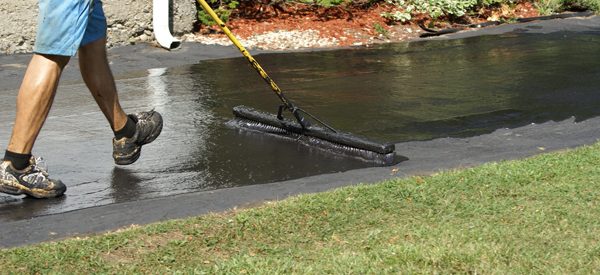 Paving a driveway is an essential part of a home renovation.  You need to prepare the appropriate budget and plan well to ensure you get the best possible results.
Learning as much as you can about the steps and process will help you achieve your goals.  Thus, we have collected some frequently asked questions about driveway paving to help you with that.
When it is necessary to pave my driveway?
You should pave your driveway when you want to make it look new again. If you see some signs of damage, you need to take the right steps to preserve your driveway. Signs of damage include cracks, indents, potholes, discoloration, or an uneven surface.
Contact a paving contractor to get advice on the best remedies for your asphalt driveway.
How much will it cost to pave my driveway?
It isn't possible to give an accurate cost without the specific details of your project. A contractor will require information such as the size of the driveway and inspect the actual conditions of your existing space. He will also need to plan the drainage system, excavation, and the materials to be used. The common types of asphalt materials are warm mix, hot mix, porous asphalt, and recycled. The average cost to install an asphalt pavement is from $3 to $5 per square foot.
What is the recommended thickness of an asphalt driveway?
The thickness should depend on how you plan to use the driveway. It will be based on the traffic and number of vehicles on a normal day. For a long-lasting pavement, you need to have at least 3 to 4 inches of thickness.
A paving contractor with years of experience can give you a good recommendation for the thickness you need for your driveway.
Do asphalt pavements increase home value?
Installing an asphalt driveway can drive up the attractiveness of your property and help you to sell it more easily in the future. A well-installed and maintained asphalt driveway increases curb appeal and adds to the overall aesthetic value of your property.
Homebuyers prefer homes with asphalt driveways because they are durable and easy to maintain.
What is the average lifespan of an asphalt driveway?
Asphalt driveways last a very long time but it will depend, of course, on the maintenance and care you put into it.
Regular inspection will prolong the lifespan of your driveway. Resealing every 3 to 5 years will enable your driveway to last as long as 30 years.
Can paving an asphalt driveway be done DIY?
Paving a driveway can't be done by yourself. You may be able to save money but it is not advisable to pave your driveway DIY.
Whether you just want to resurface an existing one or install a new driveway, you need to be knowledgeable about laying a strong foundation and have the proper equipment and machines to do the task.  If you fail to do this, you would have wasted a lot of time, not to mention, money, and end up hiring a professional to do it all over again.
How do you maintain an asphalt driveway?
An asphalt driveway needs routine inspections to extend its lifespan. Because they get damaged from wear and tear, climate conditions, and heavy usage, some remedies need to be done once in a while, including resealing, patching, and/or resurfacing. Paving contractors offer maintenance services after the installation of an asphalt driveway.
Why is asphalt cheaper than concrete driveway?
Asphalt driveways are cheaper than concrete driveways. They are not as durable or long-lasting but they are easier to install and repair.
What services do paving contractors offer?
Paving contractors also offer drainage installation, excavation, asphalt driveway installation, and asphalt repair and maintenance.
What is asphalt patching?
Asphalt patching is a method for repairing minor problems with your asphalt driveway such as small potholes or cracks. Using a hot mix asphalt is an ideal solution in these situations.
When is the best time to install an asphalt driveway?
Many people will say spring or summer is the best time for installing an asphalt driveway.  A certain internal temperature is critical to the asphalt mix to allow it to set properly. The best temperature for asphalt work is 70 degrees Fahrenheit.
Get in touch with our paving partners to get accurate and tailored solutions to your paving needs. Just fill out the form on this page to get FREE and NO-COMMITMENT quotes!
Get the best driveway paving with free quotes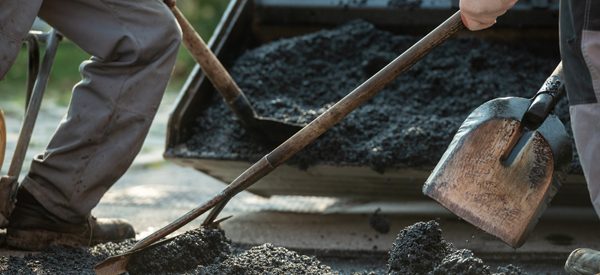 Every homeowner desires a durable and long-lasting driveway at the best price. Don't get stuck with finding the best price for asphalt paving.
It is so easy to compare multiple quotes from paving contractors using our short online form!
Our partner paving contractors offer the best deals for all types of asphalt driveway installation or repairs.  They have been verified using stringent standards for customer service, reputation, quality, and pricing.
We also ensure they have the right credentials and insurance to meet the legal standards in Quebec Province.
Move forward with your home renovation by requesting free and no-obligation quotes today! Just fill out the form below and get connected with top paving contractors near you.