24 November 2020,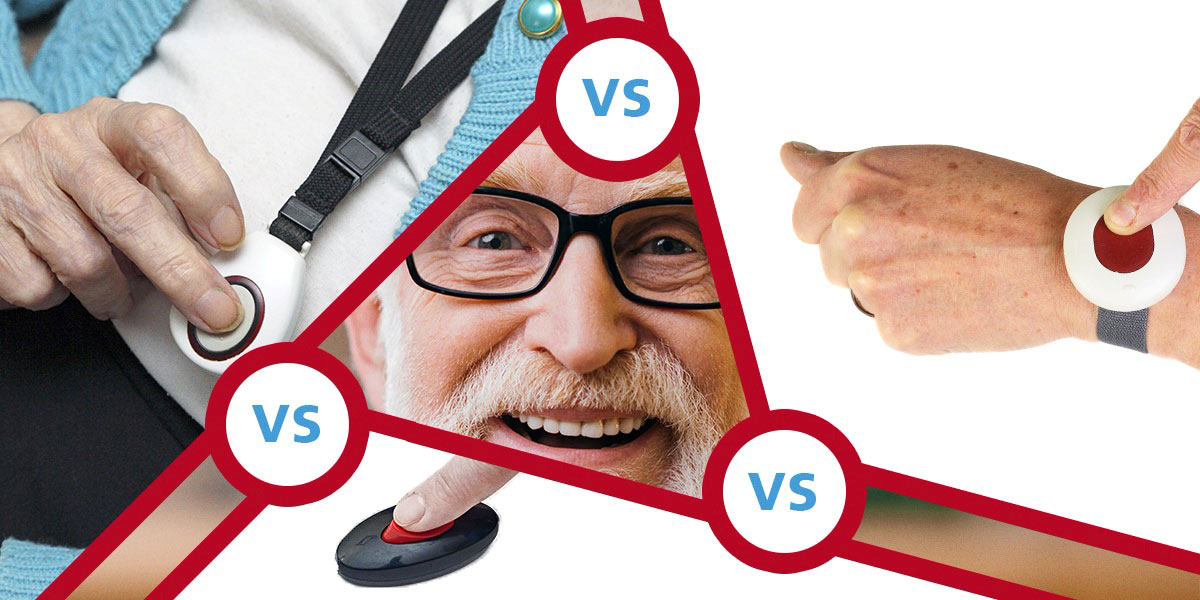 Many people in Canada now use a panic button or a personal emergency response system for safety and security. These devices are especially useful for people living alone, or those with health conditions that put them at risk.
You will find a wide variety of medical alert systems in the market you can compare and choose from.  Most companies offering these systems give choices that include wearable panic buttons in the form of a wristband, bracelet, or pendant.
Are you interested in getting a medical alert system for a parent, spouse, or for yourself?
Obtain FREE and NO OBLIGATION quotes by filling out the form on this page to save time and money.
Who needs a medical alert system or panic button?
In life, we just don't know when things can go wrong.
When this happens, it is good to have something you can count on for help, like a medical alert system or panic button.
It becomes even more important if it is about your health or when you get older or live alone.
For this reason, more and more Canadian seniors with mobility problems or live independently are buying panic pendants or panic bracelets for emergencies.
Whether you have experienced a medical emergency before or just want to plan for such an emergency, it is good to invest in a medical alert system.
Wearable medical alert systems are highly recommended for:
Seniors who live alone
Older adults with chronic or medical conditions
Persons recovering from an injury or illness
Individuals with mobility issues
Individuals with a history of falls
Individuals with cognitive problems
Individuals who want peace of mind when it comes to an emergency
It is also important to note that panic buttons are not only for medical emergencies. They can also be used to summon responders in case of a fire, burglary, or other types of accidents.
Is a panic button the best solution for you?
These fixed medical alert systems are located at strategic locations in your home (bedroom, bathroom, living room).
Usually, these are alarm buttons that you push or cords attached to the wall that you have to pull down.
Since the panic buttons are located in specific places, it is not always easy to reach them in case of an emergency.
If you live in a seniors 'residence, your panic button is directly connected to the nurses' station or the reception desk.
If your panic button is installed in your home, it can be connected to your alarm system and to a central monitoring station (if monitored plan) or an emergency contact (friend or family member).
The designated recipient of a panic alert is responsible for acting on an emergency or calling for help.
For more convenience and higher protection, you can also consider getting a monitored medical alert system with an emergency panic button that is wearable.
Worn on the wrist or as a necklace, the button is easily accessible and available at all times, even while asleep or in the bathroom.
A trained monitoring specialist receives an alert from your emergency panic button 24/7 and makes sure that help is on the way within seconds of an emergency.
Wearable devices for added convenience
Due to advanced technology, most medical alert systems also provide a wearable device such as a wristband or pendant with a panic button that can be pressed in an emergency.
They are wireless devices and can be worn even in the shower (if waterproof). This makes it possible for a senior to call for help anywhere, especially in the bathroom where many accidents occur.
Most of these devices also have a voice transmitter that allows the user to speak to a monitoring center without using a smartphone or landline. With one press of the button, a monitoring agent will answer and verify the nature of the emergency.
How do wearable panic buttons work?
There are many panic buttons available in the market. Many of them are offered by reputable security companies as a stand-alone system or can be connected to a home security system.
A wearable panic button is a small, light-weight, and battery-operated device that a user can press in an emergency such as a fall or a break-in.
If the system works with monitoring, an alert is sent to a monitoring professional who will then contact the user through the voice system in the device. After verification, the professional will notify the proper responders, police, fire, or medical personnel.
It is worth noting that response time from this type of personal security system is measured in seconds, not minutes. In a situation where the user has suffered a heart attack or a stroke, the speed of response is essential in saving a life.
Essential Features of Medical Alert Systems
Many panic button systems can be worn around the neck or even clipped to your belt. Some can also be carried around or used as a keychain. Many of these models are also waterproof, enabling them to be used even when in a bathtub where many falls happen.
Here are a few essential features of medical alert systems:
Portable and lightweight
Battery-operated
Waterproof or water-resistant
Attractive and sleek design
With 2-way voice system
With 24-hour monitoring by a professional monitoring center
Works from 200 ft. to 600 ft. from the base unit (varies based on the type of system)
Can be for indoor or outdoor use
Advanced Features of Medical Alert Systems or Panic Button Systems
One of the advantages of comparing medical alert systems is finding the best one that suits your needs.
Some of these devices offer advanced features that are not available in basic models.
Automatic Fall Detection
Some systems offer automatic fall detection with an additional monthly fee. The device senses a fall using algorithms such as the speed of motion and position.  An alert is immediately sent to a monitoring center when such parameters are detected by the device, even if the user fails to press the call button.
Fall detection technology is not perfect. It could send an alert if you just lose your balance or if you drop your pendant and it lands on the ground. The user, however, can cancel an alert by pressing the panic button.
And while the technology may still have a few flaws, the charge for this additional feature is not huge and it does offer protection that can come in very handy when an actual fall occurs. You may not have your smartphone with you at all times or you could be in a situation where you can't call.
Anybody who is at risk of falling or being in a medical emergency will greatly benefit from a medical alert system with fall detection.

GPS Monitoring
GPS technology allows you to get directions or locate someone.  It can be a life-saver in some instances. When GPS is used by somebody wearing a panic button in an emergency situation, help will arrive faster.
Panic buttons that offer this feature are very useful for individuals who suffer from certain conditions that may cause disorientation, mobility, or speech problems.
What are the main benefits of panic buttons with GPS tracking? Don't think that panic buttons are pushed to make noise and get attention. That is how they worked long ago but not today. Panic buttons with GPS technology send an alert to a monitoring center or designated individuals about the user's location so that help can be sent.
Depending on the system used, safe zones can be set up so that an alert is sent out when the user exits the safe zone. This is a great safety feature for elderly people with Alzheimer's or Dementia and even children with special needs.
Most medical alert systems or panic buttons with GPS monitoring are mobile systems. They are wireless and work with cellular networks.
Geo-Fencing
As mentioned earlier, mobile medical alert systems allow the set-up of "safe zones" for the user. Once the user is outside a safe zone, contacts are alerted as well as a monitoring center so that the appropriate action can be taken for the user's safety.
Two-Way Voice System
Most medical alert systems have a built-in microphone and speaker that allows the user to communicate directly with a monitoring center.
You won't need to get to a smartphone or landline to ask for help in an emergency.
These advanced features are not available with all types of panic buttons. You need to choose the right plan based on your needs.
Medication Dispenser
There are medical alert systems that offer medication reminders or dispensers as an additional feature. This helps your loved one to take his medication at the right amount at the right time. Such useful features give the elderly more independence and reduce the burden of care on family members.
 Compare panic buttons and medical alert systems using our short online form
to save time and money!
Just fill out the form below to get free quotes with no obligation!
What is the price for a panic button?
When people buy a medical alert system, one of their biggest concerns is the price. With so many models and types in the market, you will find that the cost of panic buttons vary widely based on:
Product Features
System and Hardware
Type of Support Service (monitored or non-monitored)
Owned or Leased
The most basic plan for a monitored system is landline-based and is for indoor use with limited coverage. It won't protect you when you are outside of your home. This type of system works best for individuals who are mostly at home with limited outdoor activity.
Some plans offer home use with extended coverage such as a few feet outside.
Other more advanced plans are mobile and cellular-based but they offer additional features such as fall detection and GPS tracking. These plans are more expensive than the basic systems but give wider protection.
Some systems are non-monitored and are, instead, connected to a designated contact (friend or family member) who is responsible for acting on an alert. These systems are the cheapest in the market and don't require contracts. They are, however, less reliable during emergencies because:
The contact person may be unavailable in an emergency
The contact person is slower to respond than a trained staff
Monitored systems have uninterrupted support from trained professionals which makes them highly-reliable in the event of a medical emergency or security problem.
Comparison of Popular Panic Buttons in Canada 

Company/ System

Features

Plans

Price

Philips Lifeline

Comes with emergency pendantWith automatic fall detectionMedication DispenserGPS tracking
HomeSafeHomeSafe  with Auto Alert (with fall detection)

GoSafe (with fall detection)

Wandering (with GPS)

Plans start at $29.95 monthly
*BasicActivation fee of $50

Global Security

comes with wristband or pendantWater-resistantoption for fall detection and GPS trackinga leader in ADT systems in Canada
PERS Numera LibrisPERS Numera Libris with EverThere software
Plans start at $34.99 monthly
* for a 36-month contractActivation fee of $99

Life Assure


with lifetime warrantywith 600-ft. range from the base unitoffers fall detectionwith 2-way voice communication
Standard PlanMobile Plan

With GPS and Fall Detection

Standard Plan costs $29.99 monthlyMobile Plan costs $69.95 monthly
Direct Alert
can be connected with a cable, landline, VOIP, or cellular networkavailable in bracelet or pendant panic buttons

with 2-way voice communication

no long-term contract

Home ProtectionWireless Plan
Plans start at $25 monthly
SecurTEK Medical Alert
with fall detectionwith 2-way voice communication

with waterproof pendant

can be worn or mounted

Plans start at $29.95 monthly
Alarmguard
landline not requiredwaterproof device

with optional fall detection

with 2-way voice communication

GPS and cellular for location tracking

can be clipped to be a belt or worn as a watch or necklace

Senior Protection Plan
no published prices available
SecurMedic
Wireless Smartsafe with emergency buttonlandline required

optional fall detection

easy to install

with water-resistant button

no contract required

SmartSafeSmartSafe with Fall Detection Plus

SmartSafe with Fall Detection

Plans start at $25 monthly and $35 monthly for Fall Detection Plus

Pulse Alert
with GPS and Fall Detectionwaterproof mobile device

Standard push button that can be worn around the neck

24/7 assistance center

Standard Home AlertHome System with Fall Detection

Mobile System with GPS and Fall Detection

$36.99 monthly monitoring fee if the device is purchased$169 for the device

$46.99 monthly monitoring fee if the device is rented

$46.99 for monthly monitoring with fall detection for owned device and $54.99 monthly if rented

No activation fee
There may be other options that could match your needs and lifestyle. Take advantage of our FREE and NO COMMITMENT quotes to compare prices and offers.
Fill out the form below to receive the best offers for emergency panic buttons in your area!
Get help after a fall with an emergency panic button
Many Canadians get hospitalized year after year due to falls. Based on a report from the Public Health Agency of Canada, falls remain as the leading cause of hospitalization due to injury among seniors.
It is important to get immediate help after a fall. A quick response can increase the chance of survival and recovery.
With a reliable emergency panic button, the proper medical response will arrive at the doorstep much faster, securing your loved one for your peace of mind.
Here is how easy it is to get access to emergency assistance with a panic button.
Step 1: Push the button to call for help. An emergency operator will respond and send the help you need.
Step 2: Within seconds after pressing the button, help will be on the way.
If your device has auto fall detection and GPS technology, the support center is alerted if you fall even when you don't press the button. GPS tracking will also provide details of your location so that help can be dispatched right away.
What's your best portable medical emergency button solution?
Shortly before the 1980s, the designers of medical alert buttons wanted to overcome the limitations of fixed panic buttons. They developed the portable medical emergency buttons which you can wear in the form of a necklace (pendant), bracelet, or clipped to your belt, among others.
No matter where you are in the home, or even when you are outside, you can activate the panic button.
Likewise, if you are unconscious or simply disoriented from a fall or feeling sick and cannot call your relative or the hospital, trained agents can do it for you.
You can choose to have a system that is used only within the home or a portable system you can carry around if you have an active lifestyle.
Hence, you can find a tailored solution that meets your needs and budget.
Below are questions you can ask when choosing your emergency panic button. 
Do you need a monitored system?
If you live alone, it is best to choose a monitored system for uninterrupted support. A relative can take a long time to contact or arrive when you need help. A delayed response can make a huge difference when it comes to medical emergencies.
Although non-monitored systems are much cheaper because they don't have monthly fees, they are less reliable and have limited features.  The quality of a response depends on the ability of your designated contact to react promptly. This type of system does not ease the burden of care on family members as much as monitored systems.
Do you need home protection only or outdoor coverage as well?
If you stay home all the time, a home protection plan would be adequate for your security. If you spend time outside or still live an active lifestyle, a mobile system would be ideal for your needs.
Does the system you are considering require installation?
There are systems in the market that are easy to install or require no installation. If you are a senior living alone, you should choose a hassle-free system.
Will the emergency response center communicate with you in your preferred language?
Canada has a widely diverse population with multiple spoken languages. The best response centers are multilingual, able to speak to you in French, English, Chinese, and other languages. Choose a system with a support center that can communicate with you in your preferred language.
Is the device waterproof or water-resistant?
Most accidents at home occur in the bathroom. It is best to choose a device that is water-proof or water-resistant so you can wear it even in the tub.
Does the medical alert system require a contract?
A commitment on your part to subscribe to monitoring services for a year or two can help reduce the cost of your service. Check how long the contract will be and if it can be continued if you need to move to another location. Know what the cancellation terms and conditions are.
You should know that a medical alert system is very useful for emergency situations but it doesn't have to cost so much. You can compare offers to find the right package that suits your needs and budget.
Choose from 3 qualified and certified partners
We can help you find the right medical alert system with panic button to help you in case of an emergency.
Our partners are experienced and reputable companies in the security industry and offer competitive prices for high-quality services.
Fill out the form on this page to receive 3 FREE and NO OBLIGATION quotes you can compare from our Panic Button partners.
Compare prices for panic button bracelets, pendants or watches that you can easily wear at home or outdoors for uninterrupted protection and peace of mind!
 Save time and money today and sleep well at night with the right medical alert system from our network!