14 January 2022,
Date update: January 11th 2023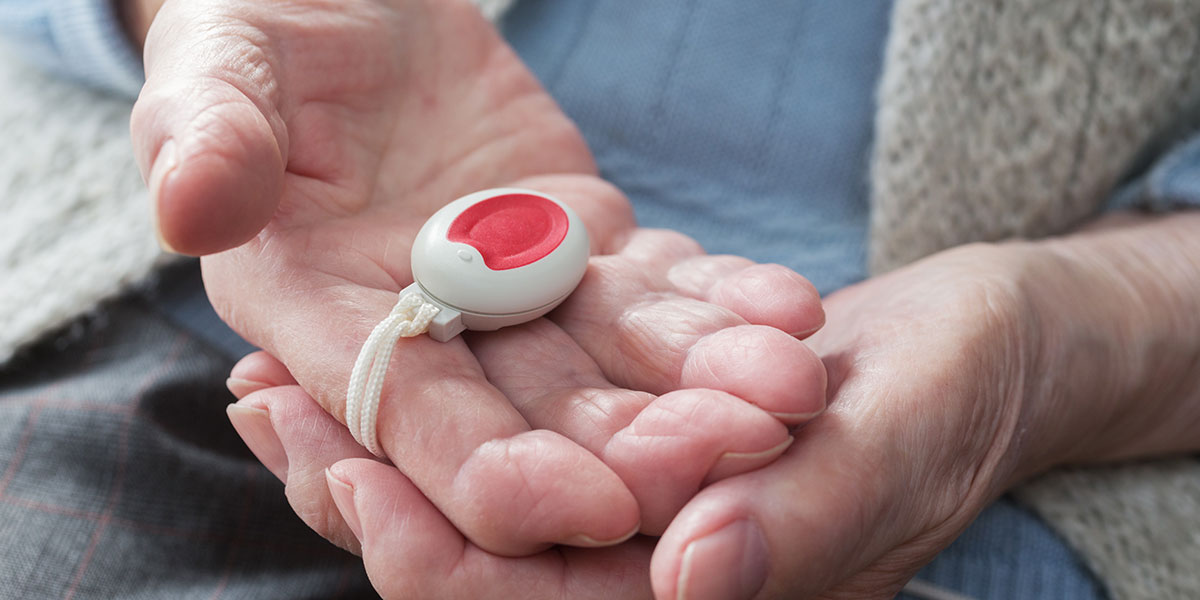 Do you have an elderly mother, aunt, or sister you are worried about because they live alone?
Today, seniors can live alone with peace of mind because of Fall Detectors and Personal Emergency Response Systems (PERS). These security devices give the user access to a panic button which, when pressed, connects to a monitoring center 24/7. A trained professional receives the alert and summons help for medical or other types of emergencies.
Research indicates that 1 out of 3 Canadians aged 65 and above suffer a fall each year.  A fall can lead to serious injuries that could be the start of long-term care for the elderly.
You can keep an aging relative safe and comfortable with a reliable fall detector or emergency panic button with monitoring.
With a medical alert system or fall detector, emergency assistance is just at your fingertips!
Fill out the form below to know the cost and benefits of wearable fall detectors in Alberta. Receive free and no-obligation quotes from our licensed partners!
Fall Detectors and Medical Alert Systems for Seniors
What are fall detectors and are they different from medical alert systems and personal emergency response systems?
They are all very similar with a few differences. Their primary objective is the same: to make it easy for users to call for help in an emergency. This is particularly important for seniors who may not be able to dial 911 after a fall or accident for several reasons.
A fall detector or a medical alert system would have a base or console that is connected to a landline or a cellular network.
The system also includes an emergency panic button pendant that can be worn around the neck or wrist.
Most systems would include a 2-way voice communication system so that a responding agent can speak to the user when the panic button is pressed.
Most systems also offer automatic fall detection (optional).
Mobile systems offer GPS location tracking and geo-fencing.
Depending on the plan you choose from your selected provider, the user can have protection at home (within a specific range from the base unit) or even outside the home (for mobile plans).
Here is how a fall detector pendant or medical alert system can help seniors feel safe and confident.
How do panic buttons work?
It is really easy to use a medical alert system with fall detection. It is connected to your landline or cellular line. The panic button is worn as a necklace or bracelet for convenience and comfort.
In an emergency, the user can press the button and an alert is sent to the monitoring center. Using the 2-way voice communication system, the monitoring agent will verify the status of the user. If it is a medical emergency, he will quickly dispatch medical responders to your home.
If the medical alert system has automatic fall detection, the monitoring center receives an alert even if the user fails to push the panic button. This ensures that the senior will receive help after a fall even if he cannot speak or cannot call for help.
An individual with a medical alert system or fall detector can call for help in an emergency, day or night, with just one push of the button.
Your Panic Button is a Lifeline to Safety
A medical alert system has a 2-way voice system that allows you to talk to and listen to an agent from a monitoring center. A professional voice will reassure you that help is on the way in an emergency!
The monitoring center can also contact persons in your contact list for non-emergency cases such as if you need help in dressing, toilet, etc.
Fall Detection, GPS Tracking, and Geo-Fencing Features
Medical alert systems offer advanced features to enhance the layer of protection that a senior has. Find out if these features are essential for your safety and well-being.
Fall Detection is a technology that recognizes a fall and sends an alert to a response unit. This feature is critical for frail individuals with a history of falls. Even if they don't push the emergency button after a fall, an alert is automatically sent to ask for help after a fall.
Without fall detection, a user must push the emergency button to ask for help.
GPS tracking is available for mobile medical alert systems. It allows the monitoring center to know the location of the user if the emergency button is pressed. This feature is useful for protecting seniors who spend time outside the home.  If the user is unable to provide his location when he presses the call button, the monitoring center will be able to identify his location using GPS technology. This may be useful for seniors who get disoriented or confused, such as if they have dementia.
Geo-fencing is another feature that can be useful for keeping seniors safe while reducing the burden on caregivers. This technology allows the set-up of safe zones in the home. When the user leaves or enters the safe zones, an alert is sent to notify family members or a monitoring center.
You can choose the plan for your medical alert system that is most suited to your needs. In this way, you can control the level of protection you have as well as the price.
Benefits for At-Risk Individuals and Seniors
Individuals who are 65 and older or those who live with medical conditions are at a higher risk for falls. Their health conditions may also pose risks that could require medical attention such as seizures.
If at-risk individuals live alone, the situation can be scary. In fact, a fear of falling can inhibit many seniors wherein they avoid social activities to stay home.
With a medical alert system or fall detector, seniors can live without fear. Below are the important benefits of fall detectors and medical alert systems.
Help comes fast: A medical alert system is a life-saving tool that is monitored 24/7 by a certified monitoring center. The system can send medical responders, fire, police, or even family members within minutes.

Easy-to-use:

A medical alert system is easy-to-use. Worn on the neck or wrist, the user only needs to push the button to ask for help. Incapacitated seniors don't need to shout or go to a phone to find help.
Uninterrupted Service: Unlike family or friends who can get busy with their lives, a medical alert system is always on hand non-stop, day or night.

Peace of Mind:

Seniors with medical alert systems have peace of mind. They know no matter what happens, they can push a button to call for help. In fact, even family members get peace of mind because their loved one is safe.
With all these valuable benefits, you will be surprised to learn that medical alert systems and fall detectors are quite affordable.
With the rising cost of home care and assisted living facilities, a medical alert system can help you to save money, too. It can extend the time a senior can live independently rather than go to a nursing home.
Who must wear a medical alert system or fall detector?
As explained earlier, a medical alert system is a security device that can be worn as a necklace or bracelet to summon help in an emergency.  Elderly persons and individuals with disabilities will have access to emergency assistance at their fingertips in case of a fall or a life-threatening situation.
Who must wear a medical alert system?
Seniors living alone
Individuals with a previous fall/s
Individuals with walking difficulties or gait issues
Individuals who have a fear of falling
People with disabilities and living alone
People with regular medications with side effects
The significant benefits of medical alert systems can also include non-medical emergencies that are also life-threatening.  Panic buttons provide users with access to emergency help 24/7 so they don't need to be afraid of living independently.  Other situations when a medical alert system could save a life include:
Fire
Burglary
Wandering of a senior or a person with a disability
In fact, a medical alert system can be incorporated with a home security system for maximum safety and protection. With a safe environment and continuous access to emergency assistance, seniors will never have to worry about living alone.  Help is always just a push of the button away!
You can also purchase an additional emergency button to protect another member of the household such as a spouse, sibling, or parent for just a minimal amount.
Consider these Top Medical Alert Systems in Alberta for your Peace of Mind
If you are ready to shop for a medical alert system, consider the following top medical alert systems in Alberta for seniors and at-risk individuals.
You can compare features and prices so you can get the utmost protection for the best price!
Life Assure
Life Assure is available in 3 packages – Classic Home, Total Home, and Mobile Plus.
The Classic Home works on any home telephone line. The system has a range of 600 ft. from the base unit with up to 80-hour backup.
Total Home uses cellular technology and also has a range of 600 ft.
The Premium Mobile Plus does not require a landline and works virtually from anywhere. It also has fall detection.
All these packages come with 2-way voice communication, and water-resistant pendant or bracelet.
Classic Home costs $29.99/month. Total Home costs $44.95/month. Premium Mobile Plus costs $69.95/month.
Global Security

The company offers wellness solutions for seniors who want to live independently. The emergency panic button may be connected to the home alarm system and has central monitoring 24/7 for non-stop protection.The medical alert system has a panic button with other features:
Designated family members are notified of activities
Automatic fall detection
Bed sensors
Alerts for unusual activity
Water-resistant pendant or bracelet
Equipment (GSM Fall Detector): $379.99
Monthly Fee: starts at $34.99 (36-month contract )
Activation Fee: $99
SecurMEDIC

This medical alert system has 2-way voice communication with a wireless panic button and a console. The company has certified monitoring centers located in Canada that are manned by highly-trained agents who handle emergency alerts. Emergency responders are dispatched without delay.The wristband or pendant panic buttons are 100% waterproof. They can also be used for answering phone calls.SecurMEDIC does not require a contract and offers easy installation. This device has no automatic fall detection. The user must push the panic button to ask for help.

The equipment costs $198.95 and monthly fees cost $28.95. 
I-Help Medical Alarm System
This Personal Emergency Response System is designed for seniors and chronically ill or disabled persons.
It is a mobile medical alert system with GPS to keep the user safe at home and outdoors.  The user must press the button to place an alert. To cancel an alert, the user can press the button again.
The system has crystal-clear audio and offers 3G nationwide coverage. With the geo-fencing option, family members are notified if the user enters or leaves safe zones. The system also has fall detection capabilities.
Lockboxes are also available so that medical responders can enter the home in an emergency.
Monthly monitoring fees cost $49.95 plus equipment fees.
Direct Alert

This medical alert system has 3 options- At Home, On The Go, and Fall Detection.  It is available all over Canada and can be connected to a landline, cable, or VOIP.  The system comes with a panic button that can be worn as a pendant, bracelet, or belt clip.

This medical alert system offers GPS tracking and automatic Fall Detection.Their packages cost:  
$19.95 monthly + equipment fees or $ 39.95 per month (Classic)
$29.95 + equipment fees or $ 49.95 a month (Speak through)
$39.95 + equipment fees or $ 59.95 per month (mobile) 
TELUS Livingwell Companion

Livingwell is a personal emergency alert service. It offers automatic fall detection and has a 24-hour emergency panic button. Their home plan offers 24/7 access to emergency services while the mobile plan offers additional features such as fall detection and instant GPS.The system comes with an integrated speaker on the base station. The service has no upfront costs and no contract requirements.Their protocol when an alert is received is to contact designated family members first. If family members are not available, emergency services is dispatched to the home or location.The costs for this personal alert system starts at $25 a month. 
Our partners, reliable security companies offering medical alert systems and fall detectors, cover the following areas in Alberta:
| | | |
| --- | --- | --- |
| Edmonton | Calgary | Red Deer |
| Lethbridge | St. Albert | Medicine Hat |
| Airdrie | Grande Prairie | Spruce Grove |
| Fort McMurray | Camrose | Leduc |
| Wetaskiwin | Fort Saskatchewan | Okotoks |
| Chestermere | Banff | Sherwood Park |
| And many more… | | |
 To get free and no-obligation quotes, fill out the form on this page.
Our partners are all licensed and insured companies and specialize in medical alert systems for seniors.
Compare features and prices to find the right medical alert system for your needs.
How to choose the best medical alert system in Alberta
With so many choices in the market, it can become overwhelming to choose the right medical alert system in Alberta.
A medical alert system – with one press of a wearable panic button- will put you in touch with a monitoring agent who will summon help or contact a family member.  Many healthcare professionals recommend the use of a medical alert system to anyone with health risks for safety and reassurance.
In choosing which medical alert system is most suitable for you or for an elderly relative, consider the following factors.
Landline or Mobile System
Medical alert systems were traditionally designed to work in the home with a landline. A home-based system is the simplest option and generally more affordable. If you press the wearable panic button, you will get connected to the monitoring center or speak to a dispatcher from the base unit's voice system.
Not all homes have landlines, though. The other option is to get a mobile system that operates using a cellular network. This type of system offers protection at home and outside the home. While more expensive, it offers additional features such as automatic fall detection, GPS tracking, and geo-fencing.
Seniors who are frail and don't often go outside without a companion may choose to have a home-based system. Older adults that are still active will benefit from a mobile system.
Monitored or Non-Monitored System
The systems presented in the table above are all monitored which means that pressing the panic buttons connects you to someone at a monitoring center.
You also have the option to choose a non-monitored system. With this type of system, pressing the call button sends an emergency alert to a family member or friend on your programmed call list. The system can be set up to contact several persons or to connect to emergency services.
The biggest difference between the two is the price and the response time. Monitored systems have monthly monitoring fees and may have minimum contract periods and installation fees. However, the response time is very fast and is guaranteed. For non-monitored systems, you need to purchase the device and there are no monthly fees. The reliability of the system depends heavily on the ability of your contacts to monitor alerts and respond to an emergency.
Fall Detection Feature
Some medical alert systems offer automatic fall detection for an additional fee. This feature can detect a fall and automatically alert the monitoring center even if the user fails to push the panic button.
The price for the feature isn't huge and the added level of protection can be reassuring. Seniors who suffer from chronic conditions, with a history of falls, or have cognitive impairment may benefit hugely from fall detection.
Price
The prices of medical alert systems vary but they generally cost as little as $1 per day. The price also depends on the plan you choose and if you purchase the equipment outright or lease it.
Also, medical alert systems without contracts may have higher monthly fees.
If you add fall detection and GPS location tracking, the company will charge a higher price.
The bottom line is that when choosing a medical alert system, it is important to consider the needs and health condition of the user. Does the user require basic protection at home or even outside the home? Is it necessary to have geo-fencing because the user suffers from dementia or not at all?
Compare features and prices using our comparator by filling out the form on this page to get FREE and NO OBLIGATION quotes.
FAQs for Medical Alert Systems For Seniors You Need to Know
Safety is a paramount concern and when buying a medical alert system, it is natural to have questions about how it works, limitations, and price.  Understanding is key to finding the right one for your needs.
We have gathered below essential information that you must know about medical alert systems for seniors.
Is a medical alert system the same with a personal emergency response system?
Yes, they basically work the same way. Whichever it is called, the user is connected to a monitoring center (if the system is monitored) when the panic button is pressed. Of course, each system or company would offer unique solutions that are tailored to the needs of seniors such as medication alerts, family notification, GPS tracking, fall detection, etc.
Do all medical alert systems have fall detection?
No, fall detection is not available with all medical alert systems. Many companies offer it as an additional feature with an additional cost.
What is fall detection and how reliable is this technology?
Fall detection technology uses special algorithms to differentiate a fall from a normal movement. It takes into account the position, speed of movement, height, and orientation of the individual. It is not 100% foolproof but it does have a high level of accuracy, as much as 97% for some providers.
How does a user get emergency assistance with a medical alert system?
A user must push the emergency button to send an alert to a monitoring center (in the case of a monitored system) or to a contact person (if the system is non-monitored). For monitored systems, the monitoring agent will verify the alert by contacting the user through the built-in voice communication system and dispatch emergency services if necessary.
What is a monitoring center?
A monitoring center is a base station manned by highly-trained professionals who receive emergency alerts and summon emergency services.  They function in much the same way as 911 operators. The difference is that monitoring centers are private and cater only to their clients and not the general public. Monitoring centers need to be certified and adhere to standards of the Underwriters Laboratories of Canada.
Can a medical alert system be used to summon the police?
Yes, although medical alert systems are primarily designed for medical emergencies, the emergency button can also be pressed to summon the police. If a senior is fearful that there is a burglary in progress in the house, pressing the panic button will connect to the monitoring center where the agent can dispatch the police.
What are the usual charges for a medical alert system?
A medical alert system may have installation, activation, and monthly monitoring fees. Some companies charge a one-time equipment fee while others include the cost in the monthly fees.
Can I buy a medical alert system for my elderly aunt?
Yes, you can buy a medical alert system for an elderly relative. However, it is best discussed with the intended user prior to the purchase. The person's willingness to use and wear the device is necessary. It is important to explain the benefits to the user to get their cooperation and ensure their protection.
Can I buy a medical alert system if I don't have a landline?
Many companies offer wireless medical alert systems that operate using cellular networks. You can choose this option if you don't have a landline.
Find the Right Medical Alert System or Fall Detector with Free Quotes
If you want a wellness solution that grants you independence and peace of mind at the same time, try a medical alert system or fall detector!
You never need to worry again about being alone without anyone to help in an emergency. With one push of the panic button, a trained professional will respond to your situation and send the help you need, without delay.
To get started with your search, fill out the short form below and receive FREE and NO-OBLIGATION quotes from reliable partners who specialize in medical alert systems for seniors in Alberta.
You can compare prices without leaving your home and select the best deal for you!