Are you a new owner of an electric vehicle or maybe waiting to get your EV? You are now probably thinking about how you will set up your charging station at home.  You will be happy to know that it is not as complicated as it seems.  Both the government and manufacturers are working hand in hand to make charging more accessible and easier.
The government set aside about $700 million to install over 50,000 EV charging stations across the country with plans to complete the project in 2026.  This initiative is in line with plans to achieve zero emission by 2035! 
Now that you are an EV or a hybrid car owner, you are doing your part to save the planet. But you must also know how to charge it or you will be living your life around charging your car.
Get charging tips and the best options for your charging station installation for your home right here! Just fill out our online form to receive free and no-obligation quotes!
How to charge an electric vehicle?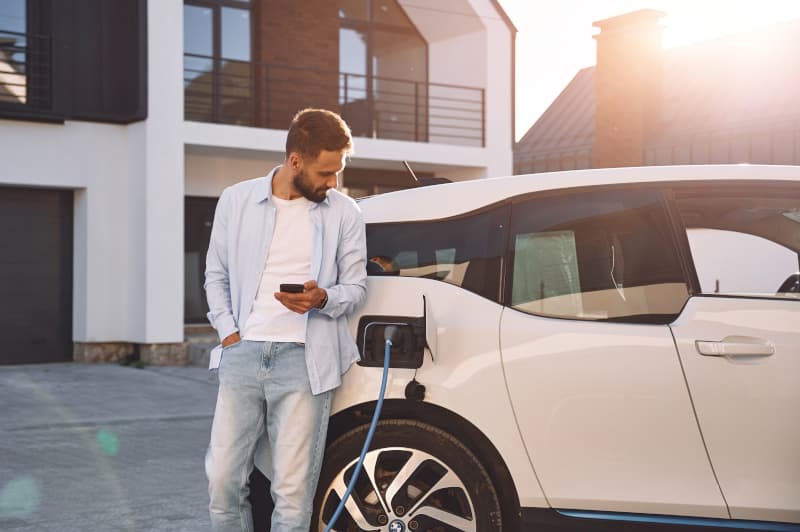 Charging an electric vehicle is done by connecting it to a charging station for power. The onboard charger and the charging port relay the power to the battery.
The process is much like putting in gasoline in your car but using a connector at a charging station instead. Here are the steps:
First, open the cover of the charging port. 

Take the connector from the dock and put it in the charging port. If all is working, you will see a flashing green light.

You will see the charge percentage and how much time is needed to charge on the screen.

When the charging is complete, press the button and take out the charger. Put it back in the dock.
What is the charging time for an EV?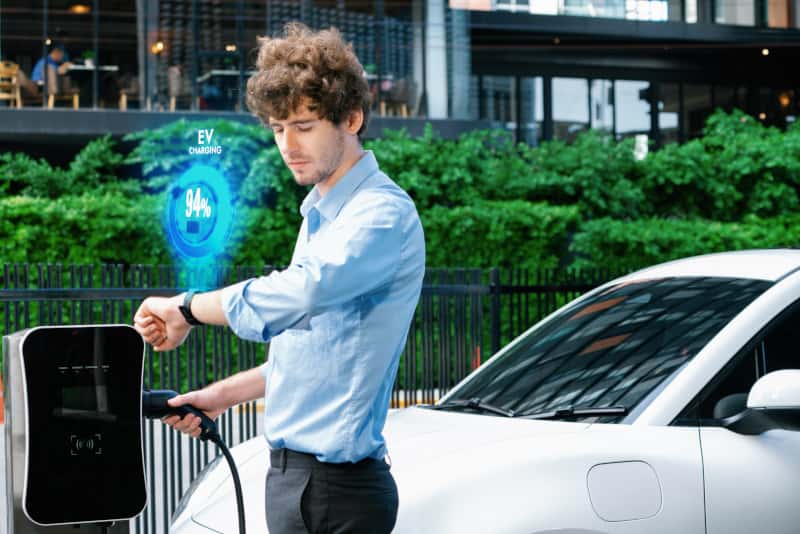 The time it takes to charge an electric vehicle depends on factors including:
The car model

The battery size

The charging station's output
It can take only minutes to 8 hours or more to charge an electric vehicle. Refer to the different kinds and models of chargers available for you to consider.

Type of charging station


Volts


Speed of charging

 

 

Level 1

 


120V


8-10 km/hour

 

 

Level 2

 


208 to 240V


20-130 km/hour

 

Level 3

 


400 to 900V


5 t0 32 km/minute
The majority of level 1 chargers are provided when you buy the car.  They can be used with any standard 120V outlet.  
Level 2 chargers are purchased separately and will need installation because they are plugged into 240V outlets. You can find several options for Level 2 chargers on the market that can be installed in your home. 
Before you make your decision, you should also check rebates and incentives in your area to save money!  Finally, compare free and no-obligation quotes by filling out the short online form on this page.
Why upgrade to a level 2 charging station for your home?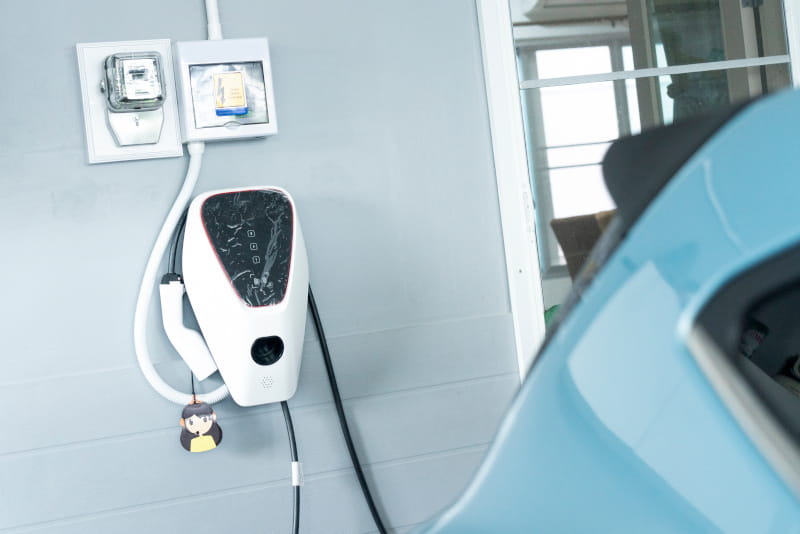 If you only have the level 1 charger that came with your vehicle, you will end up frustrated because it takes a long time to charge your car. This won't be practical if you use the car for work or running your daily errands. 
A level 1 charge is the standard charge and has the slowest process. It also uses energy like a 1,400 air conditioner. As you can imagine, it is not the most convenient charger nor the most efficient.
Your second option is to use a public charging station. They can be found in some parking lots, grocery stores, gas stations, and offices.  They are free to use or with a minimal charge. But standing in the cold or at night just to charge up your car is no fun! 
If you want faster charging time, you will need to install a Level 2 charger but you need a 240V outlet.
Level 2 electric charging stations is where you will find the most efficient charger.  They start at 7kw and can be installed on a home's exterior wall or in the garage (with a 240v circuit). The energy consumption of a level 2 charger is similar to a 40-gallon water heater.
It is important to plan where you will install your charger, keeping in mind the times when the weather is extreme and where your outlets are. Speak to a professional to get advice about installing a level 2 charging station and your options by filling out our short online form!
Level 3 chargers offer the fastest charging time but they are not available for residential use.
The cost of charging an EV in Canada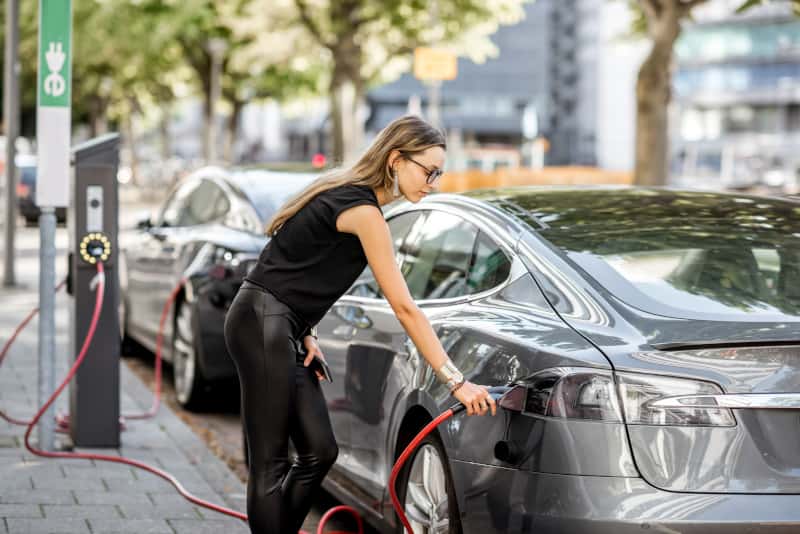 When you are on the road and charging the vehicle is needed, you can use a public level 2 charging station free or use one that charges from $1 to $2.50 an hour. Level 3 charging stations are also available as pay-per-use and costs from $15 to $20 an hour.
For most Canadians who own an EV, charging at home costs about $270 per year but this varies based on the car model and the type of charging system.  If you compare this cost with the price of fuel, the charging cost of an EV can be half the price of your weekly expense for gasoline. This means more savings in the bank for you!
Are you now convinced that you should invest in a level 2 charging station for your home? Consider your options as presented in the table below.
What features to look for when buying a charging station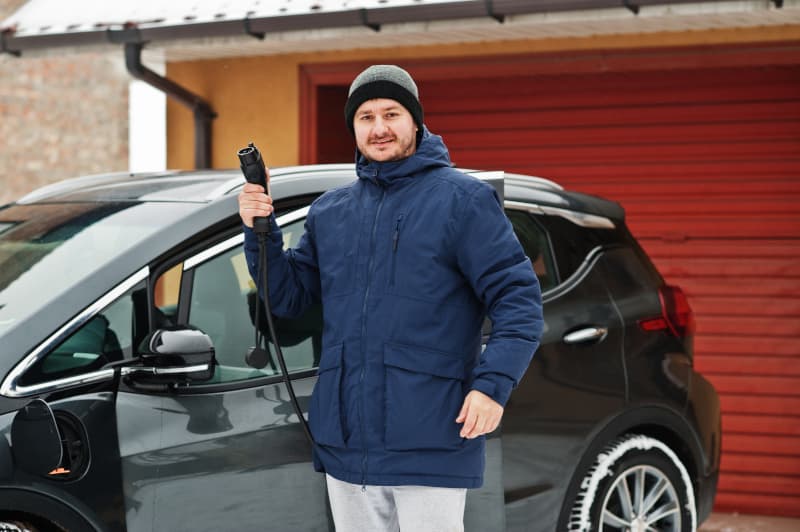 You will want to consider the following when looking to upgrade from the standard charger to a level 2 EV charging station for your home.
Length of the cable: The longer the charging cable, the better so you can easily connect to your car's charging port. 
Cable setup: A charger that lets you wrap cable connectors around will help you keep your space clutter-free.
Size: Get a charging station that will fit your available space.
Easy connection and disconnection: It is to your advantage to have a charging station that can easily connect and disconnect. 
Smart charging: It is also advantageous to get a charging station with a mobile screen or app that gives you the relevant information on your charging activity.
Multiple charging options: Slower charging helps to preserve the battery but fast charging is more convenient for frequent driving. 
Weather-resistant:  Find a charger that is suitable to your climate, especially if you must install your charging station outside your house.
CSA certification: The best electric vehicle chargers in Canada are certified by the CSA which means the charging station is compliant with Canadian standards. 
Buying the best EV charging station will give you control over the speed of charging your vehicle and not have to wait in a public charging station.  It will also increase the value of your home because it will be equipped with a power delivery system for the car of the future!
The best EV charging station in Canada for your home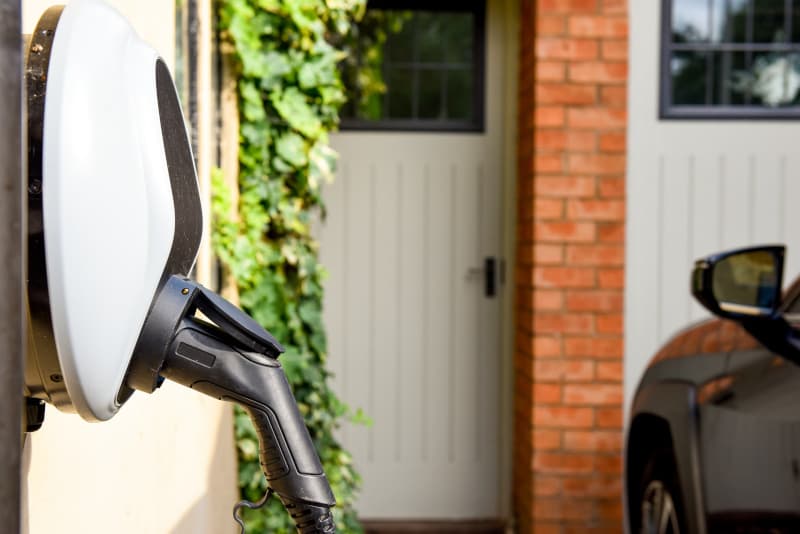 Hybrid and electric vehicles are getting more and more popular throughout Canada. While Canada's road network is now dotted with public charging stations, most car owners do their charging at home. Thus, it is important to know the best EV charging station for convenience and practicality!
Here are some of the top-performing charging stations available on the market.
The EV ONE charging stations
This is a perfect charging station for the home. It has a 25-ft cable and real-time display related to your charging activity. It is also ideal for outdoor or indoor installation.  Available as EV One model and the EV One RFID which costs about $899 and $999, respectively.
The FLO HOME G5 charging stations
The FLO HOME G5 station is ideal for a single-family home and is compatible with many hybrid and electric car models. It can also be installed indoor or outside as it is resistant to the weather and heat.
The only disadvantage to this charging station is the higher price, about $1,145.  It is available in 2 models – the standard FLO Home™ X5 and the Smart Level 2 EV Charging Station.
Made in Quebec, this charging station is easy to install and has a 15- or 25-foot cable for flexibility. This cable meets the needs of small or large garages. It offers an affordable price of $799.
The GRIZZL-E charging station
The GRIZZL-E station has a slim and sturdy design with aluminum housing.  It is available in 3 models – the Grizzl-E Classic, the Grizzl-E Extreme Edition, and the Grizzl-E Avalanche edition. Customers can also choose the 3-year or 5-year warranty. The starting price is around $539 with a 3-year warranty.
Is it expensive to install a Level 2 Charging station at home?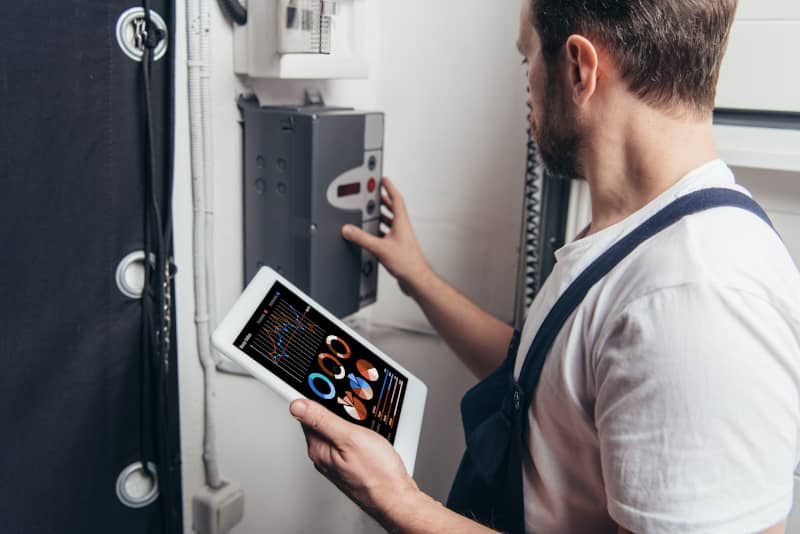 The cost of buying and installing a Level 2 charging station at home depends on the type of charging station and the complexity of the installation.  In most cases, including the required inspection and permit, the cost could be anywhere from 1,000 to $3,000.
Level 2 charging stations on the market cost from less than $1,000 to almost $1,500. You will also need to set aside the fees of the electrician for the installation and any materials required.
The total cost of installing your home electric charger will also depend on the location. You can potentially reduce the cost if you install it in your garage and if you have a 240V outlet.
For older homes that may not have the electrical capacity to supply what the charger needs, your electrician will need to upgrade the system and obtain a permit. This will increase the cost.
Is it worth installing a level 2 charger in the home? Yes! Any electric vehicle plugged into a level 2 charger can benefit from the additional range per hour which is 5x faster than what a level 1 charger supplies. 
A level 2 charging station is the most powerful EV charger you can install in your home!
Connect with experts to install a Level 2 Charging Station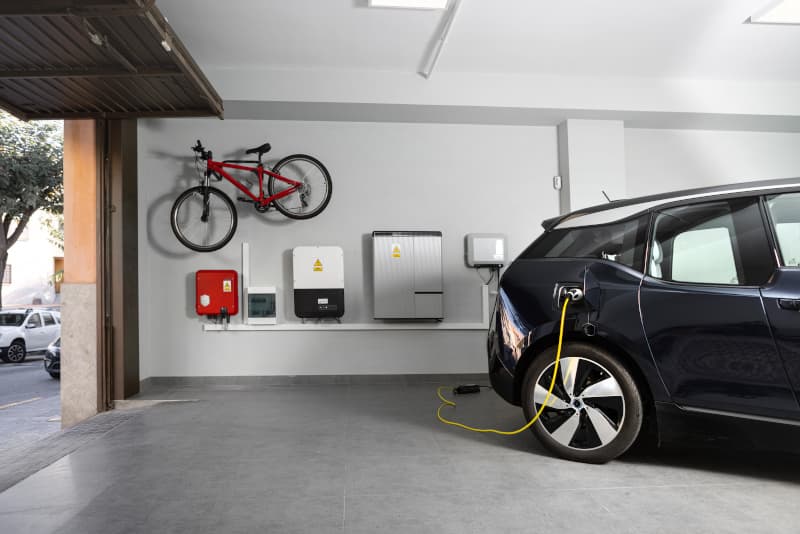 Our partner electricians at Compare Home Quotes are certified to install charging stations in the home.   
They can guide you in your selection by giving you advice on the best level 2 charging stations on the market that meets your needs and budget.
Connect with qualified master electricians using our short online form to receive accurate quotes for the purchase and installation of a level 2 charging station!
By choosing a professional for your project, you are assured of the safety and efficiency of your charging system and protect the value of your home.
Compare and save time and money today by filling out our short online form below, free of charge!