14 January 2022,
Last update: January 11th 2023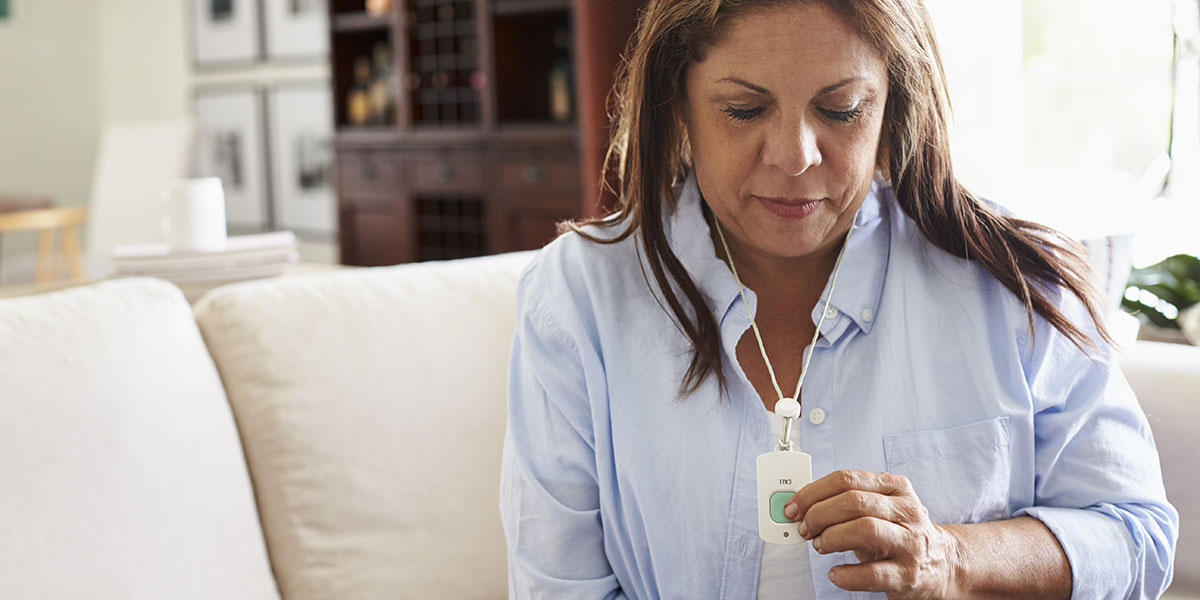 Quality of life for the elderly is important. Even when we get older, we all wish to be able to live independently and comfortably in our own home.
Instead of going to a nursing home, wouldn't it be better to stay home with a medical alert system that allows you to get help when you need it with just a push of a button?
There are practical and reliable medical alert systems and emergency panic buttons in Newfoundland for the safety and peace of mind of seniors.
Find the best medical alert system for your needs using the short online form on this page. Compare FREE and NO OBLIGATION quotes.
How Medical Alert Systems Can Keep You Safe and Independent
What is a medical alert system? It is a security device that has an emergency button you can press in case of an emergency. When you push the button, you get connected to a monitoring center with a trained agent to assist you in summoning help.
With a panic button, the user doesn't need to get to a phone to call 911. Because a medical alert system's emergency button is worn as a pendant or as a wristband or watch, it is always within reach.
Best Features of Medical Alert Systems: Safety and Security for Seniors
Not all medical alert systems are the same. You need to check their features to find the best one that suits your needs.
Below are some important features to look for in your medical alert system.
Wearable Emergency Panic Button
Medical alert systems come with a wearable emergency panic button (watch, bracelet, or pendant). Convenient and easy to access, this panic button provides a guarantee that help is one press of the button away.
Water-resistant or Waterproof
Medical alert systems have an emergency button pendant or watch that is water-resistant or waterproof. This allows you to wear your device even when in the bathroom where falls frequently occur.
With Clear 2-way Voice Communication
The panic button is provided with crystal-clear 2-way voice communication that allows the user to converse with a monitoring agent in an emergency.
Some medical alert systems have a notification for times the user must take his medication and sends an alert to a designated contact if medication is skipped.
Fall Detection is an important feature of a medical alert system. Using special algorithms, sensors automatically detect a fall and send an alert to a monitoring center for emergency response.  Not all medical alert systems have automatic fall detection.
GPS location tracking can be added to a medical alert system. This is useful for seniors who spend time outdoors or live a more active lifestyle.
These important features allow a medical alert system to keep elderly people feel safer at home. Consider getting a reliable panic button for you, your spouse, or an elderly relative.
How does a medical alert system work at home?
Now that you know what a medical alert system can do, how exactly does it work at home?
First of all, companies providing medical alert systems have different systems. Most of them offer a landline-based system which has a console and a wearable panic button. There are companies that also offer cellular, wireless, or mobile systems for those who are more active or don't have a landline.
Whichever type of system you choose, the panic button pendant or wristband should be worn at all times because you never know when an emergency, such as a fall, will happen. When you press the emergency button, a monitoring agent from a certified emergency response centre will immediately verify your status using the 2-way voice system. The agent will quickly summon an ambulance or medical responders to your home. Family members can also be notified by text.
Are panic buttons only for medical emergencies? Actually, medical alert systems can also be used for other emergencies such as police matters. Since the user has a panic button, police can also be dispatched, if needed. Family members can also be summoned for non-medical emergencies.
Monitored vs. Non-Monitored Medical Alert Systems
When you are searching for a medical alert system, you will discover that consumers have 2 options – monitored or non-monitored systems. There are 2 big differences between these 2 types.
Who responds to the emergency?
With a monitored system, the user is connected to a certified monitoring center where a trained agent responds to any alert and dispatches emergency assistance without delay. This dedicated service is 24/7, guaranteeing that someone will summon help quickly, day or night.
With a non-monitored system, an alert is sent to a designated contact (neighbor, friend, relative) if the user presses the button.  It is easy to see that a monitoring center can provide a more reliable response to an emergency because family or friends can become busy or unavailable. If they don't live nearby, help can be delayed.
With a monitored system, companies may charge the following fees:
equipment fee
activation fee
monthly monitoring fee
cancelation fee
These fees vary from one company to the next. For instance, some companies don't require the user to purchase the equipment but the monthly fees can be a little higher. Other companies don't charge an activation fee. It is best to compare the offers of multiple security companies and understand how their offers differ to get the best value. Remember, value is not always based on the lowest price.
With a non-monitored system, the user will pay a one-time equipment fee and no monthly monitoring fees.
This type of system is a more affordable option but is not ideal for everyone. It also places a bigger responsibility on designated contacts as they need to be available at any time an emergency arises.
Understand the level of safety both of these options offer when comparing prices. Further, a non-monitored system has no automatic fall detection which means the user needs to press the emergency button to summon help. If the user is unconscious or fails to press the button for whatever reason, the system will not work.
It is also important to consider the state of health of the user when choosing the right type of medical alert system to purchase. High-risk individuals such seniors who are frail, prone to falls, have memory loss, or diagnosed with serious medical conditions, may require a monitored medical alert system.
Medical Alert Systems with Automatic Fall Detection
Advanced medical alert systems offer automatic fall detection. Since many elderly people are at risk for falls, automatic fall detection is highly useful because the user is guaranteed emergency assistance after a fall even if he does not press the button.
When someone falls, he can become disoriented, injured, or even lose consciousness. With automatic fall detection, an alert is triggered when sensors recognize a fall and notifies a monitoring center of the emergency.
It is important to note that automatic fall detection may not be inherent in some systems. It is an additional feature that can be added with an additional charge.
Comparing Medical Alert Systems and fall detectors: Plans and Prices
There is a medical alert system to suit a user's needs, lifestyle, and budget. You can compare medical alert systems to find the most suitable protection for you.
Examples of plans offered by medical alert providers are presented below:
At Home Protection
This type of medical alert system offers monitoring for users who stay home most of the time. It is ideal for seniors who are not very active or for individuals recuperating from an illness or accident.
This type of monitoring plan can be landline or cellular- based. The system works within a specific range, usually from 300 to 600 ft. This basic plan is the most affordable package available for monitored medical alert systems.  It provides seniors with independence and confidence to stay home without a constant caregiver.
Because a user wears the emergency panic button at all times, he benefits from uninterrupted support at home with access to a monitoring center with just one push of a button.
You can ask for help by pushing the emergency button, hear a monitoring agent check on your status, and be assured that help is coming.
You can also add fall detection to a basic plan for enhanced safety, especially for individuals with a history of falls or a high risk for falls.
Mobile Protection
Mobile medical alert systems use cellular networks to provide quick access to a monitoring center in case of an emergency. With a mobile medical alert system, you can feel safe anywhere you are. It comes with a panic button pendant, 2-way voice communication, GPS tracking, and fall detection. It costs more than the standard service but it gives the user the confidence to leave the home without worrying about getting help in an emergency.  It is also a practical solution for seniors who don't have a landline.
Consider the best Medical Alert Systems in Newfoundland and Labrador
We know it can be overwhelming to select the best medical alert system for your needs. With several options in the market, it takes time and effort to compare and choose the right one while ensuring you are making the best decision. Since a medical alert system is for your safety and protection, it is important to know all of your options before you decide.
Consider the following medical alert systems in Newfoundland and compare FREE and NO OBLIGATION quotes using our short online form below.
Life Assure Medical Alert Systems
Life Assure Medical Alert is one of Canada's foremost providers of medical alerts for seniors. The company offers state of the art technology with its reliable products for seniors to live independently.
Their systems have 2-way voice communication, detection range of up to 600 ft. from the console, and water-resistant pendant or wristband panic button.  Fall detection is available with pendants.
The company does not require a long-term contract, and has no activation fees.
Their plans start at $29.99 a month (Standard) to $69.95 for the Mobile Plus with GPS and Fall Detection.
Direct Alert
Direct Alert offers affordable medical alert systems in Newfoundland and elsewhere in Canada.  It is 100% owned and operated by Canadians and has been in business for more than 15 years.The company offers a 30-day money-back guarantee and does not require a long-term contract.
Their products work with all types of phone systems, including VOIP and cable or a mobile system for those who don't have a landline.
The devices are available as pendants or bracelets with 2-way voice communication.
Prices start at $25 a month for at home or wireless services.  The company has no activation or cancellation fees.
Global Security
Global Security provides wellness solutions for seniors to allow them independent living without worries. The emergency panic button can be connected to your home security system and a central monitoring center for non-stop protection.
Their medical alert or fall detectors are available as water-resistant pendants or bracelets that can be worn at all times.  With automatic fall detection, an alert is sent even when the user does not push the button.
Global Security is the #1 ADT partner in Canada and has a proven track record for excellence with certified monitoring centers to respond to any emergency.
Packages start at $34.99 (36-month contract) while the GSM Fall Detector Package is $379.99 + $99.00 activation fee + $79.00 for the button.
Philips Lifeline
The Philips Lifeline medical alert system comes with fall detection.
Options include the Homesafe system with a landline device that connects you to a 2-way speakerphone that works throughout the home and an emergency panic button.
Cellular services with fall detection is another option for outdoor protection. Both features have additional charges for a customized plan.
The company has proprietary call centers with in-house agents, well-designed equipment, and mobile devices with GPS location tracking. Users can also avail of medication dispensers at an additional cost.
Their prices start at $29.95 for HomeSafe, $41.95 for HomeSafe Cell, $44.95 for GoSafe, and $56.95 for AutoAlert.  The activation fee is $50.00.
iHelp (Globaltek) Medical Alert
This company offers mobile medical alert systems with state-of-the-art medical alert pendants with fall detection and geo-fencing.
Designed for utmost durability, the product will not break in case of a fall and are wearable even in the shower where falls usually happen.
Geo-fencing lets you track the movements of a loved one and notifies you each time a senior enters or leaves a pre-programmed "safe zone". This option is useful for people with Alzheimer's disease or dementia.
The panic button is also easy to carry and communicates with the smart charger. Thus it can also be worn instead of a medical alert pendant.
The package costs $39.99 a month with a two-year contract and $29.99 activation fee. 
SecurMEDIC 
SecurMEDIC offers a medical alert system with 2-way voice communication. The company has 24/7 monitoring centers.  Upon purchase, you get a wireless emergency button and console.  Highly-trained professionals answer distress alerts from response centers located in Canada.
The device is 100% waterproof and has a range of 1000 ft. from the base unit.  It can also be used to answer phone calls for convenience.
The user needs to push the button in the event of a fall or other medical emergency.
The equipment costs $198.95 and monthly monitoring fees start at $28.95.
Compare these reliable medical alert systems and fall detectors with monitoring services in Newfoundland.
Get free and no commitment quotes using our short online form; it only takes 2 minutes to fill out.
Don't delay and get peace of mind today for yourself and your loved ones.
Who should wear a medical alert system or fall detector?
Are you wondering if your parent, aunt, or spouse needs a medical alert system? This security device is most suitable for the following individuals:
Anybody who wants peace of mind and guaranteed help in a medical emergency
Seniors 65 and older who live alone or stay home alone for extended periods
Seniors with Alzheimer's or Dementia
Individuals who are recovering from an accident or illness who are home alone
Individuals with a disability
Individuals with a medical condition including stroke, heart disease, hypertension, diabetes, Parkinson's disease, etc.
Seniors or adults with a history of falls who live independently
The good news is that some medical alert system providers offer the option to buy an extra panic button to cover a spouse or another member of the family at a minimal charge.
If you and your spouse are enjoying your retirement but also live with medical conditions, a medical alert system is a great way to enhance your safety at home for as little as $1 a day.
Find out which medical alert system or fall detector is most suited to your needs and lifestyle by comparing offers using our short online form. You will receive FREE QUOTES with no commitment on your part, allowing you to save time and money.
Am I at risk for falls?
1 out of 3 seniors aged 65 and older fall every year. In fact, falls are the most frequent cause of injury among senior Canadians leading to hospitalizations.  The consequences of a fall in later years can be serious and reduce quality of life, cause chronic pain, and even increased risk of death.
A fear of falling among seniors, especially an exaggerated one, can also result in limited physical activities and social interaction. According to Statistics Canada, the following are high risks for a fall:
Individuals with 2 or more falls in the last 12 months;
Individuals with difficulties with balance or walking
Individuals who needed medical attention within 48 hours after a fall.
Aside from the above, there are other factors that can cause a fall:
Poor lighting in the home
Symptoms such as dizziness which can result in a fall
Weakened muscles due to aging
Slippery floors or wet floors
Carelessness
Staircases
Medications with side effects
Whether you have a low risk or a high risk for falling, it is important to remain safe, especially if you live alone. Don't take any chances with your well-being. Get a medical alert system with fall detection so you can be assured of HELP in any emergency.
Our partners, licensed and insured security companies who specialize in medical alert systems, fall detectors, and panic buttons, serve St. John's, Corner Brook, Mount Pearl, and the rest of the province.
With a panic button and medical alert system, you can have PEACE OF MIND for a small price!
Frequently Asked Questions about Medical Alert Systems and Fall Detectors
Do you still have questions about medical alert systems or fall detectors? Read on to know more about prices, benefits, and options for your security device. Understanding your options clearly will help you to make the best decision for your safety.
Do all medical alert systems have fall detection?
No. Some medical alert systems require you to push the emergency button when you have an emergency, including a fall. Take note that most standard monitoring plans don't have automatic fall detection. You may need to opt for a higher plan or pay extra for fall detection.
Is fall detection accurate?
Fall detection technology is not 100% accurate but most technologies used by security companies have high reliability. Companies also follow protocols, including voice communication with the user, to verify the alert before dispatching medical responders. If the alert is verified to be false, there is no harm done because the monitoring center will simply disregard the alert.  This protocol also minimizes false alerts.
Do I have to carry my medical alert system?
Medical alert systems are wearable so they are very convenient. You can wear your device as a pendant or a bracelet. For fall detection, pendants are recommended.
Can a medical alert system contact a family instead of an ambulance?
Yes, if the situation is not an emergency that requires hospitalization or emergency medical care, the user can request the monitoring agent to contact a family member instead. Voice communication between the user and the monitoring center allows this option such as if the user only needs help getting out of the tub, or getting dressed, or is anxious for some reason.
Is GPS tracking necessary with my panic button?
GPS tracking is an add-on feature for panic buttons and medical alert systems. It is recommended for seniors with Alzheimer's or Dementia to enable the monitoring center to quickly dispatch help in an emergency if the user cannot provide his exact location. It is not necessary for plans covering the home only.
How can I save on my medical alert system?
You can save on a medical alert system by comparing products and prices using multiple quotes. You can get started by filling out the form on this page to receive free and no obligation offers.
Does health insurance cover medical alert systems?
Most health insurance providers don't cover the cost of medical alert systems but you should verify with your insurance provider regarding your specific policy.
Can I cancel a medical alert system?
Cancelation fees vary among security companies. Some charge a cancelation fee. There are companies that require a contract from 6 months to 36 months, depending on the product and monitoring plan. You can also check out companies that offer no contract plans.
What happens if the user does not push the button in a medical emergency?
It is necessary for the user to push the emergency button in an emergency, unless it is a fall and the device has an automatic fall detection. For this reason, it is important that the senior understands how to operate the panic button in an emergency.
What is the difference between a medical alert system and a personal emergency response system (PERS)?
They are both the same except that a medical alert system may have a medication dispenser. They both have a panic button which can be used to summon help in an emergency. Other common features are 24/7 monitoring services, fall detection, and 2-way voice communication.
Are you ready to shop for a medical alert system? Fill out the form on this page and request for FREE and NO COMMITMENT quotes.
Our partners are all licensed and insured with monitoring centers that pass UL standards for your safety and peace of mind!
Help is only a push of a button away with reliable and affordable medical alert systems with fall detectors in Newfoundland and Labrador!