14 January 2022,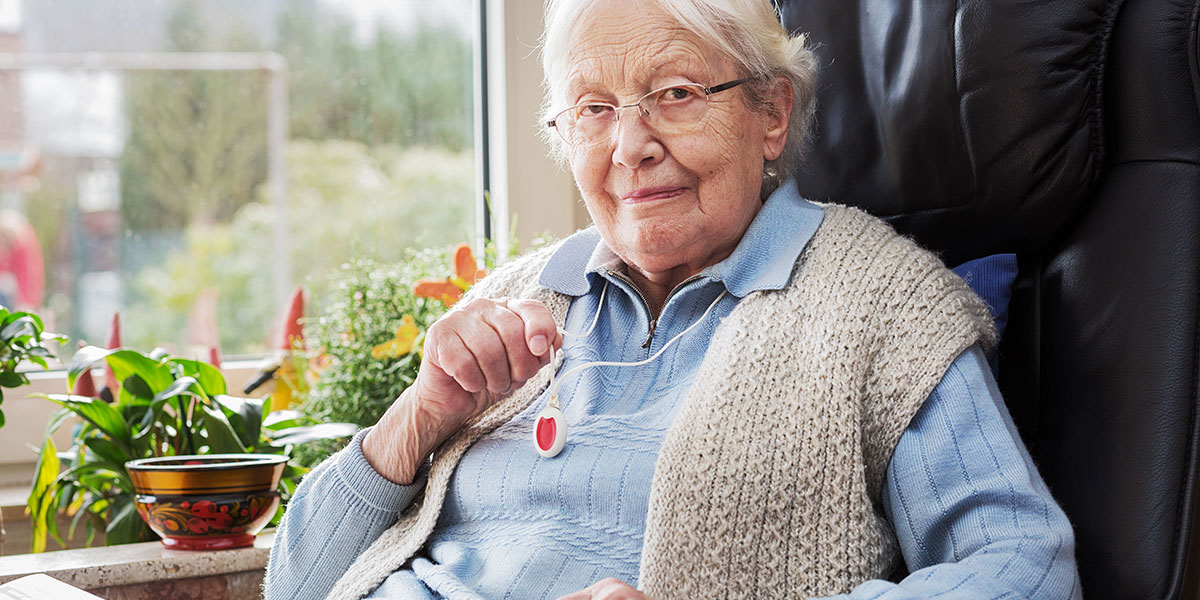 According to the Canadian Institute for Health Information (CIHI), the majority of seniors that were treated or confined in hospitals due to injuries from 2017 to 2018 had suffered falls. 28% of those falls had occurred at home.
Indeed, elderly Canadians aged 65 and older are at risk for falls. For this reason, many elderly people are forced to enter retirement homes or live with relatives.
Thanks to advanced technology, seniors now have a choice – to continue to live independently in their own homes with protection from medical alert systems and fall detectors.
Medical alert systems will help seniors remain independent for longer so you can enjoy your routine without fear.
Find out how you can remain independent during your retirement and compare prices of medical alert systems in your area using our short online form!
What is a medical alert system with fall detection?
A medical alert system is a security device primarily designed for seniors. It comes with an emergency panic button worn as a pendant or wristband.  Other similar devices are called Personal Emergency Response Systems (PERS) and fall detectors.
For medical alert systems with monitoring services, a user pushes the emergency panic button in an emergency and gets connected with a trained responder from a monitoring center. After a quick assessment of the situation, the agent will dispatch medical responders to the scene.
This service is critical for seniors who live alone or are left alone for extended periods of time.  A senior will never have to worry about getting help in any type of emergency.
With just a push of the button, the user will receive emergency assistance fast. Most panic buttons have 2-way voice communication, allowing the responding agent to speak to and reassure the user.
Simply by wearing the panic button pendant or wristband, a senior living alone can remain independent and worry-free.  Although this security device is not a substitute for nursing or medical care, it ensures that someone will respond and summon help whenever you have an emergency!
Fall detection: Increased Safety for the Elderly
1 out 3 Canadians aged 65 and older fall every year, according to Statistics Canada.  The risk increases for seniors who have already suffered a fall.
Several factors cause seniors to fall, including:
Muscle weakness
Difficulties with walking or gait
Balance problems
Poor vision
Cognitive impairment
Effects of medication
Staircases
Wet or slippery floors
Research indicates that falls directly cause a majority of hip fractures among the elderly, and is the cause of death of 20% of reported cases. Falls also lead to long-term care in many instances.
With that in mind, it is essential that an elderly person who suffers a fall MUST get prompt medical attention to reduce complications and increase the chances of recovery.
Fall detection is designed to ensure that an individual who suffers a fall and is alone at home or elsewhere will be able to summon help automatically. With automatic fall detection, a fall alert is sent to the monitoring center to summon help even if the user fails to push the button for any reason.
This technology is truly very useful after a fall because the senior may be injured or unconscious and unable to push the button.
How does Fall Detection Work?
Fall detection is superior technology that uses sensors and special algorithms that identify a fall.  The device takes into account the height, speed of movement, and orientation to differentiate a fall from a normal activity such as lying or sitting down.
When a medical alert system has fall detection, an alert is triggered by sensors when it recognizes a fall so that the user will receive assistance even without pushing the emergency button. This is important because a senior may become disoriented or even unconscious or unable to speak after a fall.
Immediate emergency assistance lessens the chance of a difficult rehabilitation and hospital confinement after a fall. Automatic fall detection gives added protection by letting a monitoring center know you need help even when you cannot push the panic button.
By wearing a medical alert system with fall detection, you get the option to say NO to living in a nursing home and have peace of mind.
Medical Alert Systems also benefit Family Members
Today, many families don't always live near each other so caring for an aging parent or relative can be difficult. The cost of having someone to watch a loved one can be tremendous, even if it is only on a part-time basis.
Medical alert systems also benefit family members because they don't have to worry much anymore about a loved one living alone.  Many systems allow alerts to be sent to designated contacts to update them on your status or for unusual activity.  If there is a problem, the monitoring service will reach out to the user's contact list to let them know.  This reduces the burden on family members and provides them with peace of mind that all is well if there is no alert.  Advanced systems may also have a platform for caregivers to access to check on the user's status and activities without needing to be physically present.
Most importantly, medical alert systems come with wearable emergency panic buttons that provide access to fast emergency assistance in any emergency. Thus, the need for someone to constantly watch a senior is reduced and expenses are avoided.
As you can see, medical alert systems benefit not only seniors but also family members who care for them.
Choose the right medical alert system for your needs
Many seniors in Nova Scotia are choosing to stay safe with a medical alert system with monitoring. Since there are several options for you in the market, how do you know which one is right for you?
Medical alert systems are not all the same. They vary in features, price, and quality. Below are factors you must consider when shopping for a medical alert system or fall detector.
Factors to consider when buying a medical alert system
Monitoring

Who will be monitoring the system and receive the alert in an emergency? This is the most important factor to consider. Reliable medical alert systems are connected to qualified and certified monitoring centers with trained responders.  This ensures that there will be no delay in dispatching emergency responders to your location in an emergency. Our partners have diamond and UL certified monitoring centers located throughout Canada.
Landline or Cellular and Wireless Networks
Some types of medical alert systems require a landline but wireless or cellular systems are also available. If you don't have a landline or often leave the house, you may want to choose a cellular or mobile system with fall detection to increase your safety. Mobile medical alert systems have additional options such as GPS tracking and geo-fencing which can be quite useful especially for individuals with dementia or other similar conditions.
Features
It is important to consider what features you need in a medical alert system. Do you simply need the emergency panic button to get access to emergency assistance? Would you like to increase your level of protection with automatic fall detection and GPS location tracking? Will you need a medication reminder? Check the features of the medical alert system and choose which ones you need as they will determine the efficiency of your device and the price.
Commitment
Companies offering medical alert systems may or may not require a contract. Several of them offer no contract and no cancellation. Others have longer commitment requirements such as 36 months. Compare carefully as those without contracts may be higher in price in terms of monthly fees and require equipment fees.  Consider, too, the quality of the features and service provided.
Price
Price is also an important factor to consider when choosing your medical alert system. Companies offer different options such as basic home protection, with fall detection, and mobile or cellular system.
Basic home protection offers safety in the home and sometimes up to the yard with a system range of 300 to 600 ft.  This is the cheapest level of protection and could cost as little as $25 a month. Of course, you can add more frills to your medical alert system by choosing automatic fall detection, GPS location tracking, medication reminders, etc. The more features your plan has, the higher the monthly fees.
You can compare prices of top medical alert systems by filling out the form on this page to receive FREE and NO OBLIGATION quotes.
Best Medical Alert Systems and Fall Detectors to Consider in Nova Scotia
Are you interested to know what the best medical alert systems are or fall detectors in Nova Scotia? Refer to the list below to find the right system for your protection.
Global Security
Global Security is a security company with a solid track record in the security industry. It offers wellness solutions for seniors so they can live independently without fear.  Your medical alert system can be integrated with a home security system so you feel safe in your environment at all times.
Water-resistant panic buttons or wristbands can be worn even in the bathroom where falls usually happen. With automatic fall detection, an alert is sent even when the user cannot push the button.
Global Security is the #1 ADT partner in Canada and has a proven track record for excellence with certified monitoring centers to respond to any emergency.
Their packages cost $34.99 (36-month contract) while the GSM Fall Detector Package is $379.99. The activation fee is $99.00 and the panic button costs $79.00.
SecurMEDIC
SecurMEDIC Personal Emergency Response System (PERS) uses superior technology to keep you safe at home with home audio monitoring.  The company has 6 monitoring stations with back-up monitoring stations in their network for guaranteed monitoring services 365 days a year and meets all requirements of regulatory agencies.
The company has reliable equipment and professional emergency operators who are experienced in working with seniors.
Their waterproof device works up to 1000 ft. from the base unit and can also be used to answer phone calls for added convenience.
The system requires the individual to push the button to ask for help in an emergency.
The price of the equipment is $198.95 and monthly monitoring fees start at $28.95.
Life Assure
Life Assure helps seniors to live an independent lifestyle without worries. Personal medical alarm systems provide access to medical assistance with just a push of the button.
Their system comes with 2-way voice communication, fall detection, and 24-hour emergency assistance.
The unit has a water-resistant panic button pendant that can be worn around the neck or wrist.  When the button is pressed, a trained professional will be on the line to help.
The company has no hidden fees and no activation fee with a 30-day free guarantee.
The cheapest package costs $29.99 a month (Standard) to $69.95 for the Mobile Plus with GPS and Fall Detection.
Lifeline Medical Alert System
Philip's Lifeline allows seniors to have independence with access to emergency assistance 24/7.  The system allows the user to ask for help day or night, even if he can't speak. By pressing the button worn on the neck or wrist, a trained professional will get help fast.
Lifeline also offers AutoAlert for fall detection.  A necklace or bracelet has an emergency button that connects you to 24/7 monitoring stations.
The system is available for at-home protection or mobile plan. Other options include GPS location tracking and medication dispensers.
Their basic package starts at $29.95 for HomeSafe, $41.95 for HomeSafe Cell, $44.95 for GoSafe, and $56.95 for AutoAlert.  They charge an activation fee of $50.00.
Northwood Intouch
Northwood Intouch is locally-owned and operated and offers fall detectors for seniors in Nova Scotia.  It is a leading alarm provider with 28 years of industry experience.  The company is also part of an organization that cares for seniors in Nova Scotia.
Their personal alert service comes with options for fall detection, wandering, and bed and chair sensors.  Medication reminders are included in their basic service.
The system comes with a base unit and a wearable pendant that can be worn around the neck or clipped on to clothing.  The device is 100% waterproof.  It can be connected to a landline or cellular network and has 2-way voice communication that connects to the monitoring center.  It can also be a speakerphone for normal phone calls.
For individuals who can't use the regular help button, other options are offered such as a rocking lever, wobble switch, and sip and puff straw.
The basic cost is $43 a month and does not require a contract. 
Direct Alert
Direct Alert is a medical alert systems in Nova Scotia and elsewhere in Canada.  It is 100% Canadian owned and operated and has been in the industry for over 15 years.
No long-term contract is required and a 30-day money-back guarantee is available for its customers.
Their products can be connected to all types of phone systems – landline, cellular, VOIP and cable.
Their systems include a panic button pendants or bracelet with 2-way voice communication.
Monthly fees start at $25 a month for at home or wireless services.   
These are but some of the popular options for medical alert systems and Personal Emergency Response Systems (PERS) in Nova Scotia. To find the best one that suits your lifestyle and budget, compare today with FREE and NO OBLIGATION quotes!
Just fill out the form on this page and we will connect you with reputable providers in your area, free of charge!
Who should have a medical alert system?
One of the biggest concerns of elderly people living alone is what to do in a medical emergency. A medical alert system or personal emergency response system is useful for individuals with medical conditions and live alone or are left alone at home for a long time. It is also useful for elderly married couples, or even adults with medical conditions who put them at risk for falls, seizures, etc.
An elderly couple living independently would feel safer with a medical alert system because an elderly spouse may not be physically able to assist a fallen or injured spouse. Having access to a 24/7 emergency response center will provide peace of mind and guaranteed assistance in any emergency.
Whichever product you choose, you will receive the following benefits:
Increased comfort and confidence for seniors living alone
Peace of mind for family members with a senior living alone
Confidence to have a more active lifestyle without worries
Avoid expenses for nursing home, institutional, or private medical care
Higher chance of fast recovery and fewer complications after a fall
Individuals with medical conditions or health risks such as those listed below should have a medical alert system with fall detection:
Dementia
Alzheimer's
Diabetes
Arthritis
Stroke
Epilepsy
Heart Disease
Renal diseases
With physical disabilities
Have difficulty walking or have balance issue
With a history of falls
Etc.
Know what to buy: Medical alert system in Nova Scotia
Statistics show that Nova Scotia has the biggest elderly population compared to other provinces in Canada. Because many companies offer products that target the comfort and safety of senior residents, you get more options and more choices. Unfortunately, this can make the process of finding the right medical alert system more difficult.
Before you sign a contract or buy a medical alert system, review the terms and conditions and understand how it works. Medical alert systems are designed for your safety so choose a system that will protect you well rather than deciding based on price alone.
These systems also have added features that are designed to make life for seniors easier, especially if they have a high risk of accidents or falls. They can also remind users to take their medications and reduce the burden on family members in terms of having to check constantly on the user's status throughout the day.
Refer to the frequently asked questions we have compiled in the next section to help you understand better.
Frequently Asked Questions about Medical Alert Systems
Understanding the benefits and operations of medical alert systems is key to maximizing its benefits for your safety and well-being. Be guided by the frequently asked questions below in making your choice.
Can a medical alert system replace a traditional caregiver?
A medical alert system is not designed to replace a traditional caregiver but it does allow seniors to monitor their health and alert emergency personnel in case of a medical emergency or otherwise.  It can help save on costs on round-the-clock nursing because the user (unless health conditions don't allow it) can be left alone with a panic button to push in case he or she needs medical assistance.
Are medical alert systems reliable?
Yes, medical alert systems from reputable security companies are very reliable. However, they do have limitations. For instance, some systems require the user to push the panic button to summon help. Thus, the individual must wear the device at all times and be able to push the button if they are ill, injured, have an accident. Batteries must also be replaced regularly and the system checked periodically if functioning properly.
Why is 24-hour monitoring of medical alert systems necessary?
Medical alert systems with monitoring protect you every minute of the day. While monitoring makes the system more expensive than a non-monitored device, it can assure the user of fast emergency assistance at all times.  The user will not depend on the availability of a caregiver or family member to assist or respond to an emergency. A senior will not have to worry about calling 911 if he suffers a fall or becomes ill and the telephone is not nearby.  By pushing the emergency button, the monitoring center will summon help and will stay on the line with the user until help arrives on the scene.
Can medical alert systems help with medications?
Medications can be overwhelming for seniors as they need to be taken at different times and with different dosages. Some medical alert systems have medication dispensers or medication reminders to ease this burden. They may also have notifications sent to a designated contact if you miss a medication. If you need this feature, make sure to choose a medical alert system with medication reminders.
Can the panic button pendant be worn in the shower?
Because falls commonly occur in the bathroom, many of these medical alert systems have waterproof or water-resistant pendants for continuous protection even in the bathroom.
Are medical alert systems expensive?
Medical alert systems are essential for seniors and provide invaluable benefits for their safety and well-being. Surprisingly, the cost of medical alert systems remain affordable. Some systems cost as little as $1 a day. Of course, the price increases depending on the bells and whistles you choose for your medical alert or fall detector. It is advisable to compare multiple quotes using our free comparator to find the best price.
Are medical alert systems only for elderly people?
While they are designed primarily for seniors, medical alert systems will also benefit anyone who are at risk for falls or need health monitoring. They can be useful for people with disabilities, limited mobility, and other medical conditions that require emergency assistance.
Do all medical alert systems have fall detection?
Not all medical alert systems have automatic fall detection. Devices that have fall detection will send a fall alert to the monitoring center even if the user does not push the button. Devices that don't have fall detection require the user to push the panic button in an emergency, including a fall.
Do medical alert systems contact family members?
Yes, most medical alert systems have a notification system for family members or designated contacts if there is an emergency.
How can I persuade my elderly mother to use a medical alert system?
Some people may not see the need to wear a medical alert system until they have experienced a personal or medical emergency. It is also normal for some seniors to resist the idea of paying the cost of a medical alert system. If you need to persuade a senior to use a medical alert system, make sure to be familiar with the answers to their questions.  Highlight the benefits they can get such as more independence, peace of mind, security, and convenience in an emergency. You can also mention that medical alert systems are highly recommended by healthcare professionals.
Compare medical alert systems and fall detectors to get the best price
Not all medical alert systems are equal. Therefore, comparing your options to get the best features and price is crucial.
As there is a wide variety of non-monitored and monitored medical alert systems in the market, it is quite easy to feel overwhelmed, confused, or even misinformed. This can lead you to making a bad choice when it comes to a medical alert system.
For your ultimate safety as well as convenience and savings, fill out the form below and receive FREE and NO OBLIGATION quotes for the best medical alert system in your area.
You won't have any commitment to buy unless you are completely satisfied with your quote.
Save time and money today and get PEACE OF MIND with the right medical alert system with fall detection.