14 January 2022,
Last update: January 11th 2023
The latest technological innovations has made it possible to keep the elderly or people with disabilities safe at all times.
Wearable panic buttons in the form of pendants and bracelets can be a HUGE help when medical emergencies or accidents happen. You are sure to get the help you need if you should fall, feel sick, and other urgent situations that require medical assistance.
If you have an elderly family member or a loved one with a disability, a panic button or fall detector will summon assistance in any emergency.  In situations when time is of the essence, you can count on this device to do the job quickly and efficiently.
Whether you need a panic button for yourself or for a loved one, compare FREE and NO OBLIGATION quotes by filling out the short online form on this page.
Learn more about medical alert systems, panic buttons, and fall detectors to choose the right system that matches your needs. Our partners cover all of Ontario: Ottawa-Gatineau, Toronto, Mississauga, Hamilton, London, Richmond Hill, Windsor, Kingston, and throughout the province!
What are Panic buttons and Fall Detection Systems?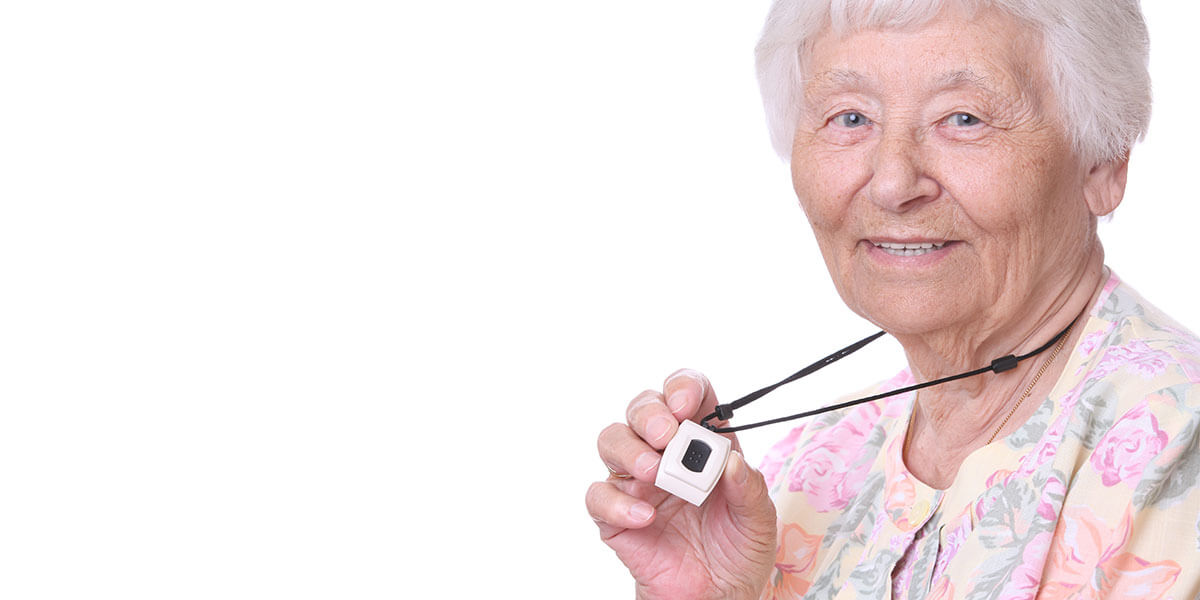 Are you worried about falling or needing help with a medical problem when you are alone at home?
Panic buttons for seniors, wearable medical alert systems, or fall detection systems will notify a dispatcher from a monitoring center or immediately alert a designated family member or friend so that someone can come to your rescue.
Even if you fall and become unconscious or immobile, your fall detector will recognize the "abnormal" movement and will send an alert to notify a trained specialist who will verify your condition. A family member will also be notified. If you need medical help, the monitoring center can send an ambulance to your location.
Considering the important role these devices will play in terms of your health and safety, you will be surprised at how conveniently they work. They are light-weight, portable, waterproof, and durable so you can carry or wear them at all times, even in the bathroom!
These portable and wearable security products are available in a variety of forms with varying features so you can find the best one that suits you.  In fact, these security and safety devices are adapted to suit different lifestyles, needs, and of course, budgets.
You can find the right product within your budget by comparing 3 free quotes from reliable companies in our network. Fill out our short online form today!
Advanced features of panic buttons and fall detectors
Panic buttons have 1 basic function – to notify someone that the user is in an emergency situation.
Most panic buttons would have the following features:
Coverage of 300 ft. or more from the hub
Waterproof
Wearable or portable (bracelet, watch, pendant, or attached)
Can have GPS tracking
Can have 2-way communication system if connected to a security system
Monitored by a certified monitoring center that meets ULC standards
Can send the emergency notification to a designated relative, family member, friend
Can have a fall detection system
Can have language option (i.e. French, English, etc.)
Types of Panic Buttons
There are several companies offering panic buttons to the public. Each one would have distinct features and prices would vary.
Panic buttons can be home-based or mobile/portable systems.
The first panic buttons and medical alert systems offered in the market were designed for the home and worked with a landline phone. Later on, those without a landline had the option of home-based systems that were operated over a cellular network. Of course, the disadvantage with this type of panic button is that they work only within the home. Thus, they may not be suitable for active seniors who spend time outside the home.
The latest panic buttons are mobile and portable systems. They work using cellular networks and may have GPS technology which gives the location of a user who is unable to talk, unconscious, or disoriented. Thus, it is more useful for seniors who are still up and about and lead a more active lifestyle.
Panic buttons can also be monitored or unmonitored.
Unmonitored panic buttons immediately contact a person on your emergency contact list. There is always the risk that the person receiving the alert is unavailable or occupied and the necessary reaction can be delayed.
Monitored panic buttons immediately contact a monitoring center with trained professionals ready to react to an emergency. While this type of system would have a monthly monitoring fee, it provides higher safety and security because someone will always respond to any emergency.
Consumers also have the option to add a fall detection system and GPS tracking to their panic buttons for more advanced protection.
Who should use a fall detector or medical alert system?
Seniors living alone or alone at home for extended periods of time
Older adults with medical conditions that require immediate medical attention
Individuals recovering from major surgery such as hip replacement
Individuals with speech impairment or have trouble speaking with 911
With the right emergency panic button, you never have to be afraid of being alone.
How do fall detection systems work?
According to the Public Health Agency of Canada, falls continue to be a leading cause of hospitalization due to injury among elderly Canadians. About 20% to 30% of seniors fall every year, with most patients aged 65 and above. Indeed, this high number of falls is worrisome.
Significant risks of falls among the elderly
Falls are the second leading cause of accidental death in the world, based on reports from the World Health Organization. Fatal falls are said to be common among people aged 75 and above.  In fact, more than 600,000 people around the world die from falls every year.
Serious falls can also lead to traumatic brain injuries, fractures, and spinal injuries.
Method and efficiency of Fall Detectors
A fall detection feature can be included in a medical alert or panic button. But how do they work?
It automatically detects falls using radio wave technology to monitor body movements.  Built-in sensors differentiate normal activity and an actual fall by measuring the movement's speed.
Thus, a fall detector can sense falls by comparing the position and speed of movement (smooth or abrupt). This technology minimizes false detections.
Monitored panic buttons with fall detection features are connected to a central monitoring center where a trained agent receives the alert and verifies by contacting you. If a fall is verified or in case you fail to respond due to your condition, assistance will be dispatched immediately.
Benefits of Fall Detectors for Seniors
Fall detectors provide significant benefits for seniors.  Since over 1/3 of adults above age 65 is at risk for falls every year, using a fall detector can save your life and provide peace of mind to your loved ones.
Elderly people can enjoy a better quality of life, independence, confidence, and peace of mind with protection from a panic button with fall detector.
Some fall detectors send the alert to 3-5 persons in your contact list with a mobile phone who are tasked with performing the follow-up action for your emergency situation. Again, systems like this (not connected to a monitoring center) has reduced reliability and the response time from your contacts could take longer.
More panic button systems (wired or wireless) have monitoring services that work 24/7 for complete reliability.
Fall detectors are not perfect and the technology continues to evolve. However, some fall detection systems have as high as 96% accuracy and can be a life-saving measure for seniors and persons living with a disability.
Compare the best monitored panic buttons in Ontario
If you are considering a wireless panic button or medical alert system for an elderly relative or for yourself, which should you choose?
The variety of personal emergency response systems in the market and the features and prices that dramatically vary can seem confusing.
Below you will find the best panic buttons in Ontario to consider.  We have listed only monitored systems as they have monthly fees and services that are not available with unmonitored devices.
SecurMEDIC
This medical alert system protects seniors and other persons living with a health risk or emergency.  Equipped with a 2-way communication with a monitoring venter, it offers confidence and peace of mind to users as well as independence. By pushing a button, those who live alone will never have to worry about not getting help in an emergency.
The company does not require a contract (locked-in period) and the device comes with a console and a wireless emergency button.
Lifeline
Philips Lifeline is a personal response system that is easy-to-use and can call for help day or night. By pressing the help button (from a pendant or wristband), a trained agent will summon help quickly.
It offers an additional protection called AutoAlert which allows fall detection using a superior technology.  It can distinguish positions such as sitting, reclining, or lying down from an actual fall. It gives the user 30 seconds to cancel an alert by standing up and indicate you are fine.  It can be worn as a bracelet or a necklace for utmost convenience.
Global Security
Global Security panic button offers a choice between a pendant and a clip with a base system range of 200 feet.  It also offers an additional layer of protection with the Numera4000 which has a range of 1,000 feet and provides fall detection technology.  It works anywhere in Canada and offers GSM technology which tracks a person with cellular networks.
This company's panic button and fall detection devices are monitored by high-quality monitoring centers that meet the standards of the ULC and provides long-term warranty on parts.
Secure Life Canada
This company offers bracelet and pendant type panic buttons that are waterproof. The devices have a basic range of 600 to 1,000 feet with Geo-location. It has central monitoring services.
Direct Alert
This company offers home-based and mobile medical alert systems with fall detection. The device comes in the form of a bracelet  (worn on the wrist or around the neck) with a wireless emergency call button that is connected to their personal emergency response center.  Trained agents will evaluate the emergency situation and summon medical emergency services as needed.  They can also contact designated family members or friends, if preferred.
Their home-based medical alert system has a 2-way medical alarm system that allows elderly Canadians to live independently without fear.
One Call Alert
This company has phone operators (eliminates confusion with recorded messages) and offers 3 types of panic buttons.
Fixed landline
Wireless line
Mobile system
The company does not require a long-term contract and offers easy installation and no activation fees.
Lifecall
Lifecall uses ADT technology and offers waterproof panic buttons connected to 24/7 monitoring centers.  The panic buttons are worn around the neck.
With the Lifecall medical alarm, when you press the button or fall, the signal is sent to a monitoring station and help is immediately summoned.  It is waterproof and can be worn even in the bath or shower and has a 2-way communication system.
Learn more about the features of these panic buttons and check out their prices below.
The Top Panic Buttons in Ontario: Features and Prices

Company/Brand

Features

Price

SecurMedic
With monitoring
No fall detector
With lifetime warranty
WaterproofBracelet or pendant
1000 feet range
$198.95 for the equipment

$19.95 monthly, no contract 

Global Security
With monitoring
clip, pendant, or bracelet
with fall detection option
Waterproof
range of 200 ft. (basic)
with GSM tracking option
Basic package: $34.99 with a 36-month contract

GSM Fall Detector Package: $379.99 + $99.00 activation + $79.00 for the button.

GSM package (limited offer): $379.95 + $99.00 activation + $79.00 for the panic button.

If you want a second button, you have to buy the complete kit. 

Secure Life Canada
with monitoringwaterproofa range of 600 to 1000 ft.with Geo-locationwith fall detector option 
Basic package: $165.95.

+ $99.95 $ for fall detector pendant.

Geo-location: $299 + $65.95 for a second button 

One Call alert
With monitoring
American agents, 24/7
With lifetime warranty
Wired line: 350 meters.
Wireless line: 350 meters.
Mobile Line: AT & T National Network.

(in US Dollars)

Wired line: $39.99
Wireless:  $44.99
Mobile system: $49.99 (annual plan)

Life Call
monitored
with warranty because equipment is rented
Standard package or with fall detector
waterproof
with range of 200 ft. 
$39.95 without a contract.

+ $5 for a second button 

Direct Alert
with monitoring
Lifetime warranty
bracelet and pendant
Waterproof
600 to 1000 ft. range

$ 199.95 for the equipment

+ $ 79.95 for a second button

Classic: $ 19.95 monthly + equipment fees or
$39.95 per month.

Speak through: $29.95 + equipment fees or
$49.95 a month.

Cellular: $ 39.95 + equipment fees or $ 59.95 per month. 

Lifeline
with monitoringlease plan with warranty
with fall detector option
350 ft, range
Homesafe: $42.95 + $89.95

installation.

Homesafe + Auto Alert: $57.95 + $89.95 installation.

GoSafe: $79.95 + $ 89.95 installation.

Fee for a second button:

Homesafe: + $10.Homesafe + Auto Alert: + $15.GoSafe: +$30 
It pays to compare the features and prices of panic buttons and medical alert systems with fall detectors in Ontario so you can get the best protection at the right price.
Fill out the form on this page to receive your free quote and get the best deal for personal emergency response systems. Your elderly parent or relative with a disability can enjoy independence and confidence for a low price.
This service is FREE and NO OBLIGATION!
Factors to consider: How to choose your emergency panic button
What are the most important features to look for in an emergency panic button or personal emergency response system?
Central monitoring


While there are panic buttons in the market that have no monitoring services (no monthly monitoring fees), it is important to have a trained person available to react to an emergency whenever it happens.  Response time is fast and reliable and can save a life in an emergency.
Fall detection


Falls are common among the elderly and is one of the most important emergencies to watch out for. Thus, a personal emergency response system with fall detection technology is very useful and offers greater peace of mind. While it can increase the cost of a panic button, fall detectors is a very essential feature of a panic button system.
You can make your search for a reliable panic button or medical alert system really simple. Start by comparing quotes and look for a reputable provider.
Fill out the form on this page to connect with a reliable security company in Ontario that offers
a reasonable price for a high-quality emergency panic button or fall detector.
There is no obligation and the service is FREE! Get peace of mind and independence with your personal panic button today.
Frequently asked Questions about Panic Buttons, Fall Detectors, or Medical Alert Systems
Below you will find an array of frequently asked questions that can help you decide if you need an emergency panic button and how to choose the right system for your needs.
Do emergency panic buttons work outside the home?
Some medical alert systems or emergency panic buttons are wireless and have mobile systems for individuals who stay outdoors or have outdoor activities. Although they may cost a bit more than a home-based system, they have wider coverage and more flexibility for increased protection.
Can I wear a panic button while taking a bath?
Some panic buttons are waterproof (check if the button is only water-resistant). Because many falls occur while in the bathroom, it is important to wear the panic button pendant even when in the bathroom.
What happens if the person falls and becomes unconscious?
Should a fall occur and the person becomes unconscious and unable to press the button or speak, a fall detector will send the alert to a monitoring center and assistance will be sent to the home or location.
How accurate are panic buttons and fall detectors?
Panic buttons and fall detectors are not perfect systems but they can have as high as 96% accuracy. Monitoring centers also follow a standard protocol to verify the emergency before any medical response is sent.
Do I need to sign a long-term contract for a panic button?
Some providers offer options such as free equipment with a locked-in period. There is also an option for no contract but higher monthly fees. It is up to you to decide which option is more convenient or economical. The standard contract can be for 24 months or 36 months.
Who benefits most from a wearable panic button?
The largest percentage of consumers who buy wearable panic buttons are seniors who want to continue living at home alone or those who are left alone at home for extended periods. However, even younger adults can benefit from a panic button such as those who live with a medical condition such as diabetes, high blood pressure, or those with a disability.
Is there an option to have family members notified in case of an emergency?
Yes, most panic button systems have the option for family notification (as many as 5) and they are informed of the nature of the emergency by text.
Can I cancel a panic button contract?
The cancelation clause can vary from one provider to another. Some offer free cancelation at any time. Others with a locked-in period may charge a cancelation fee.
What happens if I can't press the panic button?
This situation can arise in an emergency such as when the user cannot move due to an injury. Some systems recognize not only falls but also abrupt or unusually fast movements and will send the alert even if you don't press the button. The 2-way communication feature also allows the person to ask for help without pushing the panic button.
How do panic buttons with GPS and wireless systems help?
Panic buttons with GPS and wireless technology can obtain the GPS location of the user and use it to verify the current location and situation. They operate using a national wireless network for optimum coverage.  This feature is very helpful when the user is an individual with an active lifestyle but is at risk due to age or a health condition.
Are panic buttons or personal emergency response systems covered by private insurance in Ontario?
Most insurance providers don't cover medical alert systems or panic buttons. It is best to verify with your insurance company.
Compare panic buttons in Ontario: Get your free and no obligation quotes!
Our partner companies specializing in emergency panic buttons and fall detectors are located throughout the Ottawa-Gatineau region. You can save a lot of time and money by obtaining free quotes using our platform instead of calling up multiple companies or sites.
Use a short online form below to receive up to 3 free quotes to compare panic button features and prices that suit your needs and budget.
This is a quick and convenient service where you don't have any obligation to buy unless you are completely satisfied with the quote you received.
Whether you need a medical alert system, a panic button with fall detector, or a personal emergency response system, you are in the right place!
Fill out the form (it only takes 2 minutes or less) and we will be happy to find the right provider for your panic button today.
Our reputable partners – recognized and certified security companies serving Ontario and everywhere in Canada – are committed to offering the most competitive prices for your panic button or fall detector.