13 January 2023,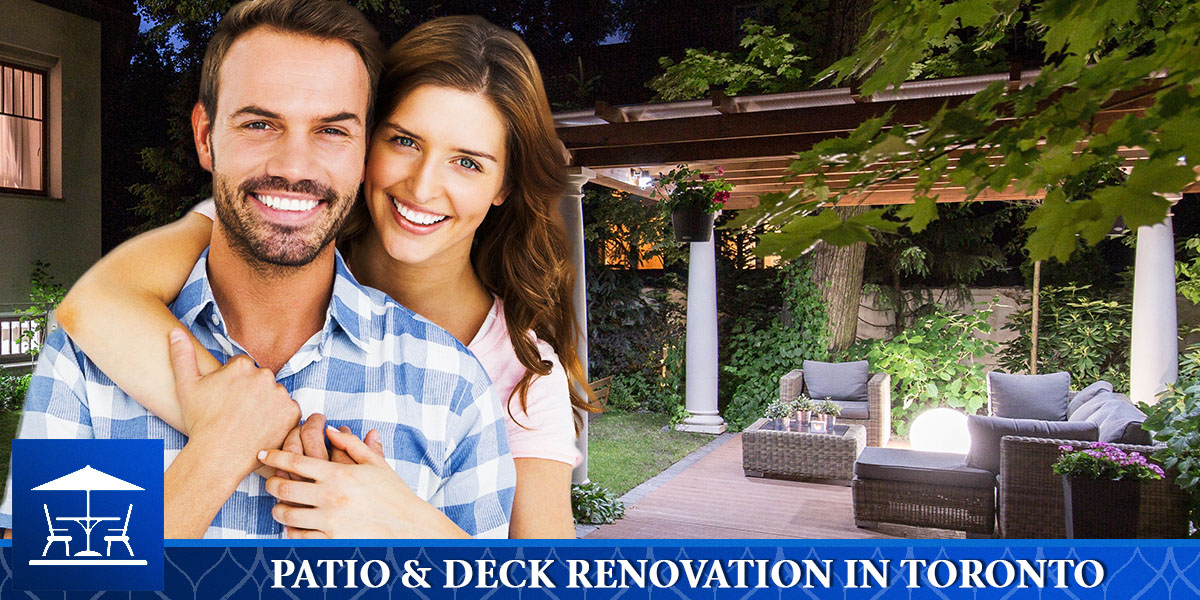 In spring, an outdoor oasis is desirable to many people.   In Toronto, many homeowners have limited space but believe it or not, you can easily create your outdoor haven with a patio renovation.
Many Canadian homeowners value outdoor space and want to embody this in their home.  Space in Toronto is so expensive, thus, a little more creativity is needed in order to enjoy the outdoors at home.
The answer to outdoor space in a home – a patio or deck that suits the homeowner's lifestyle and taste!
A covered porch, patio, or deck will allow your family to enjoy spending more time outside. Tastefully done, a patio can bring out the best in any home's exterior.
If you are dreaming of building or renovating your front or backyard, let professionals who specialize in patio renovations assist you. Their expertise will help you realize the outdoor space in your home that is beautiful and still within your budget.
Benefits of patio renovations – why is outdoor space important?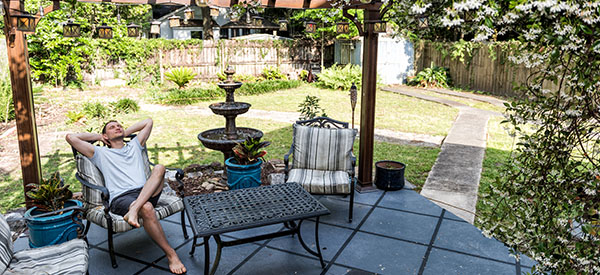 If you are lucky enough to have backyard space, you can turn it into an amazing, beautiful, and functional space.
Entertain family and friends when the weather is fine. Spend a lazy afternoon with a book and breathe in the fresh air. Enjoy some privacy and quiet in a space that soothes and recharges your spirit.
There are many benefits to renovating a patio, including:
More outdoor time at home
Obviously, you can stay outside even when it is raining if you have a covered patio. You don't need to stay cooped up inside the house to stay dry.
Additional space for entertaining
A patio is a great place for entertaining. If you renovate a patio and install a patio cover, you can entertain outdoors even when the weather isn't perfect.
You can barbecue in the summer, dine outdoors, or serve drinks. The sky is the limit.
Adds value to your home
A covered patio adds value to your home. Your investment in a patio renovation can pay off when you sell your house. Buyers love outdoor space and a beautiful patio can help you sell quickly for a higher price.
Prolongs the growing season
One of the frustrations of Canadian gardeners is the shortened growing season due to harsh climate conditions. A covered patio will let you grow plants longer because they are protected from extreme temperatures.
Allows you to keep furniture outdoors all year round.
Because a patio gives you dry space, you can keep furniture outdoors all year round.
Enjoy outdoor space even in winter.
You can continue to enjoy your outdoor space even in winter with a covered patio.  You can have a hot tub or a steak grill to enjoy even when it's snowing or raining.
Outdoor space is very important to most people. There is nothing like being close to nature to help us feel relaxed and completely serene.
A patio can breathe new life into your house and let you and your family enjoy the outdoors without leaving the comfort of your home.
If you want to know how to do a patio renovation, ask for free quotes from experienced and reliable specialists using the short online form on this page.
The best 2023 designs for patio renovations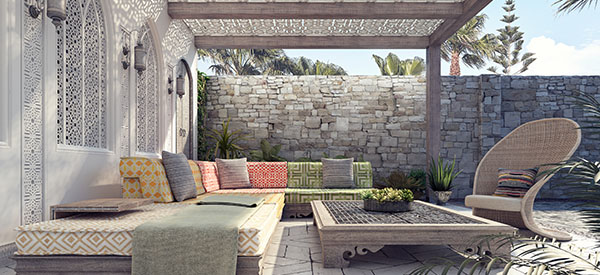 Whether you want a small patio or a place big enough to accommodate more people, you can find stylish ideas for your patio renovation.
Below are small patio ideas and more lavish inspirations to help you create your urban paradise.
Pool patio
If you have an outdoor or backyard pool, you should consider including it in your patio design.
Create an awesome patio and think outside the box or get the help of creative renovation specialists to make a show-stopper.
Patio with dining space
A dining table where you can host dinner or brunch parties will allow you to enjoy your patio to the max.
Outdoor kitchen
Your patio can even include a kitchen or a kitchen counter to allow you to concoct your delectable specialties. If you don't need a kitchen, a grill would be just as nice.
Add more warmth with a fireplace
A fireplace in your patio will make it cozier and inviting. When the weather is cooler, staying in your patio won't be a problem.
Cozy patio with a fire pit
Make your patio cozy with a fire pit. You can spend a romantic or intimate evening with family or friends while you roast your marshmallows.
A bar area
If you love to entertain, a bar area will increase your enjoyment of your patio.
You can use these awesome ideas or add your own elements to your patio. Professional patio renovation specialists can give you even more trendy and stylish patio ideas that can be tailored to your budget.
Small Patio Ideas for decorating a small space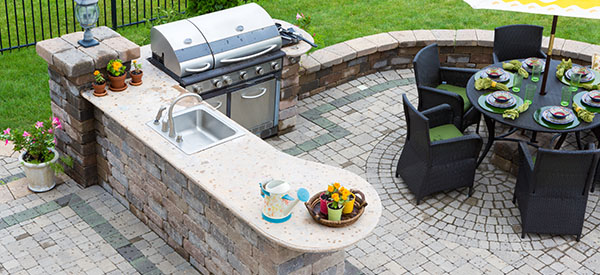 Who says you need a big space to have an awesome patio? Even a small space in your backyard can be transformed into an attractive and comfortable outdoor haven that you can enjoy.
You can create your own hang-out in your backyard, even if it is small, with these tips.
Tips for creating a small patio
#1. Make it cheerful.
The use of bright colors can bring a small space to life. Decorate with colorful pillows, flowers, and small furniture to liven up the place.
#2. Choose creative floor designs.
Dress up the patio with creative floor tiles.
3#. Keep the seating minimal.
Furniture can take up a lot of space. Go for minimalist furniture for a small patio.
#4. Use mirrors.
Hanging even just one mirror can make your patio look bigger.
#5. Use greenery.
You can use greenery to create a garden atmosphere even in a tiny space. Thrown in some wicker furniture and attractive pillows to complete a cozy setup.
You can work magic in a small space to make an attractive patio. You can get a lot of advice from experienced renovation professionals that specialize in patios, decks, and porches. They will work with you to create a design that matches your personal taste and suits your budget.
However, it is important to choose the right contractors for your patio renovation. You want to make sure your money won't go to waste and you get the most bang for your buck
To find patio renovation contractors, fill out the form on this page to receive FREE and NO COMMITMENT quotes.
Patio, porch, or deck: what is your best option?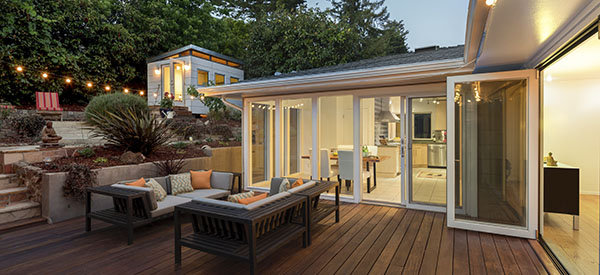 Some of you may be a bit confused about these 3 terms which people generally use to refer to outdoor space in a home.
Let's try to differentiate them so that you can identify what you want to have in your home or what type of renovation you need.
A patio is usually located at the back of a house where an area has been paved with concrete or stone to create additional space. It is often furnished with a table and chairs where people can dine. It can be covered or not and is ground level.
A deck, on the other hand, is generally raised a few inches above the ground and can be single or multi-level.
A porch can be in front or at the back of the house and is usually attached to the house. Its purpose is to provide a place to sit which can be used throughout the year.
The choice of building a patio, a deck, or a porch depends on the design and structure of your house and your available space. To make a well-informed decision and protect your investment, speak to experienced patio renovation contractors to know your best options.
Patio vs. deck: weigh your choices to suit your needs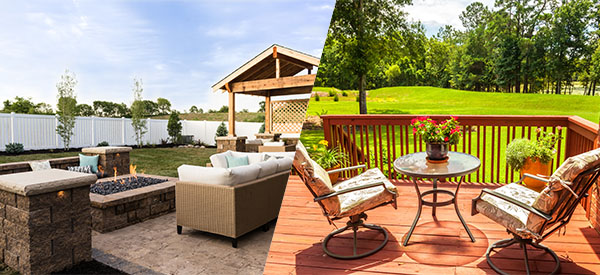 A patio or a deck is a question most people may ask when they want to create more outdoor space in their homes.
If you are investing money to create outdoor space, you must think carefully and understand the difference between these two and weigh the pros and cons.
Consider the following pros and cons when planning your renovation for a patio or deck:
The pros of a patio or deck renovation

Patio
Deck
Cheaper in cost
High resale value for a wooden deck
Easier to maintain
Suitable for uneven terrain
Durable
Can provide a nice view
Ground level so it can be more flexible in design
Easy to customize
High-quality patios can last for many years
You must consider the terrain of your property and your budget when choosing between a patio or deck renovation.
The cons of a patio or deck renovation 

Patio
Deck
Not suitable for uneven ground
More maintenance needed
Tendency to crack
Shorter lifespan
May take longer to build, more construction required
Can be more expensive
Has weight restrictions, such as if you want to put a hot tub or a bar.
Both are worthy choices but in the end, your choice between a patio and a deck will depend on your personal criteria. An experienced patio renovation contractor can make a survey of your property and present you with your best options.
He will also take into consideration the design you want, how you want to use your outdoor space, and your budget.
Would you like to get an idea of the cost of a patio renovation? Talk to our partners in your area who specialize in patio renovations
or fill out our short online form to receive free quotes.
How much is the cost of a patio renovation?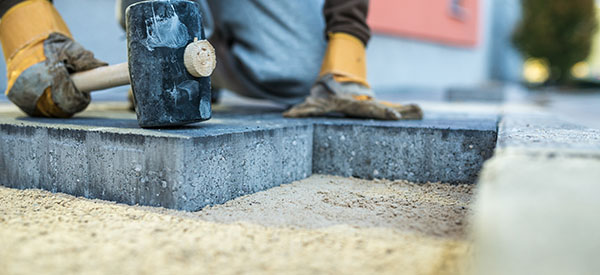 A patio is a great way to increase the value of your house. At the same time, it can add functional outdoor space that can optimize your enjoyment of your home.  Venturing into a patio renovation can seem daunting, at first, because the cost to build one can be difficult to predict.
Choosing the right materials to use – gravel, pavers, concrete, or flagstone, is one of the things you must consider. Before construction starts, you will also need to decide on the layout, drainage, grading, and other things you want your patio to have to get an idea of the cost.
Experienced and reliable professionals in our network are familiar with the municipal requirements and regulations for residential patios. They can assist you with the planning and construction of your patio so you can make sure to get your money's worth.
What is the typical size of a patio?
Probably the most overwhelming part of planning a patio renovation is choosing the size and placement as well as the design. Because a good patio design will provide you with an opportunity to create an outdoor space that can be an extension of your home, it is important to make the right choices.
In order to choose correctly the patio size that suits you best, it is important to ask yourself how you plan to use the patio, how much space you have available, and what your budget is. If you want a living room patio, ask yourself how often you plan to entertain and how many people you usually have.
7×7: Suitable for small spaces, popular in side yards. This can be a nice spot around a small fire pit.
12×12: This is the average size of a patio with a four-seater table.
16×18:  This is a typical living room patio. It is ideal if you wish to entertain and can have multiple seating and a fireplace, a bar, or a cooking grill.
What is the best design or layout for a patio?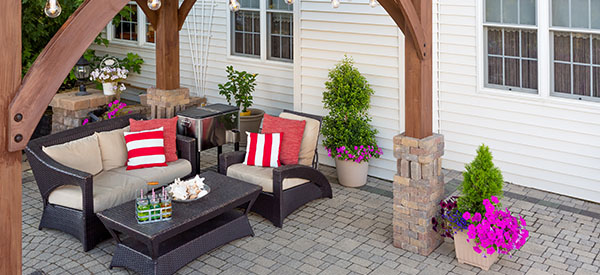 You will need some homework when choosing your patio layout. How do you plan to use it? Is it going to be just your private oasis or will it be for dining and entertaining as well? If you have children, do you want it to have a designated play area for them?
There are so many options when it comes to patio designs. Determine what you want to do and the best design can be based on what you want.  Don't neglect to always consider your available space when choosing your layout.
In general, there are 4 layouts for patios, as follows:
Bistro patio: great for side yards, small corners. Usually smaller in size. It can have a small table with 2 chairs. Cobblestone or brick are good materials to use.
Living room patio: Currently very popular. You can furnish with lounge chairs, couches, or coffee tables. It can also have a fireplace or a firepit.
Dining area: Can have a dining table with seating for 6-8 people. You can plan based on the number of people you regularly entertain.
Sundeck: Usually located around swimming pools. It can be furnished with cocktail tables and lounge chairs.
What materials would you like to use?

Aside from the size of the area, your selected materials will be the most significant factor in your cost and design. Below are the most common materials used for a patio.
Concrete: Hands down, the most popular material used for patios. Highly versatile, it is affordable but can be designed to imitate more expensive pavers. It is also quite easy to install and maintain with sealing required every 3 years, at least. If not properly installed, concrete can crack easily. It is best to hire professionals to install concrete for patios.
Gravel: Most DIY projects for patio renovations prefer to use gravel. Not only is it cheaper but it can also be installed very easily. It can be designed with stepping stones and accentuated by landscaping.
Flagstone: It can be any type of natural stone laid out in different shapes. The prices for flagstone varies on the type of stone and the design.
Pavers: These are bricks that are laid out using a pattern. They come in different shapes and styles, using cobblestone or brick. It requires some maintenance as hosing is needed from time to time and a sealer should be applied annually. Polish may also be applied to maintain color.
Tiles: These are also very popular to use on patios. Slate, ceramic, granite, travertine, and sandstone are just some of the most common choices. When choosing patio tiles, consider slip resistance, durability, weather conditions, and your budget.
On average, a homeowner could spend from $2,500 to $7,000 to construct a deck. For a patio, the average cost is from $3,000 up to $15,000 or more, depending on the size and design.
When you hire professionals, they will ask what materials you want to use and what design you prefer to give you an accurate quote.
A patio is a space where you can retreat, commune with nature, or entertain. Choosing the design and materials to balance cost and aesthetics is all up to you.
To get a clear idea of the cost of your patio renovation, use our short online form to receive free quotes from experienced professionals in your area.
The different stages of Patio Renovations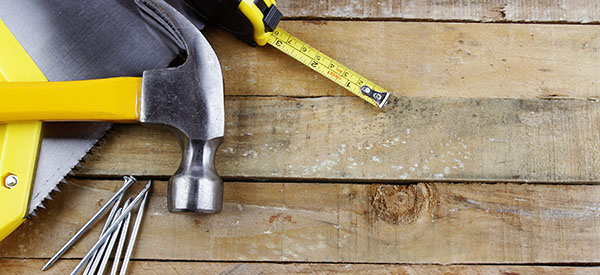 To create an amazing patio, a lot of work goes into the planning, design, and construction of a patio. You will want to make sure that you are not simply adding functional space to your home but that it adds value to your home and is properly constructed.
The process of a patio renovation entails the following stages:
Determination of the budget
Choosing design, layout, materials, and accessories
Area inspection
Drawing up the construction plan
Looking for materials
Installation
A professional contractor will help you with your patio renovation from start to finish. He will also be able to inform you of requirements such as if you will be needing a permit or not.
Protect your cash by working only with licensed contractors
Homeowners realize that renovations can cost a lot of money and would want to save on the cost. It is not uncommon for some people to fall prey to "contractors" who offer cash deals for the lowest price for a patio renovation.
Sadly, many of these homeowners find out too late, and after thousands of dollars later, the pitfalls of dealing with less than reputable contractors. What are some of the things that can go wrong if you don't have a qualified and licensed contractor for any type of home improvement?
You will be left with an uncompleted project if your contractor goes bankrupt
You can be held liable for injuries of workers on your property if your contractor is uninsured
You may spend thousands of dollars more on repairs if you don't have a warranty
The work can be substandard and could cost you many sleepless nights
The truth is that so many things can go wrong if you don't choose the right contractor for a patio or deck renovation.  In 2010, the Ontario Home Builders Association  made it a priority to stop the underground residential renovation sector by passing key recommendations and raising consumer awareness about the dangers of dealing with illegitimate contractors.
Protect your cash by working only with licensed contractors for any type of home improvement project.
How to choose a patio contractor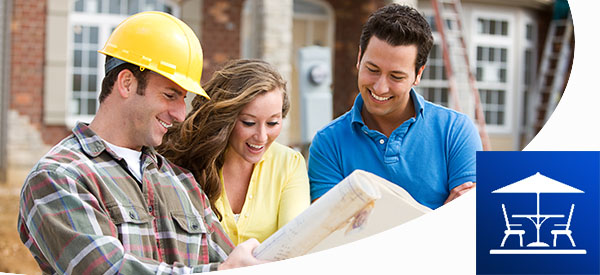 Choosing the right contractor for a patio renovation or a deck can be overwhelming. It is a step you must take with diligence for your peace of mind and to ensure high-quality work and good value for your money.
Here are some tips you can consider when choosing your patio contractor in Toronto.
Compare multiple contractors.
There are many companies that specialize in patio renovations in Toronto. It is important to obtain multiple quotes so you can compare costs and choose based on price, quality of the work, experience, etc.
Check references.
Always ask for references to see their previous work. By reviewing how past customers view their work and their experience, you will be able to tell which contractor is the right fit.
Look at their portfolio.
Each professional patio contractor would have a portfolio of their work. You may even be able to see them online. Checking their portfolio will allow you to see the quality of the work and if it meets your standards.
Verify license and insurance.
Make sure that your Toronto patio contractor is licensed and adequately insured.
Custom patio design tailored to your needs.
Look for a patio contractor or renovation company that can provide you a custom design that meets your specific goals and budget. A contractor must be focused on your needs and helping you get the best use of your outdoor space.
Warranty
A good patio contractor can provide you with a warranty because he is confident in the quality of the work.
Are you ready to find a patio contractor or patio renovation specialist?
Just fill-out the form on this page and obtain FREE and NO COMMITMENT quotes you can compare at your own leisure.
The best time for a patio renovation is whenever you are ready
Many homeowners wonder when is the best time for a patio renovation. Actually, any time is a good time or whenever you are ready.
Plan in winter, Enjoy in spring
You can start planning your patio renovation in the fall or winter. It can take time to choose a design, prepare your funds or look for financing, and find a patio contractor. In fact, it can take weeks for all these steps to be completed.
Once you have a design and a patio renovation specialist to work with, your chosen materials will be ordered and that, too, can take time to arrive.
With the delivery of materials, construction on your new patio can start with the first signs of snow melting away. With luck and the right preparations, you can enjoy your brand-new patio before the end of spring or by summer time.
Spring is a very busy time and renovation professionals are most in demand. Don't wait till spring to start planning your patio renovation and beat the crowd by having an early start.
Want to look for your patio contractors now? It is so easy. Just fill out the form on this page and get connected with reliable and experienced
patio contractors from your area, free of charge!