20 March 2019,
What is the cost for foundation excavation, for drains, or piles?
 Compare actual prices for your excavation work with the help of our free form on this page.

Find out the average prices for the different types of excavation work:
Building the foundation of a house
Construction of a septic tank
Piling, landscaping, etc.
French drains & water infiltrations
When you hear the words excavation company, you surely imagine bulldozers in construction sites. Don't be surprised but excavation is also necessary for residential projects.
Understanding when and how to hire an excavation company will make it easier for you to plan your renovation and save time and money.
What is a professional excavation?
Whether you need an excavation of your frozen pipes or to lay a new foundation, experienced contractors for professional excavations are the professionals you need.
They handle large commercial site development or backyard renovations and repairs.  When you hire a professional excavation contractor, he will provide experienced operators and the proper equipment for all levels of complex excavations and soil conditions.
Examples of projects requiring professional excavation are:
·         Storm drainage
·         Residential excavation (backfill and grading)
·         Demolition and site clearing
·         Erosion control
·         Foundation building
Excavation work is critical for a variety of reasons, whether for a commercial or a residential project. If you are building an in-ground pool, a new home, or pouring foundation, a skilled excavation contractor is necessary.
You need a team that will practice safety and precision while working to meet tight deadlines.
Benefits of hiring a professional excavation contractor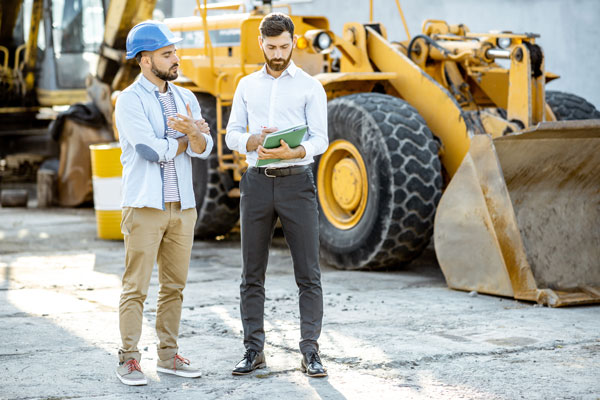 It pays to hire a reputable and experienced professional excavation contractor for all types of major works. Here are the reasons why:
Proper equipment and trained operators
The equipment required for an excavation depends on the type of project. For homes, it could involve rocks, tree removal, or some topsoil. To build a foundation, moving earth and compacting the soil is necessary to ensure it can carry the weight. Commercial projects may require more equipment as it could be on a bigger scale.
Contractors with the proper equipment and many years of experience will ensure that the work is done efficiently, safely, and on time.
License and Insurance
Professional contractors possess the mandatory licenses and insurance. This means they have the know-how to operate heavy equipment safely. Their insurance also covers the property owner in case of injuries or damage. Because your home is an important investment, it is important to hire only licensed and insured contractors.
Reduced risk of property damage
When you hire a professional excavation contractor, you will be reducing the risk of damage to your property.
Excavation work is not ideal for DIY work as any mistake or accident can damage your home or cause injury to yourself.
Removal of debris
Excavation work is messy. A contractor will take care of the clean-up of debris. If you do it DIY, you will need to clean up the mess and dispose of the soil. That will not be an easy feat to accomplish!
Preparation and permits required
Professional excavation companies can assist you in obtaining the permits needed for the type of project you have. Most of these permits pertain to material removal, noise, and other legalities or rules. You can be sure that you don't miss any of these requirements when you hire an excavation contractor.
As you can see, excavation work is better left in the hands of professionals. If you have a renovation or home repair that requires excavation, find the right contractor using our short online form!
Factors Influencing the Price of a Professional Excavation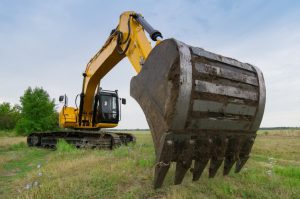 When you start digging to install a French drain, repair your foundation, or install piles for a new patio, there are several factors that will change the cost of your project.
Required equipment: There are different excavators or mini-excavators that all differ in function and job performance. Leasing one machine over another will affect the cost of the excavation.
In addition to the excavator or mini-excavator, vehicles will likely be needed for your excavation work. For example, a truck might be needed to collect rock or sand that is being excavated. 
The depth of the hole: Generally speaking, the deeper and larger the hole, the more time will be required for the excavation. So, you must expect to pay more.
Soil: There is a difference between excavating a sandy soil and excavating another more rocky soil. The time required for excavation will be affected by the type of soil in the excavation area.
The time of the year: excavation contractors will charge you rates that vary according to the time of year. An excavation in June could be more expensive than an excavation in September, for example.
The location of the excavation: the price of excavation could also vary depending on the accessibility and the distance between the contractor and the site. A construction site in an urban area will probably cost less than a site located in the heart of the forest.

These are but some of the factors that could influence the price of your excavation project. The price could, therefore, vary according to other elements related to the excavation work.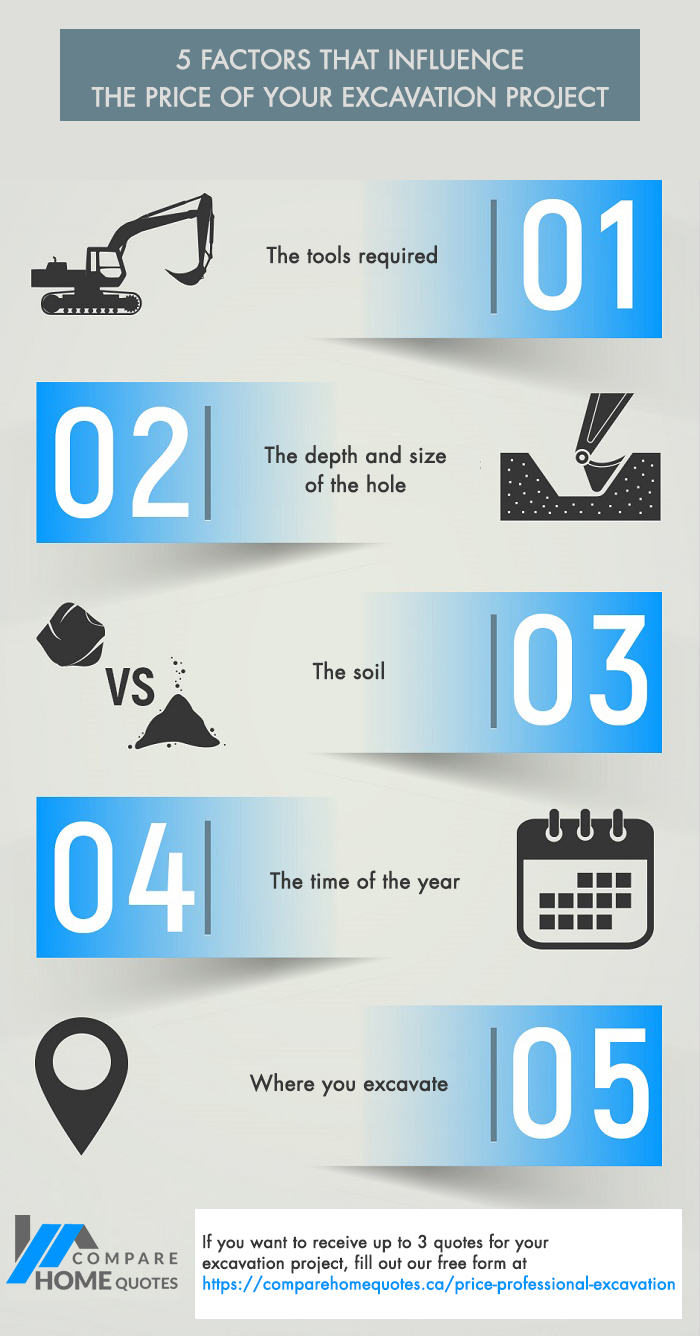 What is the price for excavating the foundations of a house?
We can expect a bill that could reach several thousands of dollars for an excavator to take care of our excavation project.
In this regard, the Perrier guide gives us an estimate of the price: "It can cost between $25 to $50 per square foot depending on the size, the desired depth, the type of soil, and access to the basement for machinery".
As you can see, there is a big price difference for the excavation of the foundation: you can pay double for a more complex excavation project!
Thus, it's better to find out about prices by providing as much information as possible about the excavation work you have in mind.
For more exact details, contact our partners who will provide accurate quotes according to your needs. Fill out the form on this page.
What is the price of an excavation project for a septic tank?
For people who do not have access to the public sewage system, installing a septic tank is essential. For the installation of a septic tank, the cost could be from $10,000 to $30,000.
As with other types of excavation work, the price can vary greatly. That is why we offer an estimate whose maximum price is three times the minimum cost.
The best thing to do is to find your septic tank installer by obtaining multiple quotes and comparing them.
What is the price of another excavation project for piles, landscaping, etc.?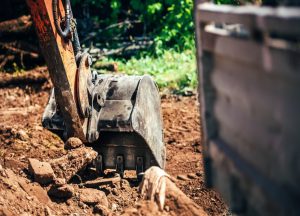 With respect to the multitude of other projects that require excavation, prices are also subject to significant variations.
That's why we advise you to contact a reliable excavator who can provide you with accurate prices and detailed services.
The quality of the services and materials should also be taken into consideration because a contractor can charge you less than another.
However, will the result be satisfactory and according to standards?
Ask the excavation contractor about the lifespan of the work and to give you an overview of the result.
You can obtain more value for your money because the purpose is to get high-quality services at a reasonable price!
What is the price of an excavation project for French drains?
The installation of a French drain is a major investment for a house. Indeed, we can estimate the price of such work between $5,000 and $10,000.
In extremely rare cases, the installation of a French drain could cost you around $3,000 if all the conditions are right for you:
Low slope
Soft ground
Small French drain
Etc.
Ask our partner excavation specialists. They will be prompt in providing you with the details you need.
What are the solutions to reducing the cost of a French drain?
As they say, an ounce of prevention is better than a pound of cure! To avoid repeated water infiltration, in addition to cost-effective excavation or drainage that will optimize sound water management, easy solutions are at your fingertips.
Terrain slope correction: The terrain needs to be sloping to direct water away from the property. A correction, no matter how small, can make all the difference. Pay attention to the inclination of your driveway or that of your patio. These details can save you money by avoiding paying the price of an excavation or drain again!
Installing a pump in the basement: the pump (or sump) discharges the water accumulated in the foundations away from the property, in a place where the ground can absorb it. Again, you will avoid drainages (and their costs!).
Gutter Replacement: In addition to proper gutter maintenance, installing larger gutters can help keep water out of your property.
What are the telltale signs of water infiltration?
You suspect the presence of a problem related to your French drain or water infiltration in the foundation of your basement? Here are major telltale signs of such a situation:
Presence of efflorescence: whitish powder on the concrete surface, inside the house
Presence of mold on interior walls
Disturbing odors caused by high humidity in the basement
The detachment of interior or exterior paint
Concrete screed that seems to sweat
In case you suspect that your French drain has a problem, it is important to act quickly. In fact, the more time you take to react to the situation, the higher the cost of excavating or replacing your French drain. It is the same story for the price of possible drainage.
It is obvious that the presence of a problem related to the foundation drain of a house can cause a lot of stress to its owners, especially because of the price of the drainage. But ignoring the problem is certainly not a solution: water infiltration or flooding certainly has serious consequences, including a reduction in the value of the home.
What are the complications of water infiltration?

Water infiltration can damage some components of your home, such as:
All of your furniture
Walls
Plumbing
Roof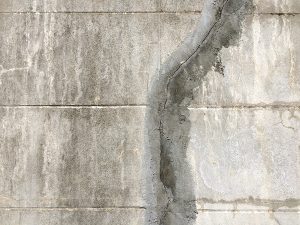 Aside from serious health risks such as the appearance of asthma symptoms and other conditions related to increased humidity, if nothing is done, the infiltration of water may return each year with the arrival of spring, thereby increasing the cost of drainage. For this reason, very few insurance companies cover these eventualities.
Investing in the repair of your French drain is certainly a winning choice. The costs associated with the excavation, drainage, and laying of the French drain are certainly not insignificant but it is a worthy investment.
What causes water infiltration or water damage?
Water damage and water infiltration are mainly caused by incidents taking place in the foundation of the house, in the underground drainage, and in the French drain. Certain risk factorssuch as the proximity of an underground water table should encourage you to invest in excavation work and optimized installation of French drain at a fair price.
Determining the cause of the problem is helpful in estimating the price of the excavation needed to repair it.
In most cases, the price of drainage will vary depending on the nature of the water infiltration. The following table provides examples of the cost of an excavation operation.
| | |
| --- | --- |
| A clogged drain of gravel, clay, rootlets or mud | Cost for perimeter excavation of the house: between $6,500 and $15,000 |
| Rupture of the drain (concrete, plastic or sandstone) | Cost of perimeter excavation of the house: between $6,500 and $15,000 |
| Silt buildup caused by plastic duct deformed by a bump | Price for one-time excavation, at a specific location only: about $3,000  |
| Textured membrane covered with silt buildup | Cost for perimeter excavation of the house: between $6,500 and $15,000 |
| Local drain obstruction | Price for one-time excavation, at a specific location only: about $3,000 |
To identify the source of your water infiltration problem and to be able to establish the price of excavation, drainage, or the cost of a new French drain, a diagnostic camera at a cost of about $850 will be very helpful.
Learn all about how to prevent water seepage into the foundation of your basement.
What is the life span and price of a French drain?
The following table shows the price of a French drain as well as the cost of the various accessories essential to its operation.
| | | |
| --- | --- | --- |
| Drain | Lifespan: after 20 or 25 years, apparent curves | Price of a drain: between $5 and $30 per meter, depending on the thickness and length of the material |
| Waterproofing membrane (clay or plastic) | Lifespan: about 40 years | Price of a foundation waterproofing membrane: minimum $150 per roll (approximately 6 inches X 60 inches) |
| Gutter adapter | Life span: around 20 years | Price of a gutter adapter for French drain: between $5 to $8 |
| Bowl for pump (basement) | Life span: between 5 to 15 years | Price of a bowl for French drain: between $60 and $75 |
| Plastic grid to prevent clogging of the drain | Lifespan: between 5 to 15 years | Price of a protective grill for French drain: between $8 and $20 |
| Floor drain | Lifespan: more than 50 years | Price of a floor drain for French drain: between $85 and $200 |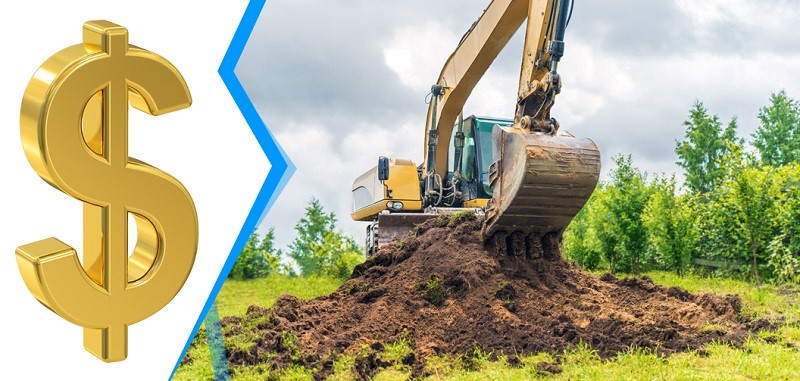 Compare the prices of an excavation done by qualified excavation contractors
Find reputable excavators for all your projects that require excavation.
Fill out our online form with just a few clicks to receive up to 3 free quotes from our knowledgeable and trusted excavation contractor partners.
You are a winner all the way because our service is fast, efficient and without any obligation on your part.