27 February 2020,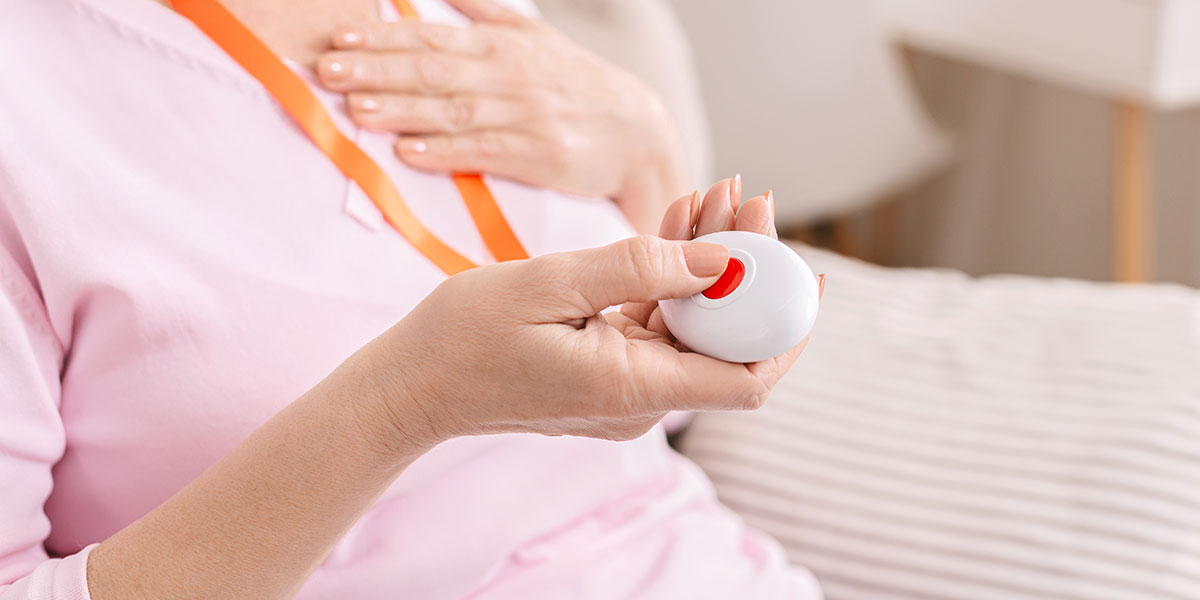 Falls are common among the elderly. Statistics say about 33% of seniors fall at least once per year, with most of these falls resulting in emergency room visits or hospitalization.
People with physical disabilities are also at risk for falls. Wearable technology has made it easy to manage this risk with the advent of wearable fall detectors in the form of pendants, bracelets, and watches.
Thousands of elderly Canadians aged 65 and over have regained their independence, self-confidence, and peace of mind with fall detection devices from reputable security companies.
Fill out the form on this page and receive FREE and NO OBLIGATION quotes to compare so you save time and money!
Why Fall Detection Devices are Critical for the Elderly
Fall detection technology recognizes a fall using special algorithms. The speed of movement and the height are measured. Thus, these security devices can differentiate between normal movements and falls.
Fall detection is an additional level of protection that comes with a panic button, a medical alert system, or a personal emergency response system (PERS).  They may have different names but they all have common features designed to protect at-risk individuals.
Why do seniors in Canada need a fall detection device? The brief story of Tom will illustrate the life-saving capability of a fall detector.
Tom, a 70-year old veteran living alone, suffered a stroke which left him paralyzed. Unable to reach the phone to call 911, he lay helpless on the floor for hours, until he died. If he had a panic button with a fall detector, help could have arrived within minutes.
This is only one example that illustrates the importance of a fall detection pendant. Nobody has to suffer alone in a medical emergency because no help was available. With a wearable panic button, you can get emergency assistance at any time so you are never alone.
With 1 out of 3 elderly persons falling each year, protection from a fall detection device is a must-have for all seniors. Individuals 65 and above who have experienced a fall are also likely to have another fall.
Who should wear a fall detection device?
Seniors aged 65 and above can benefit significantly from a wearable fall detection device. Individuals with medical conditions such as:
Alzheimer's
Stroke
Heart Disease
Diabetes
Epilepsy
Balance issues
Parkinson's disease
Obesity
Arthritis
Etc.
Individuals recovering from surgery or an accident, or living with a disability, or taking medications with side effects can also benefit from the protection of a fall detection panic button.
The First Few Minutes after a Fall are Critical
After a fall, the speed by which help arrives is critical. The risk of complications increases when a person is left unattended after an injury from a fall.  Emotional distress can also have a negative impact on the individual's condition, the longer the wait.  The result can be a longer hospitalization and recovery, even death.
With fall detection, seniors who fall can receive medical assistance at once. EMTs and caregivers (depending on the user's selected plan) will be dispatched as soon as an alert is sent to the monitoring center.
This vital emergency service will help the individual to get out of a bad situation and get treatment without delay, increasing the chances of recovery.
A reliable fall detector with monitoring will have emergency response measured in seconds, not minutes.
Compare your options using this short online form and get your free and no obligation quotes today!
You have nothing to lose and the next life to be saved may be yours.
How do fall detection devices work?
Fall detection devices use sensors called accelerometers that use low power radio waves to monitor the user's movements.  Advanced fall detectors use axis accelerometers similar to those found in smartphones, most of which have patented algorithms.
The fall detector measures abrupt body movements, evaluate the body's position, and the smoothness of the motion to identify a fall.  In cases when the fall detector determines that the motion falls under danger parameters and a fall has likely occurred, it will trigger an alert so that monitoring agents will summon help.
Aging at Home with Fall Detection Pendant, Bracelet & Watch
Most Canadians want to age at home where things are familiar and memories live.
But statistically, tens of thousands of elderly people die annually where death was caused, directly or indirectly, by a fall.  For those who live alone, prompt and immediate help could prevent more complications and make a fall survivable.
Thanks to wearable fall detection pendants, bracelets, and watches that can suit any lifestyle, seniors can choose to live independently in their own home. 
Reliable security devices such as medical alert systems and panic buttons give families peace of mind that their elderly parent is never really alone. Someone is always looking after them remotely and ready to help when needed.
These security devices offer advanced levels of protection including fall detection, GPS location tracking, medication reminders, and features such as 2-way communication technology.
Yes, technology can be the best friend of seniors who live alone and are at risk for falls or other threats.
Fall Detector Pendant
A fall detector pendant is worn around the neck. You can choose waterproof panic pendants so you can wear your device even in the shower or tub.
If you fall in the bathroom, even if you can't speak or press the button, the fall detector will still send an alert to the monitoring center.
Most fall detector pendants are stylish, light-weight, and have easy-to-press panic buttons. A good panic button will have a 2-way communication system so you can speak with a monitoring agent directly, wherever you are.
Fall Detector Watch
A fall detector watch is an emergency medical alert right on the wrist and within your reach at all times.
Best for the elderly, a fall detector watch can have other features such as medication reminder, caregiver notification, GPS tracking, and even heart rate monitoring.
Most importantly, a fall detector watch will immediately alert a monitoring center if the user falls. With a single push of the button, the user is assured of immediate help.
If the user is unable to push the button, help will still come because an automatic fall detector will send an alert without any action from the user.
Not all fall detector watches are professionally-monitored. Some products such as the Apple Watch with fall detection will only send an alert to a family member or other designated person.
Consider the benefits of a monitored fall detector watch from reliable security companies for ultimate and reliable protection for seniors.
Fall Detector Bracelet
A fall detector bracelet does more than the ordinary medical bracelets with profile.  Panic button bracelets offer a reliable way for seniors to get medical or emergency assistance with a push of the button.
The user can also get connected to a response agent when there is a non-medical emergency.
While some products will also have fall detection, it must be noted that fall detection technology works better in pendants. Wristband-type detectors can be affected by regular, frequent, and vertical wrist movements that lead to false fall alerts.
You can compare prices and features of available panic buttons with fall detection using the short online form on this page.
You will receive FREE and NO COMMITMENT quotes from reliable security companies in your area.
Best Features to Look For in Wearable Fall Detectors
There are several options to choose from when shopping for a wearable fall detector. Consider the following features to match your needs and lifestyle.
Excellent support and customer care
One very important feature in a wearable fall detector is excellent customer care and support.  The best wearable fall detectors are connected to a certified monitoring center with trained agents that assist 24/7. Prompt emergency assistance from highly trained staff is a must.
A few security companies offering wearable fall detectors provide bilingual support.
Technology that works flawlessly
A wearable fall detector should have technology that works with a proven track record.
Wireless or mobile technology
Many seniors still want an active lifestyle. A fall detector that works when you are on-the-go will provide continuous protection wherever you are.
GPS location tracking
Patients suffering from Dementia or Alzheimer's can be protected with a fall detector with GPS tracking.  For active individuals, this enhanced feature will provide location history or current location to make it easier for help to arrive.
2-way crystal-clear communication
Live communication during an emergency is vital. Whether at home or outdoors, your panic button bracelet or watch panic button can connect you to a monitoring center fast. Some fall detection systems also have built-in 3G cellular phone lines that provide clear communication between the user and the monitoring agent virtually from anywhere.
Waterproof
Waterproof fall detector pendants, watches, or bracelets are more useful because they can be worn even in the tub or shower. Since falls commonly happen in the bathroom, a waterproof feature is vital.
These features are the most useful for protecting seniors at home or outdoors. Each individual would have unique needs- seniors who mostly stay at home may not need wireless or GPS tracking with their fall detector pendant.
You can choose from different plans to find the right one that suits your needs without paying too much for a fall detector.
Compare Prices of Fall Detector Pendants, Watches, and Bracelets
Want to find the right wearable fall detector that is within your budget? Below you will find the prices of wearable fall detectors in Canada to choose from.
Company/Brand
Type
Features
With Monitoring
Price
Philips Lifeline
Pendant
Available in:

HomeSafe (landline)
HomeSafe (cellular)
GoSafe (mobile)

* with excellent reputation

* more expensive than most other options

* With 2-way voice, fall detection, GPS

* 600 ft. from base console

Yes
$69.95 upfront

$29.95 monthly (basic plan)

Global Security
(Numera Libris)
Pendant and Bracelet
* advanced fall detection technology

* GPS location in emergencies

* 2-way voice communication

* water-resistant for shower and bath

*recording of medical data for caregivers

*with customized platform for alerting caregivers with email or text

Yes

starts at $34.99 (36-month contract

GSM Fall Detector Package is $379.99

$99.00 activation

$79.00 for the button.

Direct Alert
Pendant, bracelet, or belt clip
* built-in fall detection feature

* Mobile system has built-in phone line

* GPS and Geo-fencing

Yes

Classic package $19.95

+ Equipment fees or
$39.95 per month.

The Speak through package costs $29.95
+ equipment fees or
$49.95 a month.

The On the Go package costs $39.95 + equipment fees or $59.95 per month.

LifeCall

Pendant or bracelet/watch
* Available in basic, advanced, cellular, advanced mobile, and advanced mobile plus plans

* waterproof

* hospital-grade medical alert base station with range of  up to 1,000 ft.

* with 2-way voice response system

* multiple location-tracking technology

* landline required for some plans

Yes

Available in annual, quarterly, or monthly plans

$25.62/monthly or $307.45 Billed annually for standard plan

$34.78/monthly
or $406.45 Billed annually for in-home cellular plan

$32.04/monthly or $384.45 Billed annually for Mobile Alert

Life Assure

 

 

 

Pendant or wristband
* Available in Classic Home (landline)
and Total Life Assure (cellular)* with 2-way voice communication* microphone with enhanced sensitivity*VOIP and Cable compatible* no long-term contract and no activation fee* detection range of up to 600 ft. from base unit

* with GPS location* with automatic fall detection

Yes
$69.95 monthly or $209.85 quarterly or $769.45 annually
SecurMEDIC

Pendant or
bracelet
* wireless emergency button and console

* with monitoring centers all located in Canada

* 2-way voice communication

* easy installation, no contract

* No automatic fall detection, user must push the button

Yes

Equipment cost is $198.95

Monthly monitoring fees at $28.95.

Live Life Mobile Alert

Bracelet
* no monthly fees

* No automatic fall detection

* Sends text messages to emergency contacts when the SOS button is pressed for 3 seconds.

* with built-in microphone and speakerphone

* Uses GPS to send help text messages with a link to Google Maps displaying the location of the wearer with accuracy within 2 metres

No
$547 (CAD)
(one-time fee)

Caretrak Medical Alert

Pendant
* No installation or landline needed.

* 15-day trial

* choice of family or 24/7 emergency operator response

* with automatic fall detection option

* The monthly fees includes wireless and GPS services in Canada, 40  voice call minutes and text and email alerts to unlimited contacts.

Yes

Equipment: $79.

Monthly service is $39.60 per month after the CARP discount (regular $44).

Medical Guardian

 

Pendant
or bracelet
* Available for in-home and on-the-go plans

* fall-detection ready devices

* up to 120 hours of battery life

* up to 1,300 ft. range

Yes

Free activation

Standard home alert system: $29.95 per month.

Mobile Guardian starts at $39.95 per month

Freedom Guardian costs $44.95
(cellular with unlimited range)
Frequently asked Questions about Wearable Fall Detectors
Are you considering a wearable fall detector but want to know more before you buy?
It is important to understand how fall detectors work and the benefits you can gain.  Below are frequently asked questions about wearable fall detectors that can guide you in your decision-making.
Does fall detection really work?
Fall detection reliability depends on the technology used by the device. This can vary from one company to another. In general, no fall detection is 100% accurate. However, fall detection technology uses algorithms that are designed to measure fall patterns, speed, angle, and position to identify a fall.
Thus, it is important to choose a fall detector pendant from a reputable security company with a proven track record. Of course, a fall detector comes with a panic button that a user can press to summon help.
Is it better to have a monitored or non-monitored fall detector?
The decision to get a monitored or non-monitored fall detector and panic button will depend on your living situation. In an emergency, do you have a close family member who can immediately assist you? Do you have family who will be on-call at all times if you fall or injure yourself?  The benefit of having a monitored fall detector is that a trained personnel will be ready to assist you 24/7 in any emergency. This ensures that medical assistance of emergency help is dispatched without delay when you need it.
Why is a panic button pendant with fall detector a good choice?
A panic button pendant with fall detector is a good choice for seniors because it is convenient. Since it can be worn around the neck, it won't hamper routine activities and also looks presentable. In case of an emergency such as a fall, the panic button is easy to reach and can even be worn while in the bathroom.
Are fall detectors expensive?
Fall detectors vary in features which can be customized to suit your needs and budget. The cost of your fall detector will depend on the plan you choose. The more add-on features you select, the higher the price.  Automatic fall detection is usually an add-on feature with an extra charge.
Considering the importance of a panic button pendant or watch to your safety and wellness, the cost is actually reasonable. Plans with monitoring can start for as little as $1 a day. You may need to buy the equipment or choose a lease plan. It is best to get multiple quotes to compare prices.
Who should wear a fall detector device?
It is most recommended for seniors living alone or left alone for long periods, especially if the person has already experienced a fall. Seniors who live with medical conditions such as Alzheimer's, Parkinson's disease, Stroke, Diabetes, Hypertension, etc. and disabilities can benefit hugely from wearable fall detectors.
Persons 65 years old and above who want to continue living independently and avoid moving to a nursing home will also have more peace of mind by wearing a fall detector pendant.
Is a fall detector pendant better than a fall detector watch or bracelet?
Experts recommend using panic button pendants with fall detectors for higher reliability. Watch and bracelet medical alerts or panic buttons may offer fall detection but the likelihood of false alerts is higher because of the frequency and vertical movements of the wrist.
The most reliable fall detectors are worn level to the heart which makes fall detector pendants the preferred choice.
What to do with false alerts?
Because automatic fall detection is not perfect, it is possible that a false alert will occur. When this happens, the user just needs to press the button to cancel the alert.
Why is it advisable to buy a wearable fall detector with monitoring?
You will find that wearable fall detectors are monitored or non-monitored. Those with monitoring are more expensive because they have monthly fees. However, monitored fall detectors are worth it because you are assured of emergency assistance 24/7 from trained staff who know how to deal with emergency situations. Family members are also relieved of stress, worry, and inconvenience because they don't need to be on hand at all times to monitor the status of the user.
How do I choose the security company for my fall detector?
Various companies offer fall detector devices and they are not all equal. It is important to evaluate the reputation and track record of the company, the quality of their monitoring centers, the company's experience in the panic button industry, and the value of their monitoring plans.
For instance, some companies offer no contract plans but you may need to buy the equipment. Others have contracts but have lower monthly costs.
Can I cancel a fall detector monthly plan?
The cancelation option varies. There are companies offering no contract plans and no cancelation fees. Some companies with required contracts for monitoring plans allow free cancelation on certain conditions such as if the user is moved into a nursing home, hospital, or dies. It is best to review the cancelation option before signing up for a monthly plan.
Can a monthly fall detector plan cover my spouse as well?
You will be happy to know that there are companies that offer the option of buying a second button for a spouse or other family member at a minimal cost. This option can help you save money if you need a fall detector for spouses.
What is included if I purchase a fall detector pendant?
Most fall detectors with monitoring come with a base console, a wearable panic button (pendant, watch, bracelet), and batteries.
Is a landline required for a fall detector system?
Many fall detection systems are connected to a landline. However, companies also offer cellular and mobile options for convenience. You will need to find the system that works best for you.  Landline –based systems are generally lower in cost.
Get Free Quotes for Fall detector pendants and bracelets
Consider the cost of assisted living or private home care and you will come to the conclusion that the price of a fall detector pendant or bracelet is really small.
You will be paying not only for your safety but you also get peace of mind and independence.
When comparing prices of these security devices, don't pick based on the lowest price. It is important to choose a product that is tailored to your situation, too.
Sometimes, low prices may also have hidden fees or poor customer support or service. Because you will be using this device during an emergency situation, you must ensure that you get a fall detector that is reliable.
If you are ready to look for the best wearable fall detector, fill out the form below and receive FREE and NO OBLIGATION quotes from reliable security companies near you.
Our partners in fall detector pendants and bracelets or watches are 100% verified and trusted throughout the country, with monitoring centers that meet UL standards for high-quality customer support.
Get your FREE QUOTES today; it only takes 2 minutes to use our short online form below.