29 April 2019,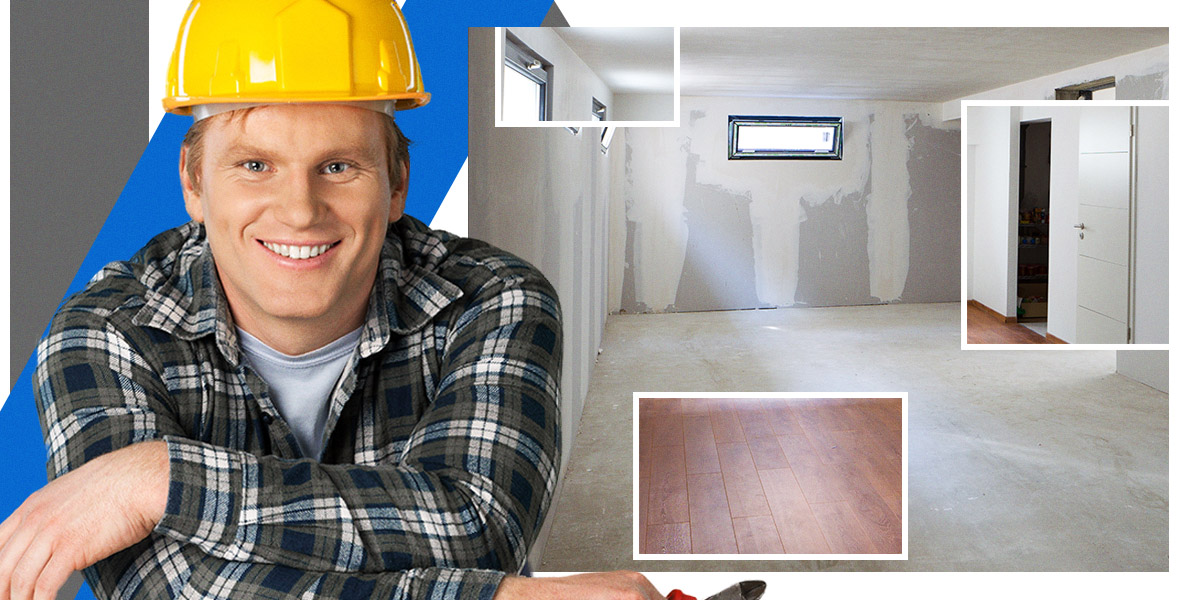 In Canada, a basement renovation is a widely popular home renovation project, next to bathroom renovations. Many homeowners want a basement renovation because it provides additional living space as well as increases the value of the home. It is important to conduct your own research and planning and hire the best contractor to create the basement space that you dream of.
There are a few things you must know before you start planning your basement renovation.
6 Things you must know before a basement renovation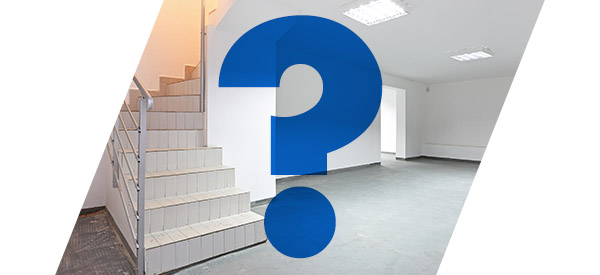 A project as important as a basement renovation needs considerable planning and preparations. Consider the following before the start of your project to ensure its success.
Contact your home insurance company.
From the onset, inform your insurance provider that you are undertaking a basement renovation. This is important because you must have coverage during and upon completion of the work.
It is also possible that you will need to change your home insurance policy.  This is critical if you are underpinning your basement or if you are not going to live in your home during the renovation work.
If you plan on doing a DIY basement renovation and acting as the overall in charge while hiring certain professionals, it is also important to inform your insurer to ensure you have liability insurance coverage during your renovation work.
Hire the right contractor.
Not all basement renovations are the same. Choose a contractor that has experience in the work you need – framing, millwork, drywall, HVAC, plumbing, flooring, electrical, painting, etc.
Further, you must make sure that your contractor has adequate liability insurance to avoid headaches during and after construction.
You can compare contractors in Calgary by obtaining free proposals using our short online form. It only takes 2 minutes!
Check if you need a building permit for your basement renovation.
Don't overlook the importance of having the proper building permits for your basement renovation. In some instances, you may require a building safety approval or a planning approval (depending on land-use bylaw specifications). Municipal permits ensure that the work complies with the code. In fact, if you sell your home in the near or distant future, potential buyers may also check if you obtained a permit for the basement. Contractors are aware of building permit requirements but ultimately, it is the homeowner's responsibility.
Visit the Calgary Planning Services to find out what permits you require or to ask for assistance with your application.
You need adequate insulation.
Insulation of your basement provides a break between the cool outside air and the warm air inside to prevent the build-up of moisture and condensation.
If your basement doesn't have proper insulation, you will run into mildew and mold problems. Professionals will be able to advise you on the right insulation techniques to help you avoid future issues.
Ensure proper framing of walls.
Ever seen wavy walls? Framing is critical to ensure that walls are level and aligned. If done incorrectly, you'll find it difficult to hang cabinets and shelves. Professionals know how to get the job done right.
Plan the housing for your furnace correctly.
The area where your furnace and water tank must be separate and should have adequate ventilation and space. While you want as much living space in your basement, plan where to position your furnace and water heater when preparing your design plan.  This is critical for fire prevention and maintenance.  Speak to an HVAC professional to ensure that your furnace is code compliant.
These are but some of the things you must check up on before starting a basement renovation.
Researching and finding the right contractor is critical so you have no room for regrets later.
Fill out a short online form on this page to get free proposals from experienced and reliable basement professionals near you.
The benefits of basement finishing or remodeling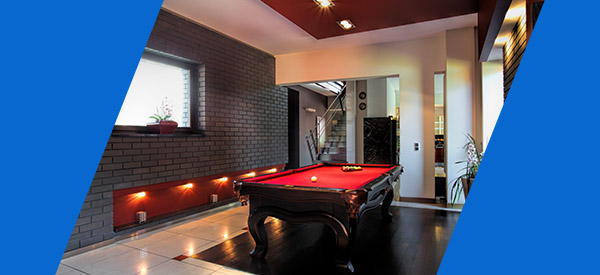 Does the sight of your unfinished basement give you stress and sadness?
Basement renovation services can help you to create an additional functional, attractive, and comfortable living space in your home that is within your budget.
What are the benefits of finishing a basement?
Increase home value – Finishing a basement makes the house more appealing to buyers and increases the potential selling price.
Added functionality – Your space can be more useful and add to your work-life balance.
Extra income – You can turn your basement into an income suite to augment your income. You can add a bathroom and kitchen to turn it into a complete apartment.
Your basement doesn't have to look like a dungeon any longer! You can compare contractors in your area to find the professionals to help you with remodeling or basement finishing.
The cost of a basement renovation: factors to consider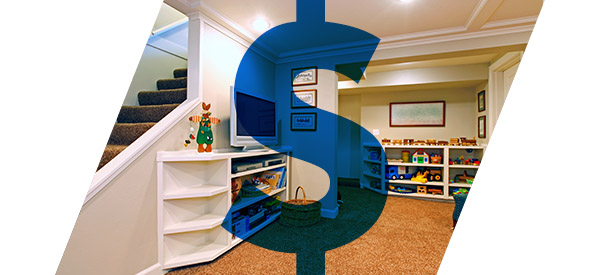 Are you planning a basement renovation, searching for the cost of such a project online, and getting no straight answers?
Well, don't be surprised because there really is no straight and easy answer to this question. It all depends on certain factors.
Below are some of the factors that would dictate how much your basement renovation will cost.
Factors that affect the cost of your basement renovation
1. The measurement of your basement (in square feet)
The biggest factor in determining how much the price of your basement renovation will be is the finished square feet. It will affect the cost of the frame, drywall, flooring, etc. To get a good estimate, an accurate measurement is necessary.
2. Labor costs
Labor costs can vary from one area to another. The cost will also depend if you hire a full-service contractor or if you plan to do some of the work yourself. To find out the cost, get multiple estimates and compare prices.
3. Bathroom requirements
The cost will also depend on whether you plan on putting in a half or full bathroom and the type of accessories you choose.
4. Flooring
There are so many choices when it comes to flooring – laminated, wood, carpet, tiles, etc. The choice of your flooring will also directly affect the overall cost of your project.
5. Exit point
Do you plan on building an egress or is the access going to be just the stairs? Building another way out of the basement might require backhoe work or building a hole in your wall.
6. The age of the house
An older house can have more issues than a newer house. Old homes may have electrical and plumbing issues, HVAC or insulation issues, and small windows. These issues can be addressed by experienced contractors but they will naturally increase the costs of your basement renovation.
It is important to obtain written project estimates from your contractors so you can stay within your budget. Professionals can help you to explore all of your options for your flooring, insulation, walls, doors, staircase, accessories, and fixtures to optimize your budget and savings.
Great Basement Renovation Ideas for your home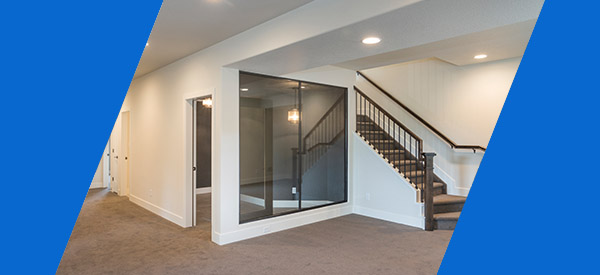 Are you thinking of finishing that basement to provide you with more living space or to increase your home value? Here are a few things that are worth considering when designing your basement.
A guest bedroom
Do you get visitors at certain times of the year like Christmas or Thanksgiving?  Your basement can be turned into a guest bedroom which can also be an exercise room or office when unused.
An income suite
Your mortgage payments can definitely be helped by extra income from an income suite. You can turn your basement into a complete suite with a kitchen and bathroom. You can have a separate exit for the basement if you plan on renting it for added income.
Wet or Dry Bar for entertaining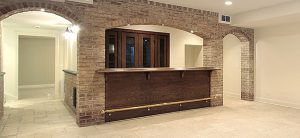 A wet or dry bar is a very popular basement finishing option.  This is definitely convenient to have, especially if you entertain a lot.
A wet bar needs plumbing and can increase the costs because you may need to break concrete to set it up.
A dry bar, on the other hand, would be easier to install because it will not require plumbing.
Soundproofing your basement
You can reduce the sound that travels from your basement ceiling or walls with soundproofing installation. If you want to go beyond basic soundproofing, you can use a drywall with sound dampening or a soundbar.
Extra storage space
It is also a good idea to allocate some of your basement space for storage. A good place for it would be underneath the stairs or if it is not enough, you can also make a dedicated storage area.
Home theater
If you want something more ambitious than just a place to put a TV, you must tell your designer or contractor. For example, provisions for a ceiling or wall speakers must be considered to save on space.
Bathroom with shower or tub
It is popular to have a bathroom with a shower or tub in the basement. Your choice, tub or shower, will affect the cost of your project. Prices for a standard tub or shower may be the same but the fixtures such as custom doors would be additional costs.
Heated Tiles
Using tiles on concrete floors make floors cold. An option is to use heated tiles in the bathroom which would cost over $1,000 depending on the floor size.
Basement subfloors
A basement subfloor can add insulation and protection against moisture. They do increase the cost so you should ask the contractor or do your research on potential benefits vs. the cost when designing your basement.
From electrician, plumber, designer, or contractor for your basement finishing or renovation, we have qualified and licensed professionals in our network to help you.
 You can obtain free proposals for your basement renovation by simply filling out a no-obligation form.
Frequently asked questions about basement renovations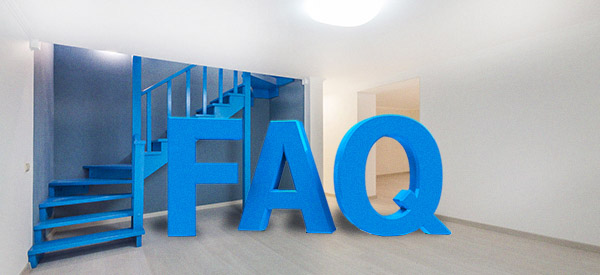 Of course, you would have a lot of questions in your mind if you are thinking of a basement renovation.  In Calgary, a basement finishing or basement renovation is very popular and it is easy to understand why people want to. After all, an additional bedroom, or even a complete suite, or a family room can do much to improve a family's quality of life.
It is important to understand well what the project would entail to foresee and prevent potential problems. Below are a few frequently asked questions about basement renovations.
How long does it take to complete a basement renovation?
Each project is unique and will have a specific time table at the start of the work. External factors such as weather conditions and holidays can cause delays. Typically, a basement remodel can take anywhere from 4 weeks to 4 months, depending on the project's design and complexity.

Is a building permit necessary?
In a majority of cases, a building permit is necessary for a basement renovation. Obtaining a permit shows that the work will comply with regulations and codes in your area. It will also assure future buyers that the work was properly done and that safety standards were followed.
What does finishing a basement require?
Finishing a basement would require preparation of plans and layout, cost estimate, obtaining the proper permits, purchase of materials, framing, electrical, and plumbing, drywall and taping walls, painting, cabinetry, flooring, and final touches. If you hire a contractor, he will make sure that the finished space meets your expectations and budget as well as avoid future problems with the completed work.
What should the contract stipulate?
Any home renovation contract must include a description of the work scope, time table (start and completion date), and the products and services as well as their prices. It should also state the total cost of the contract and the terms of payment as well as the warranties and guarantees which you must carefully read and understand.
Above all, it must include the contractor's name, company address and contact details. If any of the work is to be sub-contracted, the contract should also state it and who will pay for these services.
Does finishing a basement really increase the value of a house?
If done properly, a finished basement will significantly increase the value of your home. In general, a basement represents 30% of a home's space but many use it only for laundry or storage. Other than adding functional space to your home and increasing your enjoyment and convenience, a finished basement can increase the value of your home especially if it brings potential income by way of an income suite or a complete downstairs apartment.  Statistics reveal that the value of a house is increased by as much as 30% of every 1,000 sq. ft. of functional space.
What is the average cost of a basement finishing in Calgary?
Basement development or finishing costs range from $25,000 up, + GST.  Some high-end basement finishes can include a wet bar, a bathroom, or a kitchen and these upgrades can increase the cost.
Find a basement finishing specialist that offers customized packages for you to choose from which suits your budget.
Can I get financing for my basement renovation?
In Calgary, there are companies that offer basement renovation financing packages with affordable interest rates and even 0% down payment. You can also explore your current mortgage provider if you can refinance or take out a home equity line of credit.
Should I get a local contractor?  
One of the most critical steps when undertaking a basement renovation is hiring the right people for the job.  You need professionals who will make your project trouble-free from start to finish.
It is important to hire a local contractor so you can check on their credentials, references, and past work.  It is important that they be available for consultation prior to the project and to answer questions should issues arise after the project.  Your contractor must also be licensed in Calgary.
Mistakes to avoid with a basement renovation
You are sure to enjoy your finished basement once it is all finished. But before that, let us take you through some of the things that can save you money, time, and stress, concerning your basement project.
Risk of basement flooding.
Are there cracks in the walls? One of the worst nightmares you can ever imagine with a basement is a flooded one. Not only will it be costly to repair but it could also damage your furniture and other belongings.
Before starting a basement renovation, sealing off all the cracks on the walls and the foundation is critical. Walls can crack and shift due to brutal winter conditions. Don't begin your project without taking care of this first.
Improper moisture protection.
Basements tend to have a mold issue especially if moisture protection was not properly done during construction. A basement renovation must include mold removal. Waterproofing is also recommended if your area is at risk for flood.
Mold is a serious health risk which can be deadly. Make sure to enjoy your basement for many years by properly accounting for mold and flood protection.
Not enough ventilation.
A basement required adequate air flow or ventilation. Bad airflow can cause mold, mildew, and bad odors. Fan-powered air ducts, heating vents, and ceiling fans can promote better airflow. This is an aspect that you must not overlook in your basement renovation.
Poorly-installed electrical lines.
Don't try to save on electrician costs by doing it yourself. Most basements may have exposed wires or breaker boxes that could cause serious accidents.
Your safety and that of your family is critical. Make sure that your electrical lines are up to standard.
Poor insulation
A well-insulated basement means you stay cool in the summer, warm in winter, and more savings from utility bills.
You can actually save as much as $600 annually if you have a properly insulated basement.  A professional contractor can give you the best advice when it comes to avoiding mistakes in your basement renovation.
Do you need to hire a basement renovation professional or company for your project?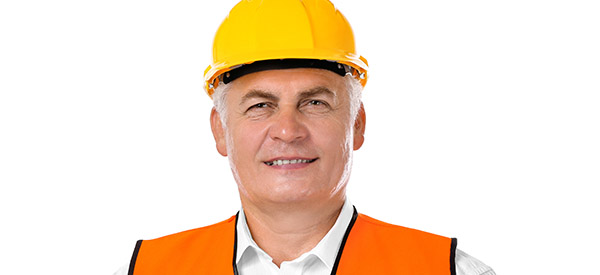 If you have a basement that needs an upgrade or you want to finish your basement, it is ideal to select a great basement renovation specialist to help you. If you are not experienced in construction work, a bad job at framing, electrical installation, or insulation can lead to big problems in the future.
Getting professionals to take care of the design, framing, plumbing, and other essential aspects of your basement renovation project can save you a lot of money and stress.
Basement finishing professionals can help you with the following:
Designing your basement based on your preferences
Create a cost-effective and accurate estimate of the project
Present you with options for materials and fixtures to suit your budget
Ensure the timely and proper execution of the project to avoid future problems
Recommend possible repairs that are needed to an existing basement
Recommend the proper location of a bathroom, bar, kitchen, etc. so you can save money and maximize space
Take care of the entire construction from start to finish
Indeed, there are many benefits from hiring professionals for your basement renovation. Some of the specific services you may require include:
Plumber
Electrician
Dry wall
Millwork
Tile work
HVAC
Painting
Carpet installation
Cabinetry
General contractor
You can choose the specific services you need or get a general contractor to take care of all or some of the aspects of the project.
The goal is to ensure that your basement increases the functionality, value, and aesthetics of your home.
The Step-by-step Guide to Choosing your basement contractor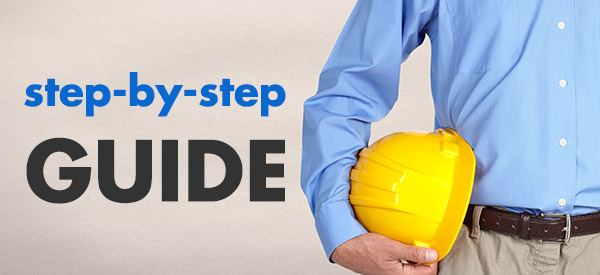 Choosing a contractor for your basement finishing or renovation won't be easy but it can certainly be efficient and less time-consuming.
This critical step needs an investment of your time and energy because making a bad choice will cause you much regret and stress and may result in a dissatisfaction with the outcome of your project.
Step 1: Compare multiple offers.
You need to obtain multiple offers (at least 3) in order to effectively compare contractors and find the best price for your basement project. You can call around but that would be time-consuming and ineffective. It is important to be able to assess offers in writing so you can make sure you are comparing apples to apples.
A great method to find the best contractors for basement renovation in your area is to request free quotes from our web platform using a short online form. Our network of partners consists only of qualified, licensed, and insured professionals who can deliver the satisfaction you deserve.
Step 2: Interview candidates.
You don't want to waste time talking to 10 different candidates. It is best to narrow your list to 3 by comparing and choosing who meets your preferences and budget.
You will want to ask them critical questions such as:
✓   Are you licensed to carry out this type of project?
✓   How long have you been doing basement renovations?
✓   Are you insured and how much insurance do you carry?
✓   When was your last project and can I get a reference?
✓   Will you take care of the necessary permits for the project?
✓   Are you going to sub-contract some parts of the work?
✓   What warranties or guarantees can you offer?
Contractors are required to hold a valid license in Calgary to practice their trade. You can verify if a contractor is licensed in Calgary using this tool.
Step 3: Negotiate the payment.
Once you have selected your contractor, it is time to negotiate your payment. Generally, there is little room to negotiate the price but you can ask about the payment schedule and contingencies.
There are 2 common ways most contractors quote the cost of the project.
Project Cost + a flat fee – the cost of the materials, labor, subcontracts, and miscellaneous expenses plus a management fee which could range from 13% to 20%. The flat fee compensates the contractor for overseeing all aspects of the work.
Fixed price- the total price of all materials and cost of labor and other expenses. Tax may be included or added and this should be stated in the contract.
Ideally, payments should be based on timely and quality work based on the terms of the contract. You shouldn't pay until a specific service is rendered.  Further, keep down-payments small and avoid paying in cash.
Step 4: Review the contract.
It is usual for contracts to stipulate how both parties can be released from the contract under specific circumstances. You could be held in default if you fail to pay the contractor. In the same way, a contractor can be in default if he fails to meet the work requirements, abandons the work, or declares bankruptcy.
A termination clause must provide detailed information about work cessation and the consequences of such to the homeowner and the contractor.
Know your rights by reading the Consumer Bill of Rights in Alberta.
Get started with finding your basement renovation specialists with a quick form
It can be overwhelming to start a basement renovation when you don't know where to start.
Once you have thought of what you want and how much your budget is, you can start looking for the right people for the job.
You can avoid the most common and expensive mistakes that homeowners make when it comes to basement renovations. Hiring the right contractor could cost you now but will save you a lot of money and headaches in the future!
Our vast network of home renovation specialists can help you to locate, FREE OF CHARGE, basement finishing specialists in your area.
Fill-out our quick online form to connect with experienced and reliable contractors and receive NO OBLIGATION offers you can consider and choose from.
Whether you want to renovate or finish your basement, our partners will be happy to walk you through the costs and requirements of your basement renovation project and help you make a valuable investment on your home.