14 January 2022,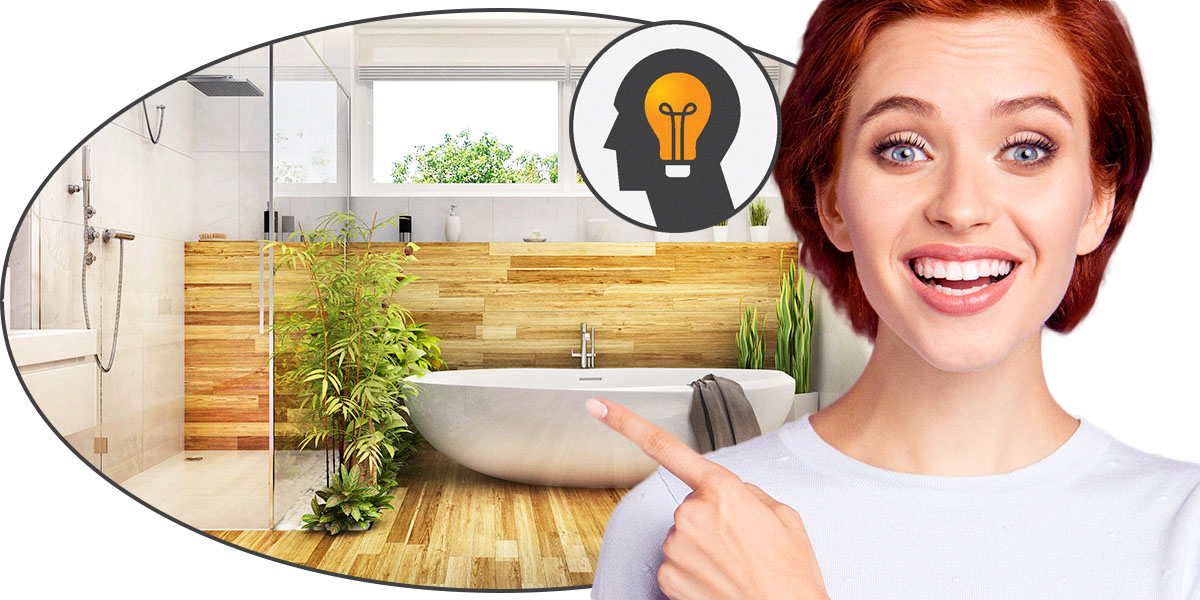 Do you think your bathroom needs a remodel? If you are seriously contemplating a bathroom renovation, you will need to take a few steps to get it started right.
It is important to remember that a bathroom renovation can cost you thousands of dollars.
With that in mind, you want to make sure that your bathroom provides you with the best return on investment!
Whether you need to remodel a bathroom because you plan to sell your home soon, or because you want a more comfortable or attractive bathroom, you will find a lot of advice and bathroom ideas below.
Most importantly, you will know what you need to make your bathroom renovation project a success!
The
5 compelling reasons

for a bathroom renovation

As a homeowner, you may be feeling undecided about undertaking a bathroom renovation because of the cost.  This is not surprising because a bathroom remodeling project will surely cost a lot of money.

However, there are circumstances wherein a bathroom remodel is necessary.

Below are 5 compelling reasons to undertake a bathroom renovation.

 

#1: To fix existing problems

Does your bathroom have broken tiles? Are the shelves or cabinets falling apart? Are the fixtures too old and leaking? In this type of situation, a bathroom remodel is necessary to improve aesthetics, your level of comfort and convenience, safety, as well as conserve water.

#2: Save on water consumption.

It is a fact that water leaks lead to higher water consumption. It is time to remodel the bathroom if your water bill is unusually high.

#3: Improve aesthetics.

You may think that a bathroom is just a place to use the toilet or wash up. But you may receive guests from time to time. A dirty-looking, dowdy, or antiquated bathroom can be embarrassing, especially if the toilet and taps don't work.

A bathroom is also the most frequently used area of a home. You use it to relax after a tiring day with an invigorating shower or a long, luxurious bath. Improving the bathroom's aesthetics will definitely improve the quality of your life.

You can take this opportunity to modernize the bathroom vanities and put in that jacuzzi you have been dreaming of.

#4: Add more space.

Has your family members increased? Is the bathroom too cramped for your comfort?

Most older homes have small bathrooms. If you want to add more space or increase the bathroom's footprint., a bathroom remodel is your best solution. You may also want to increase storage space for towels and toiletries with the addition of shelves or cabinets. In this case, you may need to improve the bathroom's layout as well.

#5: To increase home value.

It is a fact that most potential buyers really pay attention to the bathroom when considering a home purchase. If you are planning to sell your home in the near future, it may be a good idea to start with a bathroom renovation to potentially increase your home's selling price.

If you are looking for bathroom inspirations, you can speak to bathroom renovation specialists, including a designer, who can recommend the best design and layout for your bathroom.
How does a bathroom renovation increase home value?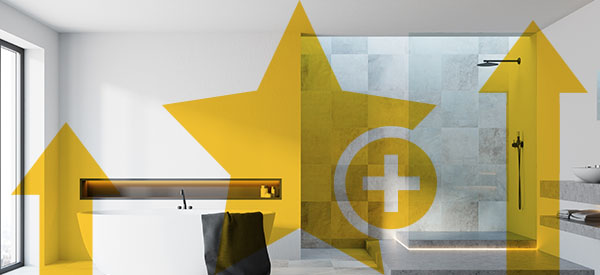 Many homeowners who want to sell their homes plan a bathroom renovation ahead of a future sale. They realize that their old bathroom may turn off buyers or lower the selling price if problems are detected.
Real estate brokers will tell you that buyers pay much attention to the bathroom because they know that a remodel costs a lot of money. In this regard, any buyer would prioritize a house with a bathroom that has updated fixtures, nice flooring, sufficient storage space, and bright and shiny fixtures.
Bathroom renovations are widely regarded to increase a home's value significantly. You can consider a structural or just a cosmetic renovation, depending on the age of your bathroom and its current condition.
Professionals say that if done correctly, a bathroom renovation could add thousands of dollars to your home's price. Of course, it also increases your bathroom's functionality, convenience, and even help you save on water bills at the same time.
Naturally, the cost of a bathroom renovation will depend largely on the extent of the remodel, your choice of materials, and if you do it DIY or with professional bathroom renovators.
Factors to consider in a bathroom renovation
Planning your bathroom renovation will need to revolve around two things – the purpose of your renovation and your budget.
If you are renovating the bathroom for your own use and you intend to live in the home for many more years, you will only be thinking of what you want and how much you can afford to spend for your project.
If you are renovating because you are planning to sell the house, you must think of your potential buyer and how to recoup your investment by increasing your home's worth.

Renovating a bathroom in a home you will live in
It is easy to find a design and decide on how you plan to renovate your bathroom if you only need to think of yourself.
Have you been longing to put in a jacuzzi? Do you find the bathroom's paint drab? What look would you like your bathroom to have?
If you plan to live in your home for many years, you can invest a little bit more to make sure your efforts will pay off for a long time. The important thing is to determine your budget and find bathroom contractors who can provide you with the most value for your money.
Renovating the bathroom for a future sale
When you are trying to decide whether or not to renovate the bathroom and how you will do it, you will want to make sure that your investment pays off.
A complete bathroom renovation can be expensive. It may be wise to take stock of other homes in your area that are in the market to see what they offer to buyers. You will want to make sure your house can compete in the market.
You also need to consider that type of buyer you are targeting. Is your house a large family home with young children? Is your house a small bungalow for a couple?
Thinking of your potential buyer will help you decide on the type of renovation and design you want and allow you to set your budget.
There are easy ways you can renovate your bathroom without needing to break the bank. You want to sell for a profit and not to win any award so keep it simple and realistic.
Use the current space: Perhaps a second sink won't really make much difference to a buyer. Check on what your bathroom already has and improve on it.
Invest in new fixtures: Even if your bathroom is working well, it won't attract buyers if the fixtures are too old or outdated.  You can change the sink, taps, shower fixtures, and even the water closet if necessary.

Put in modern lighting

: Bathrooms today have a warm and cozy look rather than stark white. You can improve your bathroom's lighting without spending too much.
Fix issues: Is your water heater working? Do the tiles need replacement? Damaged floorboards, broken tiles, shelves that look that they will fall at any moment, and plumbing issues will catch the attention of a home inspector.
Improvements with a bathroom renovation vary from one house to another.
It is best to work with skilled tradesmen (electrician, plumber, contractor) to make sure your bathroom renovation is successful.
2023 Bathroom renovation ideas worth considering:  Improvements that give ROI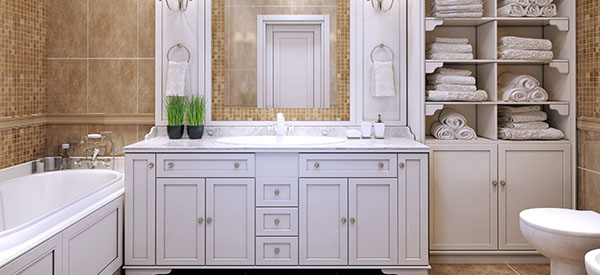 A bathroom is an extremely important area of a home. Are you planning to remodel your bathroom? Updating your bathroom fixtures and accessories, color, and lighting can make a huge difference.
Below are some bathroom renovation ideas that are worth considering and offer the best return on your investment.
Statement Mirrors
Today's bathrooms make use of mirrors that create an impact that makes your bathroom unique and stylish.
Spa-inspired bathrooms
Yes, this look has returned. Bold colors such as black and natural stone materials are hot. They bespoke indulgence, luxury, and style.
Exposed plumbing hardware
Piping and hardware are now exposed in 2023 bathrooms. It must be done in a creative and beautiful way, of course.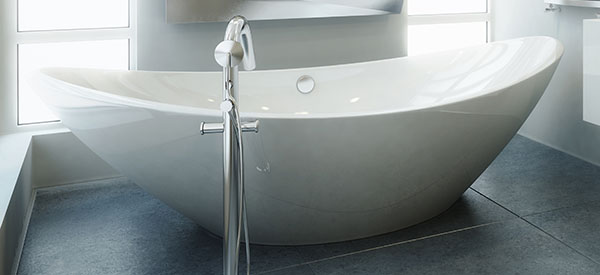 Water space
A bathroom's water space refers to the shower and bathtub. In today's bathrooms, both are located in the same area which looks "open", usually separated only by a glass panel from the other areas of the bathroom.
Technology infusion
There are now technology options for bathrooms in 2023. You can find LED lighting for mirrors, faucets with motion-detectors, automatic temperature regulators, heated towel racks, high-tech toilets, digital faucets, and waterproof TVs.
Of course, you don't need to get all of these new bathroom tech offerings but some of them may be worth considering, especially if they save energy.
Soaking tub
Would you like an Asian-inspired bath with a spa feel? Check out Japanese-style soaking tubs which are the new rave. These tubs are deep to allow you to immerse your body up to the neck while in an upright sitting position. This Japanese cleansing tradition is said to cleanse not only the body but the soul as well. It can fit even in small bathrooms.
Wood accents
Wood for bathrooms is back! From wooden cabinets and shelves, sink counter, to mirrors and windows, wood accents in your bathroom can give it a unique and very traditional touch. Wood can also be integrated with other materials such as tiles.
This isn't the end of bathroom ideas you can use to remodel your bathroom.
The possibilities are innumerable – you can customize your bathroom's overall design to suit your own personal taste.
Our partners, bathroom renovation specialists who have the right qualifications and years of experience, will be very happy to assist you with your bathroom renovation.
 Get in touch with qualified bathroom renovation specialists using our short online request form.

This service is FREE and NO OBLIGATION!
Awesome ways to remodel a small bathroom:  How to maximize your space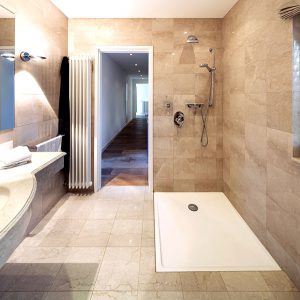 Unfortunately, many homeowners get stuck with a small bathroom. With a bathroom remodel, you can maximize the space by reinventing your layout.
More creativity is needed to make use of every available space and increase function and comfort if it is not possible to expand your bathroom's floor area.
Below are some awesome ways you can renovate a small bathroom.
Open shower
You can save space by opting for an open shower. You can install only a half-door or leave the shower open to the rest of the bathroom so that the room looks more spacious. A glass door will prevent other areas from getting wet while increasing aesthetics.
A tub in a small bathroom takes up a lot of space. If you have one, you can consider an open shower instead.
Wall-mounted toilet and fixtures
An easy way to save space is by choosing wall-mounted toilets, sink, and bathroom fixtures. You can also use a wall-mounted vanity.
Optical effects
Put lighting under the vanity, paint the walls in lighter tones, or use only 1 design for your tiles to make the bathroom look bigger.
Sliding door
Sliding doors for small bathrooms save space. They also add a unique style and make your bathroom more modern.
Mirror on wall
A mirror on the entire wall makes the room larger and allows two people to use the vanity at the same time.
If you really want a larger bathroom, you'll need to consider changing your bathroom's footprint and extend it by removing walls.
How much money do you need for a bathroom renovation?
We can't sugarcoat it – a bathroom renovation will cost you money.
Even a simple renovation usually requires a general contractor, an electrician, tiling contractor, and plumber. Of course, some homeowners will try to turn it into a DIY project to save on costs but professionals will make sure your renovation is done properly and worth your time, money, and effort.
A total bathroom renovation can easily cost from $5,000 to $12,000.  A DIY, budget renovation can cost even less than $5,000 while a high-end bathroom renovation cost can climb up to $20,000.
But how much money do you need for a bathroom renovation in Calgary?
Before we go into the costs, let's determine the type of bathroom renovation you want.
Types of bathroom renovation
Cosmetic remodeling

Even a simple cosmetic remodel can make a big difference to your bathroom.

Homeowners can change tiles and backsplash, repaint walls, change the countertop, sink, and fixtures.

With this type of renovation, the goal is to improve aesthetics.

Sink remodeling

Some homeowners may want to simply change the sink to add another one for a partner or to install a tub for use by children.

Change in floorplan
Some people may want to change a tub into an open shower or make other changes to the floor plan.
Bathroom addition
It is also common for homeowners to need an extra bathroom because of a growing family or to be used as a guest bathroom.

For households with a senior, it may be necessary to add a bathroom downstairs.

Complete remodeling
It can also happen that a homeowner wants a total makeover of a bathroom, including enlarging it by knocking down walls, changing the layout, installing new fixtures, tiles, paint, etc.
Now that you know what type of bathroom renovation you can choose, you can set your budget. It helps to know some of the basic costs you can expect in a bathroom renovation.
Below are some of the general expenses you need to prepare for.
Demolition and drywall
Do you have an old bathroom? Make sure it does not have any harmful materials such as asbestos. If it does, it is best to let professionals handle it. Asbestos is common in homes built until the mid-1970s.  You may also need to rent a container for the waste (a container costs an average of $400).
Professional demolition and waste removal could cost around $1,500.
Drywall and cement board
It is important to install a moisture barrier in the area where water comes in contact with the tiles. Cost of materials and labor is around $1,500.
Tiling
Installation costs for tiles differ from one contractor to another but are generally between $5 to $15 per sq. ft. Installation of marble mosaic tiles are more expensive and could be as much as $30 per sq. ft. Contractors can charge prices depending on the complexity of your design.
Vanity installation
A vanity holds the sink, faucet, and your other items. Custom-made vanities could cost around $2,000 or more to install. Standard boxes cost less, usually less than $1,500.
Miscellaneous Expenses
Painting and general labor in a bathroom renovation can cost around $1,500.
Electrical Works
The cost will vary depending on your lighting. If you use architectural lighting, it could cost you more. Electricians can charge from $50 to $100 per hour.
Plumbing
Plumbers can be expensive, and their charges will vary depending on your fixtures. In general, subtrades like plumbers charge around $100 an hour.
The cost of your bathroom renovation will depend mostly on the materials you choose.
Do you DIY your bathroom renovation or hire professionals?
You must be excited to see the results of your bathroom renovation project. It is exciting to think of getting new tiles, new colors, brand-new fixtures, and more storage. You have seen so many amazing bathroom designs and can't wait for your bathroom to become just as beautiful.
But wait. Your bathroom renovation can also become your worst nightmare. It is important to think things through very carefully, beginning with the question: Do you DIY your bathroom renovation or hire professionals to do the job?
You can come to this important decision by asking yourself these questions.
Questions to ask before you decide to DIY or hire bathroom renovators
Do you have the necessary skills?
Many homeowners DIY home improvement projects, thanks to home improvement products in the market and video tutorials. But when it comes to a bathroom renovation, you may want to think twice.
A bathroom remodel can easily cost thousands of dollars and you wouldn't want to waste your money on mistakes that could have been avoided.
Can you devote time to your bathroom renovation?
Bathroom renovations, same as other significant home improvement projects, can take a lot of time to complete. This is especially true if you don't have a lot of experience or don't have help. Delays are also common in any type of renovation which can be attributed to the weather, availability of materials, etc. If you cannot invest the time needed for your bathroom project, it may be better to let the pros handle it.
Keep in mind that you and other family members will be giving up the use of the bathroom while the renovation is underway, not to mention having to put up with the noise and dust. Any delay will cause discomfort, inconvenience, and stress.
Do you have the necessary equipment or tools for the project?
If you need to pay thousands of dollars for tools, you may want to re-think your DIY project and defer to the expertise of the pros. You can rent tools but they can also cost a lot of money if you don't work fast or only do it part-time.
Are you really saving money if you DIY your bathroom remodel?
In most cases, a homeowner decides to DIY a bathroom remodel to save money. But before making that decision, it is best to obtain multiple quotes from qualified contractors.
It is very possible that the money you save with a DIY project is not worth it, especially if you don't have enough skills.
A contractor can always recommend ways to reduce the cost of the project.
It is also important to make safety a priority.
A homeowner should avoid DIY projects like plumbing, electrical, gas installations, roofing, or asbestos removal for safety reasons.
These types of work require special permits or licenses from the province.
How to choose bathroom contractors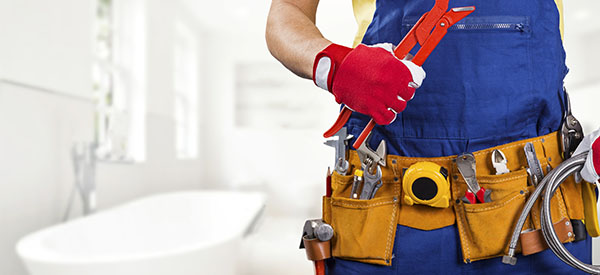 Are you doing a simple cosmetic bathroom reno or a complete make-over? Bathroom renovations are complex because one has to balance the look desired while ensuring that the layout and features will stand the test of time.
Qualified contractors can help you achieve the best bathroom renovation that suits your needs and budget. But how do you choose from numerous contractors in your area?
Contractors are not all the same and you should never rush in your choice of a contractor without taking all the right steps.
Consider the following before hiring your bathroom renovation contractor.
Basic background check.
In Calgary, businesses in construction and renovation need to have a contractor's license, including those that perform home improvements. You can check with the Planning Services Center-Calgary if you want to verify any of your contractors.
Ask for references.
Potential candidates must be able to provide you with references from previous clients. Thus, you can check on the quality of their work and learn how they relate to customers. You can also check with the Better Business Bureau if the contractor has an outstanding complaint against him.
Insurance coverage
A professional contractor must have adequate insurance, including liability insurance. You can ask for these details and check with the insurer.
Permits
Find out if your renovation requires a permit. Ask if the contractor can take care of it for you. Most home renovation contractors handle permits and other paperwork for the renovation. Ensure that permits are obtained to avoid potential problems that can cause delays.
Warranty
Quality contractors can stand behind their work.  Ask a bathroom contractor what warranty he can offer you.
The biggest mistake that a homeowner can possibly make when it comes to a bathroom renovation is not choosing a quality bathroom renovation contractor. Don't go with a contractor just because he makes the lowest offer.
It is always possible to get a good price, high value, and quality service from a bathroom renovation contractor if you take your time and choose wisely.
You can also verify reputable contractors from the BILD Calgary region.
Get started with your bathroom renovation – Find the right contractors in less time
Are bathroom issues making you stressed out? Do you lose time each morning or leave the house later than you should? Perhaps, now is the time to get the bathroom you deserve with a bathroom renovation project.
You can get a bathroom renovation with the help of qualified and reliable contractors who will know how to turn your bathroom into something you will love.
It can be quite time-consuming, not to mention tedious, to look for the right bathroom renovation specialists to work with. In Calgary, they can be numerous and you wouldn't know where to begin.
It is important that your bathroom renovation contractors can give you a good price and guarantee a good turnout for your project.
An easy way to find the best contractors in your area is to use our free online request form to connect with bathroom remodeling professionals near you.
They will be happy to provide you with a NO OBLIGATION quote based on what your project entails.
Just fill out our form – it only takes 2 minutes – and be ready to find the right professionals who can turn your dream into a reality!