3 January 2023,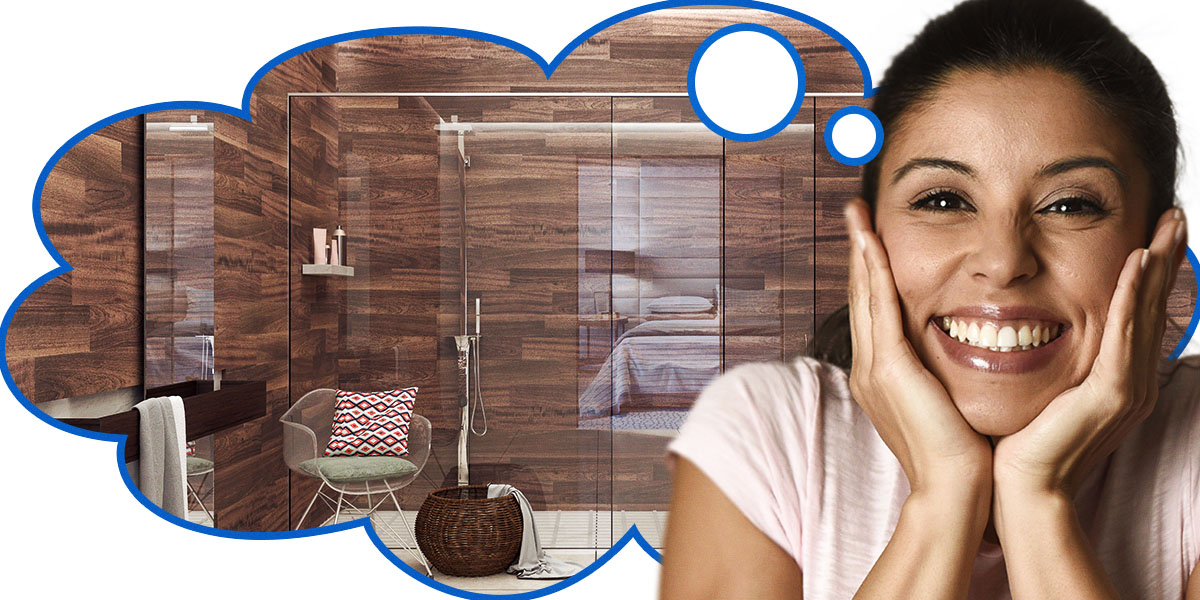 Did you know that bathroom renovations are quite popular in Ottawa and for good reason? They improve home value as well as increase your enjoyment and comfort of your home.
Bathrooms are the most often used part of the house and in a residence with 2 or more people, it can easily deteriorate from frequent use.
Wouldn't you love to have a modern bathroom where you can take pleasure in a lingering bath or shower?
Delight in the amenities a modern and stylish bathroom can give you with a bathroom renovation in Ottawa.
When is it time for a bathroom renovation?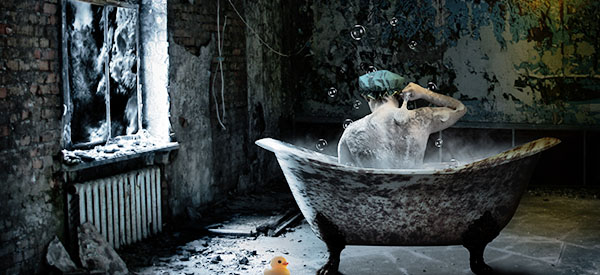 How do you know if it is time for a bathroom renovation? More often than not, there are indications that would plant the idea in your head that your bathroom needs an upgrade.
Do you need more storage space? Has your bathroom become outdated? Do the plumbing fixtures need serious repairs? It could also be as simple as you just need CHANGE.
Let's face it; the home we moved into 10 years ago would show signs of wear at one point or another. The bathroom is one of the areas of a home that would show signs of wear and tear due to frequent use.
The good news is that creating a bathroom space that you will love does not have to cost you the moon. Bathroom renovation experts in Ottawa can help you renovate or remodel your bathroom for the best results at a price you can afford.
Below are 6 of the most common reasons for a bathroom renovation.
#1: For safety
Some bathrooms can become unsafe. The tiles may be too slippery or some of them may have become broken. If there is a water leak, this could make your floor slippery and could cause falls.
According to the Centers for Disease Control and Prevention, the bathroom is especially dangerous for people 65 and older but even children are not immune from accidents like falls. Millions of people get taken to emergency rooms for treatment of injuries that occur around the tub or shower.
If you feel unsafe in your bathroom, renovation specialists can help you design a safe bathroom and install grab rails (for the elderly), non-slip tiles, and correct other issues for safety reasons.
#2: For aesthetic improvement.
Bathrooms can age quickly from frequent use. A bathroom renovation will allow you to improve its aesthetic appeal.
#3: To fix problems.
Plumbing problems happen and when they do, it can be a mess. Leaks can also significantly increase our water bill. They could also contribute to the development of mold and mildew.
If plumbing issues are causing you stress and inconvenience, it may be time for that much-delayed bathroom renovation.
#4: To increase home value.
Many homeowners who are planning a home sale consider a bathroom renovation. It is a fact that potential buyers pay a lot of attention to a bathroom when considering a purchase. Is your bathroom too small or maybe outdated? A bathroom renovation can help you sell your home faster and for a better price.
#5: For personal comfort and pleasure.
There are many bathroom trends today that make the bathroom more than just a place for a quick shower or wash. For many people, a bathroom is their personal oasis where they can relax after a long day in a hot tub, take an invigorating shower in the morning, or their daily regimen. They want the bathroom to be convenient, relaxing, sometimes, even like a rainforest or a spa.
Yes, bathrooms have become more creative nowadays. Bathroom renovation specialists can deliver whatever ambiance you want in your bathroom using high-quality materials and the latest bathroom designs.
#6: To meet changing needs.
Your needs change over time because of life's changes. You may have a bigger family now than 5 years ago. Your children are now older and bigger. You may have fallen out of love with your bathtub and now want a walk-in shower instead.
A bathroom renovation can help you enlarge the bathroom or change its layout to meet your needs.
Renovating or remodeling a bathroom is a huge investment. You want to have results that would satisfy you for many years to come and will improve the quality of your life.
Would you like to start planning a bathroom renovation in Ottawa?
Compare multiple offers from reliable and experienced bathroom contractors.
Fill out the short form on this page to get FREE and NO OBLIGATION quotes.
Checklist for bathroom renovations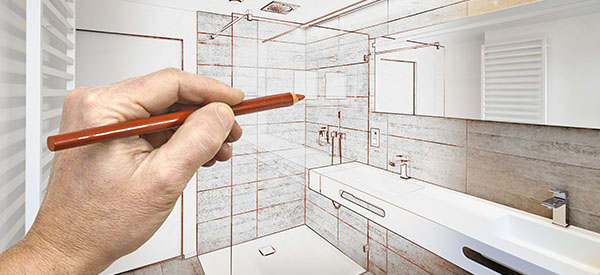 Right now, your head may be buzzing with so many ideas for your bathroom. In order to make your plans a reality, you need to have an accurate design and estimate of the cost.
What do you need to consider in a bathroom renovation? Regardless if you are building a bathroom en suite or a small powder room, it is critical that the results will last for a long time.
Think of your plumbing.
There is nothing exciting about plumbing but it is going to be a major consideration in your project. If your bathroom used the typical 1 ½ inch drain, it may be clogged with hair and needs an upgrade. It doesn't cost a lot to upgrade to a 2" drain and it can prevent clogging.
Think of lighting.
Modern bathrooms today use recessed lighting to give new life to a room. You can also consider a dimmer switch so you can adjust the ambiance in your bathroom depending on your mood.
You can consider general lighting, lighting for specific areas, and decorative lighting.
Walk-in shower.
If you don't have a lot of space, you might want to trade in your tub for a walk-in shower. Designs for walk-in showers are amazing and modern showers can make your bath beyond ordinary.
It might be a difficult choice between a shower only and a bathtub. You may want to think about how frequent you use a tub. If you are renovating because you plan on selling the house, you can ask your real estate broker what most buyers want.
Set your budget.
You can get a fairly good idea of the cost of your bathroom renovation based on square footage. Determine your budget so that contractors can provide you with accurate offers based on your needs and budget.
Makeover or Total Revamp
It is important to decide whether you want to just replace tiles and fixtures or you want to gut out the bathroom, move the plumbing, replace the vanity, and change the footprint?
The cost of your bathroom renovation will be largely affected by your choices. It is possible to save on costs by reusing some of your fixtures. It all depends on the condition of your bathroom and your budget.
Professional contractors or DIY
A bathroom renovation is a major undertaking with costs that could be as high as $25,000. You will need to think of hiring professional contractors for the design and construction of your project. The work involved in a bathroom remodeling project is complex. Don't take on more than you can handle or you'll end up with much higher costs.
Vanity
The bathroom vanity is a focal point in the bathroom. Do you want a custom wood vanity? The cost could run up to $2,000, excluding installation.
Countertop
The countertop is also a major contributor to your overall costs. Engineered stone or natural stone is quite popular for bathroom countertops.
Indeed, you'll need to make a lot of decisions regarding your bathroom remodeling. Don't worry; it doesn't have to be as complicated as it sounds.
Get valuable advice from bathroom renovation specialists regarding the design, cost estimate, and other aspects of your project.
Toilet
Toilets have also seen many changes in the last few years. Today, homeowners can choose from different colors, shapes, and even wall-mounted toilets.
Sink
You can choose from traditional sinks, free-standing sink, or vanity sink. You can even have two separate sinks (like if you want one for you and your spouse).
Faucet
You will be needing a faucet for the tub or shower and the sink. You can find a wide variety to choose from. It is important to go with quality and durability. Chrome is very popular but other finishes such as stainless steel, copper, and brass are also available.
Hand-held shower heads are popular for the shower with jets of different levels of intensity or even a multi-jet system.
Bathtubs can also have free-standing shower heads for rinsing.
Flooring
Bathroom floors must be moisture-resistant and non-slip. Materials that are ideal for bathroom flooring include:
Ceramic tiles
Vinyl or linoleum
Stone
Cork
To plan your bathroom design, fill out the form below to connect with reliable bathroom renovation companies in your area.
10 Mistakes in bathroom renovations you can totally avoid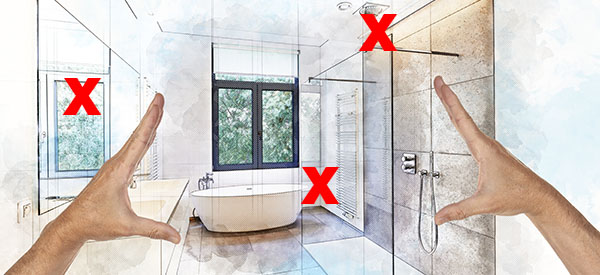 You may be thinking that renovating a bathroom is easy. You might even be thinking you could do it yourself.
A bathroom renovation is not just replacing a tub or changing the tiles. Your water closet will certainly need more than grout and you might need some changes in lighting, plumbing, storage space, etc.
In fact, the list can go on and on as you are planning the design of your bathroom.
Here are some bathroom renovation mistakes that you must avoid.
#1: Not planning thoroughly.
It is important to organize the bathroom thoroughly, much like putting a jigsaw puzzle together. Everything must be in its proper place.
Know whether you will have a bathtub or make a wet area or walk-in shower. The design you choose will demand adjustments in your plumbing or electricity.
#2: Being too ambitious.
Bathroom renovations are exciting projects. In fact, the joy element in a bathroom renovation tops the list of home improvement projects because you know you will be enjoying the product day after day.
It is very easy to want to incorporate a lot of things in your design and soon, you may be putting in so many elements that your costs go through the roof.
You may want to think carefully about a gold toilet, or other high-end accessories you see in home design magazines.
You don't need to make every piece in the bathroom a center of attraction. You can choose one focal point and create your design around it.
#3: Poor drain.
A wet area needs a "fall" so the bathroom floor must slope towards the drain to allow water to drain away. The tile work must be done by a professional who knows what must be done to avoid poor drainage issues.
#4: Not planning adequate storage.
We need to put a lot of stuff in the bathroom – towels, mats, toiletries, and other supplies. You wouldn't want stuff to be here, there, and everywhere after you spent on your renovation.
Plan your storage space so that your bathroom is convenient, beautiful, and well-organized.
#5: Forgetting ventilation.
Even if your bathroom has a window, invest in a fan to reduce condensation that can cause the paint in your ceiling to bubble or mold to grow.
Get a high-quality fan (not too small) with more cubic-feet-per-meter to protect your newly-renovated bathroom.
#6: Inadequate lighting.
Modern bathrooms can have sconces in a vanity mirror so you can see the planes of your face much better when you do your make-up.  You can also put pot lights inside the shower to brighten it up.
#7: Being too trendy.
You'll find that bathroom designs and accessories also try to be creative and innovative. It is advisable to think carefully about colors that may become unfashionable quickly (pink, bright blue, red,), or water closets with unusual shapes or colors, and other trends that are too aggressive because they may be trendy today but totally awkward in a year or so.
#8: Not measuring properly.
Experts will tell you to measure not once, not twice, but numerous times to make sure your dimensions are correct. Imagine the stress that comes when you order cabinets, sink, window treatments, vanity, etc. that don't fit.
#9: Improper waterproofing.
A very common problem in a bathroom renovation is a leak in the shower. This is an expensive mistake. It can also easily happen with DIY waterproofing.
It is advisable to get the waterproofing right with a qualified and experienced professional who can also give you a warranty for his work.
#10: Not vetting your contractor properly.
Your contractor will make your life easy or cause you sleepless nights in relation to your bathroom renovation. Surely, you have heard of horror stories from friends or colleagues about contractors who take advantage or leave them high and dry.
Protect your investment and have peace of mind by vetting your contractor properly before hiring and go with reputable contractors who are members of professional organizations such as the Greater Ottawa Homebuilders Association.
 As you can see, there are so many mistakes to avoid in a bathroom renovation. These mistakes can be expensive to fix and they can haunt you for a long time.
Avoid mistakes in your bathroom project by choosing to work with qualified and reputable bathroom contractors from our network!
Bathroom Trends in 2023: Tips for designing your bathroom
Bathrooms of 2023 are more innovative, creative, and functional. If a bathroom renovation is your project this year, check out the tips below to help you create a design you will enjoy for years to come.
In 2023, spa-like bathrooms rule and there are options that can help you create your own spa room without breaking the bank.
Statement walls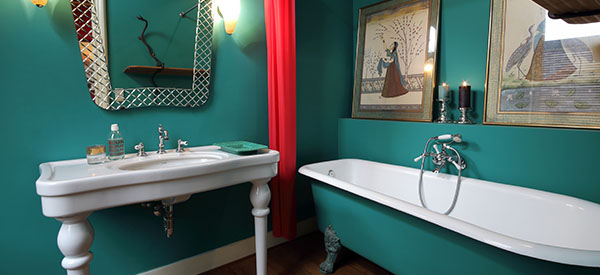 You don't usually hang paintings in the bathroom but there is no reason not to have a statement wall that stands out.  It can be something cheery and colorful or elegant and traditional. You can make it look like a piece of art that is water-resistant. Wall to wall mirrors also look elegant and make a room seem bigger.
Glassed-in shower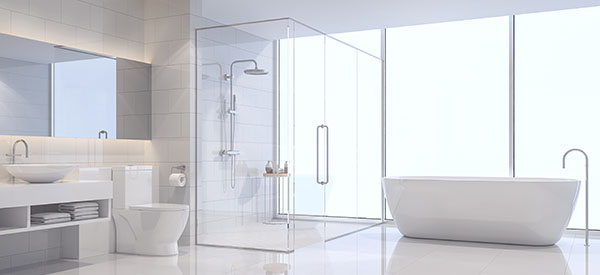 Glass shower enclosures are not exactly new but they continue to reign in bathroom trends in 2023. You can find frameless glass shower enclosures which you can use to create a huge spa shower or a walk-in shower in the corner.
Glass doors or frameless glass enclosures last for many years, making them a good investment for a bathroom renovation.
Bolder colors like black, red, instead of stark white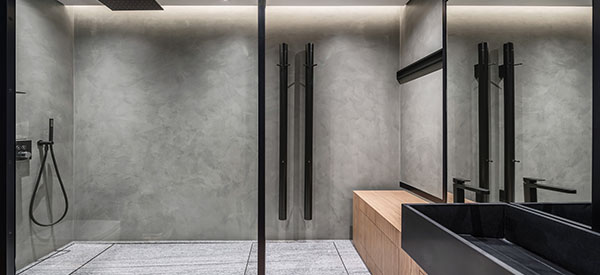 Bathroom chandeliers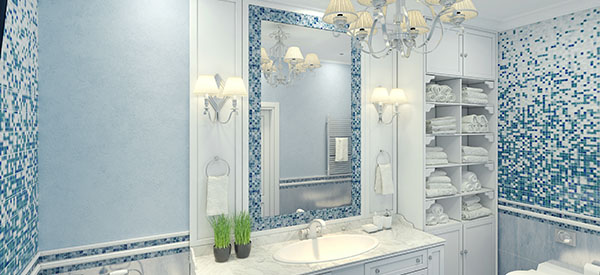 To transform an ordinary bathroom into a spa, nothing works like a chandelier to provide a unique look. You can certainly lavish your bathroom with a beautiful chandelier that reflects the ambiance you want.  Install a chandelier over your tub for that awesome spa experience each time you bathe.
Window treatments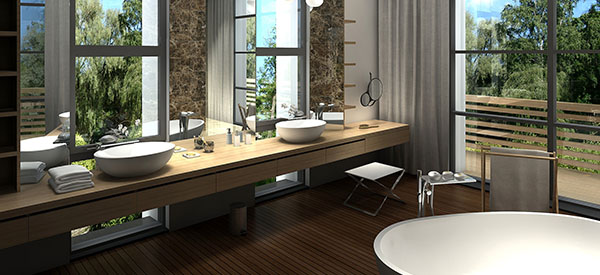 2023 bathrooms also demand window treatments for privacy, light control, and style.
From roman shades, faux wood blinds, vinyl shutters, or valances and café curtains, you can mix and match to find that perfect window treatment that gives your bathroom functionality as well as personality.
Shaving station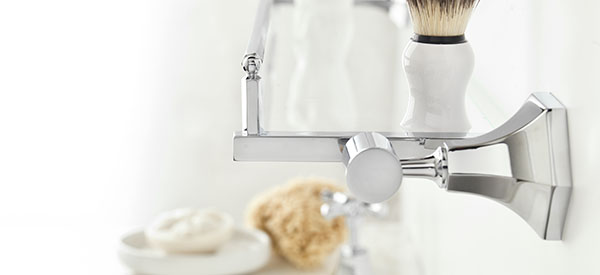 You can upgrade your usual shave when you do it from your very own shaving station. You can even put one inside the shower for added convenience.  You can choose from marble or other natural stone shaving stations that can be custom-made.
Steam shower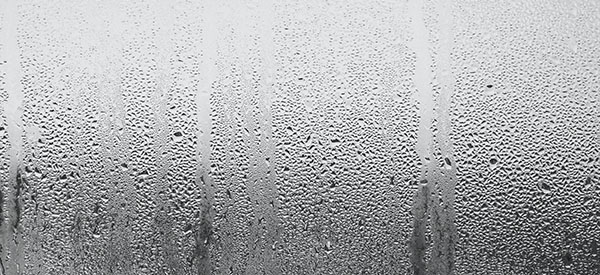 A modern bathroom with a steam shower can work wonders after you have had a tiring day. You will need a sealed enclosure and it can even have digital controls for piped-in music, mood lighting, and even allow you to add scents if you wish.
Aside from the unique experience, you also benefit from many health advantages with a steam shower. A trip to the spa can cost you a lot of money so having a spa-like bathroom can pay off and even increase your home's value.
If you want more design ideas and tips, consult bathroom renovation specialists who can give you tailored designs for your bathroom that are suitable for your needs and your budget.
As bathroom renovations can be costly, it is advisable to hire experienced and licensed professionals who can truly deliver the bathroom you envision so you can get your money's worth.
Why bathroom renovations increase home value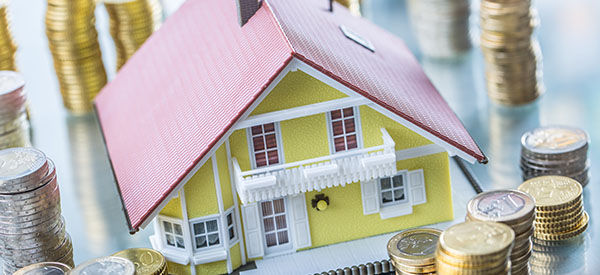 It is quite difficult for any buyer to feel excited about buying a house that is outdated, run down, or has need of repairs that could cost thousands of dollars. It is definitely easier for buyers to see themselves living in a house that seems to have what they want and won't need much work post-sale.
If you are planning to sell your house soon or in a few years, a bathroom renovation can be one of the home improvement projects you are considering because people have told you it will attract more potential buyers.
Is it true that bathroom renovations increase home value or is this a myth?
In a survey conducted by Royal LePage, it was revealed that bathroom renovations rank second among home improvement projects by Canadian homeowners. The report also said that the potential increase in the selling price of a house is from 2.5% to 12.5%.
The truth is that the cost of remodeling your bathroom may not be recoverable at a sale 100% but it can certainly inspire more offers from buyers. If your home is currently in the market and is not selling fast enough for you, a bathroom remodel can give you the edge over other sellers.
Every choice you make in your bathroom renovation, if the purpose is for a higher selling price, is risky. Nobody can really tell you what your potential buyer would want but of course, you can get a lot of advice from professionals such as your broker. Do you change the tub or keep it? Do you put in a glass shower door or leave it?
Experienced and reliable bathroom contractors can also help you come up with the best bathroom renovation plan that can give you a better ROI.
But even if you aren't selling your house right now, a bathroom renovation is also ideal if your house is already a few years old. It is a good time to correct any potential plumbing issues, improve energy-efficiency, add to your comfort and convenience, and improve aesthetics.
In this way, you and your family can benefit from a bigger, better, and more comfortable bathroom for a few years and you are assured that your home's value is protected.
Surely, you'll have more fun in your bathroom after a successful bathroom renovation from reputable and reliable contractors.
What is the cost of renovating a bathroom in Ottawa?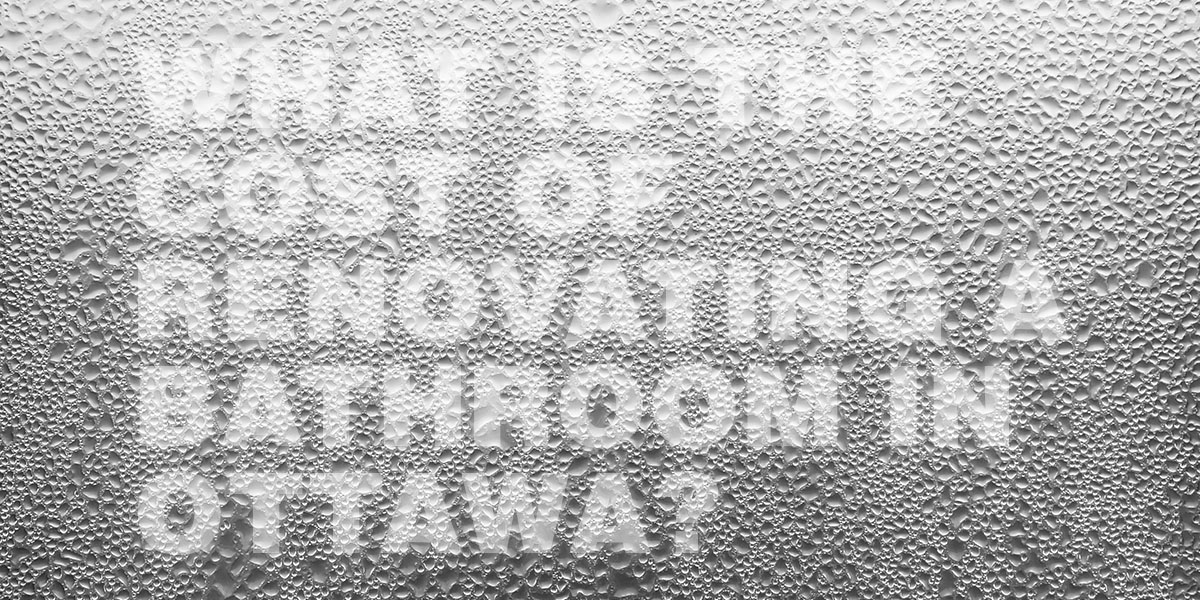 Are you getting ready to renovate your bathroom and want to know the cost? You will need to make sure that your budget is accurate so you don't experience financial upsets midway into the project.
It is so easy to get carried away when choosing the items to use in the bathroom space you want to create. To give you a general idea of the cost you must expect, below is a table presenting the average cost of bathroom renovations.
The average cost of bathroom renovations

Small bathroom

$8,000-15,000

Mid-sized bathroom

$15,000-$20,000

Large bathroom

$20,000 and up
If you are wondering why the costs vary significantly, keep in mind that the cost also depends on square footage and the materials you choose. For instance, you will pay more for Italian-made faucets compared to low-end brands.
Further, the cost of a bathroom renovation is never the same for all homeowners based on size. Are you going to do a non-gut renovation or remove walls to enlarge the space? Factors such as the age of the home, location, size, and other individual factors also have an impact on the total cost.
Your budget will be a major factor in choosing the design for your bathroom. Fortunately, your bathroom contractor can help you find the right design and materials that suit your taste and budget. In fact, he may even be able to help you save money because of his industry discounts.
Before you get excited with your bathroom remodeling, it is best to prepare your finances first. Compare multiple quotes, ask questions from your potential contractors, and choose the best value for your money rather than the lowest price.
Don't be tempted to do the bathroom renovation on your own because you may end up making many mistakes that will increase your expenses and even cause you sleepless nights.
Fill out a short form on this page to start your search for the best bathroom renovation contractors in your area.
Bathroom contractors can help you from the planning, designing, and construction phase to completion.
Remember, comparing offers can help you save a lot of time and money. Using this service is FREE and NO OBLIGATION!
Breakdown of expenses for bathroom renovations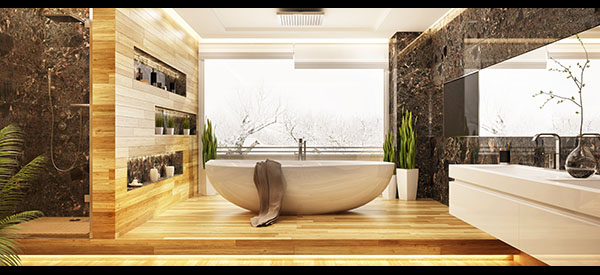 Planning the budget for your bathroom renovation is critical.  You must set a specific budget aside to cover the cost or materials and labor.
Below are some of the costs that are common in bathroom renovations.
Demolition
Removal of walls must be done by professionals. This is advisable so you don't get water damage.

The cost for demolition is about $1,500 or more, including cleanup.

Plumbing/Electrical
Anywhere in Canada, including Ottawa, plumbing or electrical works must be performed by licensed tradesmen.

The average cost is from $60 to $150 an hour. If you are installing special lights (recessed lights), it would be an additional cost.

Tile work
The cost of installing tiles vary based on the design or style.

Cost of installing porcelain tiles is more expensive than ceramic tiles.  The prices for installation range from $10 to more than $100 per square foot.

Vanity
You can choose to have custom-made vanity or retail.

The average cost a wood vanity is about $2,000 and up. Expect to pay an additional charge for installation.

Countertop
The price of your countertop depends on the material you choose.

Prices vary but usually range from $50 to more than $200 per sq. ft. for stone countertops.

Cost of Labor
Some of the aspects of your project will have installation costs such as countertop, fixtures, vanity, cabinets, and accessories. You should also set aside a budget for general labor costs that cover painting, plumbing, electrical, etc.

Your general contractor will be able to provide you with the cost for general labor as they vary from one tradesman to another.

A general contractor also charges a fee which can be a flat fee or a percentage based on the cost of the project.
You can reduce the stress of planning and managing a bathroom renovation by hiring a reputable contractor to work with. Compare Home Quotes has an extensive network of qualified and licensed contractors for all kinds of home improvement projects.  Our partners have been verified and are insured for your complete protection.
You can compare multiple offers, free of charge, by filling out our short online form to connect with bathroom renovation specialists in your area.
There is no obligation on your part when you use our platform to find contractors in Toronto for your project!
Compare and choose your bathroom contractor in Ottawa
It has never been easier to find the right bathroom contractor for your bathroom renovation.
Your bathroom contractor/s will take care of your renovation from start to finish. Thus, you need to make sure you choose professionals that are licensed, experienced, and insured.
If you are going to live in your home while it is under renovation, it is even more important that you hire professionals who will treat your home with respect and professionalism.
Not all contractors are equal so take the time to compare and choose your bathroom contractor in Ottawa. Look at experience, customer service, the quality of work, stability, price, and reputation as your points of comparison.
Fill out the short form below to find the right contractor for bathroom renovations in Ottawa. Save time, money, and have peace of mind when you choose to work with professionals from our network.