23 January 2020,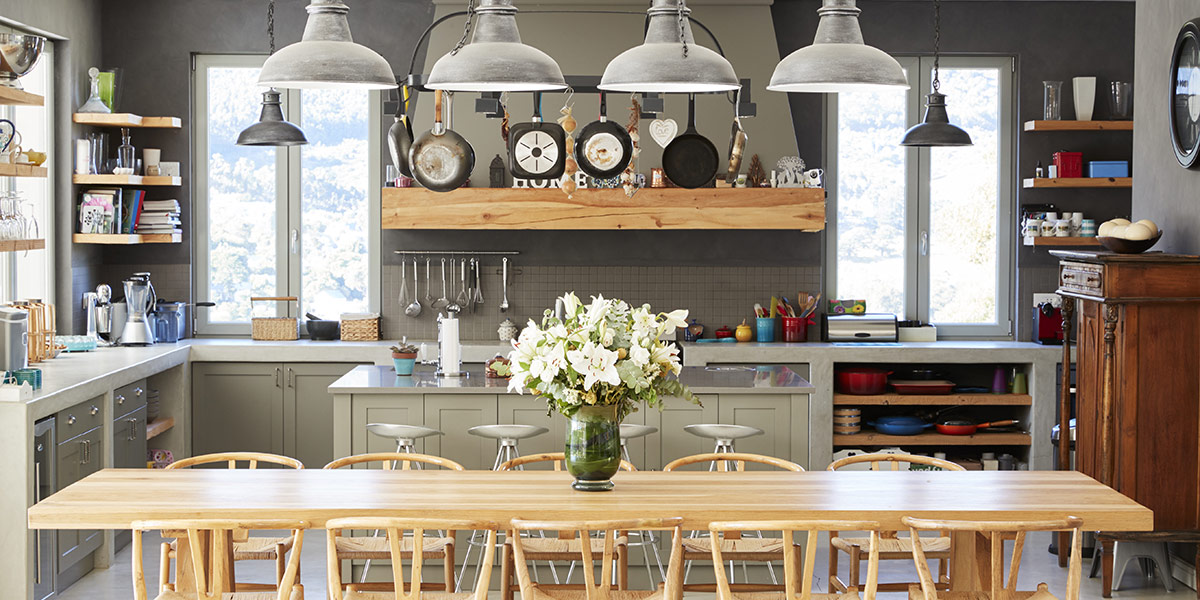 According to a recent survey by Royal LePage, one of the top home renovations that can increase property value is a kitchen renovation.
In fact, the survey says it could increase property value by as much as 12.5.
If you are a homeowner looking to increase the function and value of your home with a kitchen renovation, the biggest worry on your mind would be the cost.
Of course, you want to create your "dream" kitchen but there is always the budget to consider.
Proper budgeting is necessary to make your kitchen renovation a success.
However, even on a small budget, there are several ways to undertake a renovation that will improve the quality of your life and increase the value of your home.
This article can help you plan your project and guide you in choosing the right design and materials to create an amazing kitchen on a tight budget.
What is the average cost of a kitchen renovation in Toronto?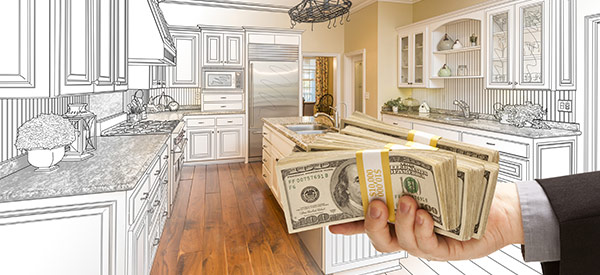 Surveys indicate that the average price of a kitchen renovation in Canada is from $25,000 to $35,000.
However, the price can be lower based on the design, the size of your kitchen, and the materials you choose.
If you don't replace your kitchen appliances, it will save you a ton of money.
In the Greater Toronto Area, a small or budget kitchen renovation can cost around $15,000 to $25,000.
Why does the price vary so much?
Removing a wall, installing recessed lights, and reconfiguring your kitchen space will increase the costs of the project.
If you are amenable to refinishing cabinets rather than getting new custom-made ones and keeping some of the components of your kitchen, your costs can be much lower.
In the end, your decisions will have a big impact on the overall price of your project.
Kitchen renovation professionals can guide you in planning and estimating the price of your renovation.
With their knowledge and vast experience, they can provide you with an accurate cost and present you with your best options to suit your budget.
You don't need to break the bank to renovate your kitchen with professionals.
Below you will find ideas for inexpensive kitchen upgrades that provide value for your investment.
Create a realistic budget by determining your needs
If you are thumbing through kitchen designs, you will probably find yourself getting excited about the beautiful countertops, backsplash, flooring, and cabinets.
Yes, they definitely look beautiful but know that they also cost a lot of money!
If you have a limited budget, you need to be realistic and determine what still works in your own kitchen and what really needs to be replaced.
Below are 4 important components of a great kitchen that you can consider before deciding on your renovation design:
STORAGE
Any kitchen needs adequate space to store everything away that is within easy reach.
Do your current cabinets make storage convenient for you but they look a little dated?
If this is the case, expert kitchen professionals recommend keeping your existing cabinets and refinishing them.
By doing this, you can save a fortune on new cabinets.
KITCHEN COUNTERTOP
In any kitchen renovation, a huge portion of the cost goes to countertops.
They usually cost from $100 to $220 per square foot, including installation.
The factors that determine the price of a countertop are the materials and the size to be covered.
A laminate countertop costs the least.
More expensive options are hardwood, quartz, marble, and granite.
Specialists in kitchen countertops can help you choose the right material based on your budget and correctly install it for your convenience.
FLOORING
Does your kitchen need a floor replacement? Hardwood floors are the most sought-after choice but are very expensive.
Vinyl or ceramic floors are more affordable if you are renovating on a tight budget.
APPLIANCES
Appliances including a refrigerator, microwave oven, dishwasher, range and range hood, etc. make the kitchen a convenient and comfortable space for preparing food.
However, keep in mind that buying new kitchen appliances will also greatly increase your overall cost.
You can check which ones actually need to be replaced and what can be salvaged to save money.
It can be overwhelming to manage calculations by yourself.
It is advisable to consult a kitchen designer or a good renovation company.
You can get in-house estimates and accurate quotes to give you a clear idea of your options and how much you need for your renovation.
Fill out the form on this page to connect with reliable kitchen renovation professionals in Toronto to help you plan your renovation budget.
Our licensed partners are experienced in all aspects of a kitchen remodeling project and will guide you from start to finish.
8 Inexpensive but amazing kitchen upgrades that deliver high value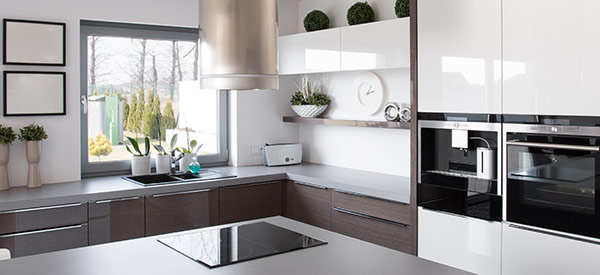 If you have a tight budget for your kitchen renovation, it will help if you prioritize your needs.
Find out what kitchen upgrades will deliver high value but are within your budget so you can maximize your funds.
This is important to get the best return on your investment.
Check out 10 affordable kitchen upgrades for a budget renovation.
#1: Great Lighting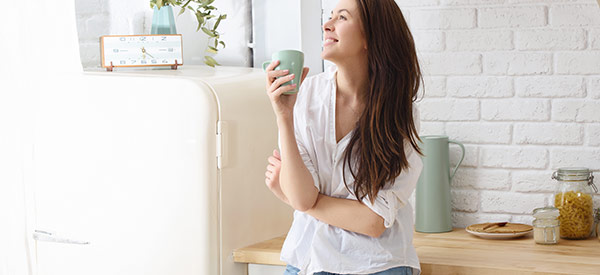 A bright kitchen is always desirable.
Attractive pendants, overhead lighting, and under-cabinet lighting will really transform your kitchen space into something awesome but won't cost you a fortune.
Good lighting is vital to maximize function and style.
You can find many attractive options that would suit any type of budget.
#2: Refinish wood floors or go with sealed cork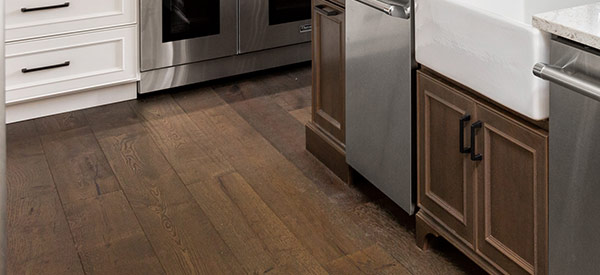 If your kitchen already has hardwood floors, you can choose to refinish rather than replace your flooring.
This not only makes economic sense but is also more practical.
Professionals can sand and refinish the floor to give it a new look.
If you want to upgrade a tile or vinyl floor, you can consider sealed cork as it is more inexpensive and feet-friendly than hard tile.
Cork is a natural insulator and can reduce your energy bills and also muffle sounds.
#3: Cabinet Refacing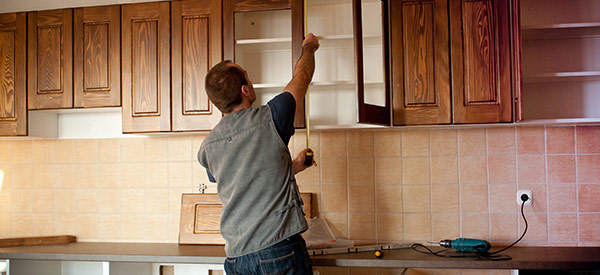 Many homeowners think that a good way to change the kitchen's look is to replace the cabinets.
In some cases, the cabinets are still in good shape.
Did you know that you can renovate your kitchen cabinets at just a fraction of the price with cabinet refacing?
This process involves replacing the skin of the cabinet, applying a new veneer and replacing the doors and hardware.
Refacing can dramatically change the look of your cabinets without the high cost of a total cabinet replacement.
Want to save a fortune on kitchen cabinets?
Get more ideas for kitchen cabinet options, find out the costs, and save money.
#4: Upgrade the faucet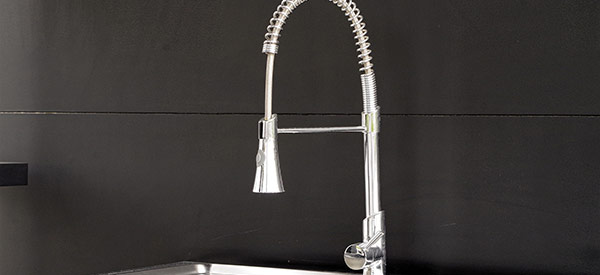 A faucet is the most frequently used part of the kitchen.
A simple upgrade to something fashionable will make a dramatic statement in your kitchen.
Whether you choose a single handle or go for a dual spray, you will find a variety of options.
When making your choice, consider saving money in the long run with low-flow faucets.
You can also get a more modern look with the type of finish such as chrome or bronze.



#5: Butcher block or laminate countertop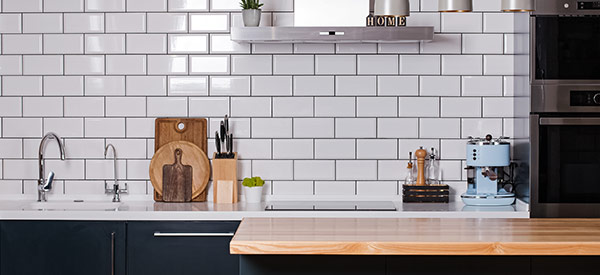 When on a tight budget, you may want to consider a butcher's block or laminate countertop.
Both of these options can cut the cost of your countertop by 50%.
A butcher block countertop is made with wood glued together to make a thick slab.
They are stable and durable and will give a rustic appeal to your kitchen.
You can choose from edge grain, face grain, or end grain styles.
Although wood countertops require more maintenance, they remain beautiful over time.
Refinishing may become necessary after 20 years. 
Proper sealing is also important to ensure your countertop is safe and keep germs away.
On the other hand, don't overlook the benefits of a laminate countertop.
It is budget-friendly (costing only about 25% of the price of a granite countertop), low in maintenance, easy to replace, and comes in a variety of colors and designs.
Going easy on the countertop will leave you with lots of cash to spend on other important aspects of your renovation.
#6: Subway tiles for backsplash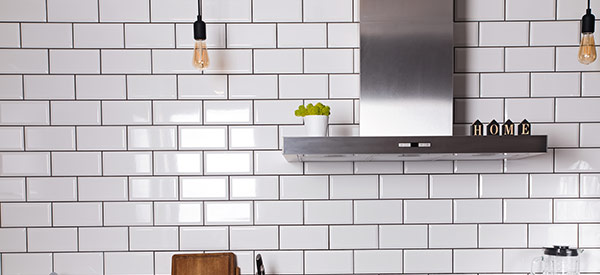 Do you need a cheaper alternative for a backsplash that will give your kitchen a timeless but simple appeal?
Elegant subway tiles could be the answer you are looking for.
They come in different sizes and styles and can go well even with a butcher block.
#7: Upgrade your seating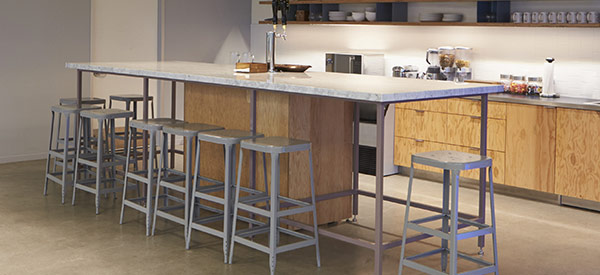 Does your kitchen have an island?
You can make a dramatic but affordable change by swapping your stools for new ones.
If your dining table and chairs look dated, you can also create a big impact with a new set.
A kitchen designer can provide you with options for updating your existing kitchen furniture or where to find the best deals that suit your budget.
#8: Open Shelves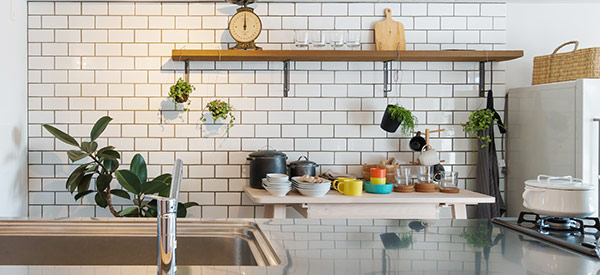 Some people don't like open shelves because of dust or a cluttered look.
But the truth is that open shelving is very much the trend these days.
It costs less to install open shelves and it gives your kitchen a rustic and casual ambiance.
Knowing where to put your dollars will help you in making your renovation a success.
It is not a good idea to cheap out on the things that count.
The important thing is to know which upgrades to invest in and make your budget go a long way.
If you are creating a kitchen you will be using for the next few years but cannot afford some of the materials you want just now, you can consider temporary installations that can be replaced in the future.
For example, if your budget does not allow for a granite countertop, consider a laminate or butcher block to stand in until such time you can afford to upgrade.
Seasoned kitchen professionals or Toronto kitchen renovators can guide you in the design and selection of materials for your project.
The best ones will respect your budget and will provide you with the right options suitable to your needs.
Find the right kitchen contractor in Toronto from our vast network today.
Fill out the form on this page to receive FREE and NO OBLIGATION quotes.
Issues to Consider when Planning a Kitchen renovation on a budget
Most homeowners decide to remodel a kitchen to fix functional problems or for aesthetic reasons.
A homeowner may be unhappy with the kitchen designed by a previous owner and want to make important changes.
When planning a kitchen remodel, below are issues that must be considered carefully.
Increase the kitchen's functionality
The kitchen is a critical area of any home and provides very essential needs to the occupants.
The kitchen's design must focus on the function – cooking, food preparation, storage, dishwashing, etc.
Ideally, a kitchen renovation should not move locations, particularly plumbing and electrical.
You can save a lot of money if you let appliances remain where they are.
Cabinets can be moved easily and can increase the functionality of the space.
Is a kitchen island essential?
Many homeowners looking to remodel a kitchen desire a kitchen island.
People believe a kitchen island can help sell a house faster.
But do you really need one?
The space must be large enough to allow easy navigation.
Installing an island in a small or modest-sized kitchen may not be particularly beneficial and will only increase your project cost unnecessarily.
A quality countertop is worth the investment.
You will be working with the countertop daily, perhaps for many years.
Future buyers will also be attracted or repelled by your countertop and could make a break a future home sale.
It is ideal to invest in a quality countertop you really want, whether it is quartz, granite, or a solid-surface material.
Plan the countertop from the very start so that your designer or contractor can easily incorporate elements that blend with your choice.
Don't leave out the professionals.
You won't necessarily work on your car.
Rather, you bring it to the pros to fix and do maintenance work.
Your home is more valuable and for the same principle, should be repaired and maintained by professionals.
An experienced kitchen designer can bring a lot of value to your project by planning your space efficiently and creating a convenient workflow.
A kitchen general contractor will help bring to life your vision, help you save money with the prudent selection and choice of materials and proper installation that will last for many years.
While some homeowners decide to DIY kitchen renovations to save money, it can actually double the cost of the project due to poor planning, incorrect installations, low work quality, and even safety violations.
You can save money and get more value out of your kitchen renovation by working with licensed kitchen renovation professionals in Toronto.
Starting your kitchen renovation: Tips for hiring the right contractors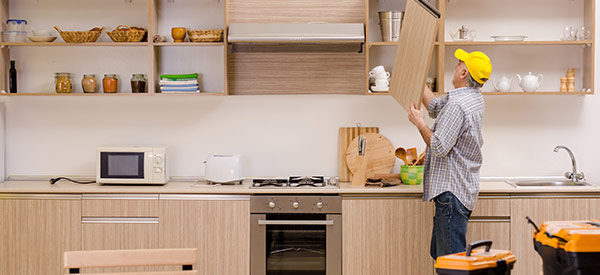 A kitchen renovation requires several skilled trades to complete the work.
If you are embarking on a full-scale project, you will need a general contractor and an interior designer to assist you in creating the right design and bringing it to life.
It could take weeks or even months to complete a kitchen renovation, depending on the complexity of the project.
Homeowners who hire professionals have the best chance of getting satisfactory results that make their investment worthwhile.
Choosing your kitchen contractor
Don't just hire anyone to manage your kitchen renovation.
Your project will have a big impact on how you live for the next few years and will also affect the value of your home if you decide to sell in the future.
Any home renovation project can be a stressful experience for a homeowner.
Whether you are embarking on a small-scale, medium, or complex project, you need an experienced professional by your side.
A reputable contractor can streamline your construction such as installing new cabinets or refacing existing ones, updating the flooring, or improving the layout.
You want to have a professional with good credentials – license, insurance, experience, and resources.
With a general contractor, you get a person to manage a team of subcontractors (plumbers, electricians, cabinet makers, tillers, etc.) throughout the construction.
An experienced kitchen designer is also an important player who will help you create the best layout and design for your space that meets your needs and budget.
An interior designer can be self-employed or working with a renovation company you hire.
Know that interior designers in Ontario must meet the qualifications and standards of the Association of Registered Interior Designers of Ontario.
You need a team of experts
Your kitchen renovation project will need a team of experts – a designer, a contractor, and a band of tradespersons.
Make sure that your contractor has a proven track record, a solid reputation, and a company that is financially stable.
The team you need will depend on the scope of your project but a licensed plumber and electrician will be required.
Below are some of the skilled trades needed in a kitchen renovation:
Electrician
Plumber
Tile installer
Carpenters
Painters
Countertop fabricator
The kitchen is one of the most important areas in a home and, in many cases, will help to sell a house.
You need a kitchen with a great layout and of quality design and materials.
Trust your project to licensed professionals in our network to get the most value out of your investment.
By having a team of experts for your project, you can be assured of a stress-free and positive renovation experience.
6 Things to Consider in Choosing a Kitchen Contractor in Toronto
If you want a perfect kitchen renovation project, consider the following in choosing a kitchen contractor in Toronto.
References
For the amount of money you are investing in your kitchen renovation, you must ensure that you will be getting satisfactory results and improving the value of your home.
Reputable contractors are ready to give references from previous clients to attest to their qualifications and quality of service.
Take the time to contact their previous clients and get relevant feedback for your consideration.
License
Renovation professionals (contractors and designers) are licensed in Toronto.
A contractor's license assures you that he is knowledgeable about building codes and experienced in delivering a successful renovation project.
Insurance
Insurance (liability and workers compensation) is mandatory for professionals in Toronto.
Ask for insurance details from your candidates and check them out for your protection.
Subcontractors
Check with the contractor if he employs tradesmen or if he will be hiring subcontractors.
You should also check sub-contractors that will be hired for your project.
Payment
A reputable contractor will never ask for a huge sum of money before the project is finished.
The standard practice is a minimal upfront payment with a detailed schedule of payment based on the progress of the work.
Contractors also agree to holdouts as stipulated by law to protect homeowners such as a holdout until the work is completely finished.
Warranties
Warranty on the work is provided by most reputable contractors because they can assure customers of the quality of their work.
Find out the warranties provided by a contractor and they should be written in detail in the contract.
For instance, work that does not meet standards should be fixed by the contractor before the final payment is received.
When hiring your contractor, it is important to feel confident in his abilities.
Renovating a kitchen is a huge undertaking.
As such, you need to have a capable professional from start to finish to make your vision a reality.
Our kitchen renovation partners are 100% verified and are carefully selected based on their qualifications and reputation. They will be happy to offer you with competitive quotes for all types of budgets.
Fill out the form on this page to connect with reputable Toronto kitchen contractors.
Receive FREE and NO OBLIGATION quotes to help you plan your kitchen renovation today!