9 May 2019,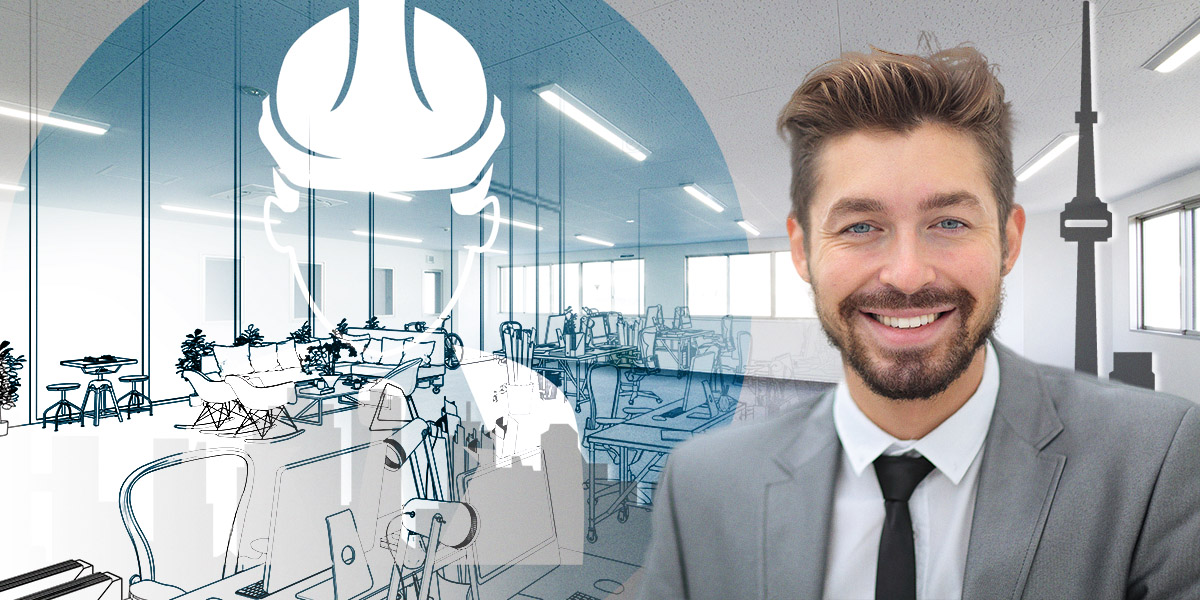 Businesses need to be competitive. Part of being competitive in your market is giving your office or store an upgrade from time to time.
Customers gain their first impression of your business from what they see when they visit your store, office, or commercial space. Your brand or professional image is highly affected by your physical appearance.
If your office has outdated furniture, drab walls, and dull floors, clients won't be impressed.
If you need to renovate your office, it is best to get help from professionals who are experienced and knowledgeable about the latest trends in commercial renovations.
Types of Commercial Renovations: Creating your image for success
Every type of business would need to have a certain look that identifies what it is they do exactly. Communicating to your contractors the image you want to portray is critical. Being professionals as well, they understand how critical a business image is. They have the knowledge, skills, and experience to help deliver that image you want.
Below are the most popular types of commercial renovations:
Retail store renovation
A retail store renovation would require improving the store's layout, color scheme, lighting, and furniture. It is important to enhance how your products are displayed and make it attractive for your potential customers to check out your store.

Office renovation
Your office must tell customers what you do when they enter your premises. You also need to create an ambiance that motivates and makes your employees happy. An office renovation can help you make your space awesome to improve your overall branding and operations.

Medical or Dental Clinic and Pharmacies
Medical or dental offices, as well as pharmacies, must convey an air of expertise and reliability. They must inspire trust and confidence.
The design and renovation of dental or medical facilities are unique and needs to abide by legal standards as well as of the industry.
Ground-up construction
This type of project could involve the construction of a new building or the addition of a structure to an existing building. A renovation of this type can be tailored to satisfy your workflow, capacity, and budget.
You will need a reliable and very capable contractor for the renovation of your office or business premises. Compare multiple offers to find the right contractor to help you realize your vision.
Take 2 minutes to fill out our short online request form and receive FREE and NO OBLIGATION quotes!
A variety of services from commercial renovation contractors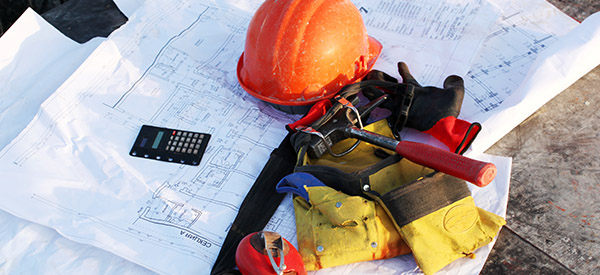 Commercial renovation specialists offer a multitude of services to help you realize your goals for your office or commercial building.
Would you like to add an additional office bathroom, add to your retail space, or redesign your floor layout?
Highly-experienced professionals can help you with:
✓   Obtaining the necessary permits
✓  Choose construction materials
✓  Building plans
✓   Install a sprinkler system
✓  Improve air conditioning and heating systems
✓  Fix plumbing or electrical issues
✓   Interior and exterior painting
✓   Roofing needs
✓   Framing and insulation
✓   Interior design
✓   Etc.
You can find the right professionals, including architects, general contractors, electricians, HVAC, plumbers, masons, carpenters, and other skilled trades for your office project from our vast network of licensed construction professionals.
Reasons you need a commercial or office renovation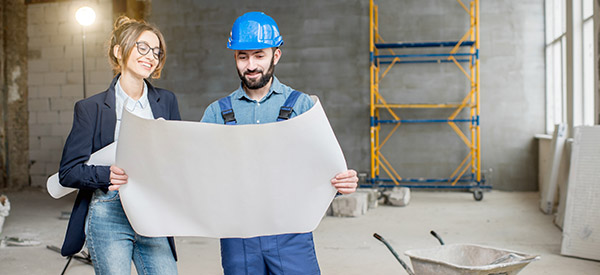 What are the usual reasons why it is necessary to have a commercial or office renovation?
Improve aesthetics/appearance
Customers judge the business based on appearance, too. In many cases, customers are quite meticulous especially if it involves their comfort and convenience.
Drab furniture, inadequate or outdated bathrooms, and cramped spaces can negatively affect customer perception of the business and their satisfaction. In addition, employee morale is also directly affected by their working environment.
Regardless of how successful a business is, you will need to renovate sooner or later to improve your business location.
A need for bigger space
A company is expected to grow and with that growth comes a need for a bigger space. A commercial or office renovation can help expand your business premises or improve your layout to maximize the available space.
Improve efficiency
The efficiency of your operations can be increased by more modern equipment, a larger workspace, and a more comfortable work environment.
Improve safety and health standards
The safety and health of employees and customers are paramount considerations when renovating an office. Over time, floors, ceilings, walls, and electrical, heating, or plumbing systems deteriorate and would need an upgrade. Renovating an office can increase employee morale and protect the business from liability due to accidents at the workplace.
Improve brand or professional image
First impressions are critical. For this reason, you want your office to be attractive and modern to assure your customers that your company is professional, reliable, and successful.
Improving your business premises with a commercial or office renovation will significantly help you with your company's goals. This type of project will require extensive planning and preparation as well as a significant financial investment on your part.
Ensure that your company renovation is successful by choosing to work with experienced and qualified contractors.
The Stages of a commercial renovation: how long does it take?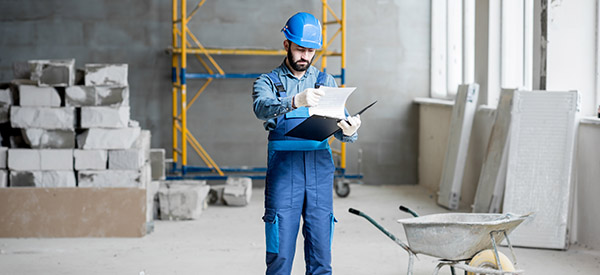 The length of time it takes to complete a commercial renovation varies from one project to another. It depends largely on the size of the renovation, the complexity, the expertise of selected contractors, and the design.
It is worth mentioning that a commercial renovation involves a lot of work, not only regarding construction but also with the planning and coordination. In fact, a commercial renovation can be quite stressful and overwhelming.
Generally, a commercial renovation is comprised of 2 steps:
PLANNING STAGE
Planning a commercial renovation will require 3 aspects – the design, budget, and timetable.
When planning the renovation, a designer will usually present you with proposed plans to help the business realize its goals. An architect will also work with the business owner to ensure satisfaction with the design and the materials.
Your design team will take measurements of your walls, floors, ceilings, etc. and prepare drawings for your approval. You will then need to set the budget and the timetable.
The timetable can be affected by the availability of tradespeople to start work on the project as well as the delivery schedule of your suppliers.
The planning stage of a commercial renovation can be anywhere from weeks to months, depending on the size and complexity of the project.
You will also need to plan your temporary workspace while the renovation is ongoing.
CONSTRUCTION STAGE
The construction stage depends on the design and scope of the project. During this stage, many different contractors will be working together to complete the design. For instance, if your renovation involves only a simple re-design and only requires the replacement of HVAC and electric systems, the project's completion will be shorter compared to an extensive renovation.
A general contractor usually oversees all the aspects of the construction and coordinates with the different sub-contractors and suppliers to adhere to the timetable.
Keep in mind that every commercial or office renovation is different and it can be difficult to set an exact timeframe. With thorough planning and good communication between the business owner and his contractors, a commercial renovation can be done in a timely manner.
By hiring skilled and reliable contractors, planning carefully, and employing good communication, a renovation project can be very worthwhile in terms of improving business performance.
Steps to hiring a reliable contractor for an office or commercial renovation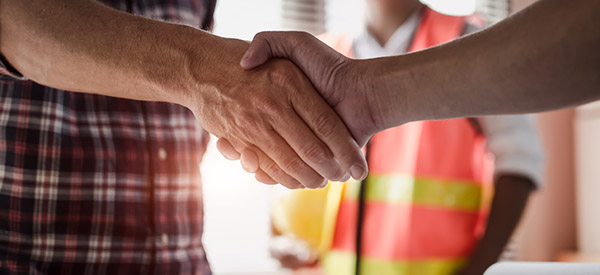 The planning and execution of your commercial renovation will not be easy. You will need to look for a temporary working area for employees, possibly a reception area for your visitors, obtain permits required, and look for financing.
Huge commercial renovation projects for retail, industrial, education, or health facilities require the expertise of tradespersons, contractors, and other professionals. Make sure to work with a commercial renovation company that has successfully completed projects similar to yours in the past.
You don't want to waste any time so it is important to hire a reliable contractor who can help you manage the many different tasks involved in the project.
Below are the steps to hiring a contractor for your office renovation.
#1: Know your needs and goals.
Renovation contractors will offer you quotes based on what you present as an outline of your project. You must have a clear vision and provide accurate details so that contractors can provide accurate estimates.
Further, by establishing goals and needs clearly from the onset, you will also be able to set your budget accurately.
#2: Compare multiple contractors to find the right professionals.
You need to find contractors who specialize in commercial construction. Don't be shy to ask for references and to do your research. You can start your search by obtaining free and no commitment quotes using our short online form.
If you want to make sure your contractors are reliable, you can also check with the Toronto Construction Association whose members are industry practitioners in Toronto representing institutional, commercial, and industrial construction companies, contractors, and other professionals.
#3: Put everything in writing.
Once you have chosen a contractor, make sure to put in writing the direction and scope of the work as well, the terms of payment, and warranties and liabilities of the contractor.
Doing so will give you an accurate guide for your renovation and hold your contractors accountable for the quality of the work.
Choose a company in your area with a good reputation and track record. A good starting point is obtaining free and no-obligation quotes to find reputable contractors.
Tips for an efficient and successful office renovation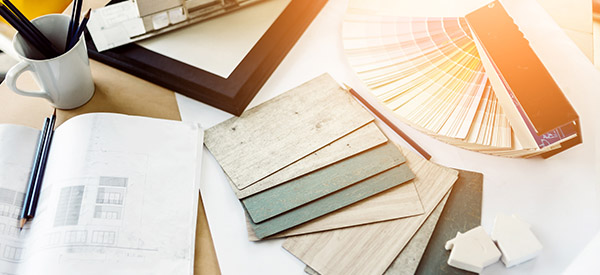 Any type of office renovation will present challenges first before you can reap rewards.  During planning and construction, your operations can be hampered a little or significantly, depending on the extent and length of the project.
Following are some practical tips you can use to plan a successful office renovation with as little stress as possible.
Plan efficiently.
Efficient planning can help you to achieve perfection. Account for everything in your budget with a little extra for contingencies.
Make sure to plan and coordinate with your employees where they will work while the construction is underway.  Work closely with contractors to check if the project is on track.
Have patience and flexibility.
Being patient and flexible is necessary during a renovation project. Even with careful planning, unexpected costs can arise and delays can happen. Your timetable will not be 100% accurate and you must be prepared for surprises.
Communicate with everybody.
Everyone will be affected by an office renovation – your customers, suppliers, and employees. Make sure to inform all concerned about your renovation's timetable so that they can also make plans. By keeping everyone in the loop, you can reduce complaints, dissatisfaction, and gain everyone's cooperation for the success of the project.
Use what you can.
An office renovation is a huge financial undertaking and you will want to minimize the costs. You can use what you can such as lighting, furniture, or equipment if they won't have a negative impact on your renovation goals.
You can also choose to sell old equipment or other things you won't be using to raise additional funds that can be used for your construction.
Get professional advice.
It is critical to work with experts or professionals to help you with your renovation project that meets your budget.  Professionals can help you source materials, find ways to save on costs, give you tips that can maximize your space and budget, and help prevent potential problems that could cost you more.
By working with experts, you can ensure that your office renovation satisfies your needs while conforming to your budget.
Of course, you will have additional costs if you hire professionals. You should earmark about 20% of your budget for professional services
such as an architect or designer.
In the long run, the additional costs can pay off handsomely with an office renovation that delivers your vision perfectly.
Small office renovations: Find turn-key packages from renovation professionals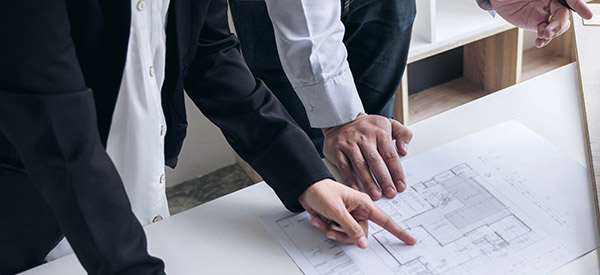 We understand that small office renovations can have a tight budget. This is why it is very important to find the right renovation professionals for your project.
A small office renovation can include:
✓   Space planning
✓   Interior design
✓   Modification of partitions and ceiling
✓   New plumbing, electrical, and HVAC
✓   New doors/trim
✓   New flooring
✓   Cabinetry
✓   Painting works
✓   Plans and permits
The right renovation company can provide you with a turn-key package for your small office renovation that suits your budget.
In Toronto, costs for a small office renovation can range from $45 per sq. foot and above.
The latest office and commercial space trends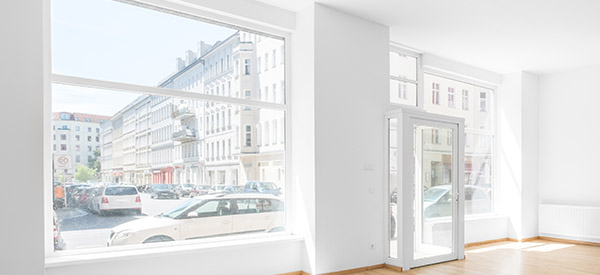 In Toronto, space is gold. Therefore, it is very important to maximize space using the latest in office design trends while optimizing a renovation budget.
We have seen the emergence of new trends in office and commercial space that aims to maximize space, cut down on costs, and improve working environments.
Free-range cohabitation
The concept of co-working spaces is not new as it has been around for some years now. While co-working spaces allow employees to share workspace and maximize space and cut down on costs, the free-range cohabitation concept has taken it a step further.
Co-habitation allows different entities or companies to share space and collaborate with each other and share resources.
The latest design trends allow for a collaborative environment where professionals can share ideas freely and establish camaraderie and mobility. This concept veers more towards light and portable furniture, fewer dividers and cubicles, and more common areas where people can freely share ideas.
Technology integration
Many businesses today are technology-driven. Your renovation can adopt a technologically-enabled office layout that allows your staff to work more efficiently and faster.
Video conferencing, smart boards, and data sharing are just some of the conveniences that can be incorporated in your office renovation design.
Home-feel design
Many businesses are putting an emphasis on "comfort" and wanting to make their employees feel right at home in the workplace.
This office design idea infuses home elements into the workplace including a sleeping area, an entertainment area (for breaks), a lounge, a dining area, a kitchen, etc.
When using a home-feel design, you strike for a balance between function and comfort.
More communal spaces
Let's face it; most people who comprise the workforce are millennials. They want more common spaces where they can socialize, share ideas, collaborate, and be creative.
They don't want to work in boxed areas and need to have more mobility and have social interaction.  Even conference and meeting rooms have been replaced with communal spaces that are not enclosed by glass doors.
Workstations with privacy
Open spaces and shared workspaces have become popular but some still prefer some privacy. Workstations can still offer privacy with semi-enclosed settings. Traditional dividers have been replaced with more fluid partitions.
Every type of business would have unique requirements when it comes to office design and layout. You can go millennial or stay traditional, depending on your goals. It is best to get advice from office design experts to find the right office design for your business.  Professionals can help create a flexible and dynamic layout, choose your furniture, lighting, and color scheme.
Aesthetics is very important in the workplace but it is also important to take stock of your business culture, values, and processes when choosing the overall look you want to achieve.
Design tips for Medical office renovations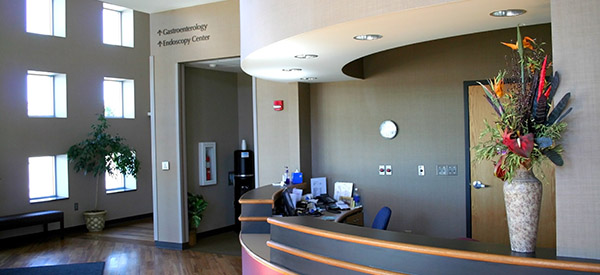 The renovation of examining rooms, treatment rooms, waiting rooms, and other areas of a medical or dental office needs to be patient and employee focused in order to be successful.
If you want to renovate your dental or medical office, you need a renovation company that has experience in cost-effective and innovative design and construction of medical-related facilities. They must be knowledgeable about municipal building codes in Toronto, permits, inspections, and safety and health regulations.
Some of the things that need to be considered are:
✓  Ergonomics
✓   Privacy
✓   Handicap access
✓   Hygiene
✓   Specific lighting needs for treatment and examination rooms
✓   Pleasant and comfortable waiting areas
✓   Workspaces and surfaces that are easy to clean
✓   Patient inflow and outflow
Most dental or medical offices share common design aspects, including:
A functional ramp must be included for wheelchair access.
The reception area must look warm and inviting
White finishing is popular for medical offices because it looks clean and professional.
A large TV is usually placed in a common area to help visitors relax while waiting.
You can save time and money with your medical or dental office renovation by choosing experienced renovation companies that specialize in this field.
Are you ready to look for a reliable and experienced contractor in your area for medical office renovations?
Fill out our short online request form to connect with reputable contractors and renovation companies in your area.
Receive free and no obligation quotes to compare and find the best professionals for your office renovation project today!
Frequently asked questions about commercial or office renovations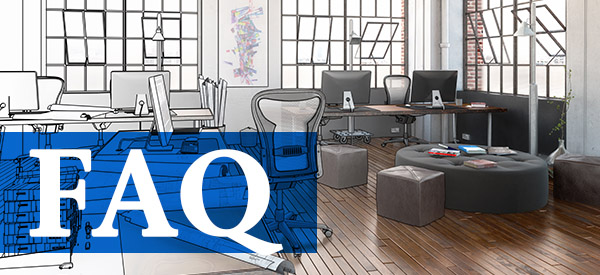 A commercial or office renovation is a very important and expensive project. Naturally, you would have many questions before you push forward with your plans
It is important to ask all the right questions from your contractors in order to get an accurate picture of your renovation costs and requirements.
Below are just some of the most common questions about commercial or office renovations.
Do I need a permit?
Yes, you will definitely need to obtain permits.  Your contractor can help you identify the permits you will need to obtain and what updates may not require permits. If you are making changes to your windows, making additions, drywall, and updating electrical or HVAC, you will probably need to get a complete set of permits.
You can also ask the Toronto Building Services for your permit requirements.
Can we continue to work while a renovation is ongoing?
A majority of offices choose to stay and work on the premises while a renovation is in progress. Contractors will work with you to reduce downtime and business interruption as much as possible.
Depending on the scope and complexity of a renovation project, traffic in and out of your building from designers, architects, plumbers, carpenters, and the whole caboodle can be messy and disruptive.
It is best to speak to your general contractor and plan the workspace you will use during the renovation to minimize the disruption to your operations and keep your staff and customers safe.
You will also be advised by your contractor if you need to vacate certain areas during the renovation and adopt a Plan B.
How much is the cost of a commercial renovation?
Unfortunately, there is no straight answer to this question as it all depends on a variety of factors.
The costs can vary and fluctuate depending on unforeseen problems, delivery of materials, and other contingencies. To get an accurate estimate, the best thing to do is to obtain a written estimate from your contractors so you can have a pre-determined costing.
Good contractors are able to stick to a budget and even reduce the expenses as much as possible.
Who makes the design for the renovation?
Don't confuse a contractor with a designer or architect. There are some renovation companies that offer a turn-key service that includes design and construction. This is not always the case, though.
If your renovation company is not a design and build company, you may need to hire a designer and architect for your project and pay them separately. The best thing to do is to check your proposals carefully to see what the cost covers and to ask the right questions if you are not sure.
How long does it take to do an office renovation?
Most clients ask this question from the very start of the planning stage. Contractors will give you an estimate during discussions but this cannot be viewed as final.
You will need to sit down and discuss with your contractors regarding the design and budget, your choice of materials, and other considerations for them to give you an estimated time of completion.
Experienced contractors want to follow a timetable as strictly as possible but delays do happen due to unforeseen events. To get an accurate idea of the time it will take to complete your renovation, finalize design plans and discuss your timetable with a reliable contractor but always provide an allowance for potential delays.
Is renovation the best option if I need a bigger space?
Of course, the other option is relocation. Determining whether it is better to renovate or to relocate is something a business owner should carefully think about. This decision would be based on factors such as location, cost, and productivity.
If you are a retail store that has had a long history in an area that is closely related to your brand, you may not want to relocate. If you are an office leasing your space, you may want to relocate to cut down on costs if you can find a better space.
The decision will be significantly affected by whether you want to stay or move and the cost associated with that decision.
What are the benefits of getting online quotes for renovation projects?
One of the most important considerations when it comes to an office or commercial renovation is cost. It is important to be able to compare costs from one contractor to another so you can reduce expenses and stay within your budget.
Using a digital platform such as comparehomequotes.ca for any type of renovation project allows you to find the best contractor that can give you value for your money. It reduces the time it takes to search for the right renovation company while leaving you free to compare and walk away if you are not satisfied, free of charge.
Get the right commercial renovation company for your office or company renovation today.
Fill out our short online form to obtain free and no obligation quotes from a vast network of experienced and reliable contractors.
Our partners in construction are 100% verified, licensed, and qualified for all types of commercial renovation.