23 January 2020,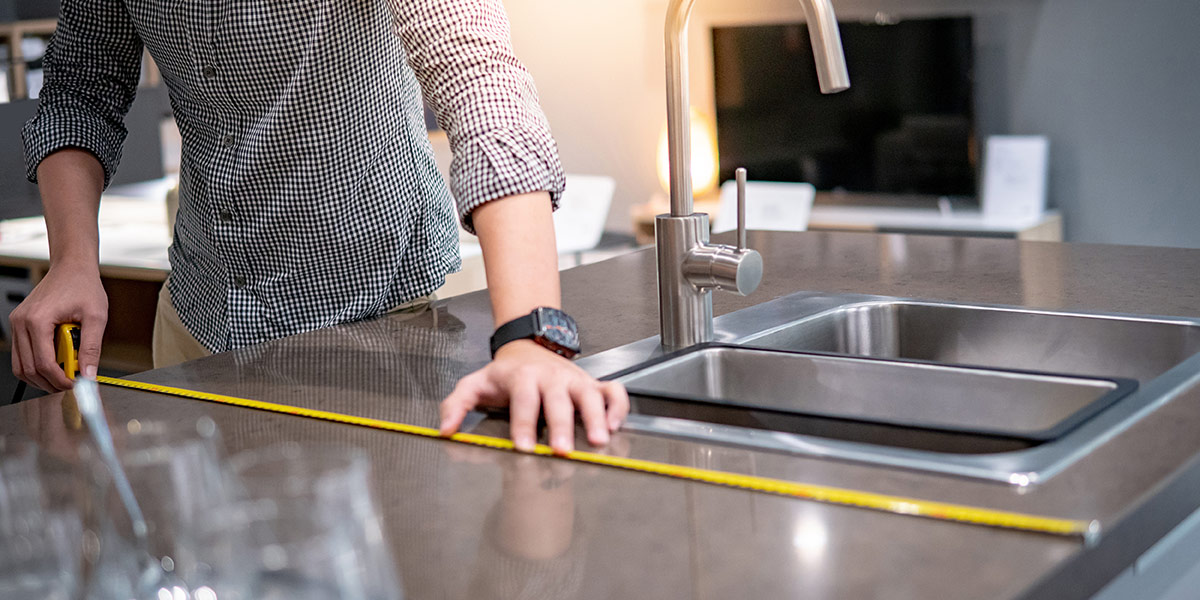 A kitchen countertop will play a huge role in the overall aesthetics and function of your kitchen.
Many people prioritize a countertop in a kitchen renovation because it can easily become the central attraction and add style to your space.
It also brings together all of the other elements of the kitchen's design- backsplash, flooring, cabinets, and walls.
If you are planning a kitchen renovation and wondering what the best countertop to get, read on to know more and how to choose the right countertop to suit your needs and budget.
The importance of choosing the right kitchen countertop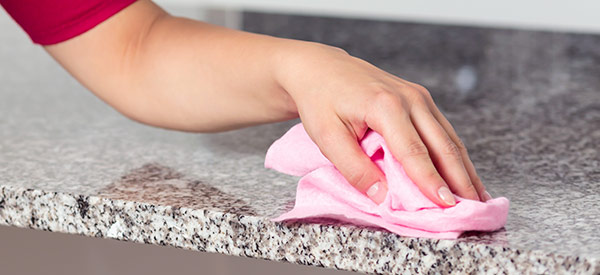 When planning to renovate your kitchen or replace a countertop, take the time to consider what you want and compare your options.
A high-quality countertop adds value to your home and can be very practical in terms of durability, function, and appearance.
Any professional kitchen renovator will advise a customer to pay attention to some factors when looking for a countertop.
Factors to consider in choosing your kitchen countertop
What do you need to consider when choosing your kitchen countertop?
Countertops are one of the most important elements in a kitchen renovation.
Here are factors you must look into so you can get the best deal on countertops.
Style and Appeal
Most homeowners are concerned about how the countertop will look.
If your cabinet has a light color, a dark-colored countertop will make a nice contrast.
If you prefer a clean look, a neutral-colored countertop will do the job.
Durability
Marble, granite, and laminate are 3 of the most popular choices when it comes to kitchen countertops.
All 3 surfaces are durable but they differ in characteristics and maintenance.
Granite is resistant to heat and will last for many, many years. Marble has a high visual appeal and is versatile in terms of matching cabinets. One disadvantage is its vulnerability to stains and scratches.
Marble is also another top choice because of its stunning color and versatility to match the cabinets. However, its weakness is that it can be vulnerable to scratching and stains.
If you work in the kitchen a lot, you might want to choose a countertop that won't easily chip or scratch.
Price
The price is an important factor in selecting the material for a kitchen countertop.
Granite is cheaper compared to quartz or marble.
Marble is quite expensive while the price of quartz is between granite and marble.
Laminate is the most affordable option for a countertop that offers durability and a wide selection of designs.
The different types of countertops and how much they cost
Planning to replace your countertop?
You will find several options in the market at different prices.
High-quality countertops are available to suit every design and budget.
Stainless Steel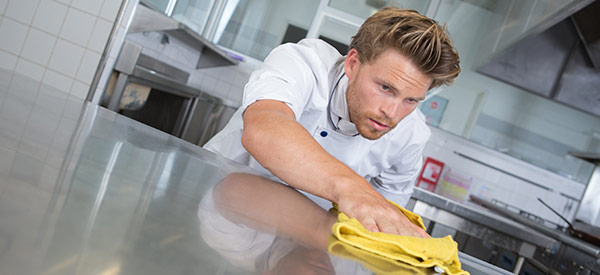 Stainless steel countertops can often be seen in commercial kitchens because they are durable surfaces for heavy use.
Homeowners have seen the benefits of using stainless steel countertops in residences which account for their growing popularity in homes.
This type of countertop is so durable that it can withstand strong impact and resists heat, cold, and stains.
They are also easy to clean and are hygienic.
Because of the neutral color, you can incorporate it into any design.
A stainless steel countertop looks sleek, elegant, and expensive.
A stainless steel countertop can cost from $4,000 to $8,000, depending on the size.
Granite Countertops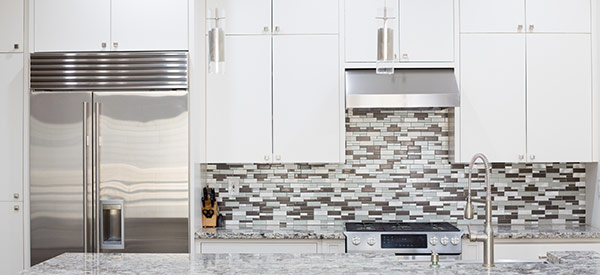 Granite is the most popular material for kitchen countertops in Canada.
Every slab of granite is unique so you can be sure that your countertop will also be unique.
You will find a variety of colors, veining, and textures that will make your countertop stand out.
Some of the top-selling features of granite countertops include:
Tough and durable surface
Resists cracks, chips, and scratches
Resistant to heat
High in durability
Unique and very beautiful
Adds high value to your home (attractive to many homebuyers)
A granite countertop must be sealed properly to prevent staining and keep bacteria away.
Professionals are experienced and skilled in the proper installation of granite countertops.
The cost of your countertop depends on the size and thickness but costs can range from $2,500 to $9,000.
Marble Countertops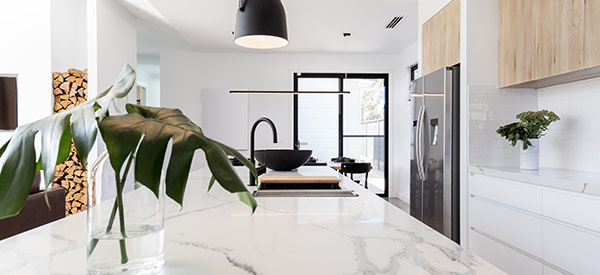 Marble countertops look incredible because they are elegant and luxurious.
Because it is a type of natural stone, the design is unique with a variety of colors and hues.
It looks impressive as a countertop and blends well with any kitchen design.
Among all other natural stone choices, marble requires higher maintenance because it is not resistant to staining.
It can be impossible to remove stains from spills.
It can also be scratched and chipped.
Some of the top-selling features for marble countertops:
Highly-durable and can last a lifetime with proper maintenance
High in visual appeal
Unique design
Does not go out of fashion
Heat-resistant
Marble is more expensive than granite.
Depending on the size and thickness, your marble countertop can cost from $3,000 to $12,000.
Quartz Countertops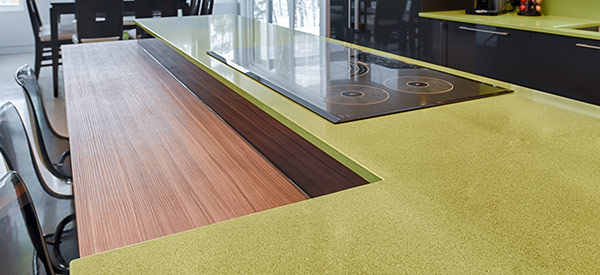 A quartz countertop is made from natural quartz and polymer resin.
It makes the surface easy to clean and low-maintenance.
It is not completely natural which provides a homeowner with a wide selection of styles and designs.
Quartz countertops are stain and heat –resistant although some care should be taken when placing hot pans or pots.
They also resist chipping and corrosion.
Some of the top-selling features of quartz countertops include:
As durable as marble but lower in price
Does not chip or crack easily
Resistant to heat and staining
Available in a wide variety of designs and colors
Very attractive and adds value to your home
Depending on the size of your countertop, the cost can be from $3,000 to $8,000 which makes it cheaper than marble.
Butcher Block Countertops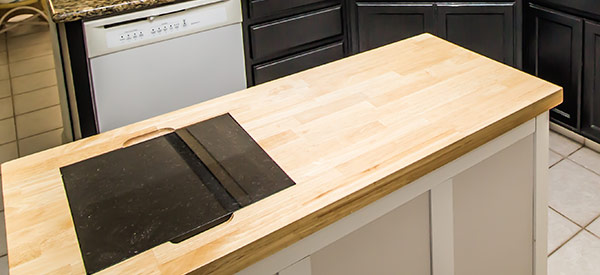 A butcher block countertop has a unique look that will provide any kitchen with a homey appearance and feel.
Usually made of hardwood such as oak, teak, maple, or cherry, they are stained and lets a homeowner choose the thickness of the material and the edging.
Because it is made of wood, it can easily blend with any design and will never go out of fashion.
Butcher blocks require higher maintenance than other types of countertops.
They must be sealed properly for hygiene and treated with protective materials to prevent water damage.
They can scratch and dent easily.
Some of the top-selling features of butcher blocks include:
Timeless style
Cheaper in cost
Gives a kitchen a rustic or country look
Blends easily with any design because it is made of wood
Durable
Environment-friendly
The price of a butcher block depends on your choice of wood and the size of the countertop.
Cherry and maple are more expensive than oak.
On average, you could spend from $2,000 to $8,000 on your butcher block.
Laminate countertops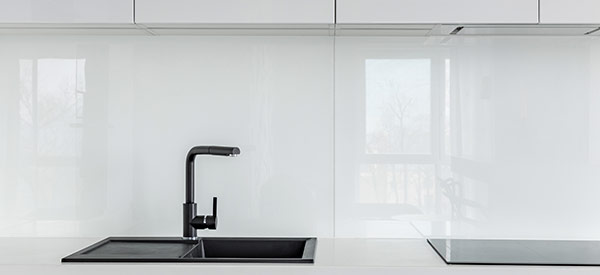 Laminate countertops are the cheapest option when it comes to kitchen countertops.
It can be a low-cost alternative to natural stone or wood.
You will find an endless array of designs, textures, and colors to suit your taste and budget.
If you are renovating to sell your home but don't want to spend a huge amount on an upgrade, a laminate kitchen countertop can be a great choice.
Take note that laminate is not scratch or heat resistant.
Thus, it is easy to see signs of wear and tear over the years and replacement can come sooner.
Some of the top-selling features of laminate countertops include:
Affordability
Wide variety of colors and designs
Easy to install even DIY
Low-maintenance
As the most cost-effective option in the market, a laminate kitchen countertop costs from $1,200 to $2,500, depending on the size of the countertop.
So what is the best material to use for a kitchen countertop?
According to the Decorators and Designers Association of Canada (DDA), engineered quartz is the most durable among the many types of kitchen countertops available.
Are you ready to design your kitchen?
It pays to work with kitchen renovation specialists in our network so you can receive professional advice regarding the design, materials, and cost of your project.
Fill out the form on this page and receive FREE and NO OBLIGATION quotes from kitchen renovators in your area.
What are the signs that you need a kitchen countertop replacement?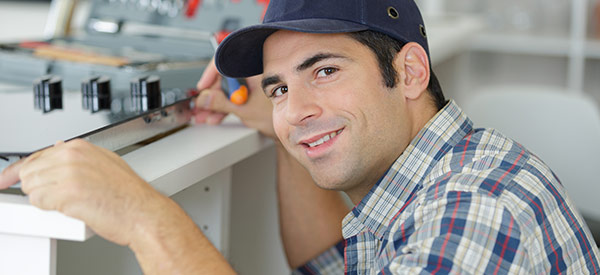 When renovating a kitchen, you may or may not choose to replace a kitchen countertop based on your needs or priorities.
Replacement of a kitchen countertop can increase your budget by as much as $10,000, depending on the material you choose.
Thus, you surely want to know whether it is critical to replace your countertop of if you can save money by continuing to use your existing one.
Kitchen countertops are used frequently and homeowners who are renovating their kitchens most often desire a new countertop, especially if they plan to sell the home soon.
Below are signs that you need a kitchen countertop replacement.
Visible damage.
Not all countertops are built to last a lifetime.
For instance, your laminate countertop may already have signs of cracking or peeling.
Your granite countertop may have cracks or stains.  If your current countertop is not heat resistant, it may have signs of burns.
Dated look.
If you are renovating a kitchen, you may not want to retain a dated countertop as it could ruin all your efforts.  If you plan to sell your home in the near future, you should replace your dated countertop.
Water damage.
Does your butcher block or laminate countertop show water damage? It may be time to replace them for improved function and aesthetics.
Of course, homeowners also decide to replace a countertop even if there is no visible damage in order to upgrade from a laminate to a marble countertop or to increase the size or change the layout.
If you are looking for the best kitchen renovation design, our partners, professionals in kitchen renovations, can help you get the best value for your investment.
You can also find many great ideas on how to save on kitchen renovations in Toronto to make your project stress-free and successful.
Work with a kitchen countertop specialist or kitchen renovation designer for the right design for your project.
Fill out the form on this page to get FREE and NO OBLIGATION quotes to compare and help you save time and money.
Things to know before buying a laminate kitchen countertop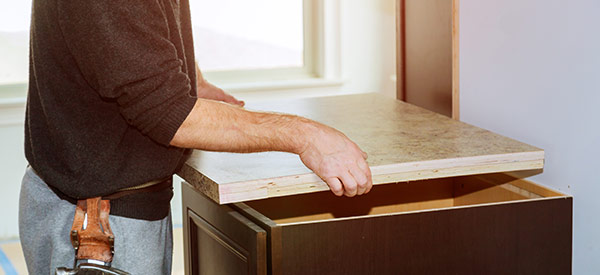 Of all the countertop materials in the market, a laminate kitchen countertop is the cheapest.
Unfortunately, it is also not the most durable and can be considered by some homebuyers to be undesirable.
For homeowners renovating on a tight budget, a laminate kitchen countertop can be a good option.
Is it the right choice for your project?
Below are the pros and cons of laminate countertops to help you decide.
Pros of a Laminate Kitchen Countertop

Cost
Laminate is very inexpensive compared to other countertop materials.  People who want to renovate a kitchen on a small budget can consider laminate as an option.  It also makes it possible to replace a countertop to a more expensive one in the near future without any hassles.
 Installation
Installing a laminate countertop is easy even for those who like DIY projects.  In fact, it can be installed over an existing countertop or in a new area.
Choice
There are many colors, textures, and designs to choose from in the market.
As you can see, laminate kitchen countertops offer several advantages to homeowners.
You can save money on a kitchen renovation with a laminate kitchen countertop.
Cons of a laminate kitchen countertop

Risk of damage
A laminate surface can be damaged by hot pans, sharp knives, and other things.  It needs more care than other materials like natural stone.
Value
Because laminate is relatively cheap, it does not add any value to the resale price of your house.
A laminate kitchen countertop is not built to last a long time. It can get damaged easily and does not add any value to your home.
However, it is a convenient option for homeowners who want to save money on a kitchen countertop.
Do you want advice about your kitchen renovation from experienced professionals?
Compare quotes and kitchen professionals in your area using the short online form on this page, FREE OF CHARGE!
Marble or Granite Countertop? Choose the best stone material for your countertop
Are you torn between a marble or granite countertop for your kitchen?
Actually, these two types of stone have more similarities rather than differences.
Both are natural stones and are porous.
Although granite is slightly harder, they both offer high quality and durability.
We want to help you decide if granite or marble is better for you so we have assembled below their comparisons for your guidance.
Feature

Marble

Granite

Appearance
Has larger patters
Has a variety of hues
Durability
Very durable with proper care
Very durable with proper care
Maintenance
Higher maintenance needed
Needs sealing every one or two years, moderate maintenance
Resistance
More prone to damage and stains
Stains can be impossible to remove
More resistant to cracks and breaks because it is harder than marble
Cost
More expensive
Slightly lower price
Value
Highly desirable and adds value to the home
Attractive and increases the value of a home

In conclusion, marble or granite will add elegance to your kitchen and last a long time if you provide proper maintenance.  Although both of these countertops are more expensive than others, they offer a high return on investment especially in the long term.
These luxurious countertops will definitely increase the value of your home and take your lifestyle to a higher level.
How to choose the best marble slab for your countertop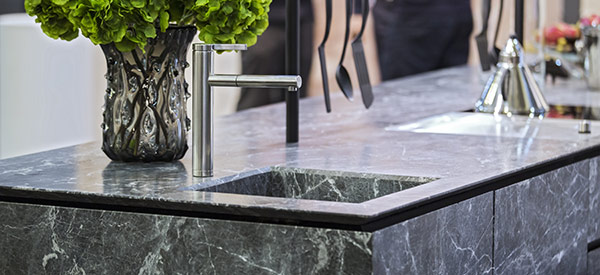 Each stone slab is unique so you must select the pieces that will come together for your countertop.
Select the slabs by carefully looking at the veining so that the markings look artful and balanced.
Choose longer pieces of slabs so that you can reduce seams.
Professionals are experienced in choosing stone slabs and installing them on a countertop to give it a seamless, fantastic, and elegant finish.
If you are leaning towards a marble countertop, make sure to work with professionals to get that outstanding result you deserve.
Keep in mind that you will use your countertop for maybe as long as 20 years!
Make sure you will get a marble countertop you and your family will love.
Fill out our short online form below to connect with the best kitchen countertop specialists in your area.
FAQs: Questions about countertops you have been dying to ask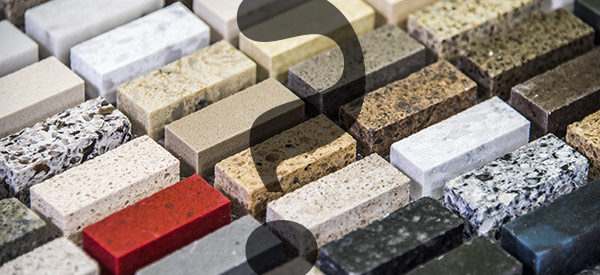 Because most homeowners care a lot about the countertop for their kitchen renovation, we have gathered below some of the most common questions you may be dying to ask.
We hope that the answers will help you to find the best countertop for your project and most importantly, help you save time and money!
If you are replacing an existing countertop, is it necessary to demolish it?
There are professional countertop companies that can fit granite or other countertop slabs directly over an existing countertop.
This helps to save time and money.
However, if you are changing the size, the layout, or for other reasons, professionals can also demolish and take away your old countertop.
Can granite countertops be repaired?
A granite surface is extremely difficult to repair but you should take comfort in the knowledge that granite is also extremely difficult to damage.
Does a granite countertop get chipped or scratched?
The density of the material is generally scratch resistant.
Avoid placing heavy objects near the edge to avoid chipping.
Is granite heat-resistant?
Yes, one of the top advantages of a granite countertop is that you can put hot pots and pans on top of it without causing any burn marks.
Is granite the best material for a kitchen countertop?
Most kitchen renovation specialists recommend granite kitchen countertops because it is one of the hardest among natural stones and is very durable.
Its higher price is worth it because it is convenient as a surface to work on, it is elegant and attractive, and will last a long time.
Is quartz better than granite for a kitchen countertop?
Quartz is actually harder and more durable than granite.
Its surface allows a homeowner to easily keep it hygienic.
However, it can be damaged by very hot pots and pans so it is advisable to use a pad before placing pots and pans.
Granite countertops are more heat-resistant.
What is the thickness of the countertop?
Quartz and granite countertops generally have a thickness of about 3 cm.
How long is a countertop installation?
The length of time for the installation varies based on the material and the size of your counter.
Usually, installation can be finished in 1 day.
What are the advantages of using a laminate kitchen countertop?
Aside from the lower cost, laminate is available in a wide variety of colors and designs.
It is ideal to use with undermount sinks.
Laminate countertops are easy to clean and maintain.
Take note that they also don't last as long as natural stone materials.
It is also beneficial if you don't plan to live in your home for very long or you plan on upgrading to a more expensive countertop in the future.
What is the lifespan of a laminate kitchen countertop?
Despite its affordability, a laminate countertop can last from 10 to 20 years with proper care and maintenance.
The important thing to remember is not to use it as a cutting board as it gets nicked and scratched easily.
Also, don't clean it with abrasive materials.
How much does a laminate kitchen countertop cost?
Laminate countertops are the least expensive in the market.
The price varies based on the design, color, and edging selected.
Are marble countertops still popular?
Classic white marble kitchen countertops remain a popular choice among homeowners.
It is a timeless choice for countertops that gives any kitchen a flawless beauty that never goes out of style.
What is an environmentally-friendly option for a kitchen countertop?
Wood counters or butcher blocks are environmentally-friendly and provides aesthetic value and durability.
Wood is also less expensive than stainless steel or natural stone.
What is the lifespan of a butcher block for a kitchen countertop?
A butcher block is incredibly durable and can last for 20 years or longer with proper care.
They can withstand heavy use daily and also look beautiful.
Oil can be used to maintain the freshness of the wood and grease and grime should be removed regularly.
Is it okay to use ceramic tiles to finish a concrete countertop?
Ceramic tiles are cheap and easy to use for DIY projects.
However, they require regular sealing and cleaning.
Ceramic tiles also get cracked and chipped more easily.
It may also take time to install them unless you hire a skilled tradesman.
It may be more convenient to use laminate.
Choose the right kitchen counter specialists: Fill out a short form to get free quotes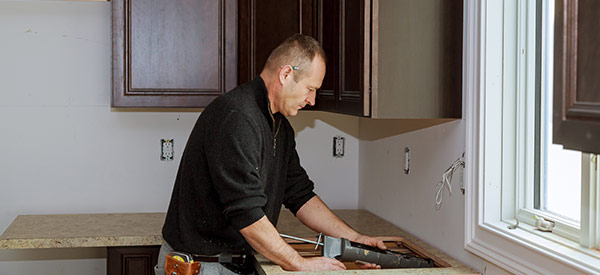 Are you wondering who to speak to about a new kitchen countertop for your kitchen?
Depending on the scope of your project, you will need to work with a kitchen designer and a general contractor. 
They can give you great ideas on how to design your kitchen or upgrade your existing countertop based on your needs and budget.
If you only want to replace a kitchen countertop and other cosmetic upgrades, you can also speak directly with countertop specialists in our network.
You can get free and reliable quotes, at no obligation, so you can compare and find the best deal.
Questions to ask when looking for a kitchen countertop specialist
When considering who to hire as your kitchen counter specialist, it is important to ask the right questions to guide you in your selection.
✓  Are you licensed and insured?
✓  How long has the company been in business?
✓  What type of countertop do you specialize in?
✓  Can I see samples of your most recent projects?
✓  Do you provide a warranty?
It is also critical to set your budget for your countertop and be frank with professionals you speak with so you can stick to your goals.
Look for a company that aims to provide satisfactory services for the best price.
Are you ready to find the kitchen countertop specialist for your project?
You can also look for a kitchen renovation company to handle all aspects of your kitchen renovation.
Fill out the short online form below and connect with the best kitchen renovation professionals serving your area.
Plan your project with professionals to save time and money.
Receive FREE and NO OBLIGATION QUOTES for all types of kitchen renovations today.