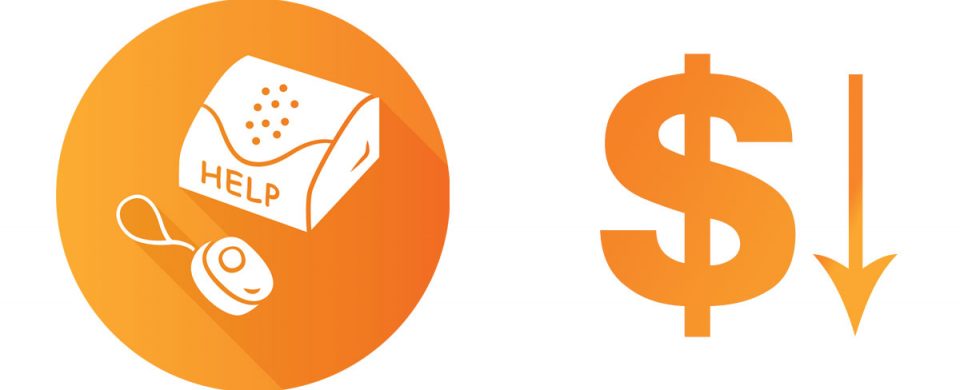 3 March 2020,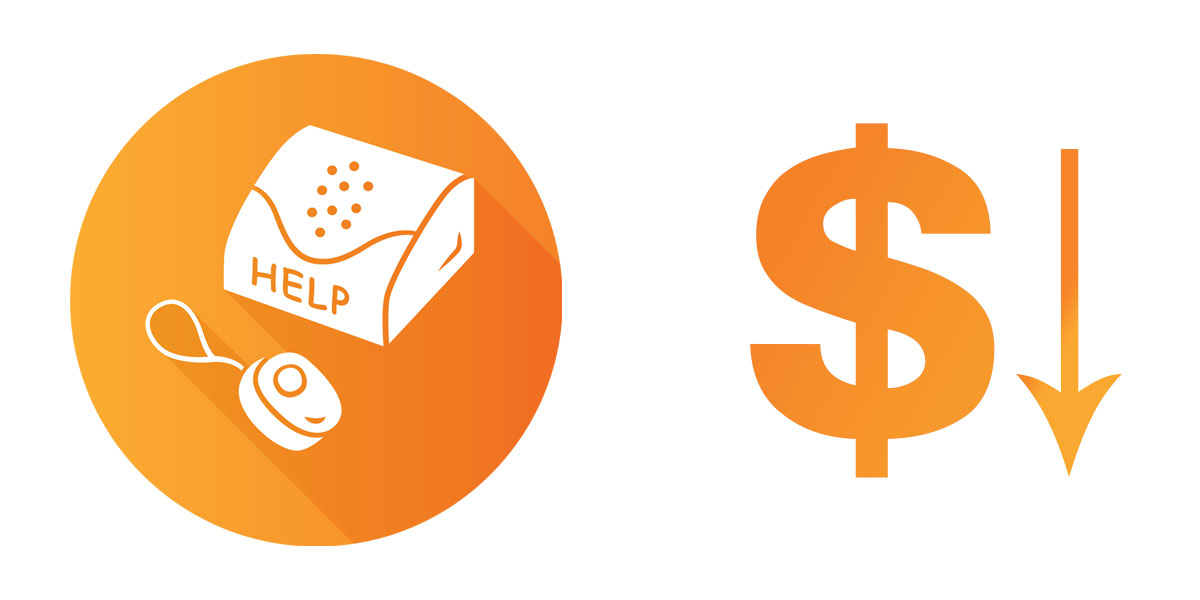 Are you looking for a reliable medical alert system that doesn't cost too much? You are in the right place because we can provide you with free and no commitment quotes from reliable security companies.
A medical alert system is very important for seniors who want to remain living at home without any worries.  With just one push of the emergency button, you will get connected to a certified monitoring center with trained agents ready to assist you and summon help.
Compare medical alert systems in Canada now by filling out the form on this page and find the least expensive medical alert for you.
What to Look for When Buying a Medical Alert System for the Elderly
When considering how much you want to pay for a medical alert system, it is also important to think about what you need. This is because the cost of your device will depend much on the features you select.
The cheapest medical alert systems are those that have no monitoring service. This type of medical alert system will send an alert to 5 or more designated contacts if you push the panic button in an emergency.  This is not ideal for seniors with family members who live or work too far away to respond quickly in an emergency situation.
This type of device also works only if the user pushes the panic button. In case of a fall and the senior is unable to push the panic button, no alert is sent out and help will be delayed. In a serious injury, serious complications can arise when help does not arrive fast.
The features provided by unmonitored medical alert systems are also limited. Although this type of device is cheap and have no monthly fees, the safety of the user depends on two things:
The user's ability to use the panic button during an emergency
The contacts' ability to react to an alert promptly.
Find out more about how to age at home with wearable fall detectors and panic buttons.
The Benefits of Buying a Monitored Medical Alert System
If you consider the limitations of a non-monitored medical alert system, you will find that medical alert systems with monitoring services offer a higher level of protection and peace of mind for seniors.
In fact, even family members will feel reassured in knowing that a trained responder will be available 24/7 to assist in an emergency.  Everybody can sleep better at night, even seniors, because their loved ones will not feel the need to check on them so frequently.
Seniors can regain their independence and confidence to live alone without fear! Their medical alert system with panic button is just one push of the button away when they need HELP.
Indeed, the price of a monitored medical alert system is well worth it because it gives you PEACE OF MIND.  This type of device comes with very useful features for your safety:
2- way voice communication
Emergency panic button
Fall detection
GPS tracking
Geo-fencing
Medication dispenser/reminder
In choosing the right medical alert system, compare features to suit your lifestyle and health condition.
1 out of 3 Canadians aged 65 and older fall every year, leading to emergency treatment or hospitalization. Some falls can have serious complications and compromise quality of life.
Make sure to get HELP fast in any medical emergency with a medical alert system with fall detector today.
How much will you pay for a monitored medical alert system?
Now that you know how critical a medical alert system is for seniors who want to live alone, you probably want to know how much you will need to pay.
With something as important as a medical alert system, cheap does not just mean the price. Rather, it should be considered in the context of value for the price.
With the rising cost of hospitalization, private home care, and long-term care, the price of a reliable monitored medical alert system with fall detector is the least expensive protection for seniors.
Below you will find top medical alert systems with monitoring for you to choose from.
SecurMEDIC

SecurMEDIC offers medical alert systems with 2-way voice communication. Upon purchase, you get a wireless panic button and a console. Trained agents in certified monitoring centers located in Canada will receive emergency alerts and dispatch the necessary emergency responders.The emergency panic button is 100% waterproof and can be worn as a wristband or pendant.  It can also be used to answer phone calls.Some of the pros of SecurMEDIC include:
No contract
Easy installation
This device has no automatic fall detection. The user must push the panic button to ask for help.
Equipment cost: $198.95
Monthly Fee: $28.95
Global Security 

The company provides affordable and reliable wellness solutions for seniors who want to be independent and safe. The emergency panic button can also be connected to the home security system with central monitoring 24/7 for increased safety.

Along with the emergency button, other features included are:
Notification of activities to family members
Automatic fall detection
Bed sensors for increased safety
Notification of unusual activity
Water-resistant pendant or bracelet
Equipment (GSM Fall Detector): $379.99
Monthly Fee: starts at $34.99 (36-month contract )
Activation Fee: $99
Philips Lifeline

The Philips Lifeline is a medical alert with automatic fall detection.Options include the Homesafe system which has a base unit, a pendant panic button, and a landline device connected to a 2-way speakerphone.It also has a cellular system with fall detection which can be used outdoors. The company boasts the following:
Proprietary call centers
Equipment with a great design
No equipment fees
Mobile system with location tracking
2-way communication system throughout the home
Automated medication dispenser (extra fee)
Waterproof devices
No cancellation fee
Activation Fee: $50
Monthly Fee:
 

$29.95 for HomeSafe
 $41.95 for HomeSafe Cell
 $44.95 for GoSafe,
 $56.95 for AutoAlert
LifeCall
This company's medical alert system offers several options- the basic medical alert and Lifecall with Fall Alert.
Their basic package has a waterproof device which can be worn around the neck or wrist. When the call button is pressed, the user is able to communicate with a UL-certified monitoring center for 24/7 emergency response.  The system has a range of up to 1,000 ft.
The LifeCall with Fall Alert has a fall detector.  The Lifecall Cellular System is ideal for those without a landline at home and the Advanced Mobile Plus has a combination of home monitoring with mobile GPS-tracking.
Monthly Fee: starts at $39.95
Direct Alert 

This company has 3 options for seniors – At Home, On The Go, and Fall Detection.  It serves all of Canada and can be used with a landline, cable, or VOIP.  The device can be worn as a pendant, bracelet, or belt clip.

Other attractive features are:
GPS tracking
Automatic Fall Detection
Monthly Fee: 
$19.95 + equipment fees or $ 39.95 per month (Classic)
$29.95 + equipment fees or $ 49.95 a month (Speak through)
$39.95 + equipment fees or $ 59.95 per month (mobile) 
The best way to find the right price for a reliable medical alert system is to compare FREE and NO COMMITMENT quotes.
Fill out the form on this page to connect with reliable security companies serving your area.
Compare medical alert systems today using our online service and save time and money!