13 October 2020,
Do you need a renovation for your home in London, Ontario?
Whether you simply want to replace your siding or you need something major like an additional bathroom, we have the best contractors in our network who can help you!
Any type of home renovation costs money and will have an impact on the value of your largest investment – your home. Thus, you need a reliable professional to help you plan and execute the project to get the best results!
Our network has gathered reliable and experienced contractors serving all of London for all types of home renovations.
Fill out the form below to receive FREE and NO OBLIGATION quotes to help you plan your project.
More Space and Comfort with Home Renovations in London
A home renovation is not just about making a home more beautiful. Some homeowners undertake a home renovation to create needed space, fix problems, increase comfort, and maximize the value of the home.
Because the home is your most important asset, you want it to be as perfect as possible for your needs. Thus, the success of a home renovation will depend largely on its planning and execution.
Reliable contractors will listen to your needs and craft solutions that are ideal to your vision and your budget.
Services offered by contractors for home renovations
Professionals will bring your ideas to life without going over your budget or disrupting your daily life. The most popular services for home renovations are as follows:
Kitchen Renovations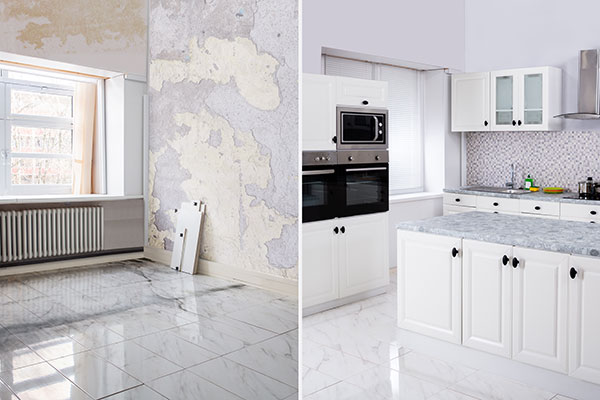 Do you want a more spacious and modern kitchen? This is one of the most fun and exciting home improvement projects.
As the kitchen is usually the hub for a family's daily activities, it must reflect your taste and lifestyle. It needs to be aesthetically pleasing but also functional.
A good contractor can help you with a design that gives you more space and convenience with respect to the budget you can spend.
A kitchen renovation usually include the following tasks:
Flooring replacement
A new flooring will dramatically improve your kitchen. Note that the prices of materials vary widely and your choice will have a big impact on the cost. For example, laminate and vinyl flooring are cheaper while natural stone and wood are much more expensive. Consider value and durability along with your budget to make the smartest choice.
Kitchen Cabinets
The kitchen cabinetry is a major consideration in planning a kitchen renovation. As they provide your storage options and enhance aesthetics, it features greatly in the design and budget.
If you want to cut down on costs, kitchen cabinet refacing can give new life to your cabinets for a lower price. You can add a new countertop, sink, and storage racks for a new finish. For those who want a luxury kitchen renovation, custom kitchen cabinets can help you create the exact look you want.
Kitchen countertop
You can find many options in the market for a kitchen countertop. From laminate, quartz, granite, concrete, and butcher block, there is a solution to meet your needs and budget.
Backsplash
The kitchen backsplash provides a lot of color and life to the kitchen. An attractive backsplash can be a great feature to have. Several materials are available, including ceramic and vinyl which are not expensive. Installation is trickier and increases the labor cost.  A DIY backsplash is not advisable as installing them around electrical outlets and in corners can be really tricky.
Other factors to consider in planning a kitchen renovation
Unless you want to make minimal changes in the kitchen, you may need to consider the following additional costs:
Plumbing: to replace a sink, dishwasher, etc.
Appliances: this is a huge cost if you are replacing the refrigerator/freezer, oven, microwave, etc.
Painting: walls need to be repainted especially if you added new ones
Electrical: You need to hire an electrician to install new lighting fixture or add/move outlets.
According to the Appraisal Institute of Canada, a kitchen renovation has a high return on investment. Thus, if you plan to sell the house in the near future, a good renovation can get you a higher selling price.
A general contractor will take care of coordinating the many different aspects of your kitchen project.
Bathroom renovations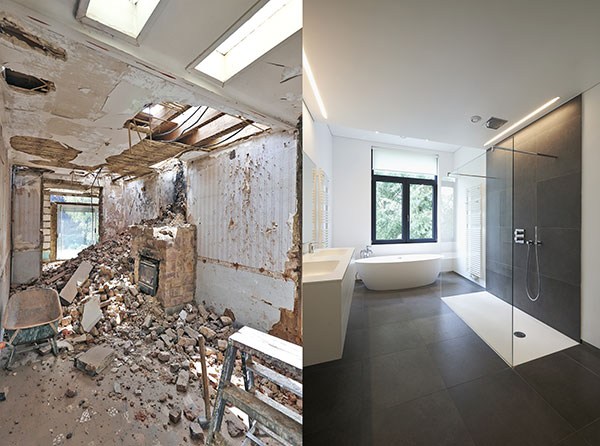 The bathroom is a very important part of the house. If it is not ideal for our needs or convenient to use, it negatively affects our day-to-day activities. It is so important that most homebuyers make a buying decision based on the bathroom.
If your bathroom is too small or outdated, or if you want to add another bathroom to your house, a bathroom renovation or addition is the perfect solution.
Bathroom contractors can provide a turn-key project so that your construction is stress-free and convenient for you.
A bathroom renovation usually includes:
Floor and wall tiling (ceramic, glass, marble, granite, slate, etc.)
new vanity
installation of new fixtures
walk-in shower or hot tub
new cabinets
painting
electrical works
plumbing
A bathroom renovation costs more per square foot than any other room in the home. The average cost of a complete bathroom renovation (small) is $15,000 while bigger and more luxurious bathroom remodels can cost $50,000.
You should know not only the total cost of estimates offered by contractors but where the expenses go. Breaking down these costs can help you choose the better value and which contractor gives the best offer.
Basement Renovations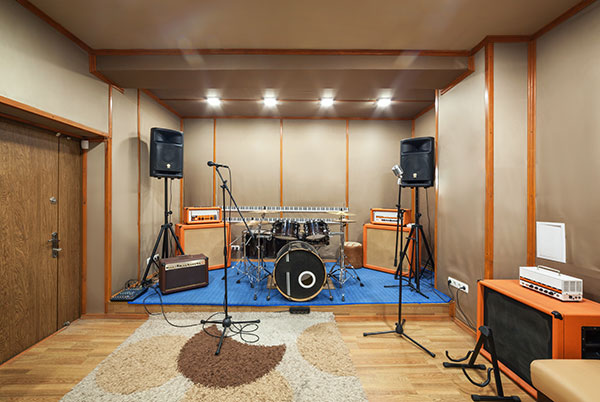 Did you know that finishing or renovating a basement can give you a lot of extra space without having to move to a new house?
You can turn it into a home office, family room, an entertainment area, extra bedroom with bathroom, home theatre, or living room.
A finished basement is one of the best ways to increase living space and increase the value of your property.
Finishing a basement in London requires a building permit for the following:
Insulation
roughing-in plumbing
adding plumbing fixtures
change in the use of rooms
building, enlarging, changing doors and windows
Moving, changing, or rebuilding stairs
Moving or changing walls
Foundation works
You can check requirements for applying for a building permit in the City of London to plan your project.
Benefits of renovating a basement apartment with a contractor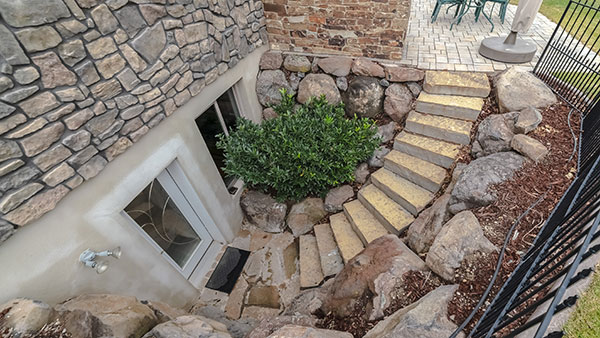 A basement apartment offers essential space for a separate apartment which can add value to your home. It can be a private area for in-laws or members of your family. Basement contractors are knowledgeable about building codes for basement apartment renovations or granny suites. They know the rules for egress windows, entrance, firewall, and ventilation which assures you that your construction will be up to code.
A basement renovation is a huge investment. Thus, it is important to have experienced professionals handle the work to aesthetic appeal and longevity.
Basement contractors offer the following services:
Basement design
framing
insulation
foundation repair
waterproofing
downspout repair
crawl space encapsulation
egress window
flooring
painting
and many more!
Whatever your vision for your basement, reputable contractors can make it come true!
Create a basement apartment with a professional contractor
Renovating basements to make a basement apartment is a popular project of contractors in London.  Homeowners like the idea of letting older parents or grown children staying in the home.  It is also becoming increasingly popular to rent out for additional income.
Basements can provide as much as 50% usable space that can be divided into a kitchen, living room, bedroom, and bathroom.
A good contractor will also ensure that the basement is properly insulated, with good ventilation, and will last a lifetime!
There are regulations for basement apartments in Ontario, such as a separate entrance, parking space, compliance with fire code regulations, etc. An experienced contractor will be able to advise you of such requirements or you may check with your municipality for zoning by-laws.
Cost of finishing a basement in London
Finishing a basement can be expensive but the return on investment is significant. At the start of the project, you may feel discouraged to see that some of the expenses go to plumbing, electrical, insulation, and duct work. These are not exciting things but they are very important to ensuring a safe and efficient basement.
Several factors affect the cost of a basement renovation including:
the size of the area
the design
the quality of materials
labor and installation
the desired upgrades (bar, steam bath, gym, etc.)
the condition of the basement
Depending on the scale and complexity of the project, the average price of a basement renovation is $35 to $60 per square foot. There may be other factors to consider but you will probably spend at least $35,000 for a basement of 1000 square feet.
The best way to be sure is to obtain accurate quotes from our partner contractors in your area. Fill out the form on this page and you will receive FREE and NO OBLIGATION quotes!
Exterior Renovations that are essential to every home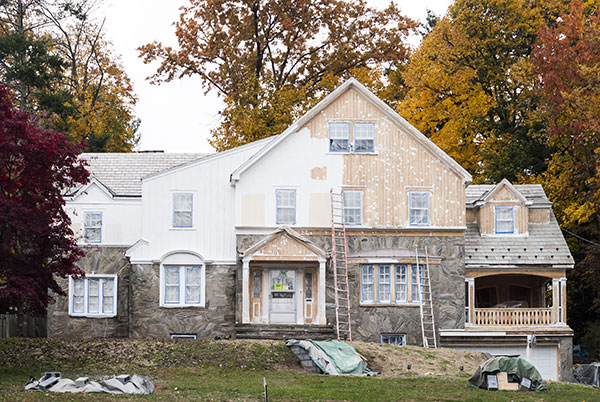 It is not only the beauty of your home from the inside that is important. The structure and external appearance of the home is just as important to your comfort and safety. It is also a big factor in the valuation of your property.
Essential exterior renovations can increase the value of your property, help you save on home insurance premiums, and increase your security.
Many contractors offer exterior renovations such as:
roofing repairs or replacement
exterior painting services
siding replacement
French drain replacement
Insulation
fence renovation
door and windows replacement
These projects may cost you money now but will help you save more money over time!
It is also possible to work on 2 or more exterior renovations simultaneously. For example, when replacing siding, the contractor can also work on the insulation, wiring, and plumbing.
Exterior renovations increase curb appeal and improve your home's appearance. This makes your property look desirable and appealing which is important to protect home value. It also increases the efficiency that important aspects of your structure function to protect you and your belongings.
Plan an exterior renovation with a reputable contractor to prevent damage
to your house and protect your investment!
Fill out the form below to receive free and no commitment quotes!
When is the best time for a home renovation?
Spring and summer are popular seasons for renovating. Warmer temperatures make it ideal to work especially on the roof, yard, and other areas outside. There are, however, other things to consider when scheduling a home renovation.
Of course, certain projects can only be done seasonally. For instance, installing a pool seems crazy in winter and painting the exterior is not ideal when it is rainy. But planning ahead and working with a good contractor will help you determine the best time to do so.
Generally, it is best to plan a home renovation at a time you need to (some repairs can't be postponed for too long) and when your budget allows it. Planning well can also help you save money.
Availability of a contractor
Don't forget that other homeowners are also renovating. It is advisable to start planning your project months ahead to allow you to book a contractor. If you want a new deck by summer, you can start coordinating with a contractor in winter as planning will start before construction. In this way, you will already be on his schedule by spring!
Plan months ahead of construction
Some projects can be started a little bit off-season so that you avoid the crowd. Some home renovation projects, especially those indoors, can take place throughout the year.
Just keep in mind that when planning a home renovation, it is not only the weather you should consider. Speak with reputable contractors months ahead of time to plan well. You can also start buying materials ahead of time to take advantage of seasonal sales.
The best time to renovate your home is when you need it, your budget is ready, and you have carefully planned and researched your project!
General Contractor vs. Specialized Contractor: Which one do you hire?
Are you wondering whether to hire a General Contractor (GC) or a Specialized Contractor for your project? How do you choose the right one in London?
When looking for a contractor, the primary factor to consider is the type of project you are planning. A general contractor can handle most types of home renovations and he is very useful to work with when you are doing a big project such as a whole home renovation. He will oversee the different aspects of construction so that installations are done in proper sequence and the work of sub-contractors are scheduled properly.
If you are only doing a kitchen renovation, a GC can also handle it but a specialized contractor for kitchen renovations is also a good choice. As he is focused on kitchen remodels, he will have expertise and know the right suppliers for countertops, cabinets, tiles, and other things you will need! He is also able to pass on trade discounts that can help you save on expenses.
We have general contractors and specialized contractors in our network who can help with your home renovation. Compare them, ask questions, and choose the right offer!
Choose the best contractor for your home renovation
Anyone who has ever done a home renovation will tell you that the key to success is hiring a good contractor!
When you have the best professional working for your project, you are assured of high-quality results and value for your money.
Reputable contractors provide turn-key home renovations that include design, materials planning, project management, and construction. This allows you to simply enjoy your project without the unnecessary stress!
Whatever project you have in mind, our network has the best professionals for your needs:
General contractors
roofing contractors
siding contractors
bathroom contractors
basement contractors
kitchen contractors
patio and deck contractors
painting contractors
flooring contractors
plumbing contractors
electrical contractors
and more!
We have carefully screened our partner contractors to make sure they have the right licenses for their trades, qualifications, experience, and good service!
You can find the best contractor for your home renovation by filling out the form below
to receive FREE and NO OBLIGATION quotes.
Compare and choose the best offer to save time and money!