14 January 2023,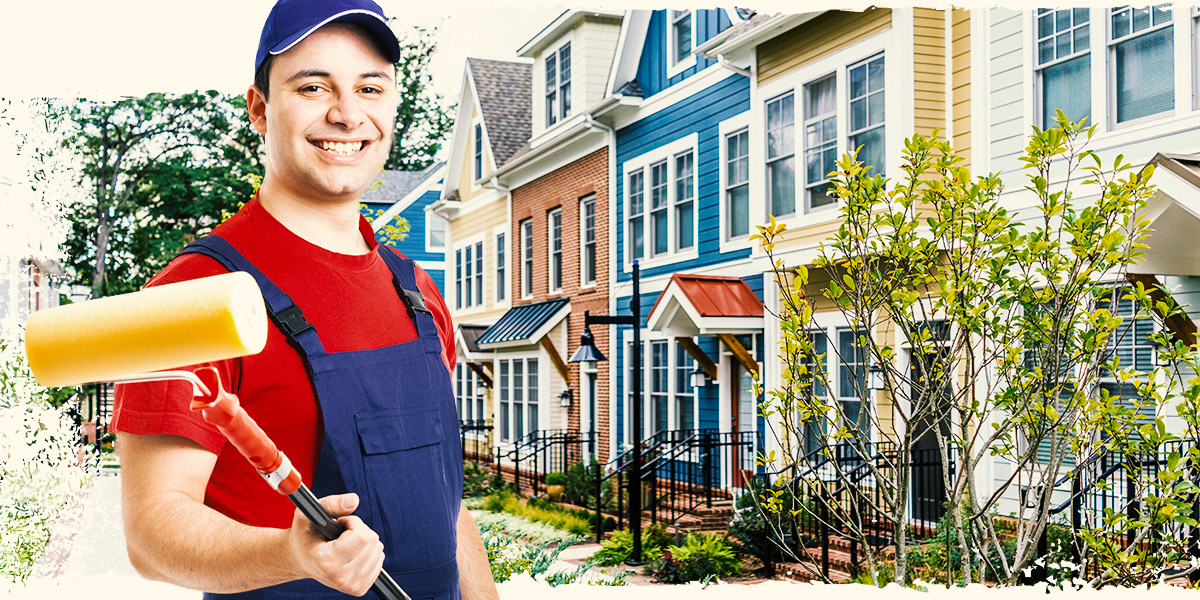 Toronto's housing market is very competitive. If you plan on selling your house, you need to make your property stand out and appeal to prospective buyers. How do you increase your home's appeal without breaking the bank? The answer is simple: improve curb appeal with new exterior painting.
You must really try to think of what buyers want when putting up your house for sale. Because the first thing buyers see is the front of your home, you need to make your house fresh and nice.
Even when you are not planning to sell your home, it is important to maintain the paint of your home's exterior because the paint protects your home's structure from the elements and also prevents mildew growth.
Find exterior painting contractors in Toronto to help you improve curb appeal and give your property a fresh look.
If you are expanding your house in Toronto, find out what are the costs and requirements before looking for a painter.
The best time for painting your home's exterior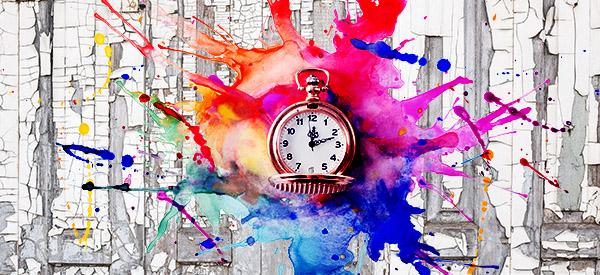 Time will come when our home's exterior will need fresh paint. Weather conditions can be harsh and our home's exterior experiences the brunt of the sun's heat, rain, and the cold.
As part of regular home maintenance, it is important to paint your home's exterior when it starts to look dated or old. As your biggest investment, your home must always look in good condition to protect its value.
When do you know you need to paint your home's exterior? In addition, when is the best time to have the painting done?
We will be answering these questions so read on below so you can plan when to do your home improvement project.
Signs you need new paint for your home's exterior
In times when saving money is a top priority, some homeowners are tempted to postpone home improvement projects because of the cost. But the longer you put it off, the more expensive it can become and here is why.
Paint is the first line of defense of your home against the ravages of rain, the sun, and the cold.  If the paint is not in good condition, wood can start to deteriorate and can cause you to spend more on renovations than just a new coat of paint.
Further, guests and visitors get their first impression from the outside of your home.  Below are the signs that you need to paint your house.
Sign #1: Cracked, faded, or bubbling or flaking paint
These are signs that there may be rot or mold due to lack of weatherproofing. The sun, cold from harsh winters, and extreme heat can cause damage. If your paint has faded, flaked, or cracked, it is time to consider getting painters from a professional painting company.
Sign #2: Morphed paint color.
Has the paint color changed to an undesirable hue? This is because the sun's rays can cause the paint to fade and become a shade you find unattractive.  In order to transform your home's exterior to its original appearance or to improve it, find high-quality painters to do the job.
Sign #3:  Stucco needs patching.
It is expensive to re-stucco the entire home. To save money, you can repair cracks and repaint the home.  This will prevent patchwork that doesn't quite match and become an unattractive home exterior.
Sign #4: You need re-caulking.
The weather in the GTA can be extreme as we experience, floods, storms, tornadoes, and very cold weather. Caulk should expand but with these extreme weather conditions, it can harden. You should check for damage and call the experts.
Exterior windows and trim caulking is critical when repairing or repainting your property's exterior.
If you think you need to reseal some parts of your home as protection from the weather, call in a professional painting company to re-caulk and paint your home.
Sign #5: Your home's curb appeal is low compared to other properties in your street or neighborhood.
It is to be expected that you take great pride in your home. After all, you spend a lot of money and effort to acquire it and care for it all these years.
A simple and expensive way to maintain your property's value and increase curb appeal is to get the services of a professional painting contractor in Toronto.
New paint can totally change your home's appearance to the outside world. It is, in fact, an effective and simple remodeling for as long as you hire a reliable and experienced painting contractor.
Painting is not only to make your home beautiful but more importantly, to maintain the quality of your home and protect your investment.
Are you looking for tips to renovate your home beautifully and be proud of it? A home renovation project will give value to your property.
When is the best time for painting your home?
Exterior paint needs the right temperature or else, the quality of the paint will be unsatisfactory. Good painting contractors will refrain from painting the exterior of a home when the weather is warm enough.
This means the best time for painting your home's exterior is from June to August or at least until early September.
Keep in mind that because of the short time window, many homeowners are planning a home improvement project and good painting contractors will be in short supply. It is best to plan early and look for the right painting contractor in your area for your project.
Would you like an early start to planning your home improvement project?
Fill out the short form on this page to connect with reputable painting contractors in our network serving your area.
You can receive free estimates to compare and save money.
This service is absolutely FREE and NO OBLIGATION!
How often do homeowners need to repaint their home exterior?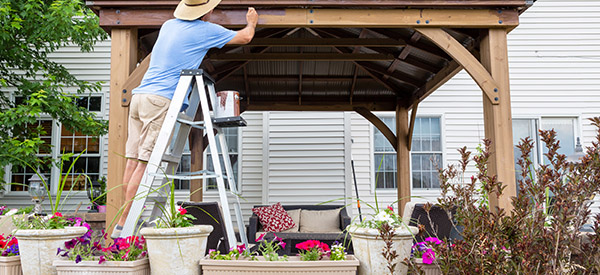 Painting your home is time-consuming and inconvenient, especially if you are painting a large area like the whole exterior of your property.  However, this is an important aspect of home improvement which should never be neglected.
How often does a homeowner need to repaint the home's exterior?
You shouldn't wait until the paint has chipped off and can be seen by others when passing by your house.  You can actually prevent further damage and reduce the time and cost of the preparatory work if you do it earlier.
As a rule of thumb, painting should be done every 10 years or less, depending on the quality of the first painting job and your location. Wood siding may require repainting every 4-7 years whereas paint on wood may last for as long as 10 years and longer for aluminum or vinyl siding.
If you purchased a brand-new home, you may want to consider new paint in the exterior after 5 years to provide adequate protection and prevent damage before it occurs.
The Cost of Painting a Home's exterior in the Greater Toronto Area
If you are planning to paint your home's exterior, it is important to set your budget. You don't want to get a shock midway through the project and not be able to finish what you started.
Below is a brief guide on the cost of professional painting in Toronto and how you can plan your home improvement project.
Each painting project is different because homes are different. Don't expect to spend the same amount as your next-door neighbor even if you have exactly the same kind of structure and design. The price will vary based on the condition of the paint in your home and your choices and expectations.
For a house with about 1500 square feet, painting the home's exterior may cost from $2,000 to $5,000. The price mentioned would include materials, paint, and labor Why is the price difference so significant?
Many factors are considered when a painting contractor provides a quote. The price will vary depending on:
The amount of preparatory work needed (directly related to the level of paint damage and type of material)
The size of the exterior
The type/brand of paint you choose
Use of scaffolding, sprayer, decorative trims
Your choice of painting contractor
The average cost of painting an exterior is around $2,500, more or less. Again, many factors will determine the final cost of painting your home's exterior. The best way to know is to obtain multiple estimates from reliable Toronto painting contractors.
Would you like to know the cost of your painting project? Request FREE and NO OBLIGATION quotes using the short form on this page.
2023 popular exterior paint colors that increase the value of a home
A homeowner who is considering new paint for the exterior will have to pay attention to the color of the home's exterior. The home's curb appeal will be significantly affected by this decision and it can be a very personal choice. After all, the visual exterior of the home should make you feel happy whenever you arrive.
The color of your home's exterior is important in maintaining its visual impact and keep it looking fresh and appealing.
Ext

erior Paint Trends in 2023
SKY BLUE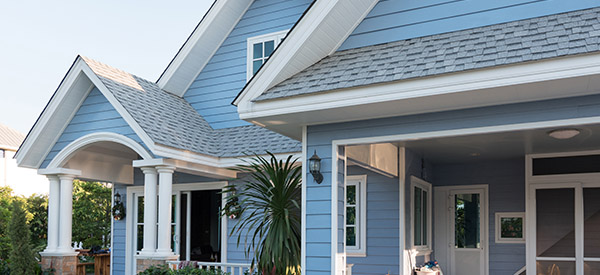 Sky blue is cool although it isn't new, having been popular way back. It is cheerful and fresh to see and looks charming with white trim or dark-colored roofing.
MOSS GREEN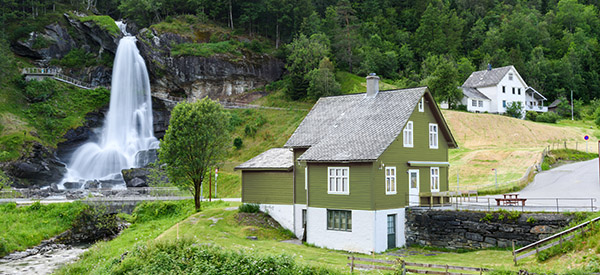 A moss-green exterior looks charming, especially if you are partial to earth tones and neutral colors. It can also be paired with beige or cream colors.
RED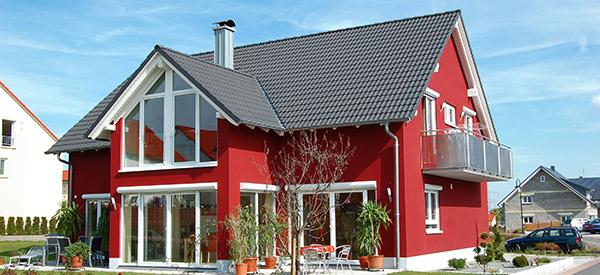 This color demonstrates strength and looks pretty when designed with white detailing along eaves, porch railing, or window panes. You can create a beautiful façade that would take the breath away of passers-by.
SOFT YELLOW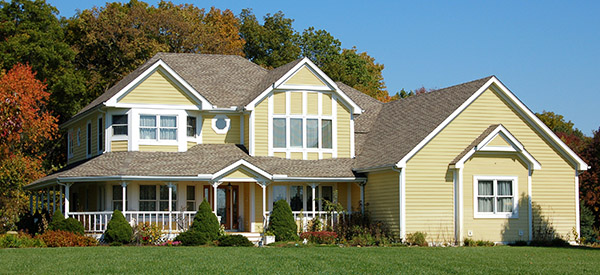 Soft yellow or lemon is also trending for siding this year.  Paired with warm beige, the combination becomes sophisticated.
BLUE-GRAY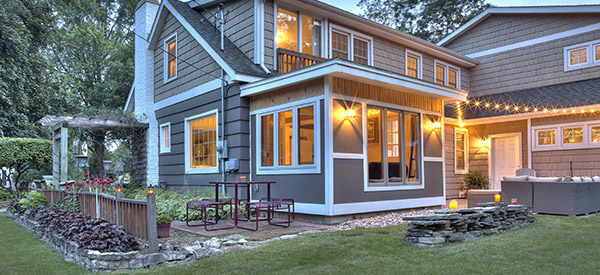 A gray siding with a blue tone is a top-choice for exterior paint this year. It is striking and really ramps up curb appeal.  It can also be paired with warmer colors like white for detailing.
EARTH COLOR (2-TONED) COMBINATIONS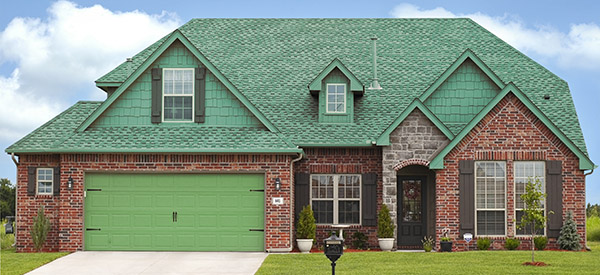 It may surprise you to know that two-toned color combinations are popular this year. Green with brown, or 2 shades of green are just some examples. A two-toned color scheme for exterior house colors can work well with vertical homes.
You can check with your painting contractor for color ideas or designs. A good contractor will provide excellent advice on paint combinations and the most popular colors in your neighborhood. He can guide you in your selections based on your home's unique design.
Painting your exterior DIY vs. Professional Painting Contractors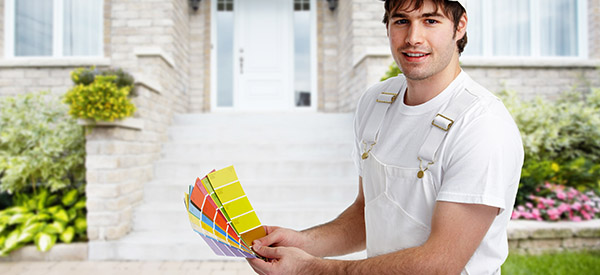 Are you torn between hiring a professional painting contractor or rolling up your sleeves and doing it yourself? Although a DIY painting job can potentially save you money, it is not guaranteed.
Unless you are a painter or you gained experience in painting before, you would take much longer to finish the job. You could also waste materials, make mistakes, or do a bad job of painting your exterior.
Your home's exterior is very important because it gives the outside world its first impression of your home and its quality. Don't risk hurting your home value by doing a poor painting job of your home's exterior.
Benefits of hiring a professional painting contractor
There are benefits to hiring a professional painting contractor. Think of the time and effort you can save. Instead of squeezing in the painting on the weekends or your days off, a contractor will finish the job in a day or a matter of days.
Below are other benefits you can get for choosing a reliable painting contractor.
Advice from the experts.
Do you know how to properly seal windows or prevent moisture on walls? Technical know-how is critical in painting and professionals have it from years of experience and training.
If there are issues like mold or leaks due to poor waterproofing, a professional painting contractor would know how to deal with them and will give you the right advice.
Personal safety.
Painting the exterior of your house is not a simple task. It could involve heights and places that are difficult to reach.  For your personal safety, let professional painting contractors handle the job. They have the right equipment and the know-how necessary to painting a home.
Insurance
A professional painting contractor would have the necessary insurance to cover any liability while on the job. He has the insurance to cover any damage to your home, to an employee, or to a third party. This is important to protect you from any financial liabilities due to your project.
Good workmanship
Yes, you can spread color on a wall. But as you are painting the front of your house, the quality of the job is important to make sure the results will be satisfactory. The finishing should add value to your home's aesthetics.
A poor paint job will not last long and will only necessitate another paint job sooner. You deserve to get quality for your home improvement and you can get that from experienced and reliable painting contractors in Toronto.
If you want to check on the reputation of a painting company or see if it is a reputable one, you can visit the Ontario Painting Contractors Association.
Think about the pros and cons of a DIY project or professional painting from qualified contractors. To do that, you need to know the actual cost to make a smart choice.
Find out how much it will cost to paint your home by comparing quotes from experienced painting contractors.
Fill out the form on this page and you will receive FREE and NO OBLIGATION quotes from licensed and reputable painting contractors in your area.
Save time and money when you compare quotes using our online platform for all types of home improvement projects.
How professional painting contractors perform home exterior painting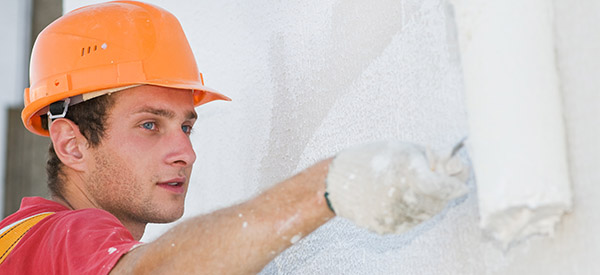 Once you contact a professional painting contractor, they will conduct an assessment of the property to determine the scope of the project.
They will repair surface holes and cracks, provide removal of mildew or mold if you request it, and clean and prep surfaces before they start painting.  These steps ensure a quality finish that lasts a long time.
They will also be careful of your flower beds, deck areas, or plants and ensure they don't get damaged during the project.
Residential exterior painting usually includes:
Gate or fence
Eaves and troughs
Garage door and carport
Storage
Shutters
Deck or patio
Wood siding and panel
French doors
EIFS and stucco
Windows and doors
Painting contractors can supply the paint you need and will use the latest technology in matching the colors you choose.
6 Important questions to ask a professional exterior paint contractor
Aside from obtaining multiple quotes, it is also essential to ask questions and do your research in order to find the right painting contractor.
By exercising due diligence in choosing your painting contractor, you can get the most durable and satisfactory painting job. You can weed out inexperienced persons who don't possess the skills or qualifications.
Following are some specific and relevant questions you can ask your potential contractor.
How many years have you been in business?
You need to ask how long the company has been operating. Generally, it is best to choose a painting contractor that has been around for at least 5 years.
Do you have insurance?
A qualified painting contractor will possess liability insurance and workers' compensation insurance. This will help to protect you from liability if a worker gets injured while working on your property. Liability insurance offers protection for any damage your property will sustain during the project.
Do you sub-contract the work or use contractual workers?
Check if the contractor uses subcontractors. They are often unskilled and inexperienced. A contractor who gives an unusually low bid could be using subcontractors who are paid less.
Do you offer a warranty for the job?
A good contractor will offer a warranty because they will honestly do an excellent job and are careful with their reputation. He will put the warranty in writing.
Can you provide references that can be verified?
A good contractor will be able to provide you with a list of previous clients in the last 6 months that you can verify. This allows you to get accurate feedback on their work. Is the contractor able to meet deadlines? Did he deliver a satisfactory service? Be wary of contractors who are unable to provide references or can only give 1 or 2.
How long will the paint last?
With good preparation and by using high-quality paint, exterior painting can last for as long as 10 years. A good contractor knows how to prepare properly and will use only good quality paint rather than cheap paint from retail stores.
Choosing a reliable and experienced painting contractor is the most crucial decision you need to make regarding your project.  You must find a local company that specializes in residential exterior painting and has a reputation for professionalism and quality.
To start looking for the best painting contractors in town, fill out the form on this page.
You will receive FREE and NO OBLIGATION quotes from reputable and experienced painting companies serving your area.
Save time and money by comparing prices and choosing the contractor for your project.