10 October 2019,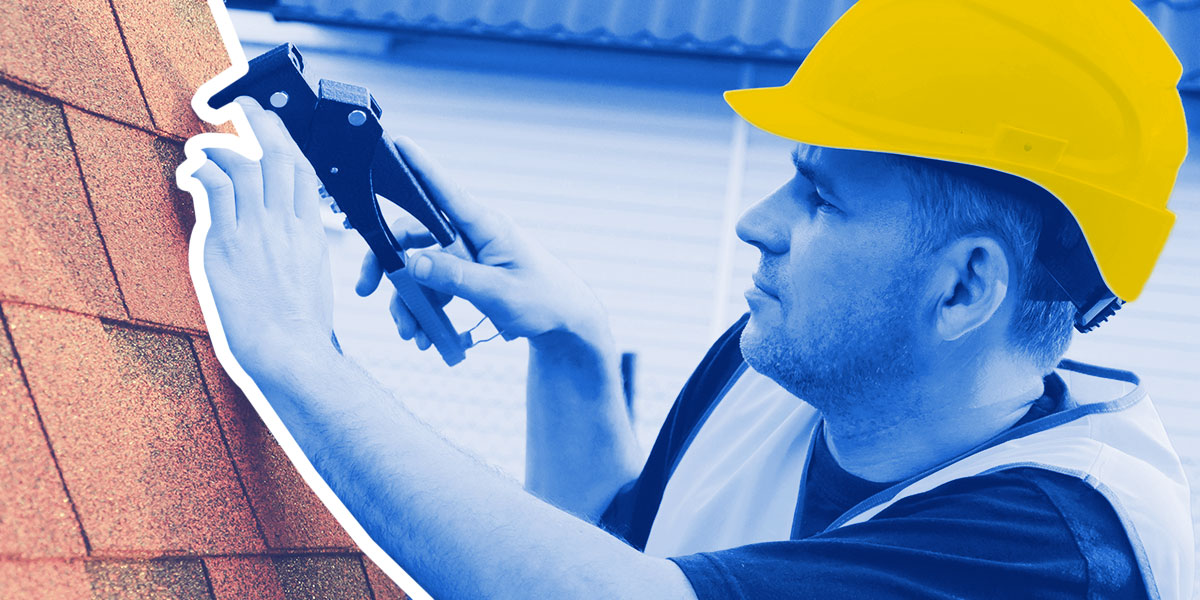 The roof is one of the most important components of your home because of one important reason – it shelters you from the elements.
To most people, having a roof over one's head is one of the basic necessities.
Figuratively and literally, any shelter is not complete without a roof in good condition!
Therefore, a roof protects you and your belongings from the wind, cold, rain, sleet, thunder, and whatever nature throws our way.
At the same time, it also beautifies the exterior of your home.
If you are building a new home or renovating your home, you may be interested in looking at the best options for your roofing.
At Compare Home Quotes, you can conveniently search for roofing contractors in your area and compare prices and services to suit your needs and budget.
Reasons for roof replacement in Ottawa and its benefits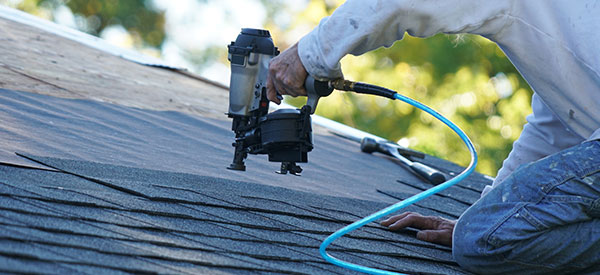 Perhaps a roof renovation does not generate as much excitement as a kitchen or bathroom renovation.
However, a strong roof can make all the difference between a safe home and a leaking one.
Remember, your roof shelters you from the elements and any improvements you make to your home will be at risk without a good roof.
Modern roofs are sturdy and attractive but over time, they will also need replacement.
When do you need to replace a roof?
What are the best choices of roofing materials?
What type of specialist should you hire for a roofing replacement?
Do you need a new roof and when to replace a roof?
Most people begin to think of getting a new roof when their living room becomes decorated with buckets for catching leaks or when their roof looks really outdated compared to newer homes in their street.
Most of us postpone roof renovations because they are also expensive!
However, waiting until the roof over your head is in the worst condition can be very costly.
Repairing or replacing your roof proactively can save you a lot of headaches, time, and money in the future.
Although you cannot really enjoy a roof renovation in the same way as a new bathroom or kitchen, it is a smart investment for all homeowners.
Keep in mind that delaying a roof renovation will only increase the cost so it is better to get it done as soon as possible.
You should also remember that maintaining your roof in a good condition will lower the chances of filing a home insurance claim which will also help to reduce your home insurance premiums.
Learn more tips for factors that reduce the price of your home insurance.
7 Warning Signs you need a roof renovation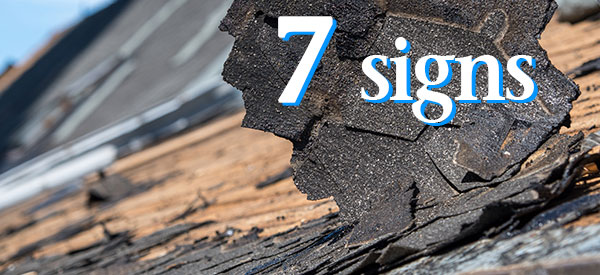 Have you been agonizing over whether to get a new roof or delay it?
If you have been neglecting your roof, extensive damage may have already occurred.
The sooner you replace your roof, the better it is for the overall health and safety of your family and the foundation of your house.
Below are 7 warning signs that indicate you need a new roof right now:
The age of the roof
The age of the roof is a good indicator.
Year after year, the roof can sustain structural damage which affects the overall condition and value of your home.
The average lifespan of a roof is about 25 years.
If your roof is around that age or beyond 25 years, it is time to consider an immediate roof renovation.
Plants
Do you see plants growing on your roof?
This is quite unsightly and can wreak havoc to your home.
Moss, algae, and other types of vegetation make your home unattractive, causes roof discoloration, and affects the draining of water.
If you see vegetation on the roof, do plan a roof renovation soonest.
Flashing damage
Flashing is placed around the areas where the roof meets a wall.
It prevents the water from entering your house using redirection.
Exposure to the elements can cause the quality of the flashing to deteriorate.
Cracked, torn, or bent flashing causes leaks that can lead to water damage.
If your flashing shows signs of damage, contact a roofing specialist for repair or renovation.
Sagging roof
The lines of a roof should be straight.
If you see sagging lines, they don't just affect the aesthetics of your roof but more importantly, it may be an indicator of a collapsing roof.
Your roof may have reached the end of its life and you need to find a roofing specialist for a replacement.
Increase in monthly energy and heating bills
Did you know that your roof plays a big role in your monthly energy consumption?
Roofs can retain the temperature inside your home.
For instance, shingles can reflect heat from the sun and reduce your cooling needs.
Insulation can also be added to boost heat retention.
If your energy bills are increasing, check on the condition of your roof. It may be telling you to get a new roof.
Persistent leaking
A leaking roof is quite annoying and inconvenient.
A roofing specialist can check the condition of your roof to locate the reason for the leaks and recommend the proper repair or replacement, if necessary.
Leaks can be caused by damaged flashing, cracked shingles, etc.
If your roof is beyond repair, it is best to schedule a roof replacement or renovation at the soonest possible time.
Curled Shingles
Inspect the roof of your home by walking around the exterior.
Do you see curled shingles?
This could indicate you need to get a roof replacement.
If the sides of the shingles curl outward or the shingles look like they are being pushed upwards, there is excessive moisture.
If your roof is too old or lacks ventilation, curling can occur.
Who to hire for a roof renovation?
Roofing contractors or specialists are the best persons to hire for a roof renovation or replacement.
Not only are they licensed, insured, and knowledgeable, they can also guide you in the right type of roof and material for your project.
Professional roofers provide a warranty for their work to give you peace of mind.
Since roof replacements are expensive, you are assured of receiving the best value for your money when you work with a reputable contractor.
A roof specialist from our network can diagnose the problem and provide effective and affordable solutions.
Don't delay any longer and protect your home from further damage.
Fill-out the online request form on this page and get
free quotes from roofing specialists in your area.
The service is FREE and NO OBLIGATION. You can save a lot of time and money!
Pitched or Flat Roof: Choose the right roof for your renovation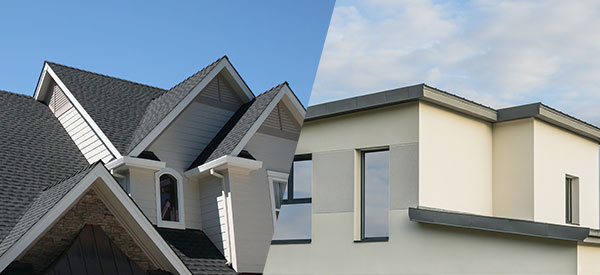 Most homes favor pitched roofs.
Homeowners tend to prefer pitched roofs because of higher resistance and more aesthetic appeal compared to a flat roof.
A flat roof is different because it has a low slope and don't shed water.
They have monolithic surfaces and can handle standing water for a limited time.
Many factors need to be considered when choosing between a pitched or flat roof.
Below you will find a lot of information that can help you decide the right roof for your home.
Pros and Cons of a Pitched Roof

Pros
Cons
Protect your home against environmental hazards.


 Pitched roofs are more stable and can bear the brunt of heavy snow or rainfall. The design directs the water away from the house and prevents waterlogs.

A pitched roof can put more pressure on the building foundation and require more depth from the footings. It is not always possible to replace a flat roof with a pitched roof.
Higher thermal efficiency.

The natural ventilation increases the thermal efficiency of the home. You will benefit from increased comfort inside the home during winter and summer months. 

More expensive.

Pitched roofs cost more than flat roofs. They also cost more in terms of maintenance.

Higher energy savingsThe roof can account for as much as 30% heat loss. The natural ventilation of a pitched roof helps to preserve energy and lower your energy consumption.
Pitched roofs are not advisable for multi-level buildings or complex designs.
Lasts LongerA pitched roof is known to have a longer lifespan than a flat roof. It also requires less maintenance.

More versatile

A pitched roof can provide extra living space if needed.
A roofing specialist from our network can assist you in choosing the best roof design and materials for your home.
Take advantage of free and no obligation quotes by filling out the short online request form
on this page and connect with roofing contractors, free of charge!
Types of Pitched Roof Materials: Pros and Cons 

Material
Pros
Cons

Asphalt

Asphalt shingles are very popular. You can choose from a variety of styles and prices. They are ideal to replace a pitched roof.  If some shingles get damaged, they can be replaced.

Asphalt shingles are very durable and can last from 20 to 50 years, depending on the quality.

Although more expensive, they are well worth the price in the long-term.

Manufacturers also offer a warranty for their products.

They are easy to install and are environmentally-friendly.

Asphalt shingles get damaged by extreme weather conditions.

Slate 

Slate is common in older buildings and has quite a long lifespan. Slate is highly durable and resistant but is rare among newer homes.

Slate comes in a variety of colors and textures.

It is also fire-resistant.

They give homes a unique look and retain their colors over time.

A structural engineer needs to supervise the installation.

Some homes may not be able to support the installation of slate roofs. They are expensive, heavy, and can break on impact.

Clay

 Due to weather conditions in Canada. Only some types of clay can be used.

They have longevity and are unique in appearance.

They also have insulating properties.

More suited to warmer climates.

They are expensive and not very resistant.

They also get damaged very easily.

Cedar

Cedar shingles (wood) are not as popular as asphalt or metal shingles. They are often seen in heritage homes and cottages. They can last as long as 30 years but require regular maintenance.

With proper treatment, they won't decay. They are light-weight.

Cedar shingles are expensive. They are flammable and require regular maintenance.

Metal 

Metal roofs are very popular among homeowners. They last up to 70 years and can be designed in various ways. Metal panels can be used for a shingle-like appearance or a standard seam.

 

They are environment- friendly and lightweight. They can be recycled.

Metal roofs can be noisy because of rain or strong winds. They also cost more upfront.
What is the cost to replace a pitched roof?
Replacing a pitched roof for a bungalow using asphalt shingles can cost around $6,000 (at least).
It can cost as much as $20,000 for a bigger building.
The cost of a roof depends on the surface area, ventilation, as well as other factors.
For slate or metal roofs, you may need a budget of $15,000 or more.
To get an accurate price, consult a roofing specialist from our network and obtain free and no-obligation quotes.
Materials for Flat Roofs: Pros and Cons

Type of flat roof
Pros
Cons
Built-Up Roofing (BUR)

BUR was quite popular until the EDPM and Bitumen-roofing were introduced in the market.It uses tar and gravel to make a watertight surface on the roof.

It is inexpensive and can last up to 15 years.

It offers protection from water and severe weather conditions.

It costs little to maintain.

It is resistant to foot traffic.

Installation takes longer.

It can cost more upfront (initial installation).

It is prone to moisture and wind damage.

It is difficult to locate leaks and may require the dismantling of the entire roof.

It is heavy and requires joists before installation.

Single-ply membrane roofing

There are various kinds of rubber/polymer membrane roofs including PVC, Neoprene, and EPDM.   Ethylene Propylene Diene Monomer (EPDM) is the most popular for residential use.

This is the newest in flat roof technology.

It is waterproof and lets you encase your whole roof.

They are easy and inexpensive to repair.

They can last up to 50 years and can resist wind, water, and fire.

They are lightweight and durable.

EPDM roofs must be professionally installed.

They can be damaged by chimneys and other structures if the proper flashing is not installed.

They can be damaged by foot traffic.


Modified Bitumen Roofing

Until the 1960s, BUR was the only flat roof option available. With the introduction of the Modified Bitumen Roofing, it added layers that were reinforced for higher durability and strength.Today, it is a reliable and convenient flat roof system for low-slope or flat roof designs. Made of asphalt modified with synthetic rubber, it is flexible even during the cold months. 

There is no limit to the building height where it will be applied.

Have longer life spans and warranties compared to other flat roof systems.

Easy to maintain.

Easy to install compared to BUR.

Lower cost.

Recyclable.

Must be installed properly using overlapping joints adhered correctly to prevent leaks.
What is the price for a flat roof renovation?
A flat roof replacement on a residential building can cost from $12,000 up.
The price will depend on the surface area selected.
It is important to hire the right roofing contractor.
He can recommend the best roofing material that suits your needs and budget.
You can obtain up to 3 free quotes for a roof renovation project, at no cost or obligation on your part!
The best way to get an accurate price for your roofing needs is to fill out the form on this page and connect with reliable and experienced roofing specialists in your area.
How to find the best roofer for your roofing project
It is important to know the good from the bad roofing companies.
If you hire a bad roofing company, you will be paying for it in the long run.
You will be inconvenienced by leaks and annoyed no end at the poor quality of the job.
To make sure you find a reliable roofer, it pays to ask potential contractors the following questions.
✓   How long has the company been operating?
✓   Is it licensed and insured?
✓   Does the company have a good reputation?
✓   Do customers give the company a good or bad rating?
✓   Is it registered with the Better Business Bureau, the Canadian Roofing Contractors Association, the Ottawa Construction Association, or other trade organizations?
✓   Will the contract include debris removal or disposal?
✓   What is the warranty for the work?
✓   Does the company employ roofers or sub-contract the work?
✓   Can the company provide referrals from its most recent customers?
Don't choose a contractor based on price alone.
Freelancers may charge lower rates but may not offer the benefits of insurance and warranties.
Compare multiple quotes and study the differences in service and quality.
Frequently asked questions about roof renovations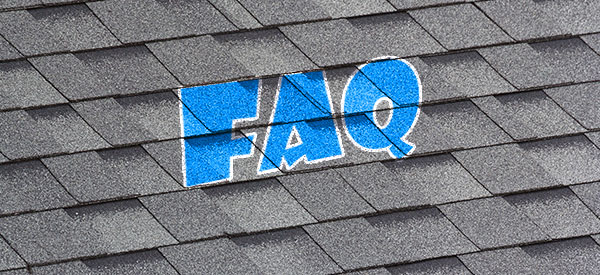 A roofing project is not to be taken lightly! Not only does it require a major investment on your part but it will also affect the safety of your home, the integrity of your structure, and the value of your home.
If you are planning a roof renovation or replacement, you surely have questions on your mind.
We have gathered some of the most common roofing questions for your reference.
How do I know I need to replace the roof?
You will know when to replace your roof because warning signs will be obvious.
You will experience persistent leaks in various areas of your home that simple repairs cannot stop.
You may also see visible signs on the roof such as growing vegetation, sagging roof lines, etc.
The more important question is how soon you should replace the roof.
The answer is as soon as possible because it never pays to delay a roof replacement.
What should I look for in a roof inspection?
The objective of a roof inspection is to determine the condition of the roof.
You should check for debris, the condition of the joints, the presence of mold or other organic matter, and if there is moisture.
You should also check if insulation is adequate and that the structure is still intact or sturdy.
What factors affect the price of a pitched roof?
Several factors affect the price of a pitched roof, including the incline depth and material you choose, the complexity of the design, the square footage of the roof, warranty included in the price, labor costs, and additional works such as insulation.
For this reason, no two roofing projects will have the same price.
Is a green roof ideal for a home?
A green roof is becoming popular nowadays.
Basically, it is a roof where cultivation (plants and birds) is done to promote biodiversity.
It can also increase energy savings.
The idea sounds great especially for nature lovers but the installation cost can be high.
If you are interested in installing a green roof, it is advisable to hire a specialist.
What is the most common roofing material in Canada?
Asphalt shingles are very common because they are lower in cost and easy to install.
They can last up to 25 years and have a wide selection of colors.
But although they cost less, they don't last as long as other types of roofs.
If you have a small budget, asphalt shingles remain a great option as they are easy to replace.
How long does a roof replacement take?
A roof replacement can take from 1 to 7 days, depending on the type of material and the size of the surface.
A flat roof can require a week to replace while a sloped roof can have shingles replaced in as little as 2 days.
What is the best time of year to renovate a roof?
It is ideal to renovate a roof from March to October.
However, you must begin your search for a roofing contractor as early as January because most roofing specialists will be quite busy around these months.
Book your contractor in advance to set your schedule.
How can you find a good roofing specialist in Ottawa?
It is convenient to use Compare Home Quotes to find reliable roofing specialists in Ottawa.
We have partnered with reputable roofers that can provide you with reasonable and professional quotes, free of charge.
You can take your time in comparing their offers and doing your research so you can choose the best package that suits your budget.
How do you choose the right type of roofing?
The type of roof you must choose depends on factors such as the supporting frame, the angle of your roof (sloped or flat), and the design of your home.
A good roofing specialist can provide you with valuable advice regarding the best type of roofing material to choose for your project that meets your needs.
Find a reliable roofing contractor in Ottawa!
It is not easy to find a reliable roofing contractor and it can be tough to get a good price for your roofing renovation.
We hear you, so we have gathered under 1 roof the most reliable and experienced roofing contractors serving your area.
Just fill out a short form on this page and get connected to the best roofing specialists that can help you with your project.
Receive FREE and NO OBLIGATION quotes so you can compare prices and services to get the best value for your money.
With help from our reputable partners, you can get your roofing project done for the best price.